hey! happy sunday.
i am on cup of coffee #2 (thanks for the delicious java, marley coffee!) and just made my grocery list for the week. dinner plans are burgers at the parents (tonight), ravioli with mushrooms & spinach and a salad (monday), BLTs & corn on the cob (tuesday), chicken enchiladas (wednesday), and chicken, rice & broccoli casserole (thursday). should be a tasty week!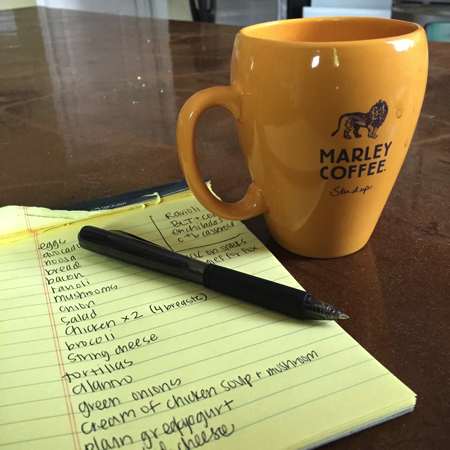 this past friday was fox's first birthday, so it's been a weekend-long celebration! marshall and i took friday off of work, so we could celebrate with the birthday man. best idea ever.. we had so much fun with him!
the night before his day, we setup his gifts and i strung a happy birthday banner on his crib. his "main" gift was a basketball hoop.. he will still need to grow into it, but it will be fun when he can walk!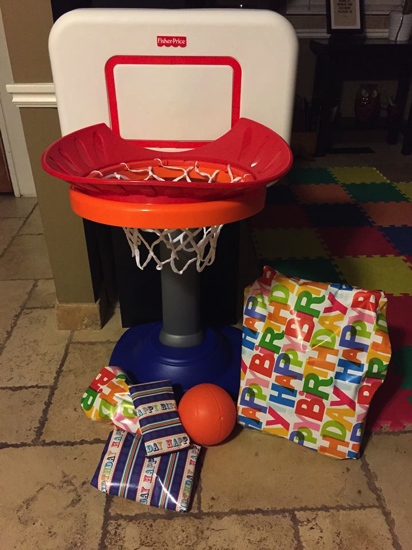 his birthday morning was fun, even though he didn't know the day was different than any other.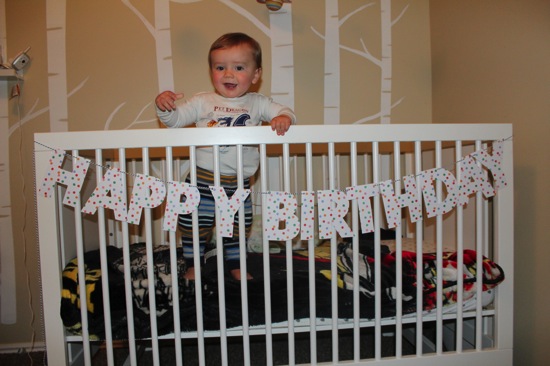 we had breakfast together and helped him open his gifts.
fox lives his day around naps, so we took a time out for his first one. once he was up and ready to party, we headed out to the mall.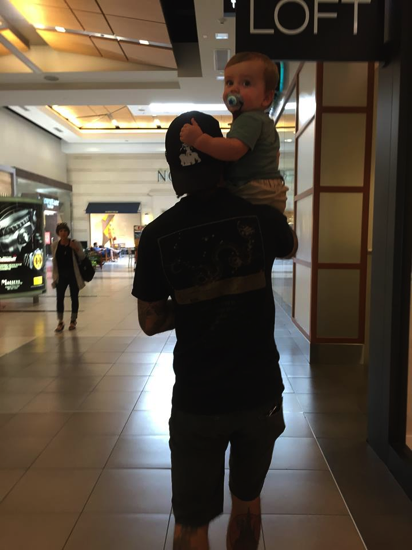 i've been dying to find shoes that fit his fat, little feet, so we headed to nordstroms where they are super awesome with kids. the nice sales associate measured his foot and tried on a few different styles. his feet are definitely challenging to find shoes for!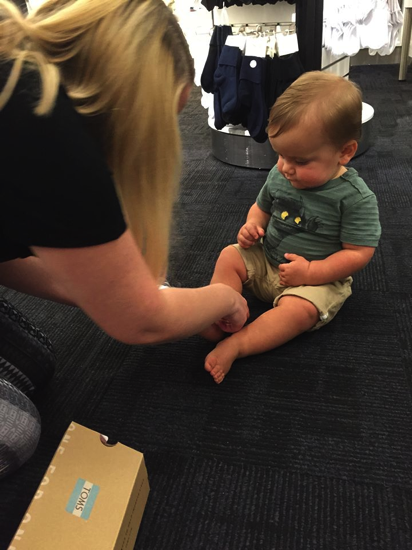 we ended up finding two pair of shoes, some cute seekairun gray ones and some black velcro converse. and he even got a balloon! (and we retired that now-belly shirt after realizing he had a growth spurt.)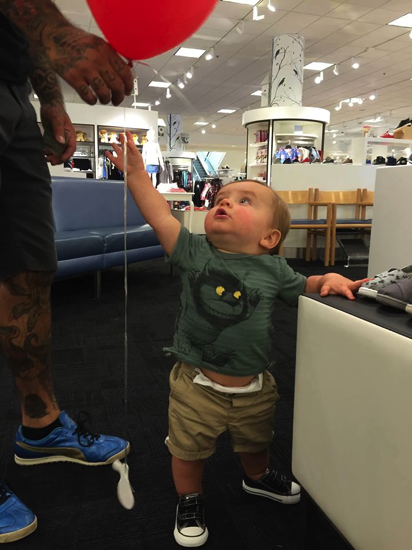 we also picked him out some shirts at nordstroms and peek. i LOVE peek clothes, they are so cute! and all their summer stuff was on sale. it's nice that everything fall is out in stores, but it's still way hot, so tshirts and shorts are still required and you can snag them for much cheaper.
after the mall, we headed to the toy store to let the birthday boy pick something out. of course he went crazy over the keyboard with buttons. the boy loves his buttons! we let him try it out, and then tried to put it back on the shelf. the shriek came out, so that's how we knew it was the toy for him.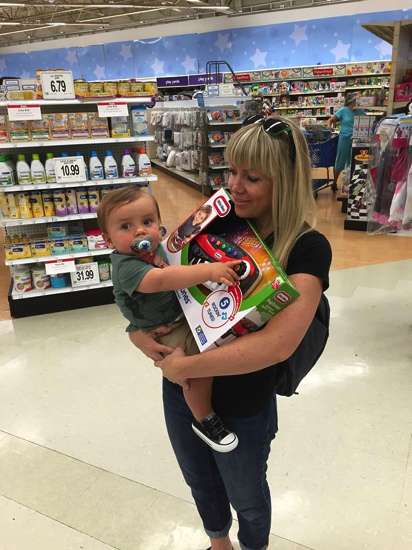 once the birthday shopping was done, we headed to the store to pick up essentials for his birthday party. then it was back home for nap number two. unfortunately, he fell asleep in the car.. when we were ten minutes from home. of course we couldn't successfully transfer him to his crib, and he thought he had an hour-long nap, so that was that. he was up and ready for action!
nana sue (aka momma b!) came over with his balloon. she does this thing (long-time readers may recall) where she gifts us with balloons on our birthday–one for every year we are. she stops at thirty, though, so my balloon days are over. but fox's are just beginning! he was jazzed to get his one balloon from his favorite lady.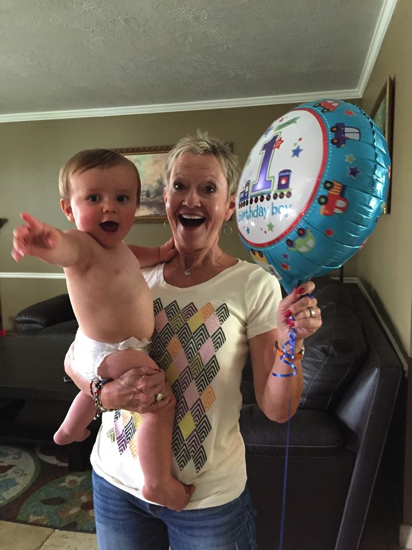 eventually he did take a nap, and afterward we went out to pick up his cupcakes! more on those in a minute. we also snagged mellow mushroom pizza & wings for dinner. we headed home and ate. fox had a whole slice, and if you know how big their slices are, you're probably thinking DANG. but that little guy has an appetite! 
he was born at 6:21, so when the clock turned 6:21 on friday night, we sang "happy birthday" to him and took a family selfie. seems like a good tradition to start, right?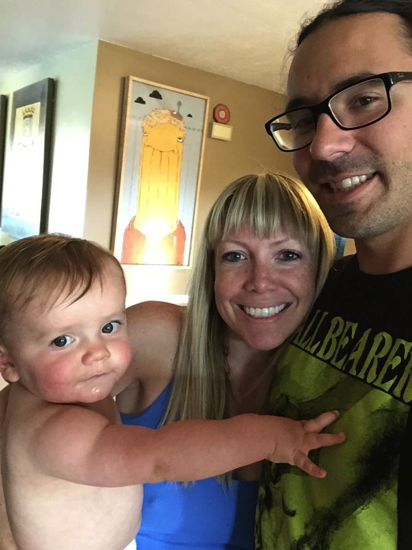 before we knew it, it was time for bed. such a fun birthday with our little one year old! 
marshall and i spent the rest of the night working on odds & ends to get the house ready to show. it's in top notch condition, now! funny how it takes moving to get you motivated to fix dumb things like light switch covers, touch up paint, yard work, squeaky drawers.. stuff like that. 
the birthday celebration continued on saturday! i started things out with taking his 12 month photos for my letter to him. THAT was a joke. he is always on the move..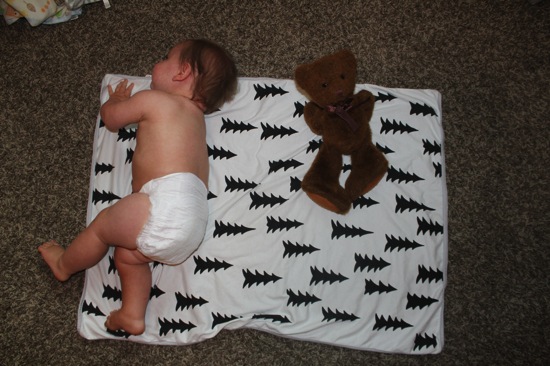 probably a good thing that was the last session of those photos. it was turning out to be impossible! i am excited to print out all the letters and photos in a keepsake book for him. 
fox's birthday party was at noon in the park near our house. i didn't go too crazy with a theme or decorations.. but i kept it simple with a few things and think it turned out cute.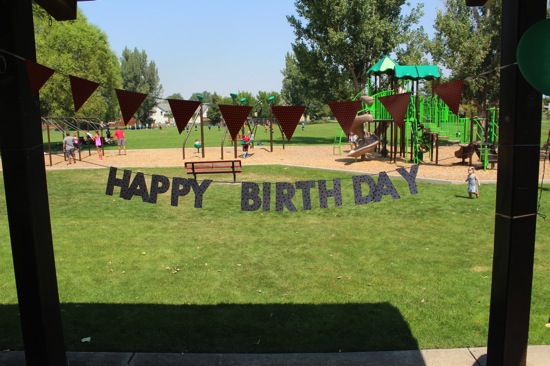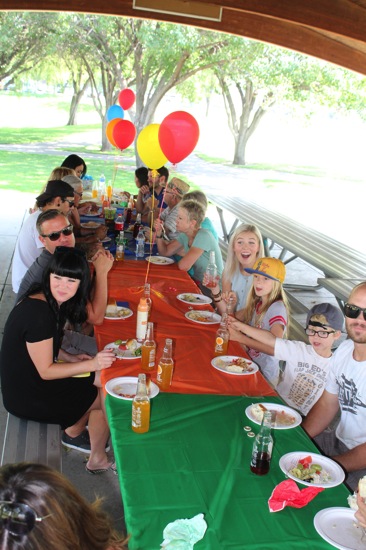 my favorite two things were the poster of his monthly photos, which i made on a whim saturday morning…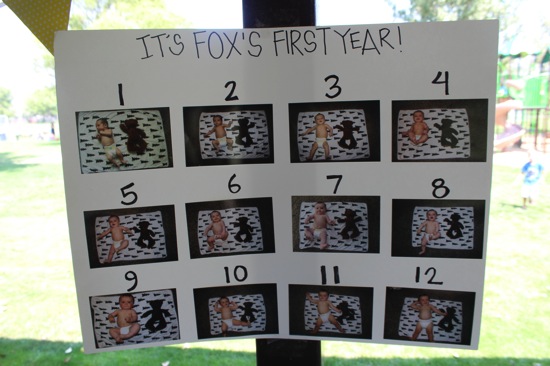 and the month-to-month clothesline. i picked it up at zurchers (a party store) and printed pics out for each month. i kind of want to hang it up in my office, haha, it's too cute to toss!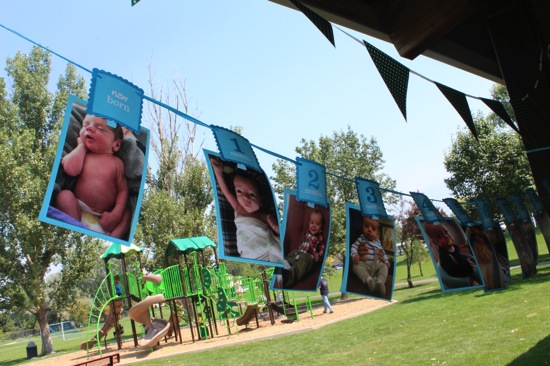 the menu was good! i used to be the type to make everything myself and take on a lot of work (remember when we made all the food for my rehearsal dinner? never again!) but times have changed and i either bought the food or asked someone to bring it. thank goodness for helpful, generous family and friends!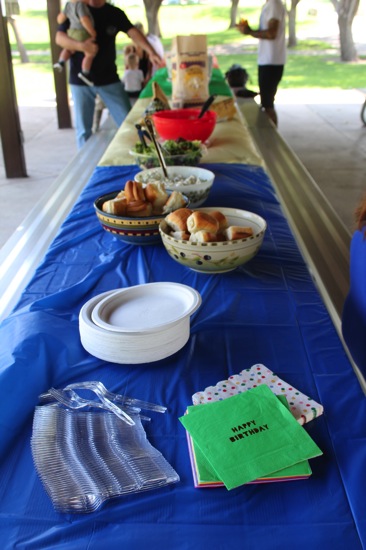 we had chicken salad sandwiches, pear & pecan salad, tortellini salad, 7 layer dip, tortilla & potato chips, salsa, a huge bowl of fruit, and izze sodas. perfect!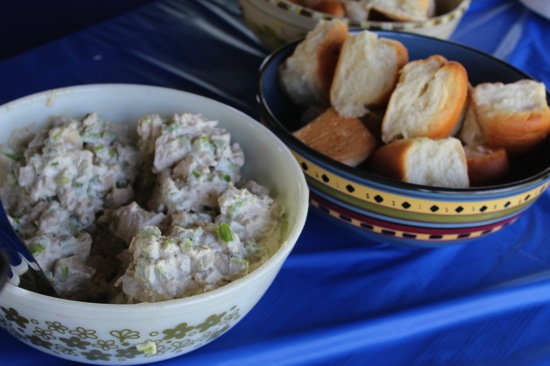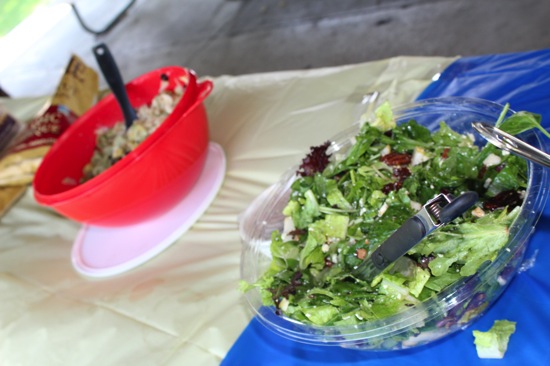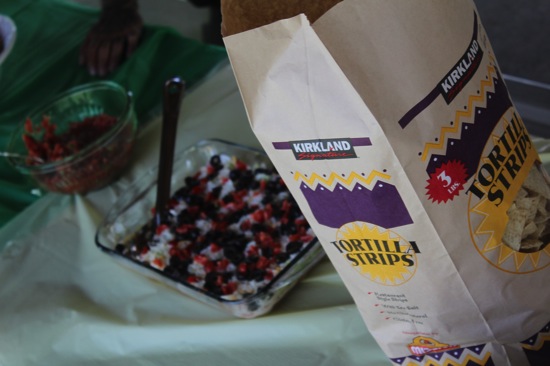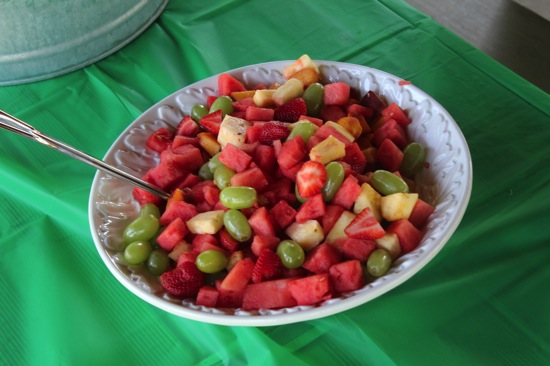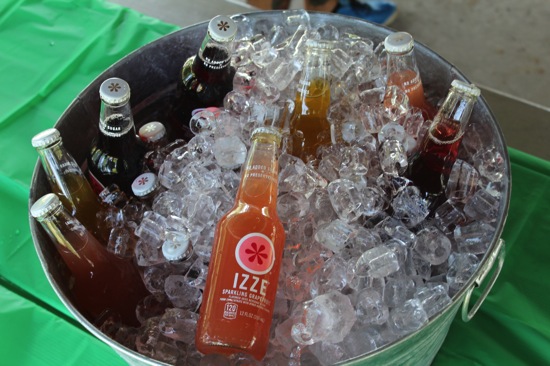 fox was a fan of the menu!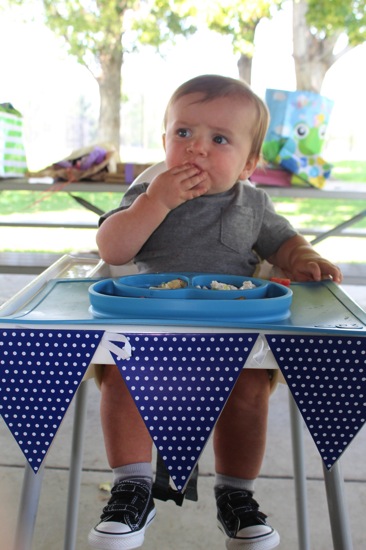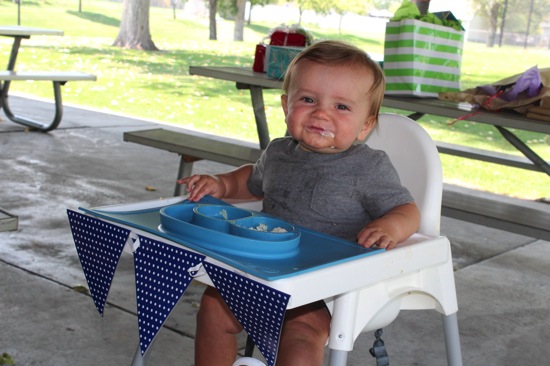 side note: these EZPZ mats are EVERYTHING. seriously, best baby invention EVER!
after lunch, we gathered on the grass for gifts. fox wasn't so sure what was going on, but i think he had a good time.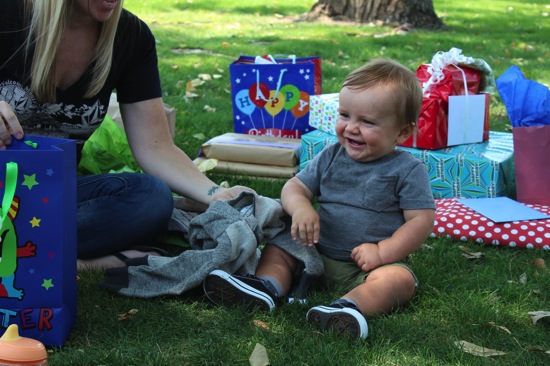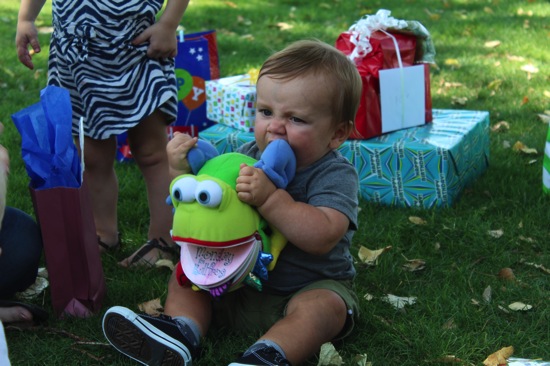 for the finale, it was time to sing to fox and give him a cupcake! the cupcakes were made by my babe of a friend, natalie, at bucktown bakery. you locals HAVE to look her up if you need any kind of baked goods. everything is made from scratch with sustainable ingredients, and they are super creative! i just said make me something adorable.. and that's exactly what i got!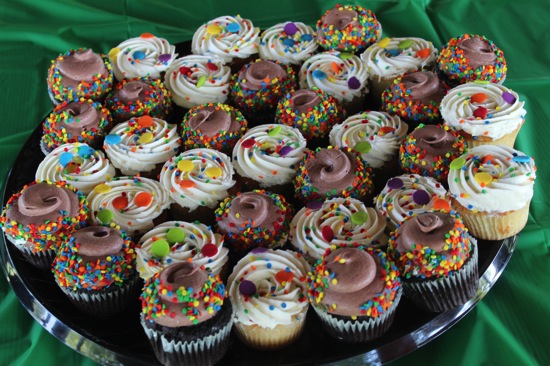 the two flavors were vanilla cupcakes with raspberry jam filling and vanilla bean buttercream and chocolate cupcakes with white chocolate ganache filling and chocolate frosting. yum!
the candle situation didn't work out too well because of the wind, so we just pretended.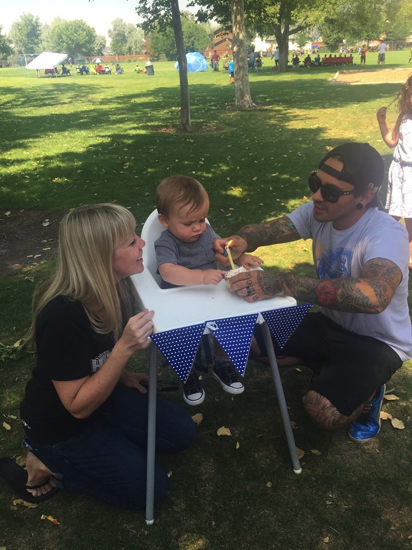 it's all about the cake, anyway, right?
successful first birthday party!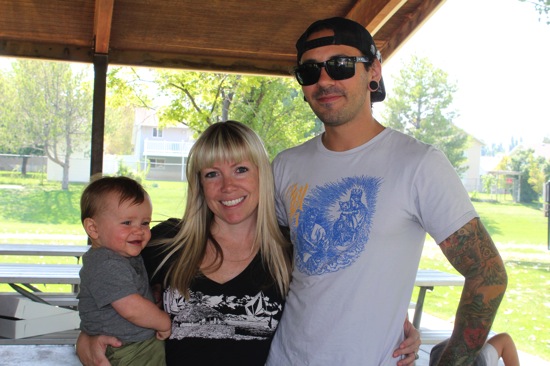 happy, happy guy.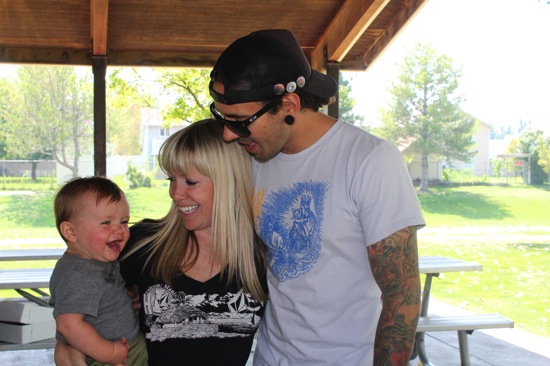 whew. after all that celebrating, we were all exhausted. we all went home and took a nap… well… for an hour. and then he was ready to party again.. so we met some friends at the arcade.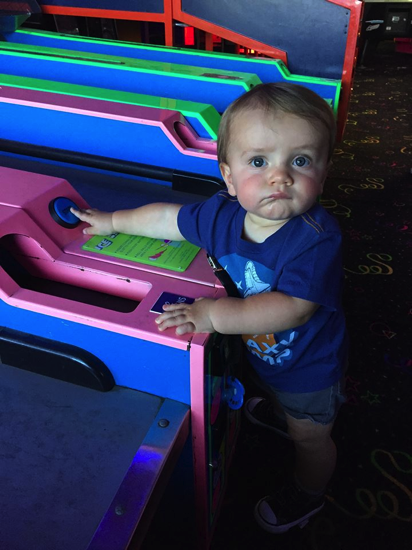 never a dull moment with this one!
happy birthday to my guy. it's been an incredible year! can't wait to see what the next one brings.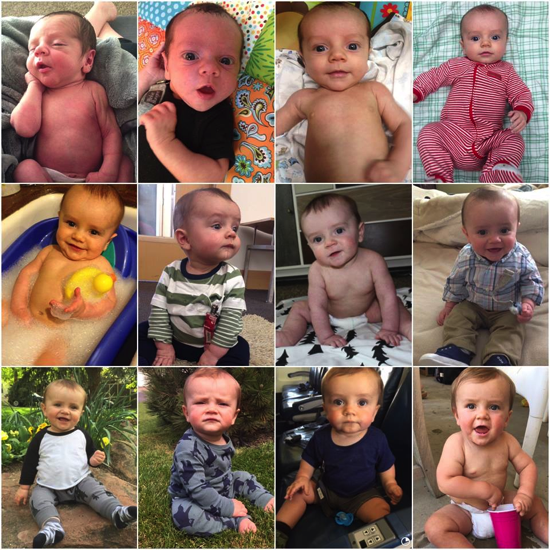 Qs~
1. how did you celebrate your last birthday?
2. what's your favorite kind of cupcake?
xo. janetha g.