hey! so, it's been quite some time since i've actually documented a whole day of meals & moves. i thought i would do that today.. even though my life is totally lacking in the moves category!
i had my usual wakeup call from fox at 4 AM. i am still nursing him once in the night (and hardly at all during the day.. but more on that, later.) so i quickly fed him and put him back down, and was back in bed by 4:12.
wakeup call two came around 7 AM, when fox decided to be up for the day. not bad, not bad at all. beats the old days, when he would wake up at 5 AM for the day.
we hung out together while i got ready and fox got into my bathroom drawers. one of his favorite activities. marshall was busy in the kitchen, making a smoothie for fox. he never eats veggies, so we decided to try out a green smoothie. the first one had spinach, cucumber, kale, ginger, berries, ice, and water.. all blended in the vitamix. fox wouldn't touch that with a 10 foot pole, haha. i had marshall make another one, this time with whole milk, berries, and spinach. a little more mild.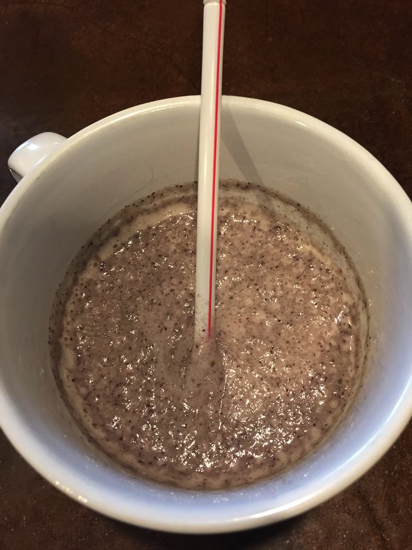 but, to our dismay, fox wanted nothing to do with that one, either! he was perfectly content shoving his face with pancake, though.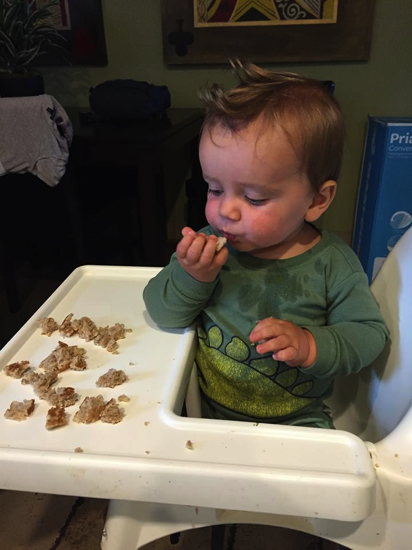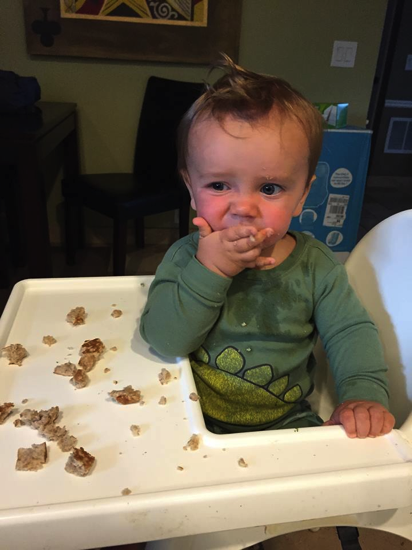 i headed out the door at 8, green smoothie in hand. mine was the first batch of ingredients.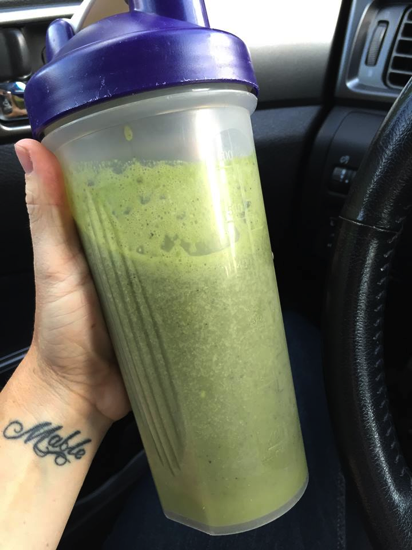 i got to the office and made coffee, top priority, folks.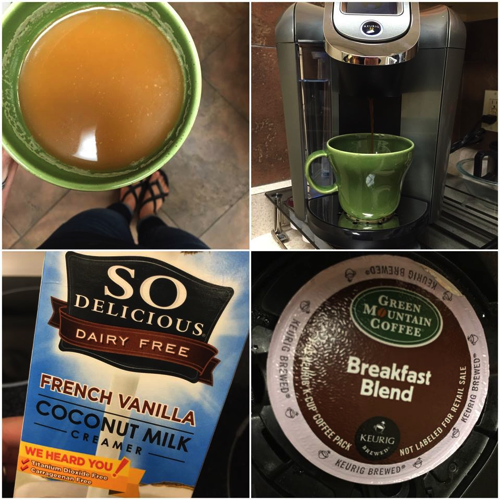 i also filled up my 32 oz cup of water.. which turned out to be the only time i filled it up all day. whoops. i suck at drinking water these days.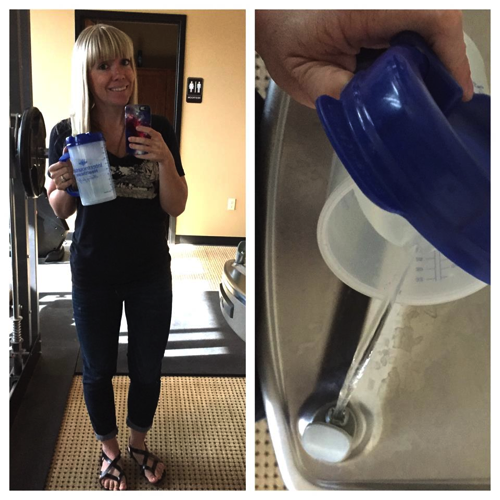 i worked for a couple of hours, had a handful of nuts…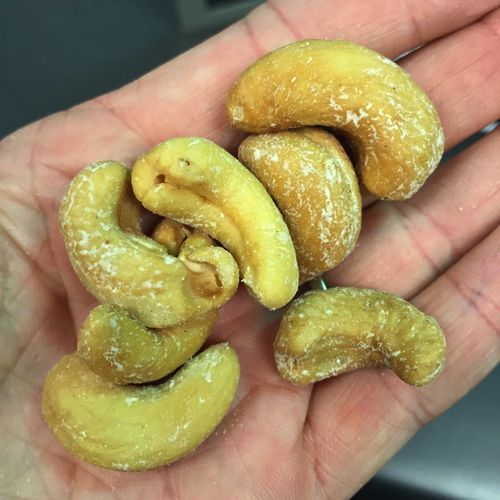 …and then decided to eat some food. i made a couple of eggs topped with frank's hot sauce, toast, and some sliced white wisconsin cheddar. not glamorous, but tasty.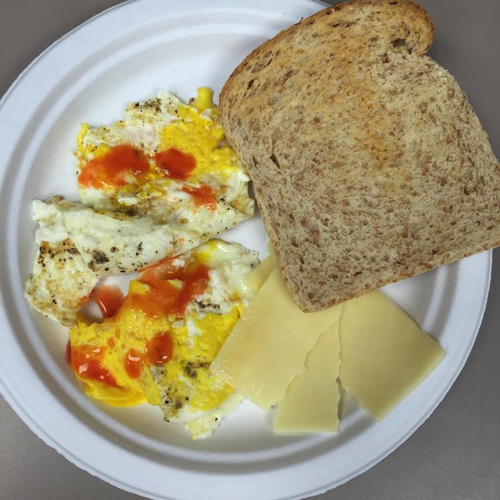 i worked some more, and gave my boss a ride somewhere.. i swear, i am a chauffeur more often than i care to admit. once back at the office, i got to work on making lunch.
marshall and i love hello fresh, a meal subscription service that delivers ingredients for three meals each week. we don't get it every week, instead probably about once a month. so far, we have LOVED LOVED LOVED everything we have tried! it is such a fun way to try recipes that we would otherwise never make.
actually, sad story, last night, marshall made one of the hello fresh recipes. it was one of the more labor-intensive recipes. once he had it done, it was time for fox to go to sleep.. so we did his bedtime routine before we ate. while we were in fox's room doing that, penny jumped UP ON THE COUNTER and ate our dinner!! ugh!! oh, man, she was in so much trouble. she has been naughtier and naughtier since fox arrived. it sucks and it is sad and i wish she would behave.. but she's like the middle child who has decided to rebel! so, we didn't get to eat that hello fresh meal. boo.
but today, for lunch, i made the shrimp and chorizo paella. marshall isn't a fan of shrimp, but i love it.. so i took the tripe to the office to make for amanda and myself. i love having a full kitchen at work, so i can fix meals right there!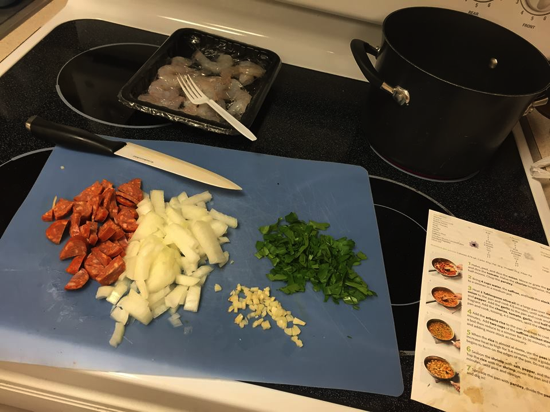 the recipe took awhile, but it was super simple. i had never made paella before, so i wasn't sure how it would turn out. it was actually super tasty! we loved it!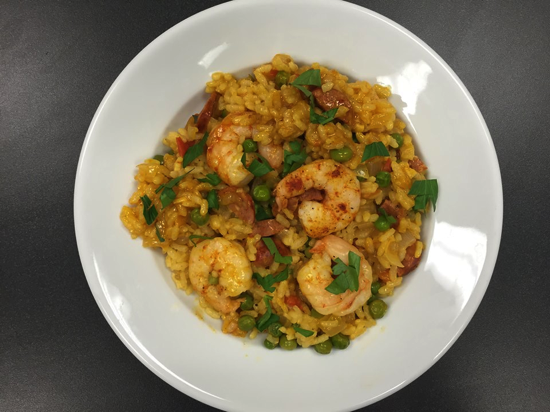 i plan to do a whole post sometime about hello fresh and the meals we have had. but if you are interested in trying hello fresh, i do have a discount code so you can get $40 off your first box. a box that has 3 meals for 2 people (so 6 meals) is $69.. so with the discount code, it makes your box $29. that's less than $5 a meal and it's gourmet food! totally worth a try. anyway, the code is 246NM9 and you can just enter that on checkout. let me know if you try it!
i got this photo from marshall, who was home with the boy today. looks like we are in trouble!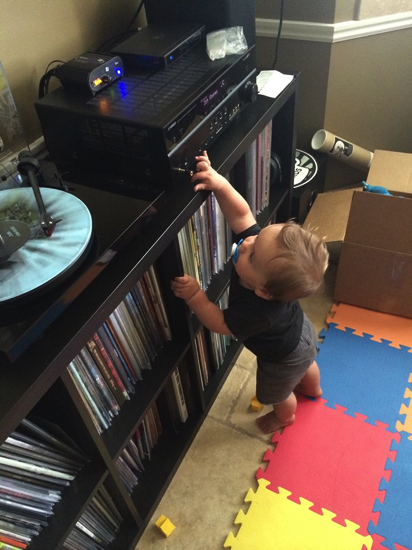 i worked some more, and then i had to give my boss another ride! this took about an hour round trip, pretty boring to just drive around and wait.
on the upside, i got off a half hour early and made it home around 4:15.. only to see everyone sleeping! (the dogs were sleeping on the bed, too, not in the pic.)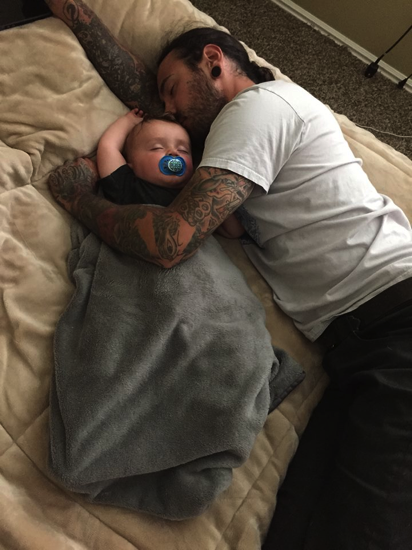 sweeties!
you may have noticed i didn't pump at all while i was at work. thank god that's over with! i hated pumping! but i have enough milk in the freezer to last until fox's birthday next week, and then he can have cow's milk. i have noticed that my body is adjusting really well to dropping the pump session, and i have also dropped a nursing session during the day. so far, things are regulating pretty well and i haven't noticed discomfort or anything.
i checked the mail and noticed a box on the porch. i wasn't expecting anything, but saw that it was a special delivery from general mills.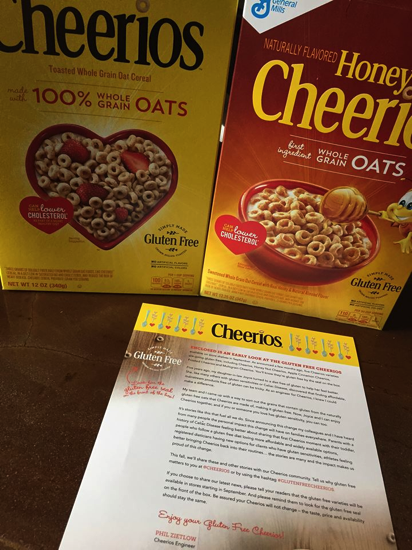 turns out, they have formulated five kinds of cheerios to be gluten free. i am not personally gluten free, but this is really cool for those who require it! naturally, i had to have a bowl of honey nut cheerios, one of my favorite cereals, ever.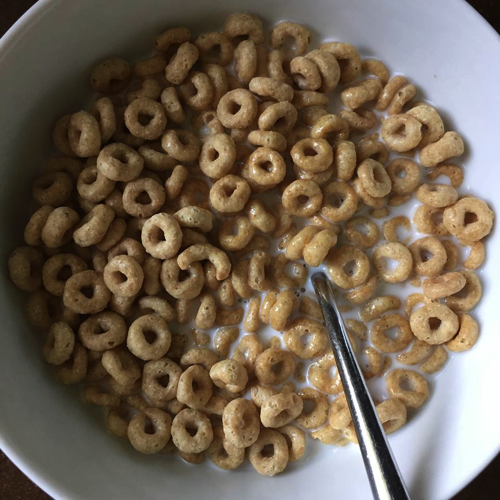 i started typing up this post while eating my cereal, just wondering when fox would wake up. i missed him! marshall woke up and came out to chat with me. we couldn't believe fox was still snoozing. every once in awhile he will surprise us with a long nap. this one turned out to be almost two hours! marshall made a short list for stuff from trader joe's and took off with his backpack on his motorcycle. gotta get those motorcycle rides in when he can!
he took off and i decided to clean up around the house. it's basically in shambles right now. i am trying to pack things up for our yard sale on saturday and we are also wanting to fix the house up so we can sell it (more on that another time). i swear it is so hard to keep things organized and tidy when you have a little, tiny tornado crawling around, pulling things out of every nook and cranny! but we do what we can to keep it clean.
i finished tidying the house and fox was STILL asleep..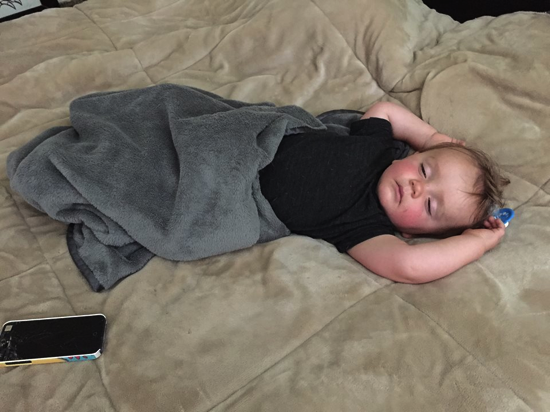 ..so i decided to try to exercise. i did 25 push ups and then 25 sit ups and.. BAM.. fox woke up! of course. but it was 5:45! i couldn't believe it.. almost 2.5 hour nap! when he did finally wake up, i nursed him for a minute, but he didn't seem interested. i think he's slowly self-weaning. it's a good thing, since i wasn't sure how this weaning thing would go down. but he eats a LOT of regular food, so it makes sense that he doesn't want as much milk. while i am glad to not have to breastfeed around the clock anymore, part of me is a little sad! but, for the most part, i am excited to be done.
i was sad that he slept so long, since i hadn't seen him all day.. so we got straight to playing! i wanted to go to the park, but a sudden thunderstorm struck right before he woke up. luckily marshall got home right before the rain.. that would have been super bad on the motorcycle!
while fox and i played, marshall fixed dinner. he does that more often than me, these days! he is the best.
dinner was mushroom ravioli with mushrooms, ground turkey, and marinara. we also had a spinach side salad. i love these semi-homemade, quick, easy dinners. it hit the spot.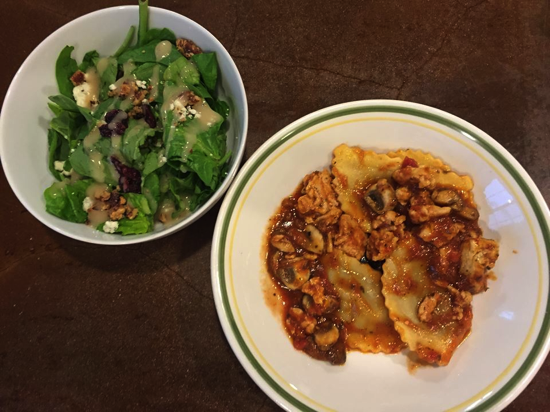 fox LOVED the ravioli, too. side note.. we are obsessed with these EZPZ mats to use for meals. they are a placemat and plate/bowl all in one. they suction onto the countertop, too. they make for super easy cleanup, and he can't throw the dishes, haha!
i thought we could keep him up a little longer to hang out, but he began to rub his eyes. we took his cue and started his bedtime routine. he LOVES bath time so much. although i think he is growing out of this tub and we may have to move him to the real bathtub soon!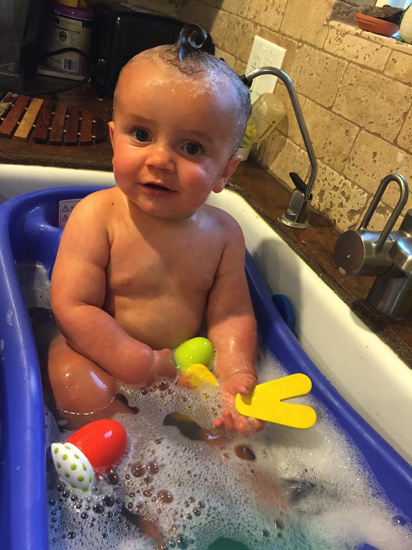 so, we had a hilarious catastrophe during bed time. we let fox play naked for a little bit before we put his diaper and PJs on. he was standing at his baby gate in his room and we were chatting about how tall he is getting. then, suddenly, marshall yells, "he's pooping! he's pooping!" hahaha.. i tried to grab him quickly, but he managed to step in it before i got to him. oh, man. that was funny and smelly and just a disaster. we aren't seasoned in poop issues.. he's never had a blow out or anything, so that situation was new for us. funny.
marshall read fox his story and then handed him off to me. i nursed fox one more time as he was going to sleep, making it a total of four times in the day. but, really, only three.. because one of the times he really didn't want to. i rocked him for  about 40 minutes just because i really didn't get to see him much today. sad.
i had big plans to put him down and then try to tackle an at-home workout, since it was still early, but when i went out into the living room i saw marshall had rummikub set up! i couldn't pass that up!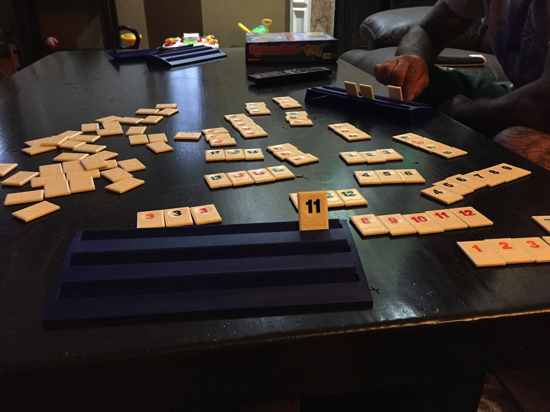 we played a few games (i won two out of three, woot!), and eventually we needed dessert. i fixed some vanilla bean ice cream + crushed up oreo thins. i love the thin oreos! they are way better than the originals, in my opinion, because they have less cream filling. i am not a huge cream filling fan.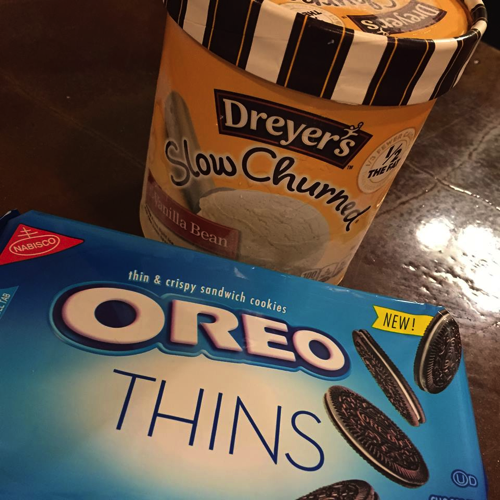 i used our awesome ice cream bowls we got from katie years and years and years ago.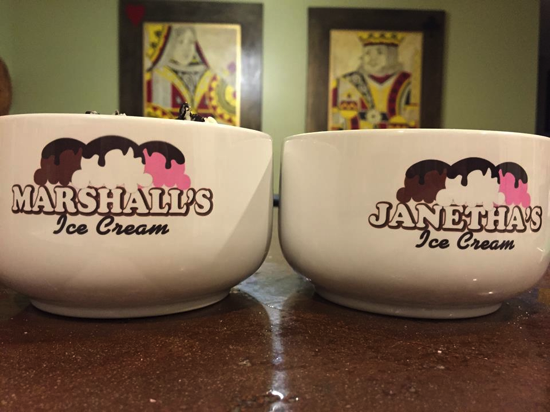 yum.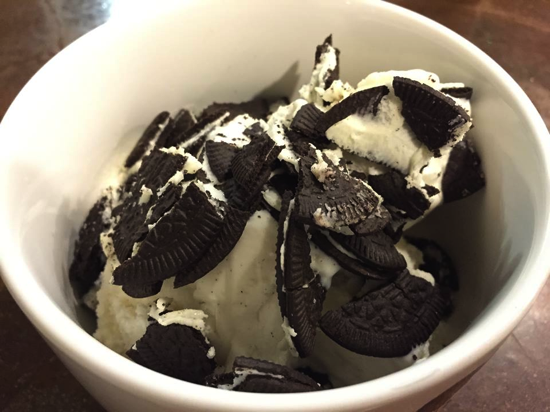 i just finished typing this up and inserted the pics into this post.. and am gonna call it a night. it's 9:30 and i am beat!
so.. as you can see.. just meals, no moves. i guess i could have exercised SOMEWHERE in my day.. but i didn't. i need sleep and i love playing with fox and i enjoy a tidy house and i like relaxing with marshall. one of these days i will figure out how to also squeeze in a daily workout as well. today was not that day.
Qs~
1. what is the last piece of fun mail you received?
2. have you tried a meal subscription service? which one? thoughts?
3. when do you squeeze exercise in to your day?!
xo. janetha g.