as promised, i am back to share the recipe for the delicious greek pasta salad i made over independence day weekend!
i know that some people shy away from pasta of any kind, which is a tragedy, because pasta is delicious. but, for those who are on the fence about consuming pasta, you have to hear about dreamfields pasta. it's a great alternative if you are living a healthier lifestyle.
dreamfields pasta, made using high quality durum wheat grown by north american farmers, tastes exactly like other pastas, except it is more nutrient-dense and filling. each serving contains five grams of fiber and seven grams of plant protein. these fibers and plant proteins are the reason it will help you feel fuller, longer. additionally, the prebiotic fiber helps promote healthy digestion. all this with the same taste and texture of regular pasta?! yes, please. basically, dreamfields pasta makes it super easy to eat a little bit better.
dreamfields offers seven great shapes: spaghetti, angel hair, linguine, lasagna, rotini, elbows, and penne rigate. i used the penne for this recipe, because it's my personal favorite shape. i love the hollow middles, where bits and pieces of the other ingredients can hide.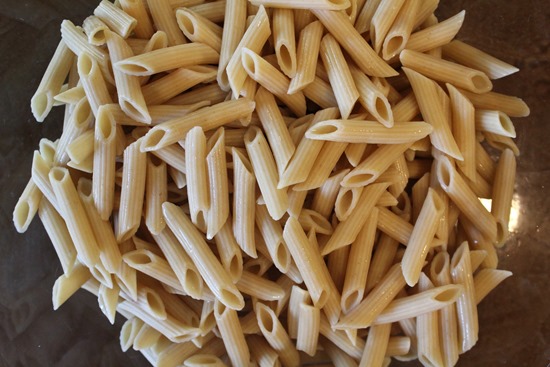 speaking of other ingredients, everything i used for this salad is good and good for you.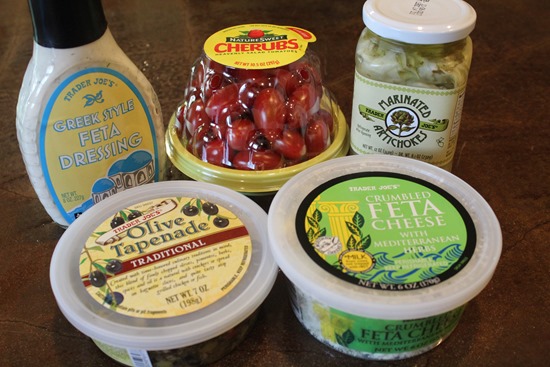 when sharing a pasta salad with a crowd, you don't want to make something too weirdly healthy, but you also want to make something that you can feel good about eating and enjoying.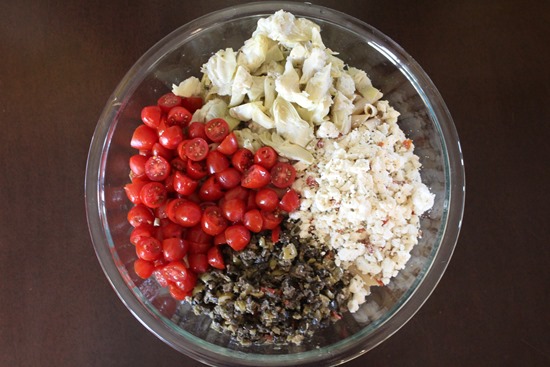 this recipe is just what you need in order to please everyone's taste buds and waist line. plus, it's quick and easy.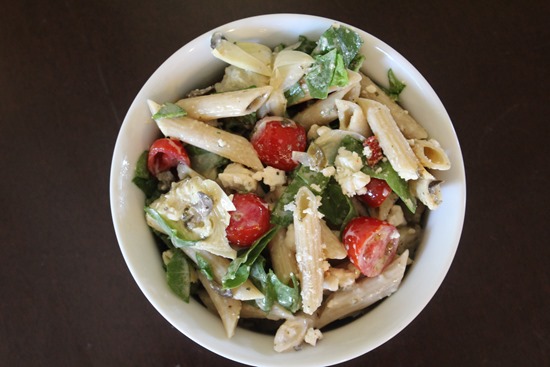 greek pasta salad
prep & cook time: 20 minutes
makes 8-10 servings
ingredients:
one box (13.25 oz) dreamfields penne rigate
one jar (12 oz) artichoke hearts packed in water, drained
7 oz olive tapenade
6 oz crumbled feta
8 oz grape tomatoes, halved
4 to 6 oz feta salad dressing (i used trader joe's)
salt & pepper, to taste
2 cups baby spinach, chopped
directions:
cook pasta according to package directions and let cool.
in a large bowl, combine pasta, tapenade, feta, artichoke hearts, and tomatoes. stir to combine.
pour four ounces of salad dressing over the pasta mixture, stir to combine.
add salt and pepper, to taste.
just before serving, fold in spinach.
if needed or desired, add 1 to 2 more ounces of dressing before serving.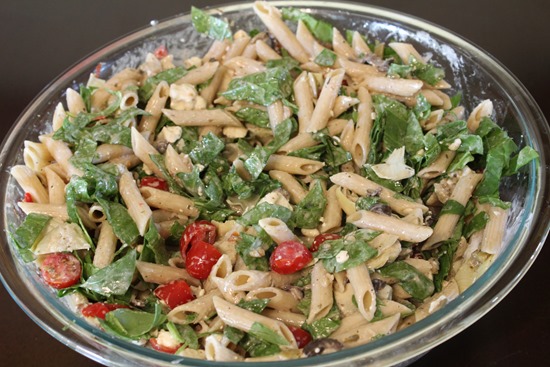 marshall and i made this together last friday before the party. it's nice to have his help in the kitchen, now that fox is crawling alllll over the place. he's a great sous chef!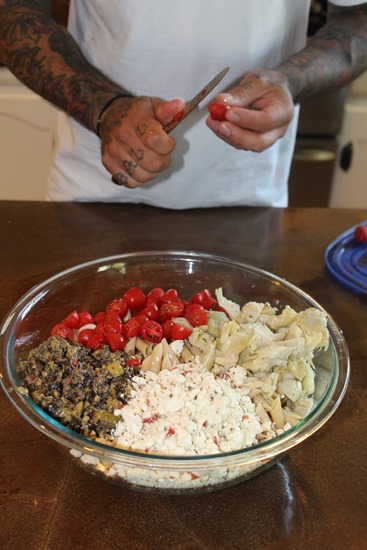 he sliced the tomatoes for me—and he also mentioned we should have soaked them in balsamic vinegar. next time. he also chopped the spinach.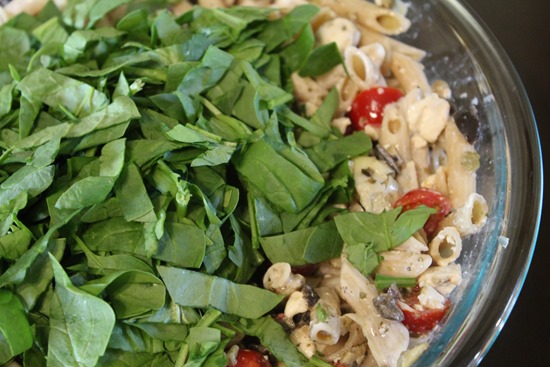 i used mediterranean herbed feta, but you can use any type—full fat, low fat, fat free.. it's up to you. if you can't find a feta dressing, this would also be great with any type of greek dressing. here is a recipe for homemade, or feel free to buy it in the bottle.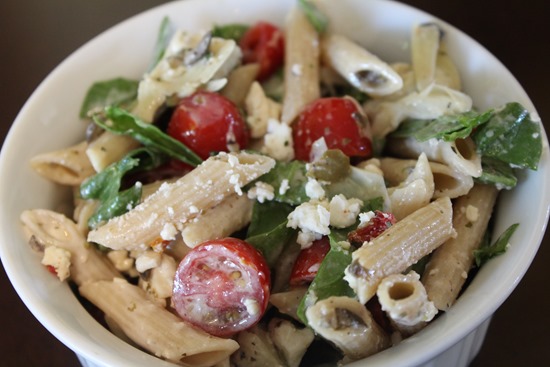 if you want to make this more of a green salad and less of a pasta salad, you can up the amount of spinach and decrease the amount of noodles. if you do this, i recommend you don't chop the spinach. instead, serve the pasta on a bed of the spinach and add dressing as needed.
if you want to make this salad a meal, try adding some grilled chicken or fish to it. if you are too busy to grill it yourself, snag a rotisserie chicken from the store on your way home. it will make a great quick, easy dinner!
thanks to dreamfields for providing this pasta for my family party.
for other delicious recipes, check out their recipe database! dreamfields pasta is available at most major grocery stores and online. look for the black box in your pasta aisle. to find a store near you that sells dreamfields pasta, check out their store locator.
Qs~
1. what is your favorite pasta shape?
2. what do you typically take to a potluck style party?
xo. janetha g.
this is a sponsored post on behalf of dreamfields pasta. i am on the dream team as a dreamfields pasta ambassador. all opinions, as always, are my own.