hey! i never mean to go MIA for as long as i do.. and then, life. it's been a busy one this past week or so, but i wanted to check in and share the fun on here!
friday was a day off from work, since independence day fell on a saturday. i love three day weekends! we really took advantage of the situation and decided to be super lazy for a good chunk of the day. i love it when i can nap with this nugget.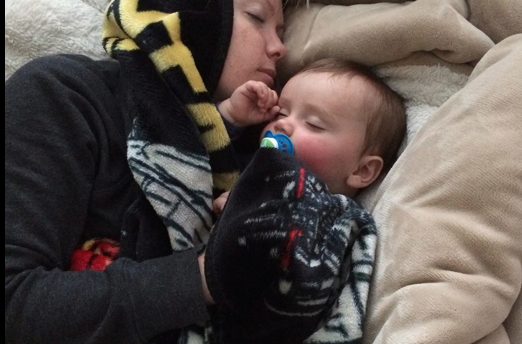 we cleaned up and headed to the cemetery to pay tribute to my little nephew, eddy, who never was able to live here on earth. crazy to think he would be six years old.. ugh. now that i have a child of my own, i better understand the grief related to eddy's death. i mean, i've always been very sad about it, but you don't know a parent's love until you have a baby. my heart broke even more for my brother & sister in law this year than ever before.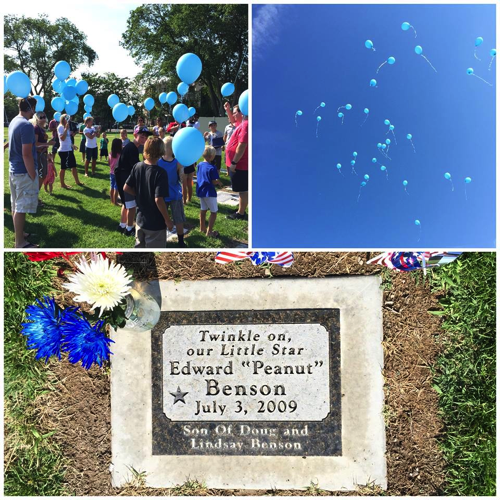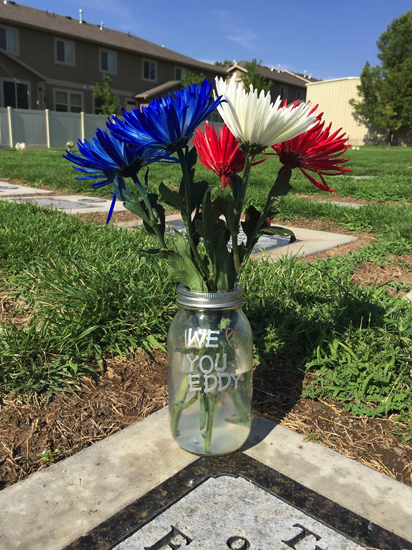 i love that we can honor him and release balloons each year, remembering that sweet, little guy.
after the cemetery, we headed up to a family barbecue. it was such a nice evening, made better with tasty food and awesome company!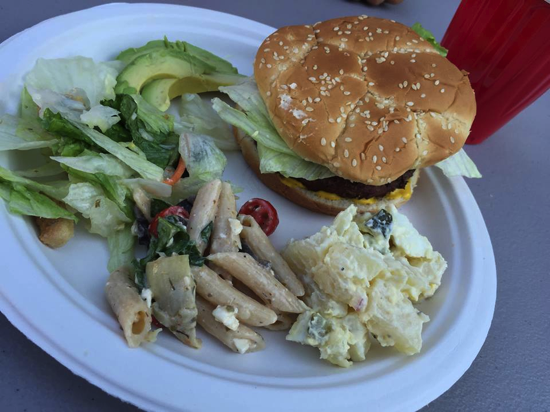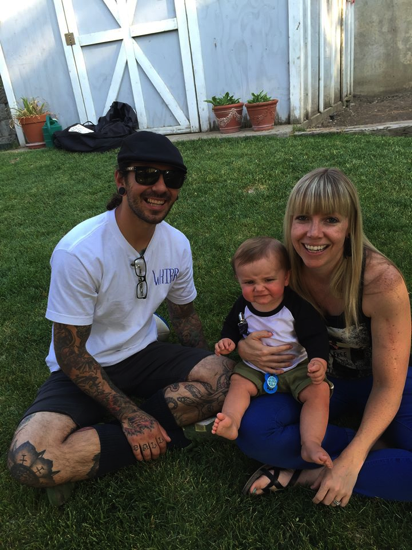 i made a creamy greek pasta salad to share with everyone. i will be sharing the recipe with you guys soon!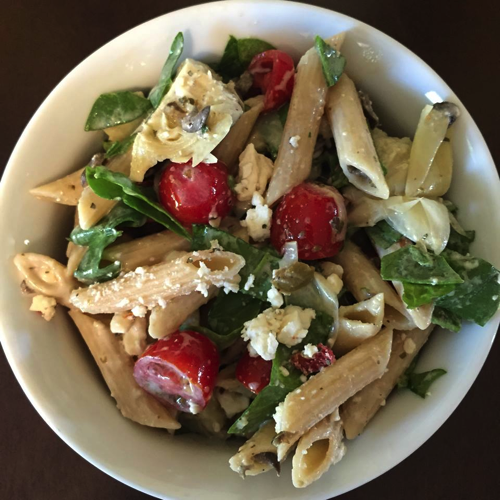 fox was lucky to get a taste of my sister in law's dad's homemade root beer.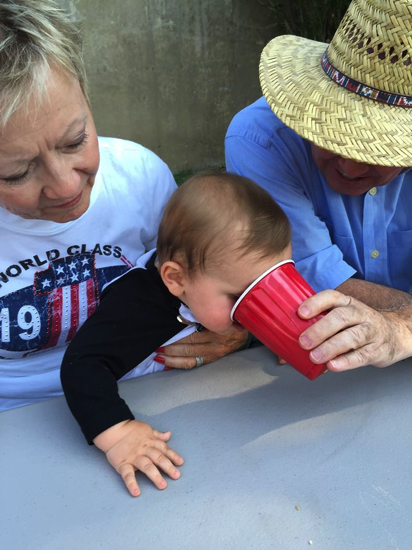 he looooved it and kept tugging on my dad's shirt to give him more. little stinker!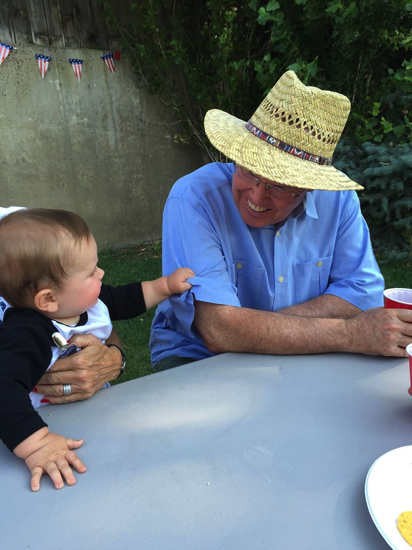 he also had his very first popsicle! most definitely not the last.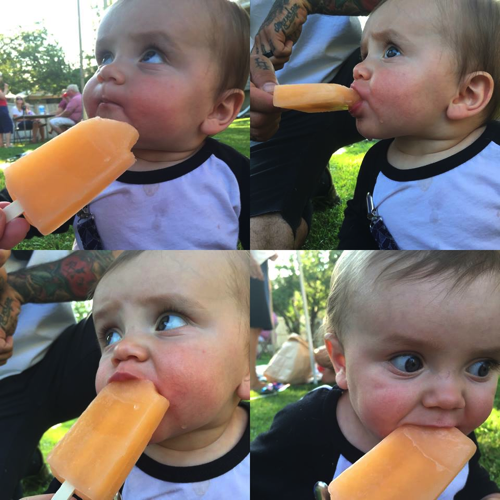 hahaha..bottom right photo. keeper.
saturday was the 4th of july. fox and i headed to the parade with mands & her family.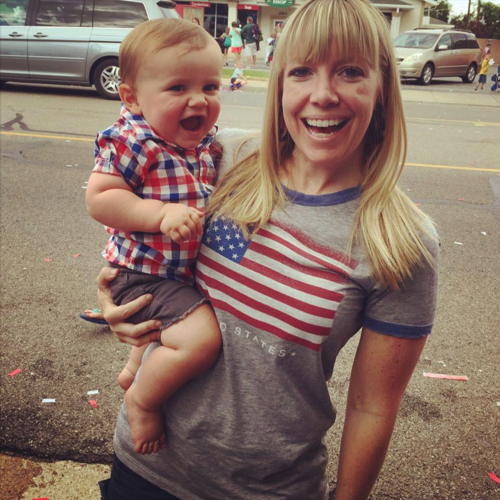 marshall is a parade hater.. such a pity.  i mean, i love a parade. fox did, too. his favorite thing is waving, so he was jazzed to have SO many people waving at him. you better believe he waved back the whole time!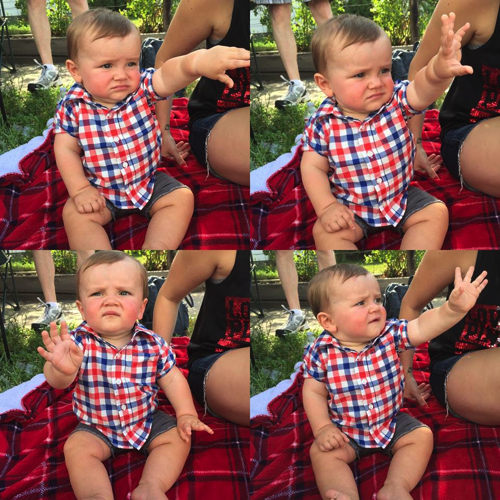 later on, we did some grocery shopping at whole foods and grabbed lunch while we were there. the upside of grocery shopping on a national holiday is the stores are super dead. everyone was out fun-doing!
that afternoon was actually suuuuper lazy. fox took what was probably his longest nap to date, 2.5 hours! marshall and i took full advantage and napped, as well.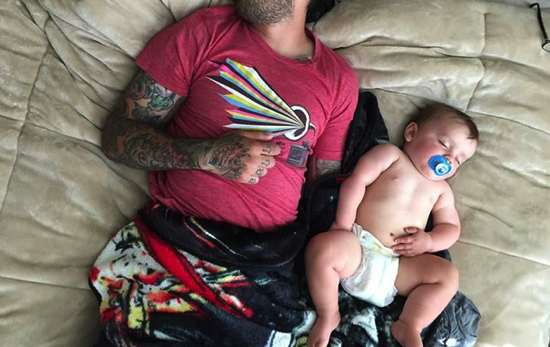 that night we grabbed burgers, fries, and shakes at tonyburgers. so good. we also hit up target for a few things and we had never seen it so dead. if you ever want target to yourself, go on the 4th of july at 7 pm!
we opted not to go see fireworks because fox's bedtime was more important and we figured loud fireworks would freak him out. instead, we tucked him into bed and i ended up going out to hang with some friends while marshall stayed behind at home.
sunday was a special day! randy dog turned TEN. hard to believe this hound dog has been around for a whole decade.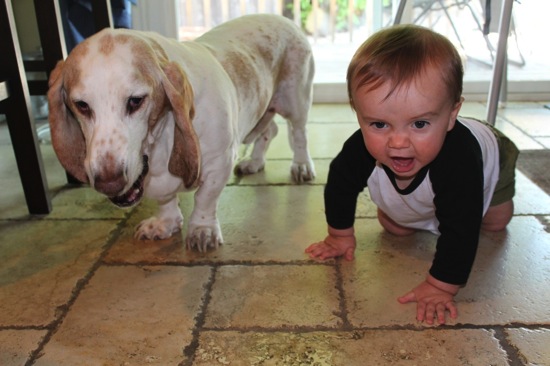 we celebrated by making him a triple-decker peanut butter sandwich. his favorite thing is bread, so it just seemed fitting. and since i didn't have candles, i just cut the sandwich into the number ten.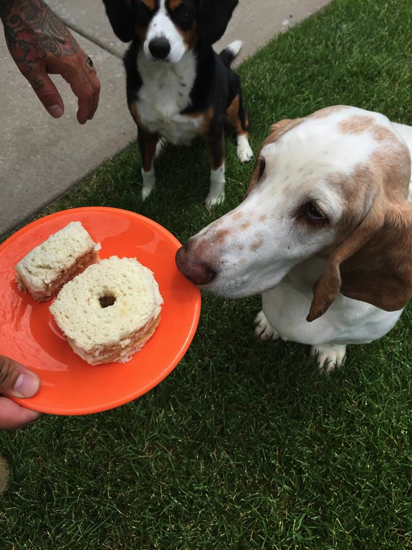 don't worry, pen got a few bites of the crusts. we would never deprive that little needy & greedy pup.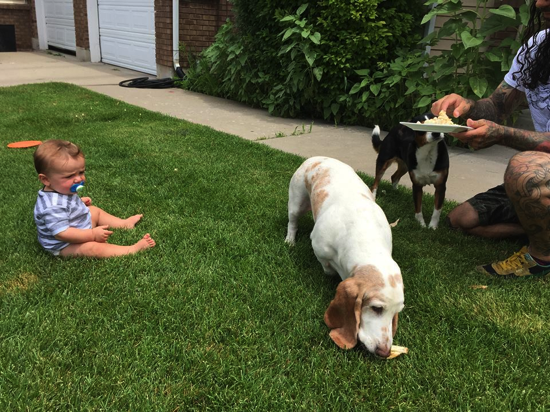 sunday night was another celebration! jessica's little lady turned one last friday, so we headed to the park to celebrate her first birthday. SO hard to believe a year has already gone by. which means fox will be one in just under 7 weeks. yikes.
the party was patriotic-themed and SO dang cute! they know how to throw a party!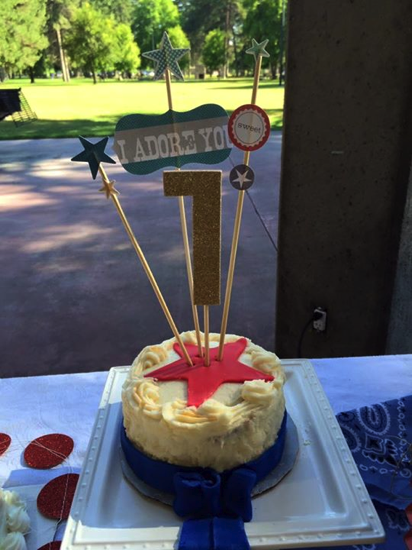 the menu was delicious: pulled pork sandwiches, coleslaw, potato salad, broccoli salad, fruit, chips, salsa, cookies, brownies, cake… mmm. so good.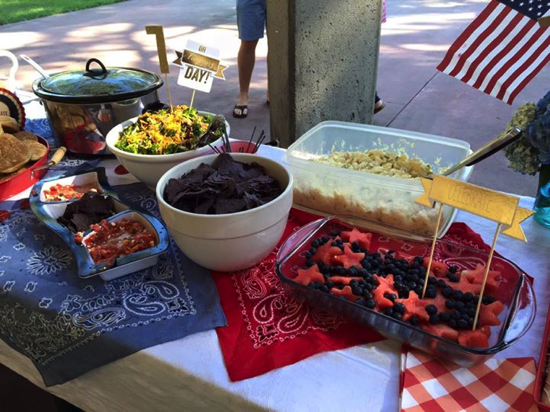 i am so happy my best friend has a baby almost the same age as fox. it makes this motherhood thing so much more awesome than it already is. i love this little family to bits!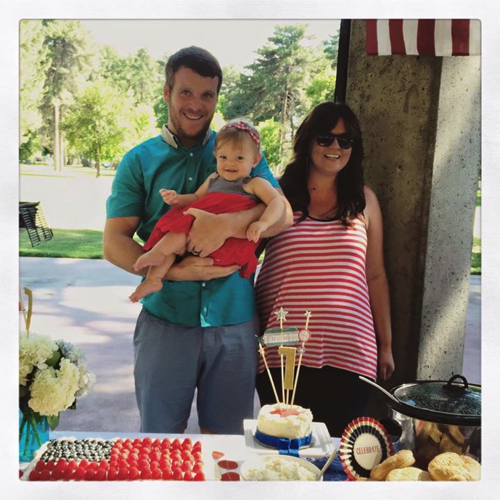 oh, and they revealed some big news! that they will be welcoming another little GIRL into the world in november!! i think jess is somewhat disgruntled that i opted not to be pregnant with her again (i kid!) but i am sure i will not be too far behind her with baby #2. (i am actually really sad that we won't be pregnant together again.. it was the best thing ever. well, being pregnant wasn't.. but being pregnant with her was.) i am just not quiiiite ready for that commitment, haha. scary. i will stick with just this wild & crazy one for a little bit longer.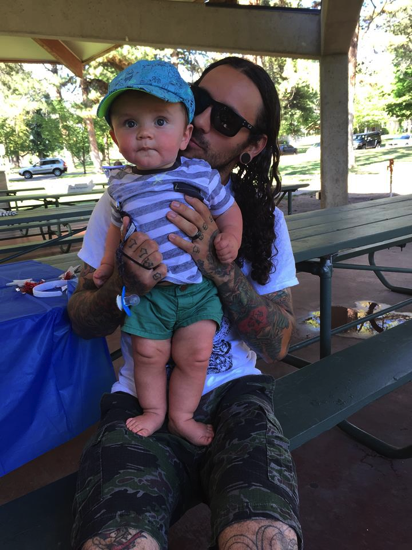 the celebrations did not stop there. yesterday was another birthday party, this time for my sweet niece, nora. she had a pool party and it conveniently started right when i got off work.  this was fox's third time to the pool. the first two times he was a little iffy about the situation, but this time he really liked it!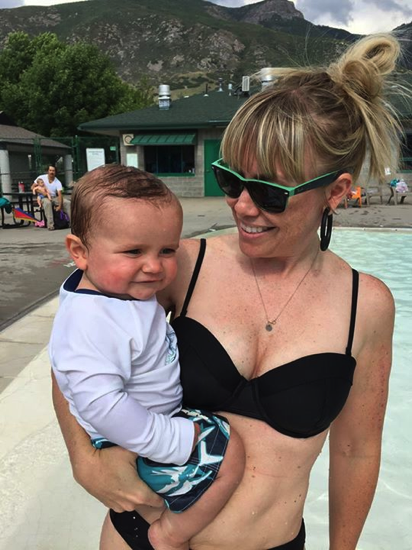 he was happy and kicking and splashing in the shallow end. when we took him out to the deeper end and held him like a baby, he practically dozed off! i think he felt like he was back in the womb. it was so funny; every time we cradled him, his eyes would fall shut. silly guy.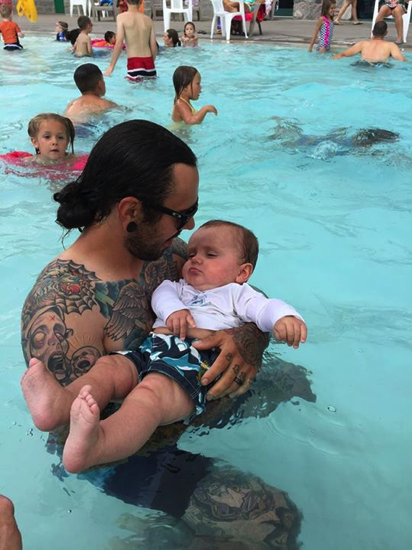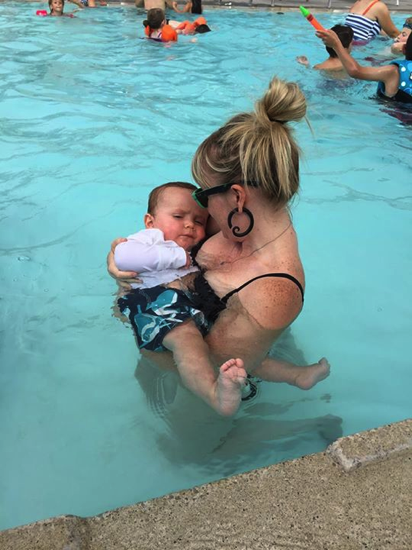 we had pizza and popsicles for dinner—perfect for a summer night! thanks to my brother & sis in law for throwing such a fun party. happy birthday, nora! love you, lots.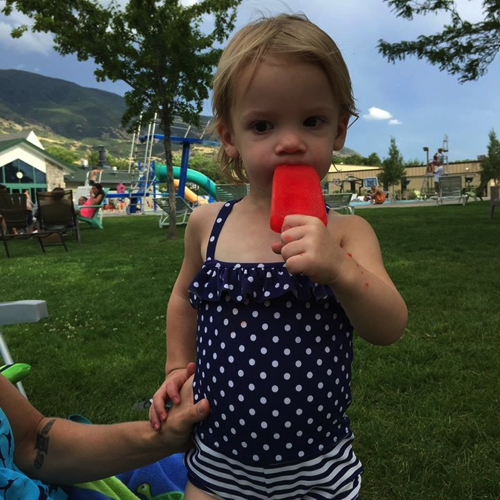 whew! told you it's been quite the whirlwind lately! we don't have a ton of things planned in the next little while, so hopefully i can catch up on the boring things in life.. like laundry, sorting stuff for our upcoming yard sale, and mopping the floor. but if, for some reason, other fun things come up.. you won't have to twist my arm to push those boring things aside. ;)
thanks for reading about my adventures! i hope your holiday weekend was fun and delicious.
Qs~
1. how do you feel about parades?
2. what is your favorite summertime treat?
xo. janetha g.