hello and happy wednesday to you! here we are, over halfway to june.. the month is flying by (as well as the year!).. but the week is dragging. how is it that it always feels that way? so strange.
anyway, i thought i would pop in and share a bunch of odds and ends! nothing like a whole bunch of rambling to get you through the rest of the week, right?
plus.. i haven't exercised since last saturday, so there are no moves to share. and since dinners have been basic and on repeat, there are no meals to share either! rambling it is.
i have been digging the flowy patterned pants trend for awhile now. however, every single pair i have tried has been 234 feet too long for my short legs. i was shopping with momma b on friday and tried on these billabong pants.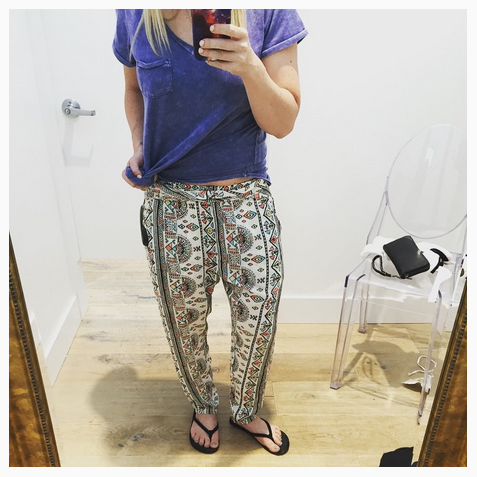 to my surprise, they were the perfect length! and oh, so comfy. i wish it was acceptable to wear them daily. naturally, i googled them to see if there were other patterns available. turns out, they are 3/4 length pants.. haha. which is why they are the perfect length for my 3/4 length legs. love 'em.
while i am on the topic of clothes, can i ask you guys about flip flops? well, this question only applies to you if you have wide feet, like me. i can't, for the life of me, find black flip flops that my toes don't hang off of! the ones i have now are quickly wearing out, and they are no longer made or i would just buy another pair. anyway… i have found these and these and might order them to see if they fit the bill. but i thought i would ask you guys in case you know about some secret flip flops that i don't know about!
my friend amanda had been eating these trader joe's sausages for breakfast all last week. we are lucky and have a full kitchen at work and we cook breakfast together most days of the week. i had sausage envy, so i went ahead and snagged them for this week's breakfasts. they are delicious! get them.
i am in love with my le creuset dutch oven. i use it nearly every time i cook dinner. i hate our regular pots and pans—everything sticks to them and they don't cook things evenly and, ugh, i just hate them.
we use skillets quite often, so i thought it would be a good investment to get a le creuset skillet! i purchased the 10.25" one, because it seems to be the size we use most often.
shout out to flapjacked, i make fox their cinnamon apple pancakes on the weekends and he loves!
so far, i love the skillet! now i want to buy the saucepan and casserole dish. they are spendy, though, so i will have to wait awhile to get those! especially since i just bought a lightweight stroller and a convertible car seat, a new fence, and a dental appointment are all on the budget horizon at the moment, haha. being a grown up.. sigh.
we went to a lovely wedding on sunday! our friends were married up big cottonwood canyon at the spruces campground. it was the most adorable wedding i have ever been to. seriously. the bride, amanda, is so crafty and creative. she thought of every detail.
perhaps my favorite detail was little polaroid pictures that everyone had taken right before signing the guest book.
we taped our photo into the guest book right next to a hand written message. i thought this was such a great idea!
the cocktail hour included a full spread of snacks to fill a popcorn bag with to munch on until dinner time. pretzels, nuts, popcorn, licorice, gummy bears.. so many tasty ingredients to make a snack mix. i loved this idea.
the cake was also super awesome.. spice cake with cream cheese icing—but not too much! (i am not an icing fan.) doesn't it look like a stack of pancakes?!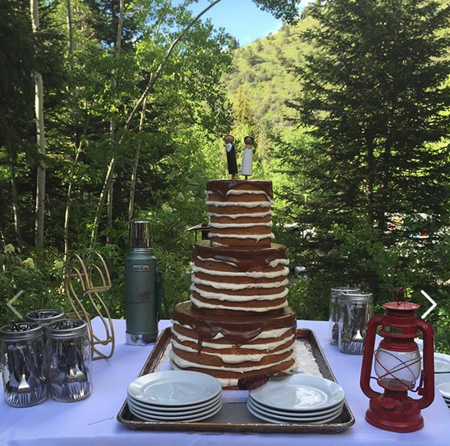 congrats to mick and amanda, thanks for letting us join in on your special day. (i refrain from posting photos of brides & grooms unless i have permission.. and they are on their honeymoon, so no photos of them!)
more congrats are in order—to my friend kerryne! you probably have read her blog and/or remember me talking about her a lot back when we worked together. we never get to see each other any more, but we keep in touch. she has been working hard at her physique and she recently became an IFBB bikini pro! after seven years of competing, it is high time she earned her pro card. i am so happy for her!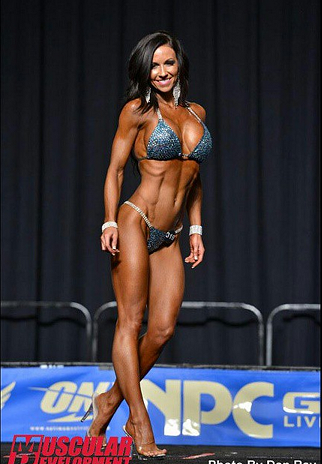 a couple items of business..
first, the zipadee zip slumber sack winner has been picked and is displayed on the original post. thanks to all who entered!
and second, i had mentioned the massage envy contest a few posts back. basically you just need to declare a fitness goal for june, post it on instagram, and then on the 30th of june check in on instagram, saying how the goal went. tag all photos related to the goal with #MEUtahFitnessGoal. one winner will be picked to get a 3-month membership to massage envy. it's open to all of the USA, not just utah. so if you have a massage envy near you, you're in. i am mentioning the contest again because i looked at the hashtag and there are hardly any participants! meaning, your chances of winning a free spa membership are pretty dang awesome. so go enter! your instagram account does have to be public so they can see your entries, but you can always switch it back to private after the contest.
well, that's all i have for today. i am off to get a bang trim! i know, a wild life i lead.
since this post is lacking in adorableness.. here are a couple recent pics of my dude.
love him!
check ya later, alligators.
Qs~
1. what was the last piece of clothing you bought?
2. any new food finds to share with the class?
xo. janetha g.