yoohoo! happy sunday morning! i am on mug of coffee number two and just put fox down for nap number one. we've been up since 6 AM since he isn't sure what the weekend is.. but i should not complain, because it's better than his usual 5 AM wakeup time!
i thought i would pop in and share details from my saturday. yesterday was full of productivity and fun! 
things started out bright and early at vasa fitness. i headed there during fox's first nap to get in an upper body workout. i actually just made it up on the fly, i kind of miss doing that! i thought i would share it with you guys, because, you know.. i used to do that. a lot. that's what the "moves" part of my blog name is all about.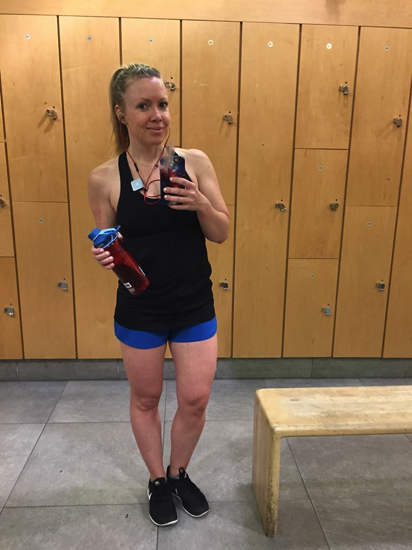 i am a numbers geek, so of course i had to make this workout involve some sort of numbery goodness. i went with decreasing reps by five each round, and based the weight of my dumbbells on the number of reps required. for this workout, you will need a pair of lighter dumbbells (10 lb), a pair of moderately heavy dumbbells (15 lbs) and one heavy dumbbell (25 lbs).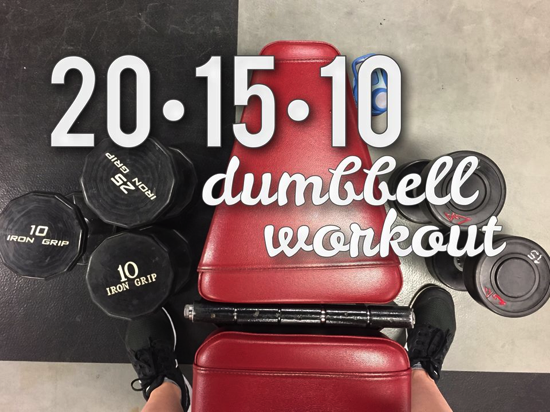 i warmed up on the stair mill for five minutes prior to the workout. i would have done the treadmill, but they were all taken. busy saturday morning at the gym.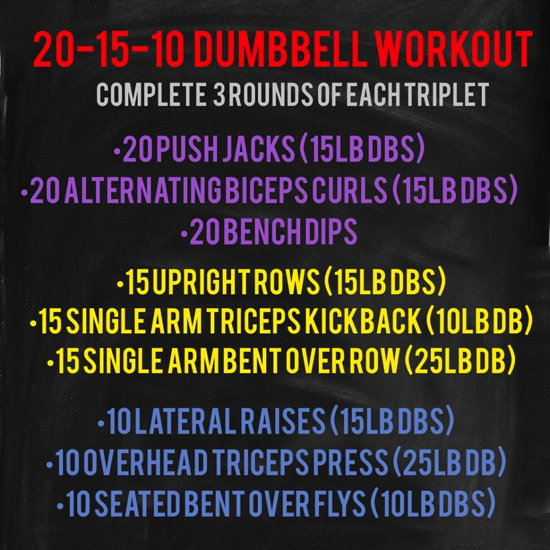 i cooled down with 10 minutes of walking on an incline on the treadmill. 
this is a great workout that really hits your triceps, as well as your biceps, shoulders, and back. it is quick and effective, i was done with my warmup, workout, and cool down in 45 minutes. give it a shot!
when i got home, fox was up so we headed out to the farmer's market! it was opening day.. i am so excited it's back in our lives! we love the market!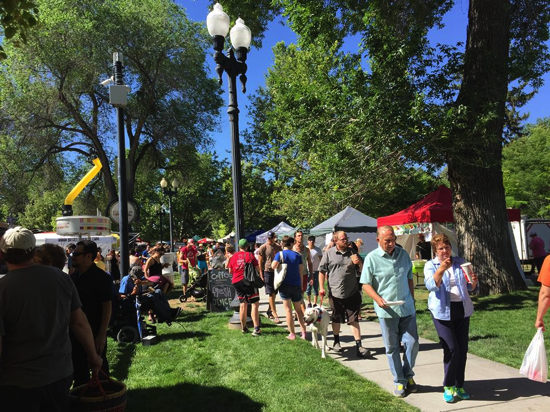 first things first was to grab some food. i got huevos rancheros from the frida bistro cart. so yummy, but a tad spicy for me. i am a wuss. fox didn't waste any time trying to get a taste .
marshall snagged me an iced coffee, which was nice since it was a scorcher outside.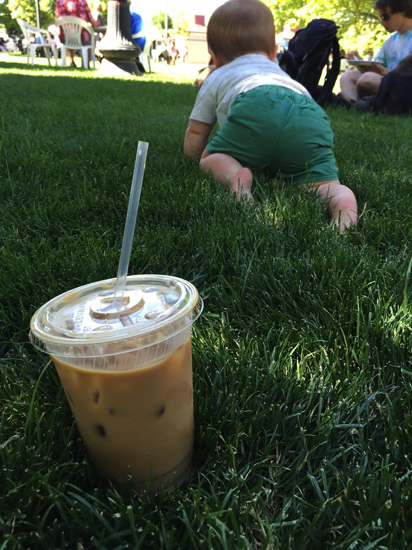 we played on the grass for quite some time, it was such a nice day.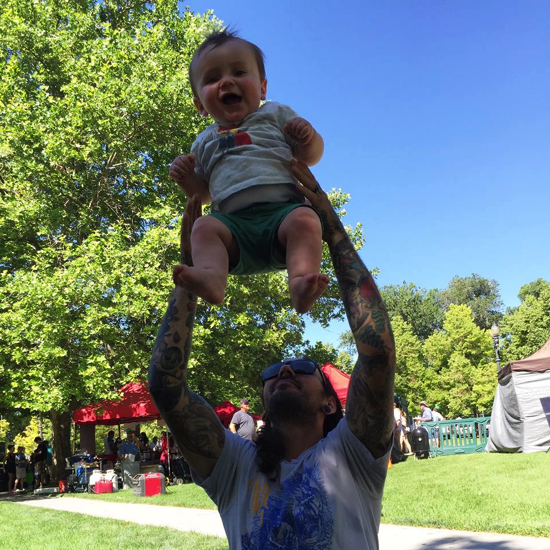 we also ran into our sister in law, kelly and her pup! everyone loves opening day at the market. we walked around a bit, but then it was time to head home so fox could nap. he fell asleep in the car, which sucks, because then his nap schedule is all thrown off. we tried to transfer him when we got home.. but the nap ended up being real short. poor guy!
later on, marshall had to run some errands and mow the lawn, so fox and i played with his water table. we got this one and it is awesome! i was struggling to figure out why the hose wasn't squirting. i found a kink in it and when i undid it.. it started squirting full blast.. all over fox! ahhh! he was scared for a minute, but then laughed and was super soaked. he's a good sport.
i spent a bunch of time organizing my house and cleaning out closets. we plan to have a yard sale with my mom and sisters next month, so i am slowly purging lots of things to get rid of. i made a lot of progress yesterday! but there is still so much to sort through. it'll be nice when it's all over and done with.
last night we headed to my boss's son's wedding reception. it didn't start until 7, so luckily i squeezed a fourth nap in for fox so he would be happy at the party. and, boy, he sure was! especially because there was a swing set!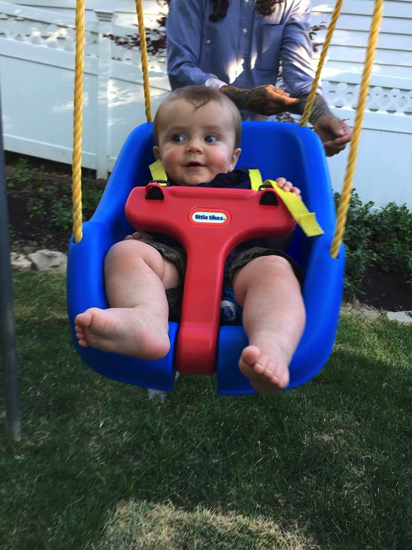 they served the most delicious mexican food. i should have had mexican food at my wedding.. duh. such a good idea.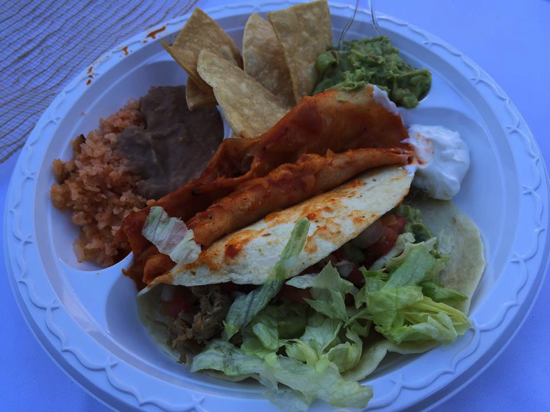 there was a super cute & tasty dessert bar.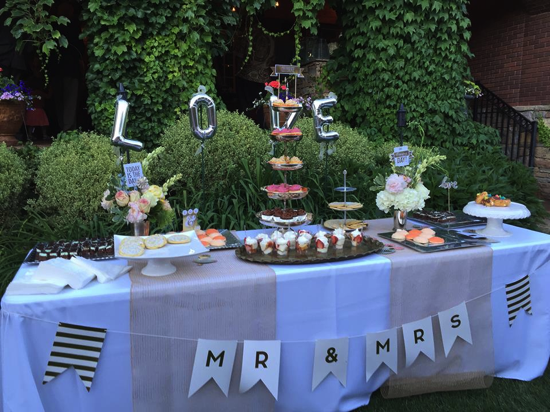 fox decided that marshall's strawberry shortcake was actually his.. and ended up getting it everywhere. funny guy(s).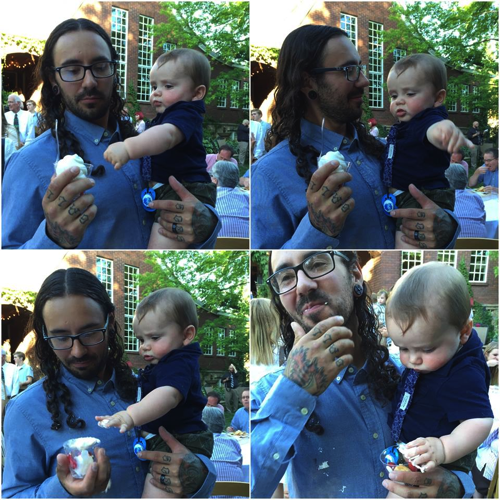 congrats to the newlyweds! who i totally failed to get a photo of. 
well, this post was perfect timing, because fox just woke up! we are going to head to do our weekly grocery shopping now. we have a wedding later today, up in the mountains! fox is staying with momma b, so it will be weird for marshall and i to hang out together without our baby.. haha. it should be a good time!
enjoy your sunday! :)
Qs~
1. what did you/do you want to serve at your wedding?
2. what's your favorite dumbbell move?
xo. janetha g.