i used to be an avid goal setter. each month, i'd set a laundry list of goals, declare them here on the blog, and work towards reaching those goals. at the end of the month, i'd report back.
and then i became a mom. and all spare time flew out the window along with any hope for a decent night of sleep.
kidding.. kinda.
actually, now that fox is a little older and the dust has settled, i am getting back into a groove. it's definitely a different groove than before, but a groove nonetheless.
i have found time to consistently get to the gym, i have been able to actually meal plan again, and focusing on a few "me" things is not completely out of the question.
since i am feeling somewhat like my old self, the desire to set goals has crept back up into my radar. i woke up one day and thought, hmm.. i need to set some goals. i need a little structure and direction. i need a plan. these are all reasons i set goals in the past—i love the organization that goal setting brings to my life.
with my 32nd birthday being not only on a monday but also on the first day of the month, i decided that was as good a time as any for some old fashioned goal setting! of course, i didn't actually find time to post about said goals in a timely manner here on the blog, because life, but i did set those goals for myself in a handy notebook.
i like to set goals that touch on all six areas of health. all aspects are important when aiming to achieve optimal health.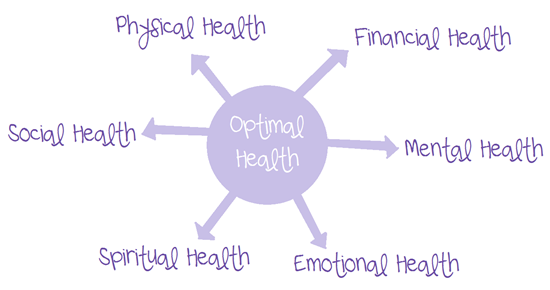 so often we only focus on the physical aspects of health when setting goals. i try to look at the bigger picture. mental health has actually become much more important in my life these days over physical health—but i need to remember to pay attention to all six aspects!
anyway, here they are.
physical goals: drink a gallon of water each day & eat at least two servings of vegetables daily.
it's funny, my physical goals have 100% to do with increasing my breast milk production and nothing else.. i don't care how i look.. i just want to be able to make more milk for fox! that makes me laugh.. who knew it would be such a big issue in my life?! i haven't been pumping nearly enough lately, especially now that i have to pump five days a week, and i know that it is directly related to my lack of proper nutrition and hydration. so when i thought about what i wanted to achieve this month, producing more breast milk was the first thing that came to my mind. but in doing that, i will be healthier in general as well. two servings of veggies may not sound like a lot to you, but i have been getting zero servings more often than not. fail! and i really need to focus on drinking water. i used to be so diligent!
financial health: reduce weekly grocery spend.
we went from being a DINK (dual income no kids) household to having a child, marshall working less to stay home with our baby, and paying for a nanny part time. we don't have the kind of money we once did. but we are still buying groceries without a budget. i am going to be more mindful of the prices of each item on our list, and make the frugal decision. i also want to buy as little as possible and eliminate wasting groceries—we have gotten a lot better at this, but there are still times i find myself having to toss produce.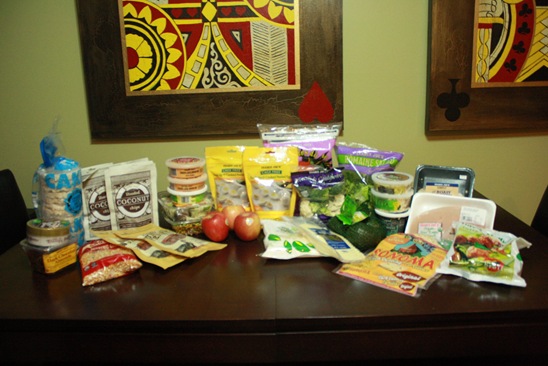 remember when i used to have time to show you all the groceries i'd buy?
emotional health: voice my feelings & frustrations rather than holding them in.
raising a baby is a lot of work. i am, quite frankly, an emotional wreck some days. but i am really good at holding it together and not talking about any issues that may be bothering me. it's really important to talk about those feelings so i don't explode! i am going to make a conscious effort to talk to marshall about how i am feeling—good or bad—so i can maintain a healthy emotional state.
spiritual health: write my thoughts down at least once a week.
i used to be really into journals. i find journaling very therapeutic. i let the habit fall by the wayside long ago, but i think it is important for me to get back into the habit. i am not a religious person by any means, but i feel like writing my thoughts down to someone, anyone, whoever may be out there, is beneficial to my spiritual health.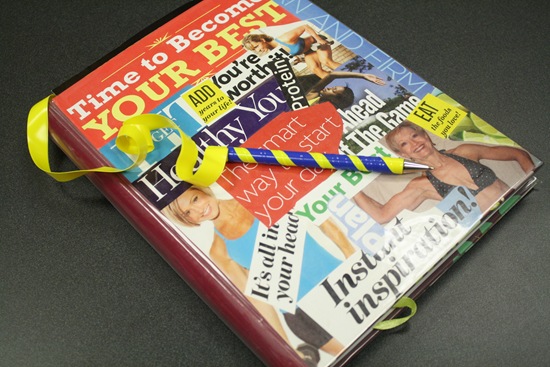 side note: for a tutorial on how i made this journal for my mom, click here!
mental health: reduce time spent on my phone.
i think we all get caught in the technology trap, especially these days. all too often i find myself scrolling through this app or that one, mindlessly looking at my phone. it really isn't doing anything for my mental stimulation. i want to focus on putting my phone down and using my mind for other (more important) things.
social health: see my friend(s) at least once a week.
it is SO easy to let weeks go by without seeing anyone other than marshall and maybe my family. each day is so busy with work and fox and dinner and exercise and housework… at the end of the day i am like, dang, when do people have a social life?! but it is good for my soul to see my friends. i miss them so much. texting is awesome, but sometimes you just need some face to face hang out time! i have done a great job so far at seeing my friends a bunch this month, thanks to my birthday shenanigans, and i have more fun things planned in the future. it doesn't hurt that on of my BFFs has a birthday and we also have a trip to california planned!
so, those are my june goals! i will be working on those this month and hopefully extend them throughout the summer. even just the act of declaring my goals and writing them down is an achievement in itself. i encourage you to do the same, you will be amazed at how fulfilling it is just to declare a few things you hope to achieve.
also, if you have a massage envy in your area, you can use a little contest as an incentive to set and reach some personal goals! massage envy spas of utah are hosting a special contest that will be hosted through instagram! (but the prize is available to be used nation-wide!)
for the month of june, massage envy of utah is asking you to set a month-long personal physical goal. throughout the month of june and ending june 30th, when the goal is completed, they ask that all contestants post photos to instagram documenting the progress of your goal as well as the end result, using the hashtag #MEUtahFitnessGoal. you should also tag massage envy in your posts. their handles are: Massage Envy Utah (facebook) and @MassageEnvyUtah (twitter and instagram.)
they will evaluate the contestant's submissions and choose a winner based on creativity, persistence, dedication, and overall completion and success of the set goal. the winner of the competition will receive a complimentary 3-month membership to any massage envy spa! you can find more details on memberships to massage envy here.
ok.. i'm outta here. i have 32 more ounces of water to drink today and another serving of veggies to eat. i better hop to it!
Qs~
1. are you a goal setter? what are your current goals?
2. which of the six aspects of health do you feel you focus the most on?
xo. janetha g.