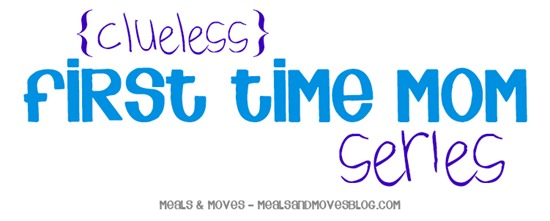 hey! it's been a minute since i have done a first time mom series post.. and i have a bunch in the works, so i better hop to it! since fox has passed the nine month mark, i decided i should post what things we have loved for the past three months. you can check out what we loved for the first three months HERE and then what we loved for months 3 through 6 HERE!
so, these past few months have been super exciting in terms of baby gear, because fox has grown so much and has started being way more interactive! he is eating three meals a day, he now loves toys and has favorite ones, likes doing certain activities, and is getting more and more mobile.
here are some essentials we could not live without!
we have tile in the majority of our home, so getting this rubber play mat was a great idea. fox hates playing on the cold, hard tile and he basically refuses to crawl on it. this mat came with 36 squares that are 12″x12″. you can do one big square or portion it off however it works for you. we have it in an "L" shape in our living room and it works really well! this is fox's play area and he spends a ton of time on the mat with all his toys.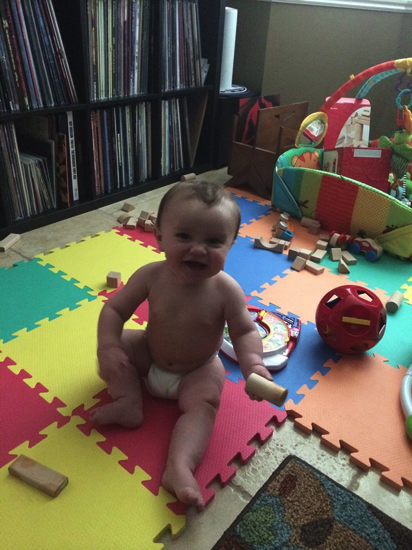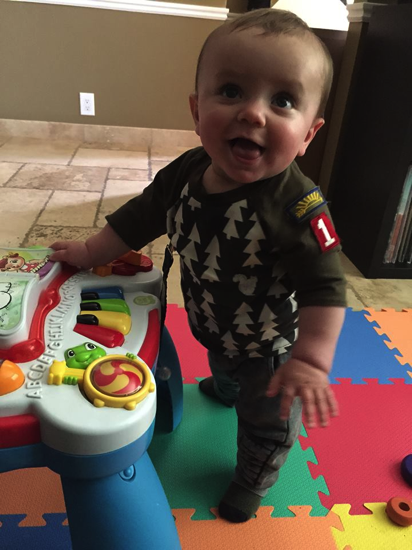 this little guy insists on standing more often than not. he can't do it by himself quite yet, so this activity table has been a lifesaver. it has a lot of buttons and sounds and doodads. oh, and it will even sing in spanish! it is really interactive and fox has learned how to put things (like his binky or a toy car) in the little cubby hole. it's fun to watch him explore all the activities.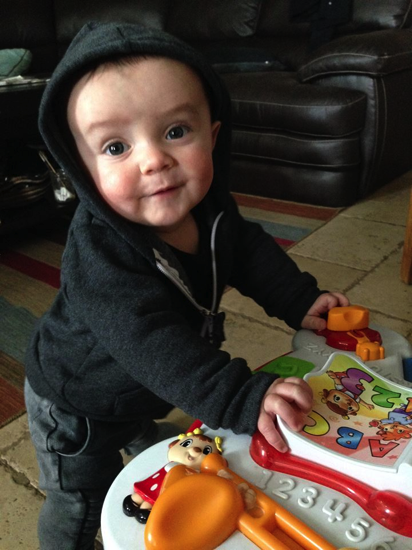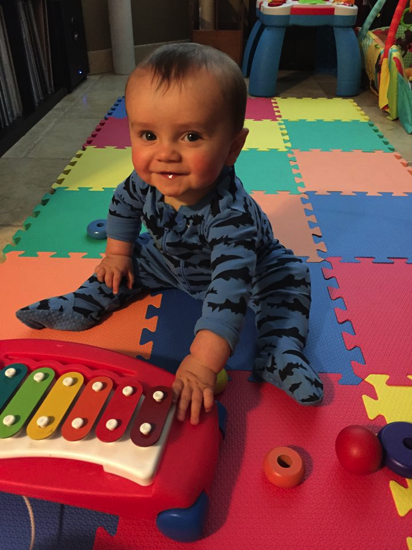 granted, fox probably likes the stick more than the xylophone itself.. but he has started banging on the keys lately! it's one of his favorite toys and we even had to take it on our road trip to colorado!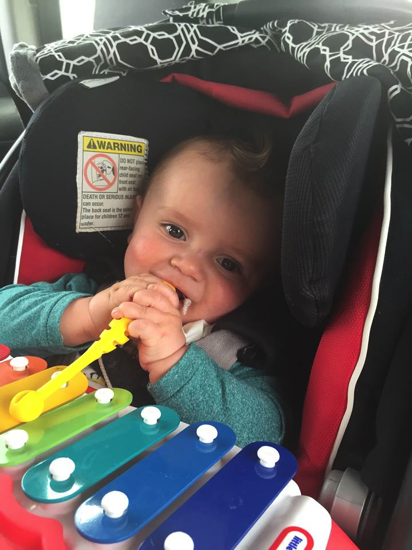 blocks of any kind.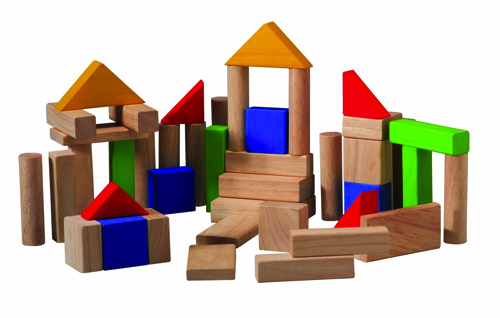 marshall or i do the stacking, fox does the knocking over. you really can't go wrong with blocks. we have a few different sets both here at home and at my mom's. these natural wood ones seem to be pretty entertaining, and these soft, rubber ones are fun, too.
board books.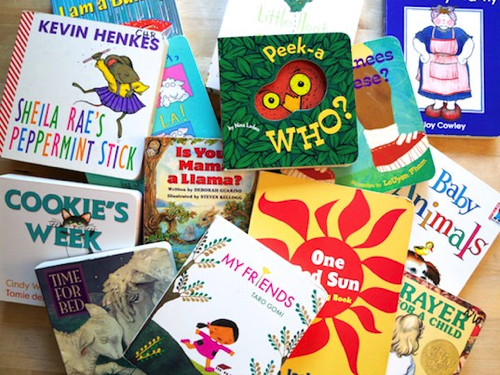 fox has developed a real love for short stories and board books. they have cardboard pages rather than flimsy paper pages, so they are great for little ones. his favorite is "peek a who" and we read it over and over and over! he laughs every time, and helps turn the pages. it melts my heart when he hands it to me to read to him!
big basket of various toys.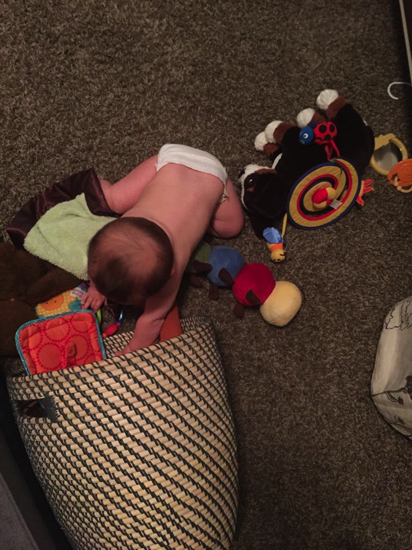 babies have short attention spans, so it's good to have a lot of different things to keep them busy and learning. i have a big basket of various toys in his room. every day, we go in there and i plop him on the floor and tip the basket over so he can pull the toys out and explore them on his own. every day he plays with something different, and i try to keep the selection fresh and new so he stays interested. lucky for us, we get a lot of hand me down toys!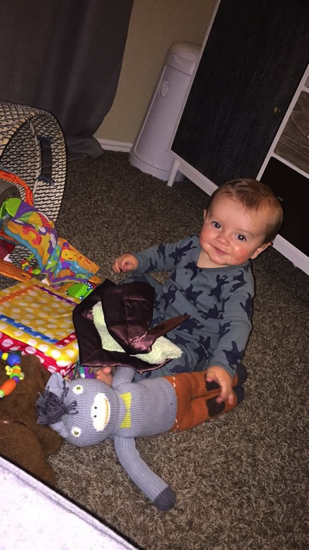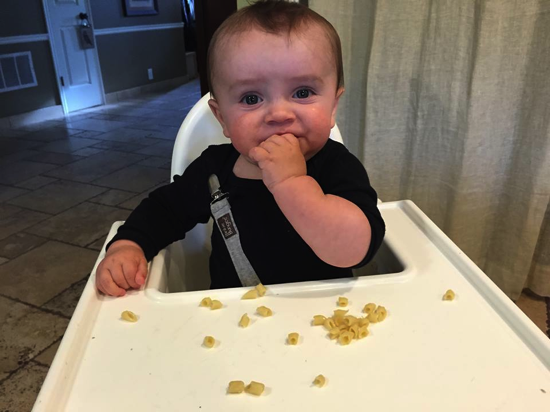 this high chair was a hand me down, but it's super inexpensive if you are in the market for one. (i mean, it's $15!!) it's great because it is simple and does not have a lot of crevices for food to get stuck it. it's way easy to wipe down and keep clean. it stows perfectly next to our bar stools and it's not bulky or in the way.
this is fox's high chair at my mom's house. it clips on to any table or bar and adjusts to whatever size you need. it's lightweight and sturdy. it would be great to have one of these in your car when you find yourself at restaurants that don't have high chairs (you would be surprised how many don't!) or if you are going to a friend's or relative's and don't want to bother with feeding the baby while holding him on your lap. super convenient!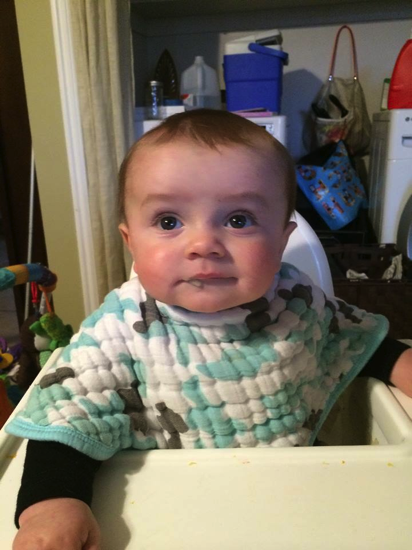 we have tried quite a few bibs, and i find these have the most coverage. the plastic baby bjorn ones seemed cool and i bought those right away (you can see him wearing it in a photo below). while they are easy to clean, they really don't cover enough and fox was still getting food on his clothes. MOST times we don't even bother with a bib and just feed him in a diaper.. but when we need a bib, these aden & anais ones are the best. they also double as a burp cloth, so you can buy them for the newborn days and then use them once baby starts eating solids. (and i am sorry i posted a pic with food on his face.)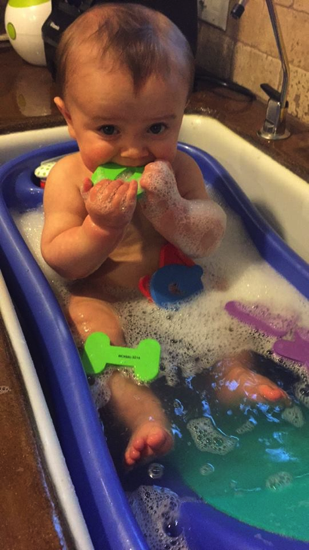 these are so much fun! i can only imagine they will be even more fun once fox is in the big tub, because they will stick to the bathtub walls. but, for now, he likes to chew on them and stick them to himself and play with them.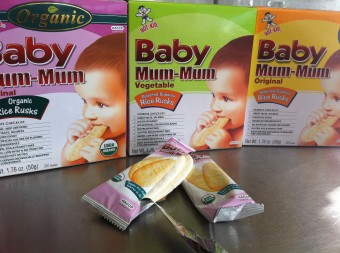 it's embarrassing how much i rely on these little crackers. any time i need to quiet fox or distract him, i hand him a mum mum. it gets the job done! and they dissolve really quickly, so they are a great starter cracker. he started eating them right around six months and i believe they really helped him develop his hand control when feeding himself.
food pouches.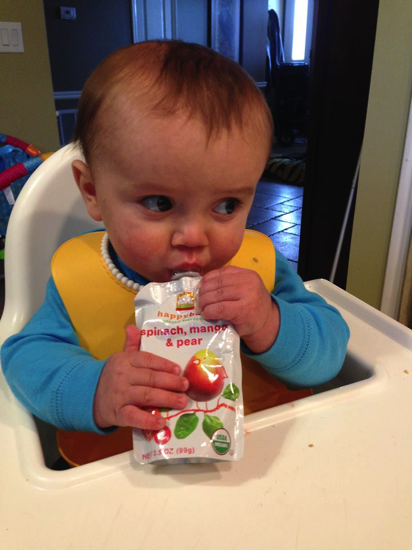 they're convenient. you pay for convenience. but, yeah, they are convenient.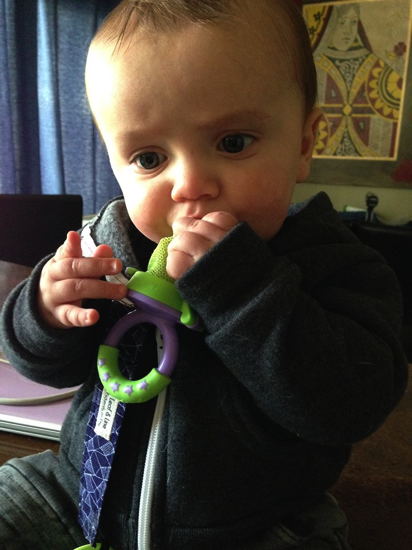 we love to put frozen fruit in these and let fox go to town. they can get a little messy if you have something like strawberries in there, but we try to stick to things like frozen pineapple or other non-stain-causing fruits.
baby jogger city mini GT stroller.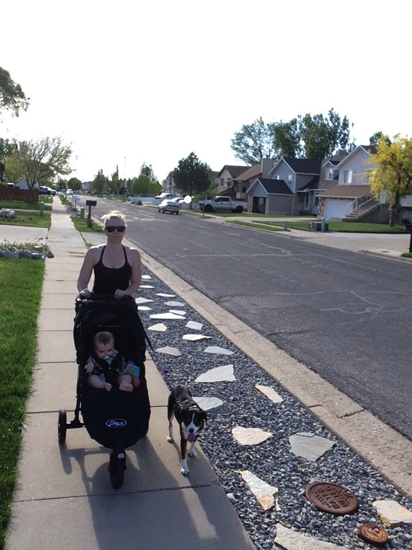 so, awhile back i was regretting my splurge on a nice stroller. i eat my words! i am i LOVE with this stroller, now that we don't have to use the infant seat attachment, and i am so glad we went with it! the wheels are small, but can handle any terrain. it's lightweight and folds up quickly and easily. i bought the 2013 model in 2014, so i got it for 35% off.. try to find an older model and you can get a bargain.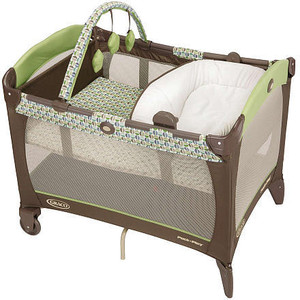 we didn't really need the pack n play much in previous months, but we have always had it set up in our room for fox to play in. now that he is crawling all over, it is SO nice to have this! he plays in there safely while we both are getting ready for work and don't want to have to worry about him getting into things. it was actually my very first baby gear purchase when i was pregnant, and i was super proud of the deal i got on it. it was on sale for 30% off and then target was having a 20% off any baby gear sale and then it was also on cartwheel for 10% off and i have a red card for 5% off… so i got it for 65% off! haha. i just recommend you watch for deals on these, because the brand really doesn't matter. the one linked above is the one i got, and it was nice for when he was littler.. but now it's AMAZING to have!
obviously there are a lot more things we use and love, but this is a short list of those things we love the very most! i hope you have found it useful!
it will be fun to see what other things we will begin to use and love between months 9 and 12. we already have a sand & water table on the list. and we will need to buy a convertible car seat as well as an umbrella stroller here pretty quickly! if you guys have suggestions for any of those things, let me know.
Q~
moms.. what baby gear can you/could you not live without? 
xo. janetha g.