hi! what do you know, it's thursday. this week is flying by! probably because it's my birthday week and i have jam packed it full of all sorts of fun stuff. some things i took photos of, others i did not. and i have eaten ALL THE FOOD. that's what your birthday week is all about, yeah?
marshall is at a friend's watching basketball, fox is snoozing in his crib (yes!! he likes it now!!) and so i thought i would dust off the ol' laptop and blog!
so, my birthday was actually on monday, and i think mondays are boring.. so i started celebrating last friday. that seems like a good idea, right? of course!
it's kind of ridiculous how many meals i have eaten out vs. cooked.. i just did a quick tally of the past week and realized i have eaten out ten times. hahaha.. yum.
so let's rewind and recap a few things! mainly food, because.. yeah.
friday night, marshall and i got the best best best barbecue around. it was from smokin' bones in bountiful. locals, you MUST try it!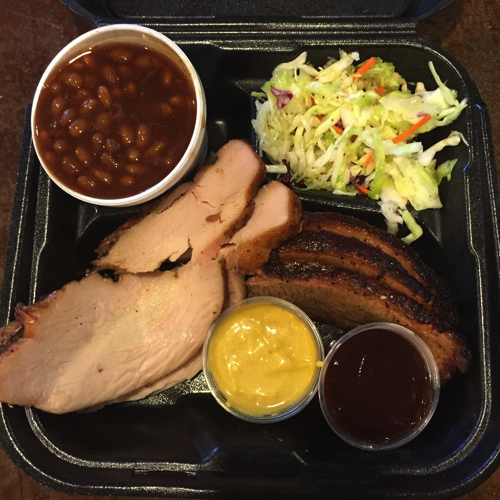 i had a two meat plate with turkey breast & brisket. i chose beans & coleslaw for my sides, and also stole marshall's cornbread because barbecue isn't barbecue without cornbread.
saturday, jessica and stevie took me and fox to brunch! we went to another local favorite: penny ann's cafe. they are known for their delicious utah scones (which is basically just a big thing of fried dough served with honey butter.. mmm..) and i got the penny pot potatoes which had potatoes, sausage, bacon, mushrooms, onions, peppers, cheddar, and two over easy eggs. so good. plus lots of coffee and a pancake for each of the babies.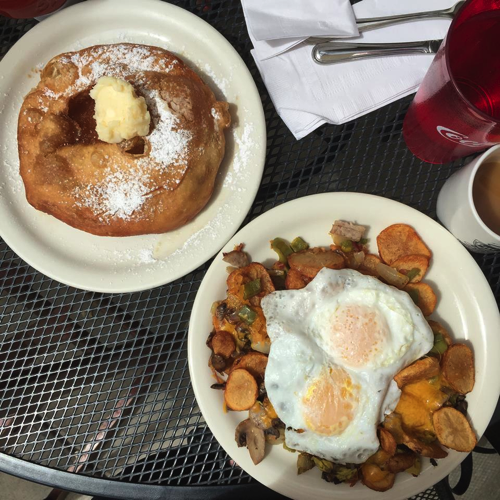 just realized we didn't get a photo of ourselves or our tiny humans! fail. it's so hard to remember to take pics when you are making sure your child does not dump scalding coffee all over himself.
saturday afternoon was a fun first! we took fox to the pool for his first time. he seemed to like it pretty well, after a little bit of initial skepticism.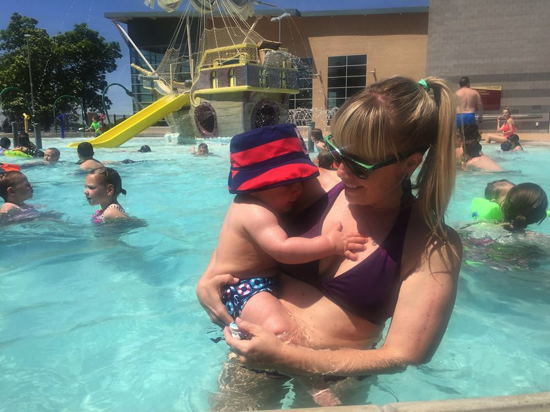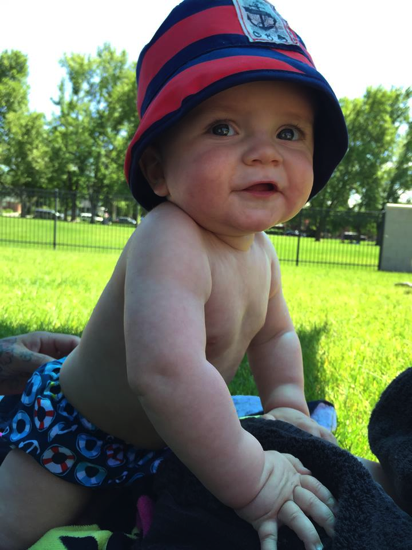 all that swimming made us hungry (again).. so we got pizza from settebello (and i ate two slices of my capricciosa before remembering that i am a food blogger…)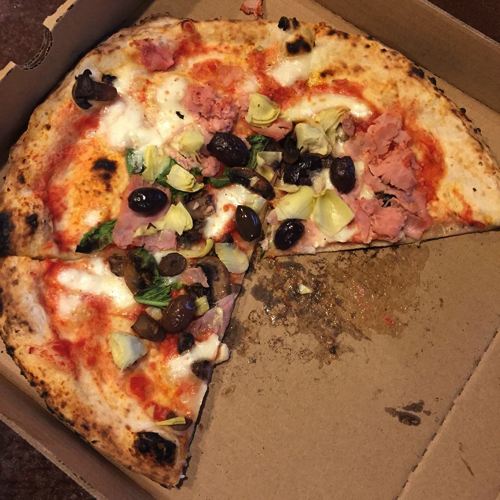 and because i needed to have even more calories in my life for the day, marshall went and got us shakes from tonyburgers.. ummm.. BEST shakes around, folks! they have lots of locations, but are local to utah. tony is actually a fellow GPP goer and a great guy. who is making me fat, one oreo shake at a time.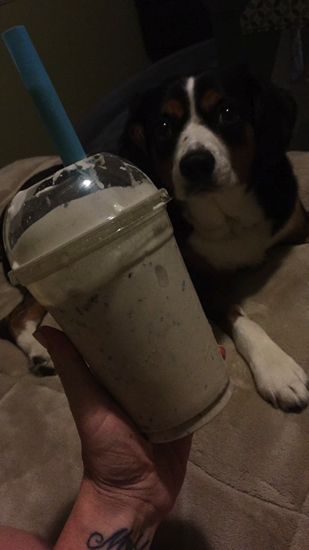 annnyway.. sunday was supposed to be another brunch date out, but fox decided to sleep through those plans. he's the boss! instead, we had a (super) late lunch at whole foods. i was starving by the time we finally sat down and ate. fox, too! i had a big salad, BBQ chicken, and mac & cheese.. whole foods has the best mac & cheese!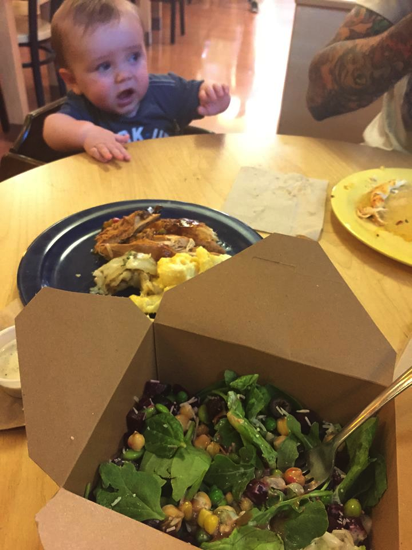 sunday night we actually had a home cooked meal of steak with mushrooms, baked potatoes, and asparagus. since sunday was the OFFICIAL kick off to my birthday week, marshall said he would make dinner every night.. i just had to tell him what. what a guy!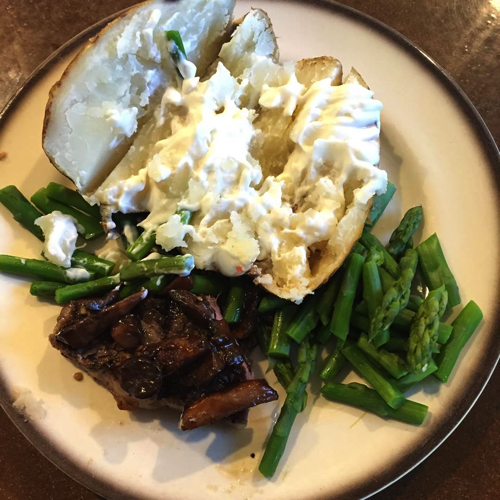 like i said, monday was my actual birthday. the big 32! i don't feel too much different. just tired, as usual. i went to work in the morning for a bit, and then cut out early to head to fox's 9 month checkup!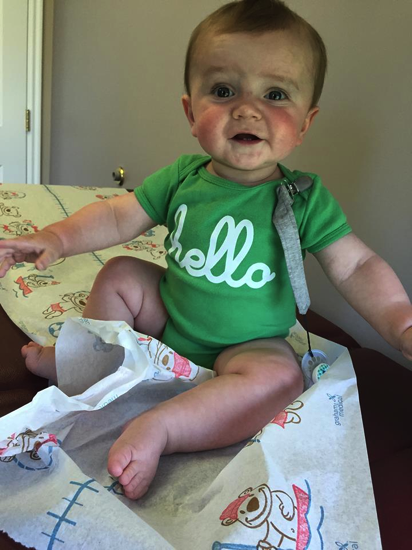 this nugget of love clocked in at 20 pounds 14 ounces! that's in the 60th percentile for weight (up from 50% at his last checkup.) he is 27 1/4″ tall, which is the 25th percentile (down from the 40% at his last one.) and.. that cute head of his.. well.. it is off the charts when it comes to percentile. it is 48 cm and went from 90th percentile to, yeah, off the chart. big brain. smart guy! most importantly, he is super healthy and growing and doing great! we love that little man so, so much! it was a great birthday present to find out that all is well.
we were going to go to lunch, but fox decided to fall asleep in the car.. so we got it to go. of course i had to get my favorite meal on my birthday! the doner basket from spitz is my very favorite meal in all of salt lake city. i mean, can you see why??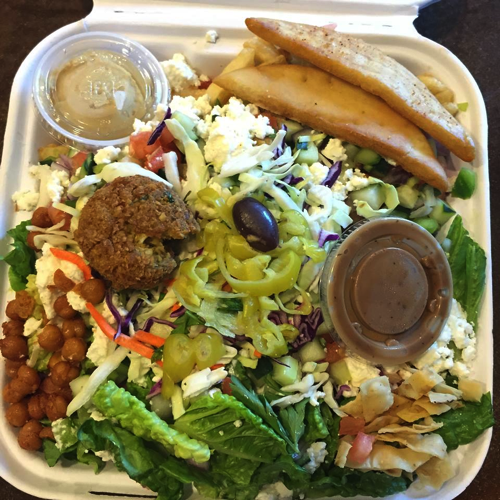 lettuce, fries, fried pita, falafel, lamb, beef, chicken, fried chickpeas, fried lavash chips, feta, banana peppers, kalamata olives, tomatoes, cucumbers, carrots, hummus, and a creamy balsamic dressing. this is the meal that dreams are made of!
fox decided to give me the most awesome birthday gift and started to CRAWL! i posted a video on my instagram and i have no idea how to embed it here.. so if you would like to see.. CLICK!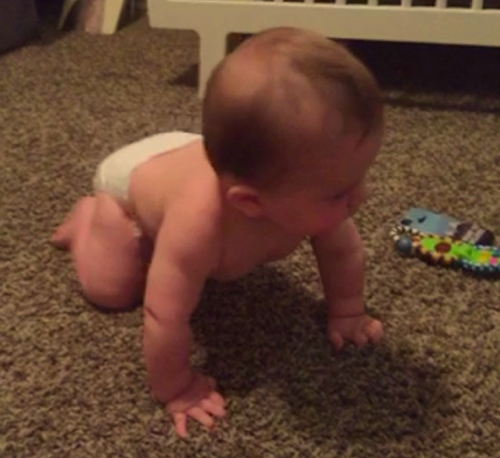 now we are in for some serious trouble, folks!!! gotta baby proof the house, stat.
marshall and fox showered me with birthday gifts, including a pair of black nikes.. something i've wanted for the longest time! i took advantage of the situation and put them to use right away. just a quick 20 minutes on the treadmill, but that was enough to fall in love with these new kicks!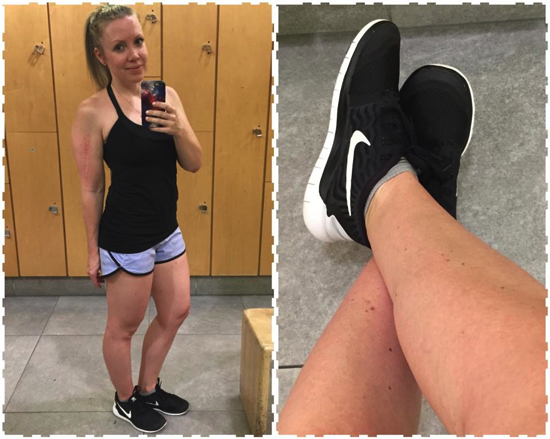 i am always full the rest of the day when i eat spitz, so we canceled our dinner plans for the night and went straight to dessert! a bunch of my family and friends met at nielsen's frozen custard for a celebratory treat.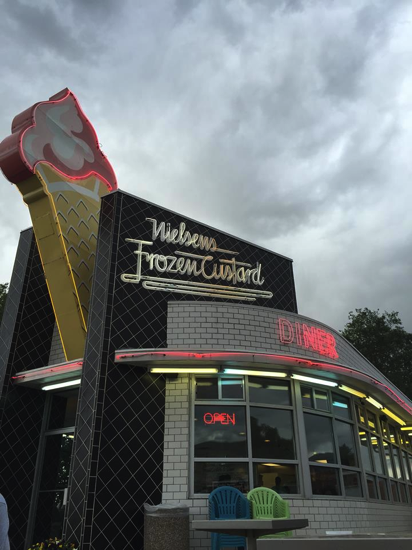 i failed on the food photos, but i had some vanilla and oreo custard and also some fries because their fries are awesome. it was a super nice night, so we hung out outside and laid on the lawn and laughed at the babies playing with each other. or more like fox attacking stevie.. haha.. i love that they are interacting with each other now! it's so fun!!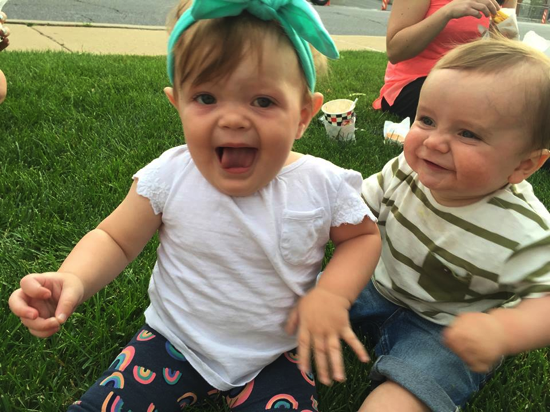 it was the perfect birthday! thanks to all those who made it great.
wow.. this post is already so long! but i haven't rambled in over a week, and i have more to say, so i am just going to keep going. grab a drink of water or something. actually, it kind of reminds me of way back when i would post NOVELS. like, legit NOVELS.. EVERY SINGLE NIGHT! how did i do that? i saw this post on my timehop today and was like.. what in the world.. how did people read such LONG posts from me? bless you all, haha.  (also, it was fun to read the comments on that post and remember all the blog friends who are long gone and also smile at those who are still around.)
where was i? oh, tuesday! tuesday i went to work for the full day, so we had a belated birthday celebration. i requested mellow mushroom pizza, and we got four different kinds! i had to try them all.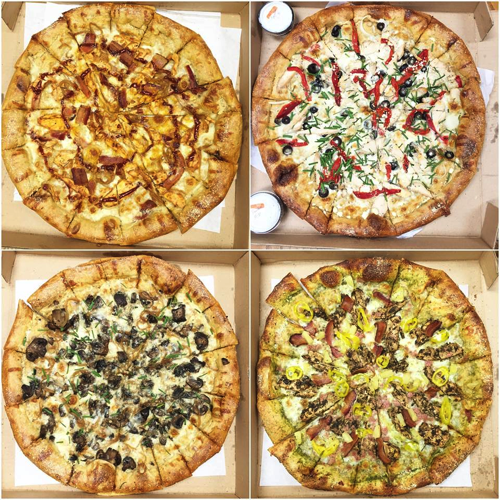 from the top left & clockwise: funky Q. chicken, mellowterranean, holy shiitake pie, and maui wowie. my favorite was a tie between the mellowterranean (not a surprise, i love mediterranean food) and the holy shiitake pie. in my eyes, pizza can do no wrong.
for dessert, amanda had snagged cupcakes from sweet tooth fairy!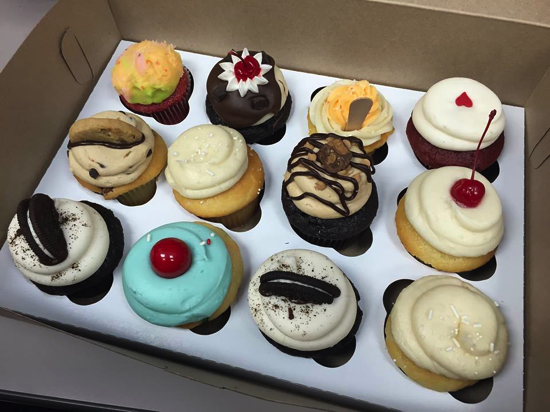 cutest cupcakes in town, folks. i had the orange creamsicle (it took a lot for me not to go with oreo, because i love oreo everything always.. but i decided to try something new!)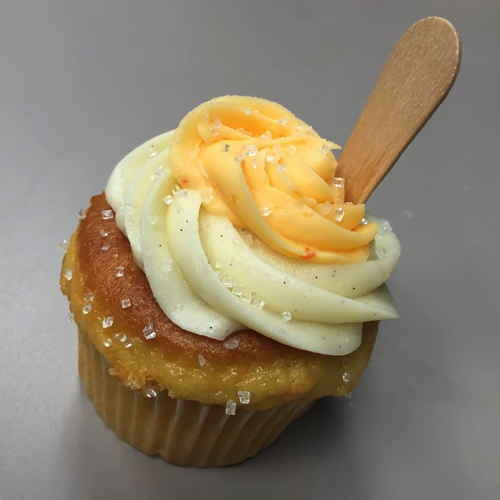 i loved it! i am not a frosting fan, but the vanilla bean cream cheese frosting paired with the tangy orange cupcake was super good. very impressed.
tuesday night involved MORE celebrating. my brother's birthday is the third and with mine being the first, we always celebrate together as a family. momma b had us all up for a BBQ. i failed on the food photos but i had a burger, baked beans, potato salad, and tons of watermelon. the best summer meal!! for dessert, i requested chocolate malts. fox approved of this request. he had a taste and l-o-v-e-d it!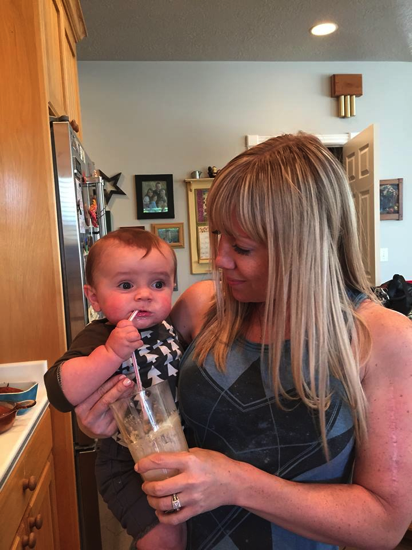 let's see.. nothing to report for wednesday. just a usual day and finally a meal at home. marshall cooked our favorite: buffalo chicken soup from jessica's blog. we make it all the time! it's so quick and easy and delicious.
and that brings us to today! after work i met jess & stevie at the park for some sun and swinging. i LOVE that it's finally super nice weather!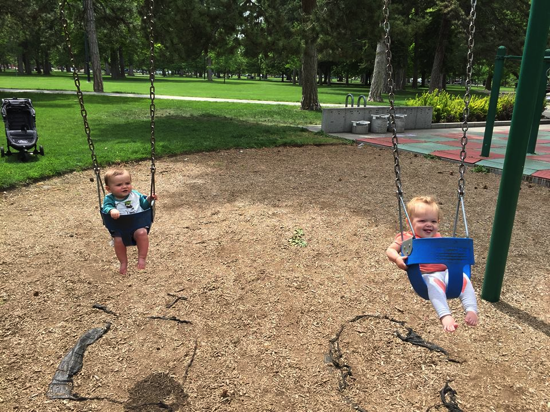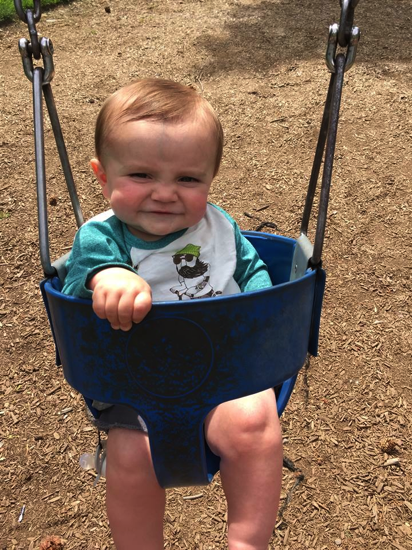 love those cheeks.
tonight i made it to candice's bootcamp class at vasa. ooooh man, it was killer! (and i need a tan.)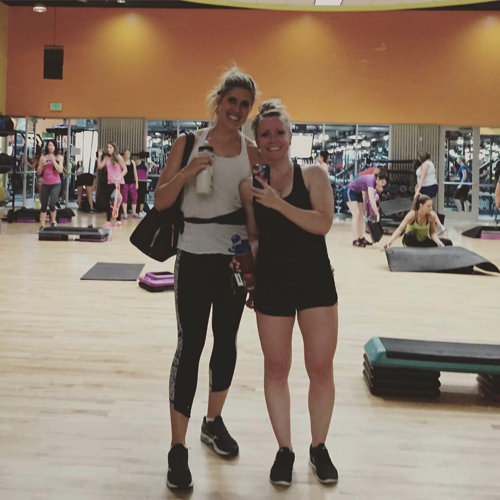 the workout was an hour and it consisted of the following:
every minute on the minute for what i think was 10 minutes (? i came in late) – 7 burpees followed by air squats the rest of the minute
THEN we broke into groups and did the following AMRAPs (as many rounds as possible). each was 10 minutes, for a total of 40 minutes.
AMRAP 1:
20 box jumps
20 triceps dips
20 decline push ups
AMRAP 2:
400m sprint
20 press jacks @ 15lb dumbbells
20 alternating biceps curls @ 15lb dummbells
AMRAP 3:
20 heel tap squats
20 walking lunges (R+L=1)
5 rounds of walking up & down the stairs (22 steps) with dumbbells in hand
AMRAP 4:
20 KB swings
20 burpees
20 V-ups
i skipped the V-ups because i don't want to make my ab separation worse. but this workout was KILLER! i am not used to working out for a full hour, haha, so it was brutal. but in a good way!
well.. dang.. this post was a novel. if you made it this far, i salute you. and i promise my next post will be sooner than 8 days away and shorter than this rambling thing i just wrote!
the birthday week celebration continues tomorrow! i am going out for dinner & drinks with some friends. can't wait! hope you all have a fun weekend, whatever you have planned.
Qs~
1. do you celebrate your birthday all week? if you don't, you seriously should.
2. what was your most recent workout?
3. what was your last meal out? 
xo. janetha g.