i think i have mentioned it before, but it's worth repeating. ever since my pregnancy.. healthy eating has become SUPER, SUPER hard for me to pull off. i am one of those people that got pregnant and threw 87% of my healthy habits out the window.. and now that i am trying to get back to where i once was, it's proving to be.. well.. a huge pain in the butt.
i have become accustomed to the ease and convenience of eating out. i love the drive through these days, because who wants to haul a baby inside ANYWHERE when drive thru is an option? plus, most drive thrus have dr. pepper on tap…
i have taken a strong liking to ordering a pizza and having it delivered to my house. and making sure there is enough pizza to feed us dinner AND breakfast and lunch the next day. i mean, does it get any easier (or lazier) than that? no.
and then when i give it the old college try and attempt to eat healthfully again.. my taste buds are like HOLD UP.. what are you doing, janetha?! because, somehow, along the way.. i have trained my palate to not really enjoy those old "healthy foods" i used to love so much. protein shakes and bars, steamed vegetables, and anything without butter is basically hard to swallow these days.
anyway, baby steps.. i am trying to eat better one meal at a time. i used to really enjoy flatout flatbread—i ate it all the time back in the day! so when i was chosen to participate in a campaign for their new proteinUP flatbreads, i saw it as a golden opportunity to get my meals in check.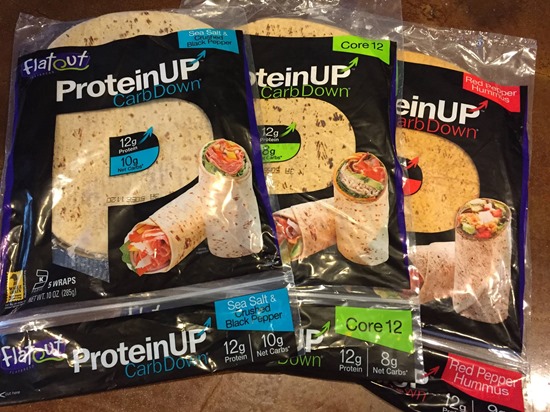 flatout just launched proteinUP flatbreads. they come in three great varieties: sea salt & crushed black pepper, red pepper hummus, and core 12 (which tastes like their original wrap aka no fancy flavor.) the proteinUP flatbread was designed to help access the power of protein without excess carbs. these high protein, low (net) carb wraps contain 12-15 grams of protein per serving and only 8-10 grams of net carbs.
the protein in the flatouts comes from beans, rather than protein isolates. this means they taste great. the core 12 and red pepper hummus flatouts are made with chickpeas, and the sea salt & crushed black pepper is made with navy beans. each flatout also contains 8-10 grabs of fiber. the protein content paired with the fiber makes these awesome for keeping you full for quite awhile!
something can be good for you all day long, but if it doesn't taste good, i am NOT eating it. that is one thing i have changed about myself over the years. six or seven years ago, you could probably find me eating something just because it was good for me and not because i wanted to or because i loved it. not anymore! i feel like sacrificing flavor is silly. plus, it IS possible to eat well and enjoy it.
here are three DELICIOUS ways i used the new proteinUP flatouts. one for each flavor!
california breakfast wrap.
i have decided that if you add avocado to something, you can automatically dub it "california". (and, based on the amount of avocado fox eats, i should probably start calling him a california baby.)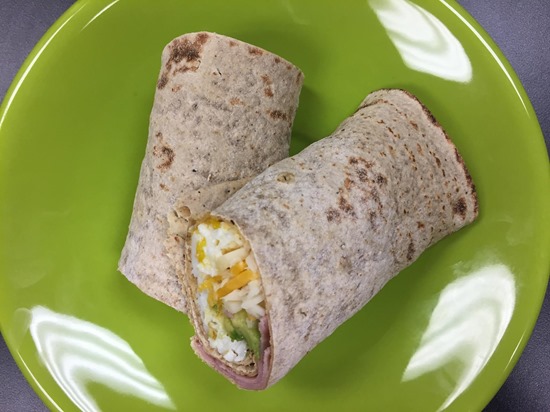 1 sea salt & crushed black pepper proteinUP flatout
2 eggs, cooked to order
1 slice of black forest ham
a few slices of avocado
a sprinkle of colby jack cheese
cook your eggs how you like them (i did over-medium) and then assemble all ingredients on the flatout, then roll it up and devour!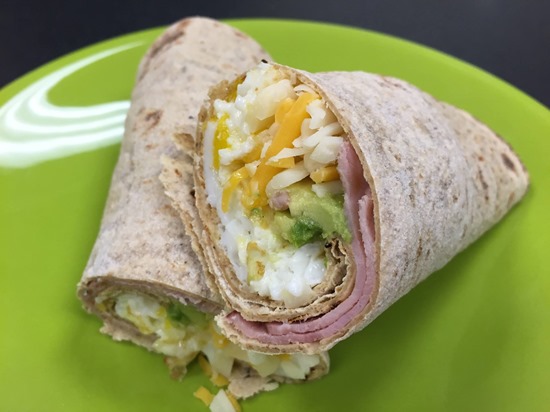 this wrap contains 360 calories, 32g protein, 21g carbs (11 net carbs), and 18g fat. i eat a lot of fat because i am breastfeeding and because fat is delicious. if you are looking to lower the fat content, you could scale back to one egg or do egg whites!
pepperoni pizza.
i am not exaggerating when i say we order pizza 1-2 times a week. it always has pepperoni. it sometimes has mushrooms or olives or both. this one just has pepperoni, but feel free to throw whatever you want on there!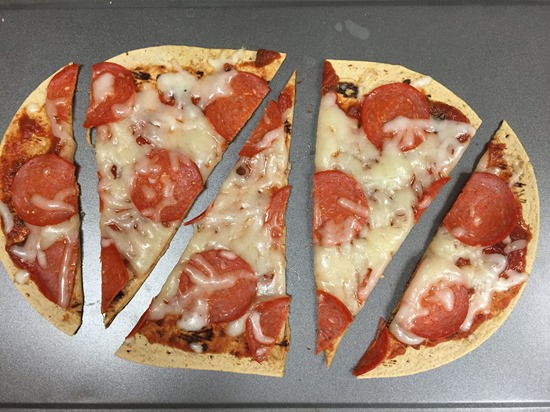 1 core 12 proteinUP flatout
a thin layer of pizza sauce or marinara sauce
1/4 cup shredded mozzarella cheese
10-12 slices turkey pepperoni
other toppings of choice
spread your sauce on the flatout, sprinkle on the cheese, layer the pepperoni (and other toppings if you are using them) and then broil in the oven (or bake at 500 degrees) until the cheese is bubbling. cut into slices and enjoy!
one thing that sucks about pizza (that is an oxymoron, as nothing should ever suck about pizza…) is that it's seriously lacking in protein. this recipe is a great way to get your protein in AND satisfy that pizza craving.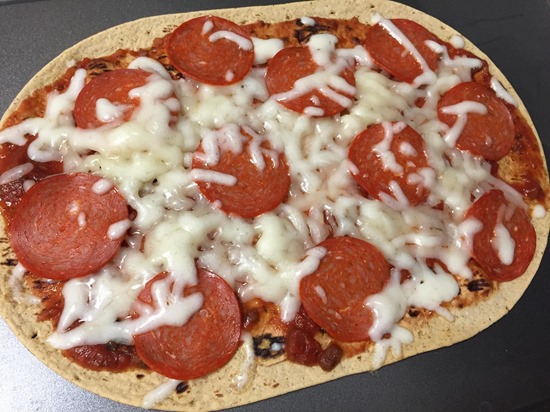 this recipe contains 260 calories, 25g protein, 18g carbs (8 net carbs), and 10g fat. not too shabby!
mediterranean wrap.
right when i saw that there was a red pepper hummus wrap, i wanted to do this combo! i love all these flavors and so throwing it together was a no brainer.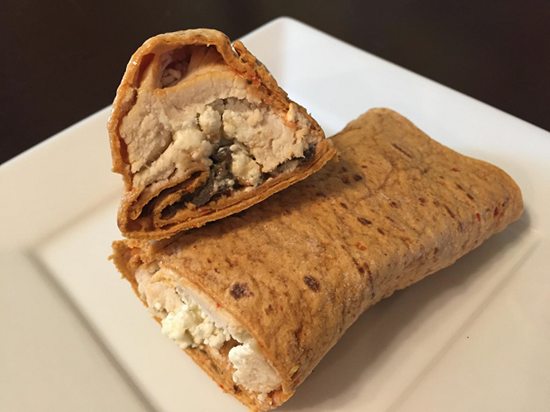 1 red pepper hummus proteinUP flatout
2 TB tomato basil hummus
2 oz grilled/rotisserie chicken (i buy it already cooked!)
1 oz crumbled goat cheese OR feta cheese
2 TB olive tapenade
nothing fancy in the directions for this one. layer it on and roll it up!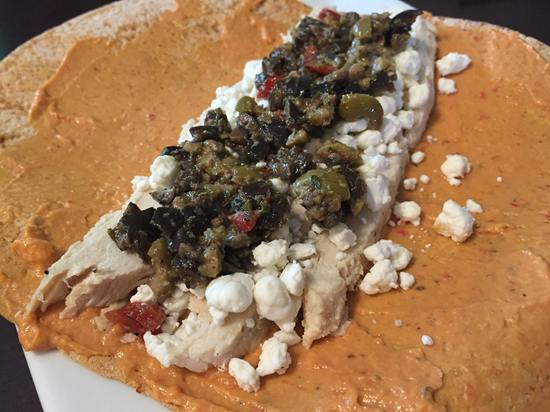 this wrap contains 365 calories, 34g protein, 22g carbs (12 net carbs), and 12g fat. and a whole lot of flavor!!
as you can see, these new proteinUP flatouts are super versatile. currently, you can pick them up at publix or walmart. they will be in more stores, soon.
take advantage of a buy one, get one free offer by clicking HERE to get a BOGO coupon!
you can find more awesome recipe ideas in this post or search the hashtag #getdownwithproteinup on instagram and twitter. there are so many cool concoctions!
Qs~
1. how would you use a flatout proteinUP?
2. do you ever try to make a "healthier" version of certain meals?
xo. janetha g.
This post is sponsored by FitFluential on behalf of Flatout.