hi! i'm back from colorado and back to the daily grind. today was my first day back at work after six days off, and.. oof.. it sucked.
so instead of dwelling on my day job, how about i recap the wonderful weekend? yes, i think that sounds like a great idea. i am going to cram it all into one post, so this might be a little lengthy!
this past weekend was the fourth annual blend retreat. i am one of the founders, along with lindsay. lauren is our third partner, who joined us on the planning crew in 2014. we hosted this year's retreat in boulder, colorado at the beautiful chautauqua park.
the weekend actually started on wednesday for us. marshall, fox, and i hit the road for boulder. i was so nervous about driving for eight hours with a 9 month old.. but he was actually really good! he only fussed for about fifteen minutes and was either happy or sleeping the rest of the time. we took two short ten minute stops (one where fox got his toe nails clipped on the gas station lawn, lol) and made it to lauren's place in eight hours on the dot.
lauren and her husband treated us to an amazing meal at the post—best fried chicken, EVER! then we headed back to their house, gave fox a tubby in their sink, and called it a night. after a long day of driving, i just wanted to sleep. funny how sitting all day can really take it out of you!
thursday was jam packed! it started out bright and early with lauren's body pump class at 6 AM. i almost didn't make it in time, because fox decided to sleep in. of course, the one day he doesn't wake up! and my alarm was set to the quietest setting. i don't use alarm clocks these days, haha. life with a baby.
anyway, after an awesome time at body pump (lauren is an excellent instructor!) we ate breakfast, cleaned up, and headed to pearl street to visit the justin's headquarters! justin's was one of our breakfast sponsors and they are local to boulder. it was so fun to get a tour of their offices, get to know justin, and stock up on some goodies. we also got to meet several of the pups hanging out at the office! i wish i could take my dogs to work. hmmm…or do i? they can be a handful at times. ;)
after justin's, we headed down the road to bhakti chai, our yoga sponsor. we had to pick up 100 yoga mats! we also sampled some of their tasty iced chai. if you like ginger, you have GOT to get your hands on some of this stuff. it's so good!
thursday afternoon we had the chance to go to lunch with my dear friend, mylisa, and her boyfriend. she's been my friend since we were twelve! but we lost touch and i hadn't seen her in nearly a decade. as you might guess, we had a ton of catching up to do! it was SO great to see her! (side note, we went to the buff and they serve breakfast all day and it was SO DANG GOOD.)
the rest of the day and evening was spent prepping for the retreat. we took one trip to chautauqua to meet up with our official sponsor and unload some things.. but i mainly hung out with this cutie pie.
then it was back to lauren's to pack the swag bags and load the cars up. the day before the retreat is always pretty labor intensive! but we had a ton of help (thanks, everyone!) and a lot of pizza and beer to fuel us through the evening.
friday we woke up and walked on a cute little trail to a nearby coffee shop to caffeinate. marshall and i officially want to move to colorado after experiencing all the awesome little trails and shops around lauren's house.
we had breakfast and then hit the road to chautauqua to drop a few carloads of stuff off. it was a beautiful (but rainy!) day!
we unloaded all the swag bags and then turned right back around to fill up the cars again.
i stayed behind and hung out with fox and marshall for a bit. we headed to sprouts to get a few necessities for the retreat, like creamer and milks and water and whatnot.
we made it back to chautauqua about an hour before registration. we set up and were ready for action!
the attendees started arriving and registering and it was so great to see familiar faces and meet new ones. fox was happy to meet a bunch of the lovely ladies!
meighan & fox.. thanks for the photo, meighan!
our first sponsored event was a trail mix bar and trail run sponsored by general mills. they had the raddest set up! LOOK at all that cereal! and we were able to make as many mixes as we wanted.. you know i went back to make a second bag.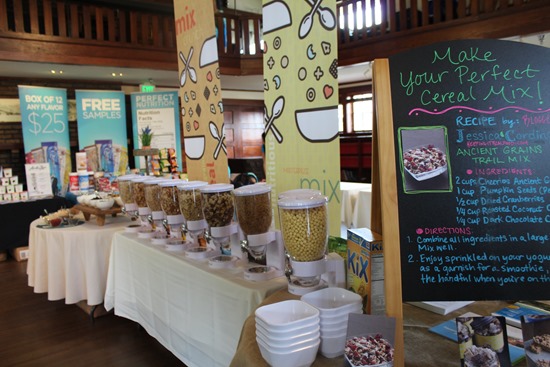 i didn't go on the trail run, but i hear it was pretty fun (and muddy!) i stayed behind to tie up registration.
we had a short break to clean up before heading to the cocktail party. fox refused to nap.. whomp whomp.. which made him super grumpy. which meant he only made it about 15 minutes into the cocktail party before marshall took him back to our cottage. sad! but the baby is in charge, always.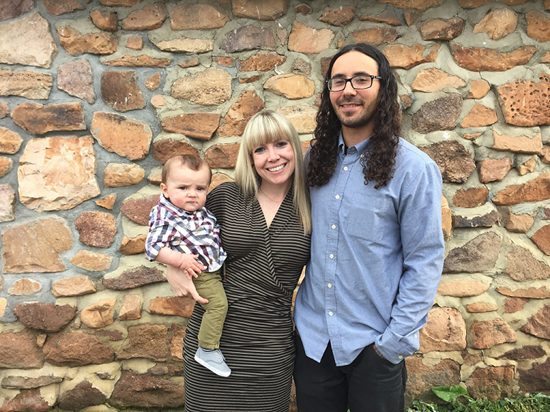 i missed marshall, but had a great time mingling with everyone. i sipped on the most delicious watermelon cocktail made with watermelon raspberry WANU, prosecco, a rosemary sprig, and watermelon chunks. WANU (short for water+nutrition) was our drink sponsor. their water is the perfect mixer for a healthier cocktail!
our other cocktail sponsors, sizzlefish and 34 degrees, provided the delicious appetizers. we had sushi and cheese and crisps and salmon and fruit and, oh, the list goes on.. it was all so good!
dinner was equally as delicious. we had a spread of rolls, arugula salad, roasted chicken with pickled pepper pan jus, chimichurri grilled beef shoulder tender, baked polena with pesto and balsamic marinated mushrooms (my favorite part of the meal!!), and roasted brussels sprouts and fingerling potatoes. it was seriously the best dinner we've ever had at blend retreat! i was really pleased!
we had the chance to hear from our awesome official sponsor, quest nutrition, at dinner. they are such a cool company! they have so much passion for living and loving life.. it's not just about selling products for them. i am thrilled that they came as our official sponsor—they really set an awesome vibe for the whole weekend. we all got together for a photo op—my first experience with a selfie stick. haha. i don't think i will be buying one…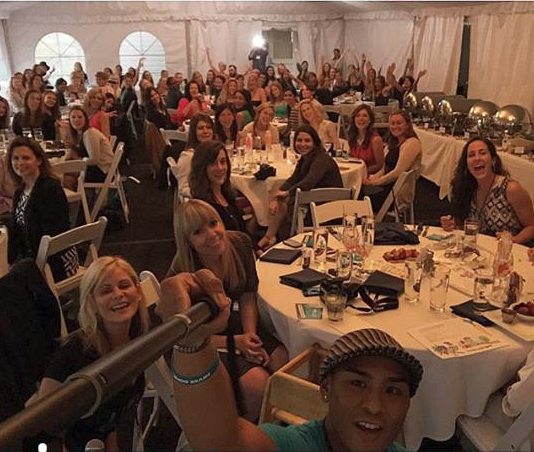 i took marshall a to-go container of dinner, since he was hanging with fox back at the cottage. so that made me miss the sundae bar, sponsored by arctic zero, but i hear it was incredible! i am sure you will be able to check it out on some other blog recaps. :)
saturday morning started with bootcamp sponsored by gnarly nutrition. it was a lot of fun! i had to sub out some moves to avoid making my diastasis recti worse, but i was able to do most of the workout.. even the travelling uphill burpees (oof!)
breakfast followed bootcamp, and i was h-u-n-g-r-y! between nursing fox and working out, i was ready to inhale my breakfast. saturday's breakfast was sponsored by justin's, flapjacked, and love grown foods. all colorado local companies! super cool.
the menu was incredible! pancakes, eggs, sausage, bacon, cereal, granola, yogurt, breads and biscuits, nut butter.. mmm.. it was all super good.
fox & lindsay's babe, porter, LOVED flapjacked's newest flavor of protein pancakes: carrot cake! you have got to get your hands on this mix.. it's SO delicious!
after breakfast we headed for the hills for a hike! it was sponsored by detour bar. it was a little bit muddy, but really beautiful! i am so happy the weather worked out. it was the perfect hike.. not too easy, not too hard. i had a great time chatting with a bunch of the girls (and, apparently, only taking photos of marshall and fox.) i think the hike was my favorite part of the weekend.
fox passed out on the way back down. i guess it took it out of him.
after the hike we headed to a snack break sponsored by earth balance. there was also an expo going on with reps from ten of our sponsors. it was fun to get to know each brand a little better and hear why they do what they love to do.
the rest of the day and evening was open to do whatever, so after a short nap, i cleaned up and we headed to pearl street for an early dinner. we went to centro, a latin joint that lauren suggested. we split some appetizers (guac and queso) and i had a couple of tacos for my entree.. one chicken, one fish. both super tasty!
it started to rain, so we had to walk back to our car in it and got really wet and cold!  we went back to our cottage to put fox to sleep and warm up.. and i never made it back out! in fact, i fell asleep before 9 o'clock. oops!
sunday morning started out with a yoga session sponsored by bhakti chai. they served hot chai before the class began, which was perfect since it was a little chilly outside. i didn't participate in the yoga class, but i admired the yogis from afar. it's just not my thing!
after yoga was another awesome breakfast. this one was sponsored by the epic seed, barbara's, goodbelly, and baobest.
the breakfast was delicious! a frittata, bacon, ham, cereal, granola, baobab muffins, granola bars, and my latest favorite yogurt: the epic seed. it's greek yogurt mixed with chia seeds and it's GOOD.
after breakfast we had a chance to pack up our luggage before the closing ceremony. we headed over to the closing ceremony+raffle, sponsored by nestfresh eggs, and had a ball handing out all the prizes. it's great because EVERYONE gets a prize! our sponsors are the best!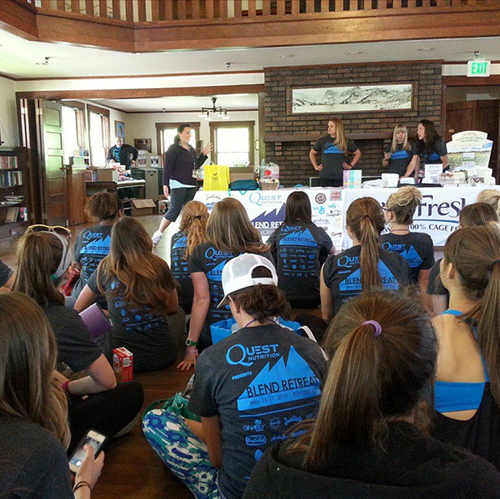 photo cred: carissa 
we heard from our official sponsor once more, and.. of course.. another photo op with the selfie stick! too funny.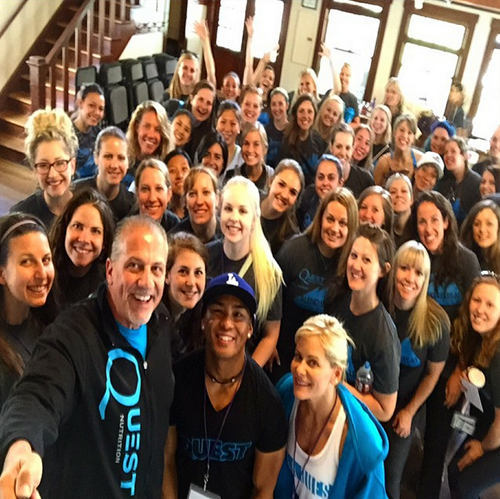 after the raffle we said our goodbyes and got a group photo before hitting the road.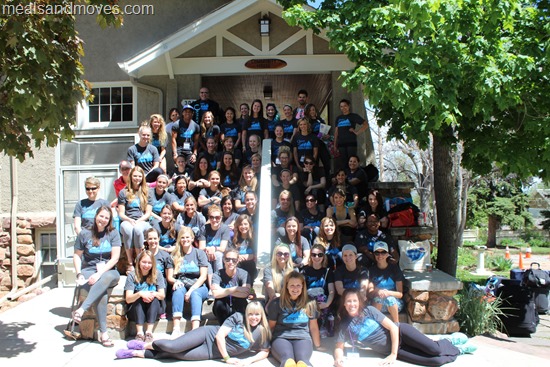 the drive home was not so awesome, but we made it back to utah, safe and sound. it was a whirlwind of a weekend and i can honestly say i loved every minute of it! i was sad that i was a little too busy with keeping things in order and caring for fox.. i didn't get to talk to all the attendees and i really wish i had. but i absolutely loved the time i was able to spend with them!
after last year's event, i wasn't sure i wanted to keep on keeping on with blend retreat planning. i was pregnant. grumpy. stressed. over it. but i decided to do it again and i am SO glad i did. seeing everything come together and watching the memories made really just makes it all SO worth it. i am thrilled with the outcome of this year's event, and i am so grateful to our fantastic sponsors, our energetic attendees, and (most of all!) my two partners in crime: lindsay and lauren.
no plans are in place for next year's event (yet!) but i will be sure to let you know when we figure it out. for now, i plan to take a load off and bask in the afterglow.
Qs~
1. where and when was your last road trip?
2. have you been to/would you go to a blogger event? which one(s)?
xo. janetha g.
some photos in this post were stolen from lindsay.