guys! you are all the very best. ever. thank you for the overwhelmingly amazing comments on my last post. i would love to go and reply to them all, but i am pretty sure that would take 17 years. so, take this as a thank you for your comments, you guys made me feel not so crazy or alone in this first time working mom thing.
SO.. it's may! can't believe it. it feels like it was new year's eve, like, a week ago. but here we are, may 3rd already. as you know, i am a weekend warrior and totally embrace my weekends 110%. i decided to document this weekend's happenings so i could ramble about them tonight since marshall is heading to the movies. solo. and i am staying home with our sleeping babe. once upon a time we used to go to movies every sunday night together.. that's on hold for awhile. at least until fox can go with us!
saturday morning marshall got up with fox (the boy loves waking up at 5 AM-ish) and let me sleep in. i got up around 8, nursed fox, had some toast with sunflower seed butter and jam, and then got my butt to GPP while fox napped.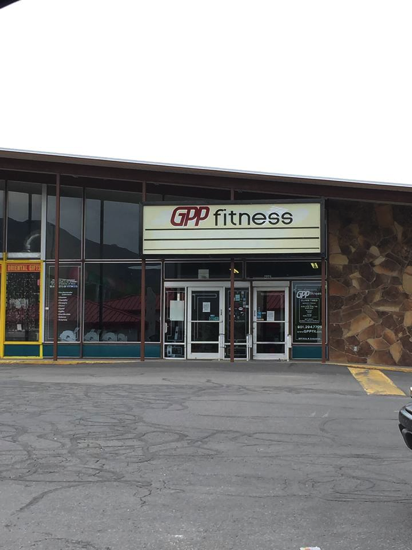 the workout was burper, and i was not in the mood to do 150 burpees. i mean, is anyone, ever? i don't really think so. anyway, i did the first round as written and then on the second round i cut back to 10 burpees instead of 15.. something is better than nothing, and 125 burpees on a saturday morning (plus all the other moves) is good enough for me! oh, side note, i don't do V-ups because i am still trying to get my core strength back and i don't want to mess up my postpartum midsection. so i do these little baby crunch thingies on the stability ball instead. no need to damage my abs and make them stick out all wonky.
i came home to marshall cleaning out the garage and fox was still asleep. i helped out a bit until he woke up, then i took a cup of coffee out to the front lawn and hung out with fox, pen, and rand.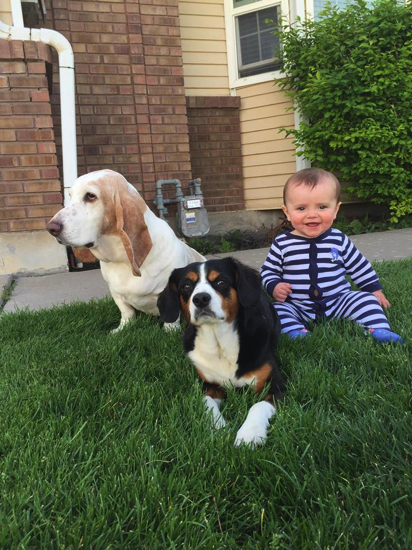 later on, i met up with momma b and our good friends, melina and pat, for lunch at corner bakery. melina was my very first friend in life! and we both happen to have babies. and it's impossible to get a good photo, but we tried.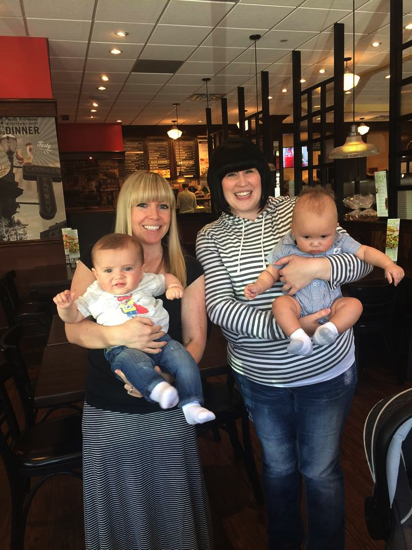 for lunch, i had the harvest salad which had walnuts, apples (or were they pears? i forget) and blue cheese. or we can be fancy and say bleu cheese. and then a half uptown turkey sandwich, which had bacon and avocado. mmmm.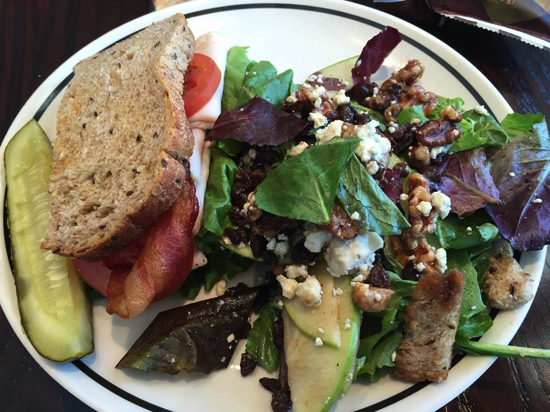 saturday afternoon i forced fox to cuddle with me. he's not a huge cuddle bug (guess he gets that from me, i HATE cuddling.. unless it's with my baby, i guess?) and so i tried to snuggle up with him and see if he would nap…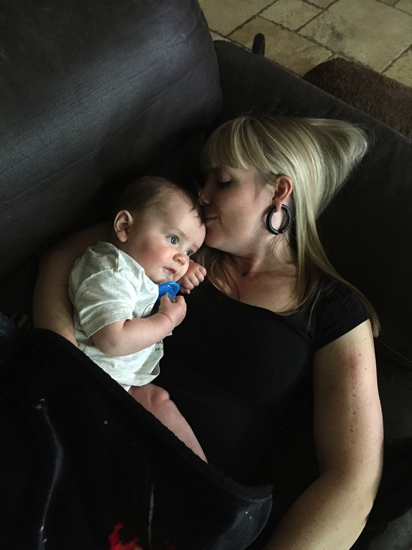 much to my surprise, he ended up conking out for an hour! it was blissful.. just like the newborn days!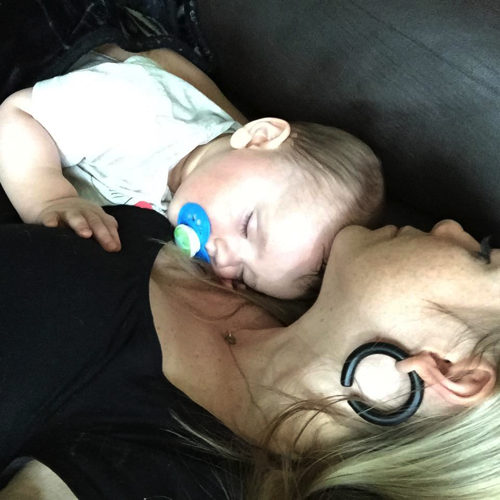 we decided to be super productive after nap time. marshall, fox, and i headed to target and smith's to get all the grocery shopping done for the week. we usually go on sunday, so it was nice to get it out of the way on saturday. we picked up a new living room rug at target and i love it! our old one was five years old and full of dog hair.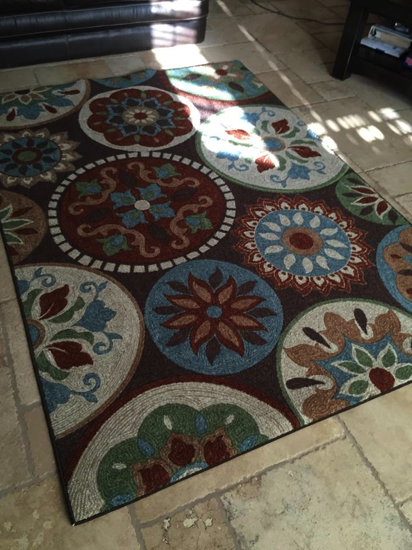 saturday night, our friends were having a star wars themed taco party.. you know.. may the fourth and cinco de mayo combined and celebrated a little bit early! they live legit 1 minute from my parents' place, so we did fox's bedtime routine there. fox loved taking a tubby in their sink!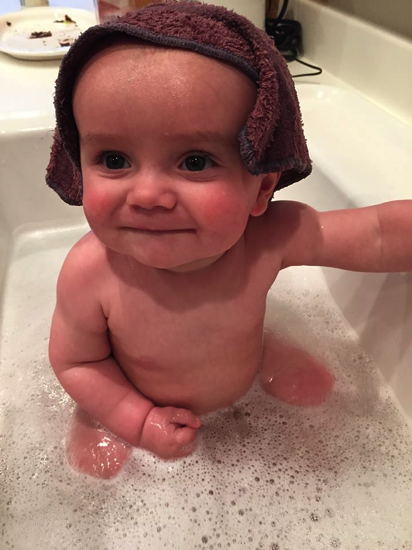 we put him down to bed and headed to the party. i was starving by the time we got there, and there were sooo many tacos to eat! i had a chicken one and a ground beef one and then had another ground beef one afterward.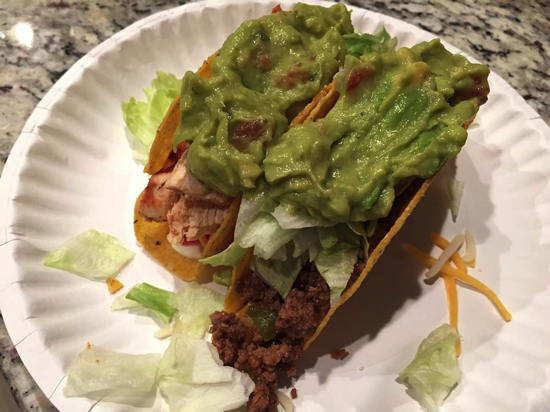 marshall baked the best chocolate chip cookies ever and brought them to share with everyone. they were a hit! he has become quite the baker.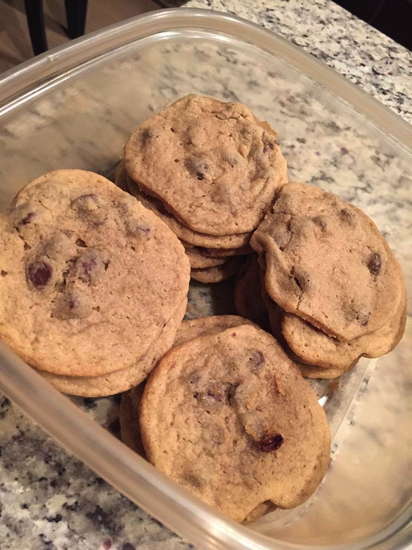 since it was star wars themed, we played this funny game where we had to put a paper plate on our head and draw a star wars character on the plate without looking.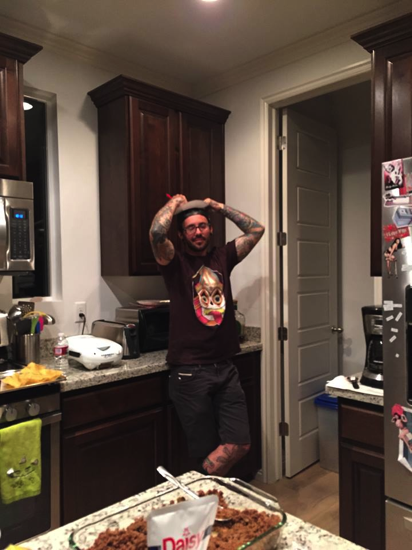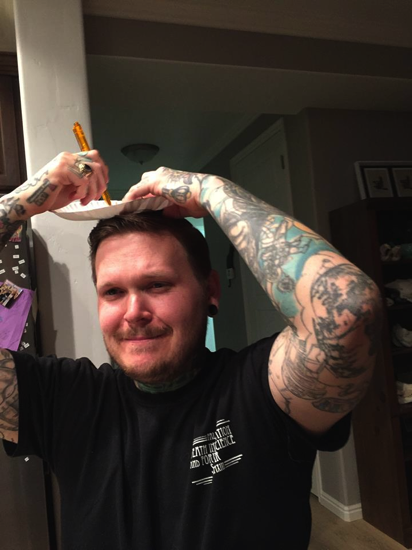 so, i have never seen star wars and i don't really know what the characters look like. but i do know R2D2 so i tried to draw him…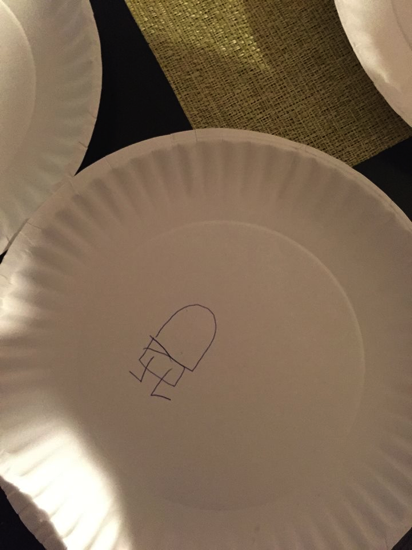 masterpiece, right? haha.
nick ended up winning with his drawing of boba fett. i had to ask marshall just now who the guy nick drew was and then i had to google how to spell "boba fett"…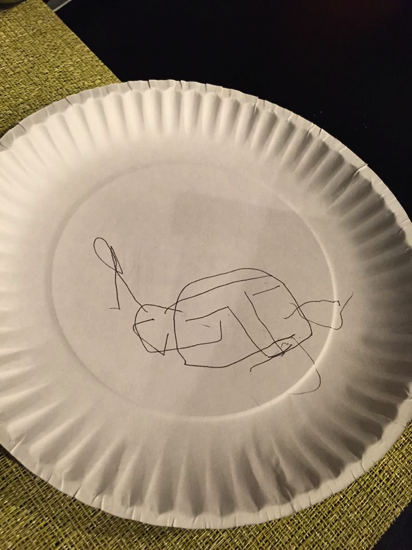 anyway, the party was a good time and i loved seeing our friends!
it sucked so bad to have to wake fox up from his slumber at my parents' place and take him home. it took awhile to get him back down at midnight, then he woke up again around 3. and, of course, decided to get up for the day early. but not as early as usual.. he made it to 6:30. yay. never in a million years would i think 6:30 AM would be sleeping in!!
it was my turn to get up with him, so we headed to the kitchen and had some pancakes. he looooves pancakes! he was still hungry after his, so he also had a scrambled egg. i am kind of weird and anti posting photos of babies with food smeared all over their face (i just think nobody wants to see that) but fox eating a scrambled egg is not offensive at all, so here you go!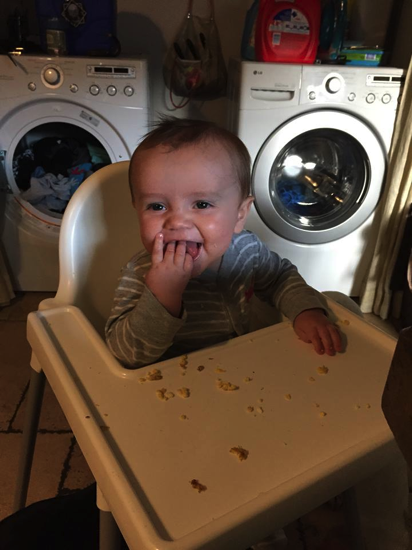 after awhile, fox went back down for a nap and i went back to bed until 10. it was nice to get a little more sleep! then we got up again and went outside because it was so nice and warm today.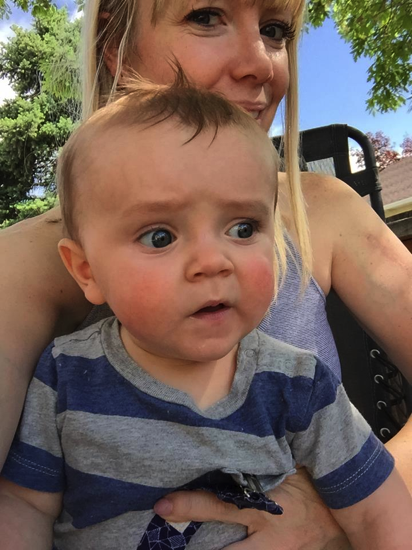 we watched marshall mow the lawn. our yard is suuuuch a mess. we really need to get a handle on it so we can actually enjoy it this summer.
a bit later i made some brunch. i made scrambles with bacon, eggs, cheddar, goat cheese, and avocado with a side of sprouted wheat toast.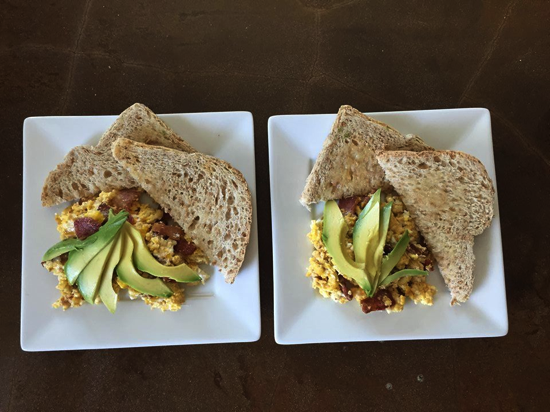 doused in frank's and alongside some coffee in my squid mug.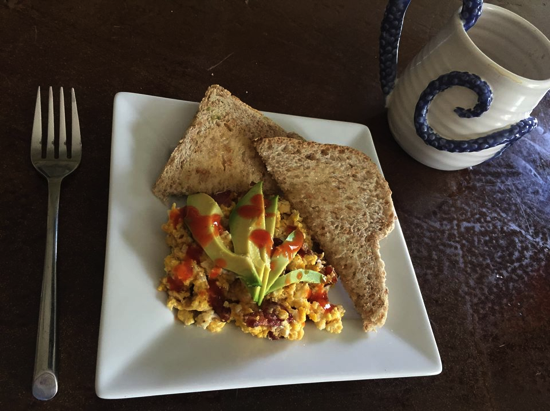 fox went back down around 11:45 and napped for two whole hours.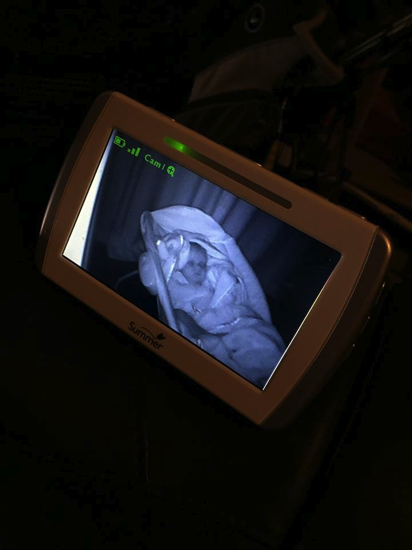 we got a ton done during his nap! cleaned up the house, did all the laundry, did a bunch of organizing, and even squeezed in a garage workout.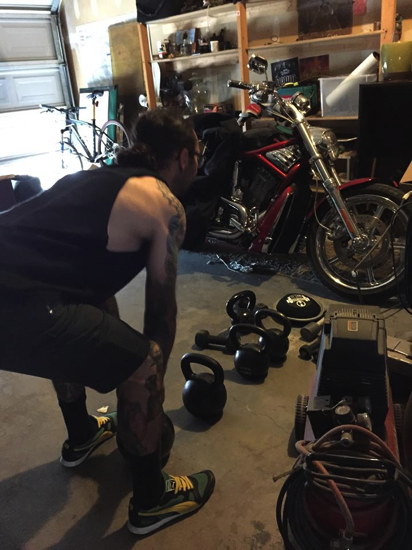 we have a little collection of kettlebells and dumbbells.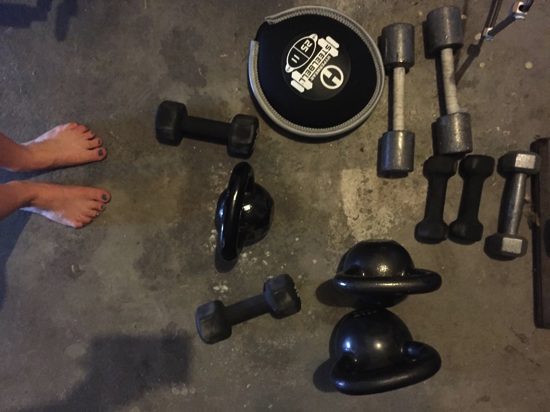 i did a bunch of random things.. weighted squats, lateral raises, biceps curls, and upright rows. marshall did a bunch of kettlebell stuff and jumped rope. i need to get a new jumprope because mine broke. booooo.
once fox finally woke up, we just played with him forever and ever. we kept doing loads of laundry throughout the day and it is now officially ALL done. yes!
fox took ANOTHER long nap around 4, so i climbed in bed and took a load off for awhile. around 5:30 i got to work on dinner. i made parmesan crusted sweet & sour chicken with white rice.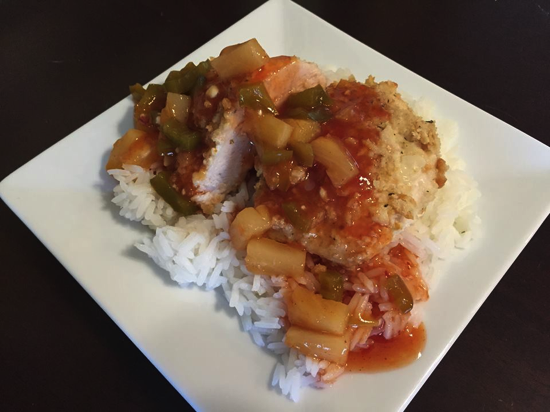 this was so good! i will be posting the recipe this week. i also made some asparagus and threw it on top of everything. because i need more veggies in my life.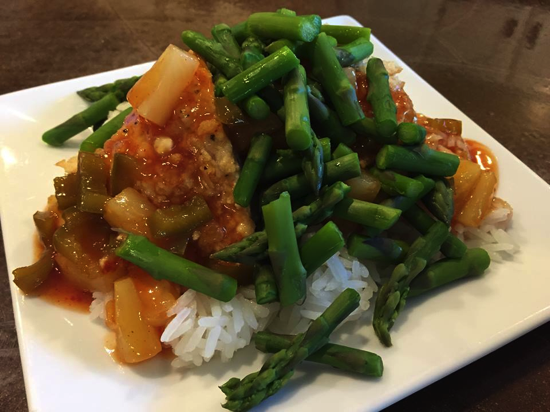 we hadn't left the house ALL day, so while dinner cooked, we went on a stroll to the park.
it's kind of a shame we didn't get out earlier. it was such a nice day! but we got so much done at our house, so that's good. it needed a spring cleaning.
after our walk we headed home for fox's bedtime routine, put him to bed, and then watched the latest episode of game of thrones. i am waiting for this season to get more exciting… anyone else?
annnd that was my weekend in a nutshell! i feel like we packed a lot in and made the best of our time. boo to monday tomorrow, but that's just the way it goes.
hope you all had a great weekend! happy may!
Qs~
1. have you seen star wars? am i missing out?
2. what was the best thing you ate over the weekend?
xo. janetha g.