hello! hallelujah, we have made it over halfway through the work week. i thought i would tell you about my whole day since it's been a hot minute since i did one of these posts. now, don't get too excited, my life isn't super happening.. but it is what it is, and i love it!
things started out bright and early at 1:42 AM when i heard fox yelling at me from his nursery.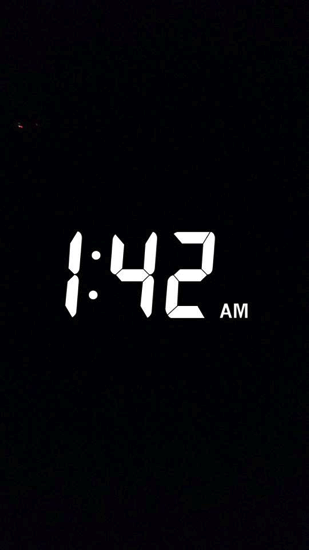 little dude was hungry! so i nursed him while playing on my phone (with the dim setting on, otherwise fox would see it and get distracted and wake all the way up) and then went back to bed around 2 AM.
he was shouting for us again around 4 AM, but marshall fed him that time and i stayed in bed. i heard him again around 5.. knowing he wasn't hungry.. so i knew he was up to his usual tricks of trying to be an early riser. i got up and was able to pat him back to sleep, but by the time 6 rolled around.. he was babbling again. he hates sleeping in!
we got up and started getting ready. marshall fed the pups and i played with fox for a bit. marshall left for work and i hopped in the shower while fox played in his play pen.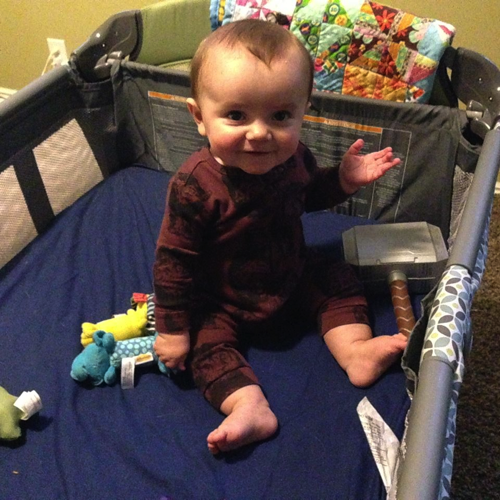 i made a double k-cup of coffee (because 8 ounces is not enough)…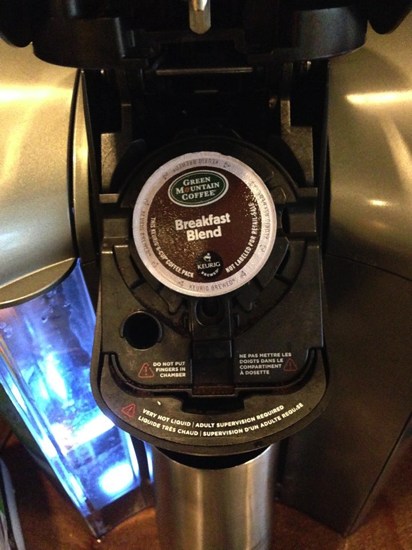 …and then tried to decide which elli quark i wanted to try first!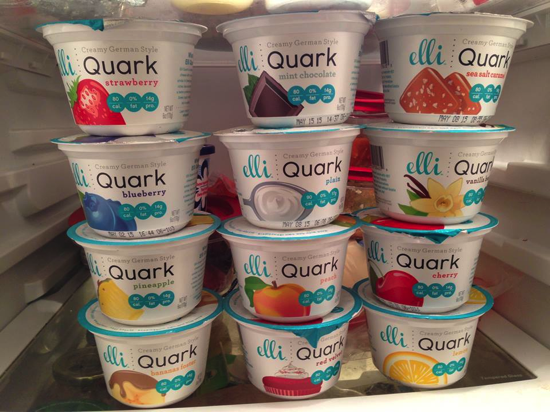 elli quark is kinda like greek yogurt, but not. it is actually cheese! weird, huh? it is a fresh cheese that is high in protein, has no added sugar or artificial sweeteners, and comes in twelve awesome flavors like salted caramel and mint chocolate. it has 80-90 calories per 6 ounces, so it's less caloric than greek yogurt. they sent me all the flavors to try, but you can find it in their online shop.
i picked the vanilla bean (duh) and then finished packing up the rest of mine and fox's stuff for the day. he got to go to work with me today! i have him on wednesdays until the end of april, and then my nanny will take over. soaking him up while i can!
i gave penny and randy their daily carrots—they always get a few when i leave for work. they knew it was carrot time.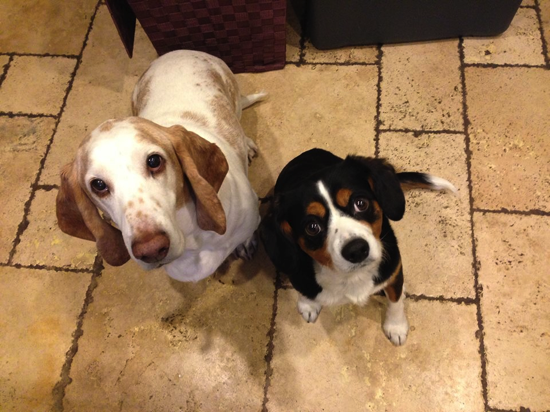 once i got to the office i did my morning routine…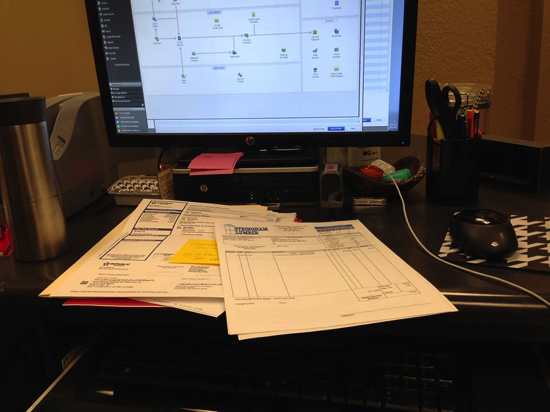 …and fox played on his laptop. he's gotta work if he's gonna come to the office!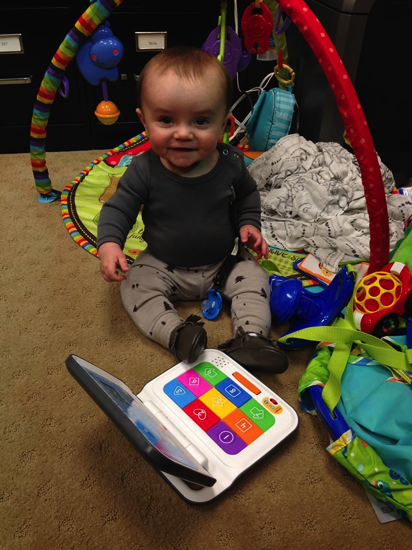 i headed down to the kitchen and made breakfast. i had two eggs scrambled with cheese and frank's, the vanilla bean elli quark with some granola, and an energy bite my friend amanda gave me. it was so good!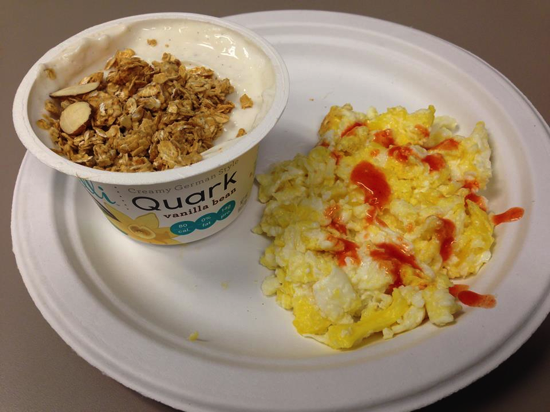 after breakfast i nursed fox and got back to work. the plan was to take a break at 11 to go to story time at the library with jessica and her babe. well, fox had other plans. since he had taken a four minute nap and that was it for sleep since 6 AM (literally 4 minutes.. he fell asleep in the car when i was almost to work) i decided he better have a nap instead of have fun. he fell asleep right as i should have been leaving for the library. fail.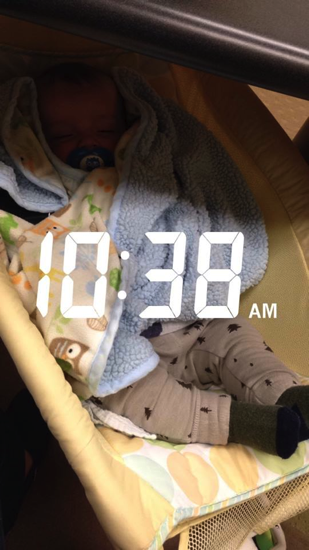 we made up for it later and met jessica and her little lady for lunch at the soup kitchen. i totally forgot i was documenting my whole day and started eating my food before snapping a photo. i am real good at eating super fast these days!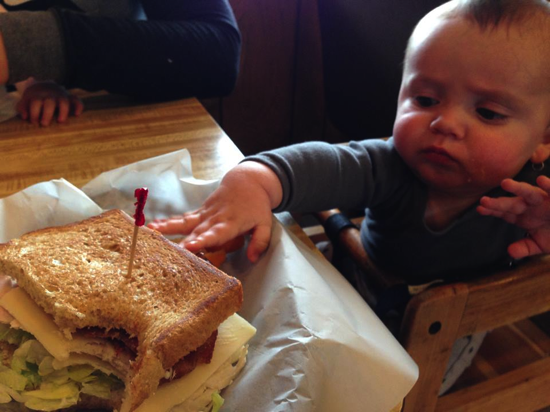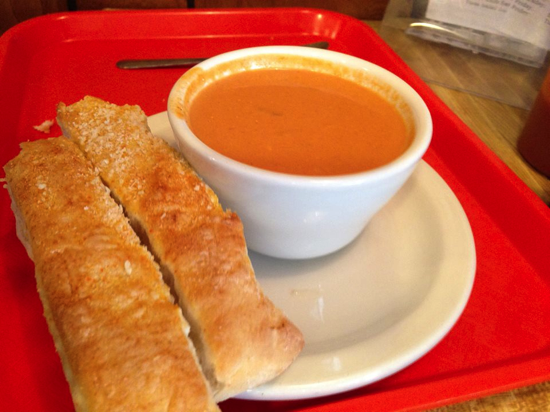 i had a turkey, bacon & swiss sandwich, tomato soup, and breadsticks. fox had an orange and a rice husk and then decided to be bored with the lunch date.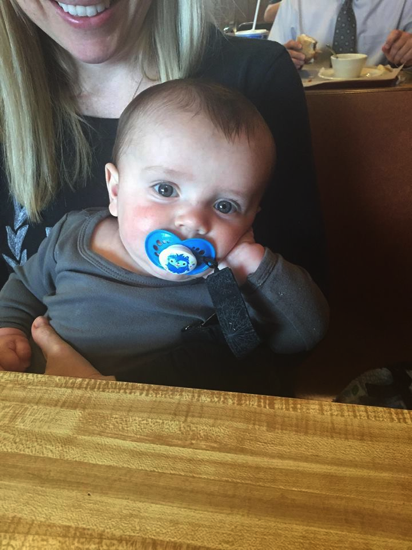 haha.. he was actually just super tired since his nap had only been 30 minutes, but he definitely looked unenthused with the whole situation. funny guy.
i snagged a dr. pepper before leaving the soup kitchen because i can't stop drinking that stuff these days. oops.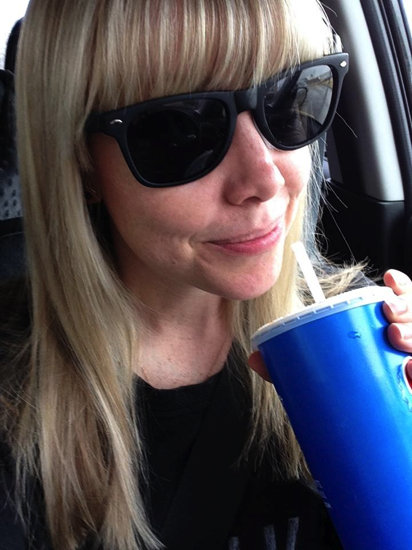 once i got back i nursed fox, did some more work, and then headed down to the main office so fox could play with amanda and wait for marshall to arrive.
it's so nice when marshall gets done with his job earlier in the day so he can hang out with fox. although i am secretly jealous about how much he loves to cuddle up to his daddy.
 so cute!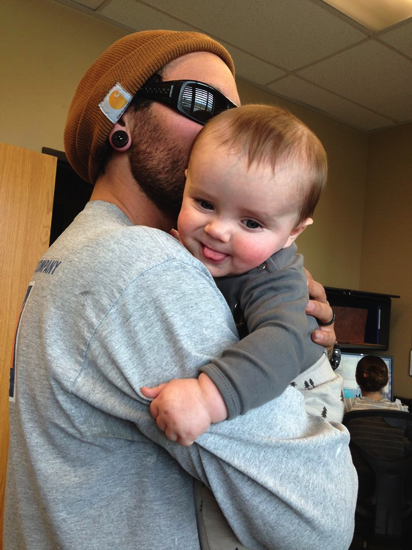 marshall took fox home and i finished up my work for the day before heading home around 5 PM.
when i got home, i learned that fox had basically said screw naps and only took about a thirty minute one. sweet.. that's about 64 minutes of sleep since 6 AM. oy. at least he was happy! i nursed him and we played for awhile before i got to work on dinner.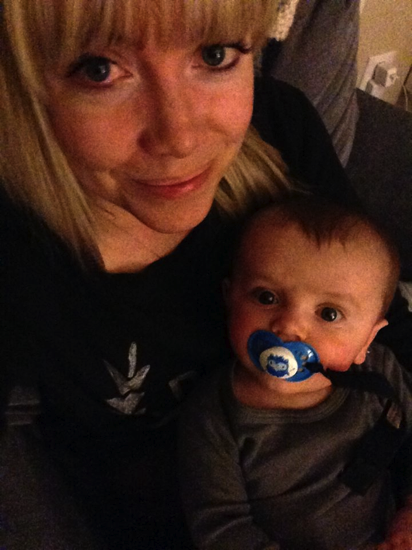 i snacked on these awesome spicy & sweet pecans from trader joe's. love 'em.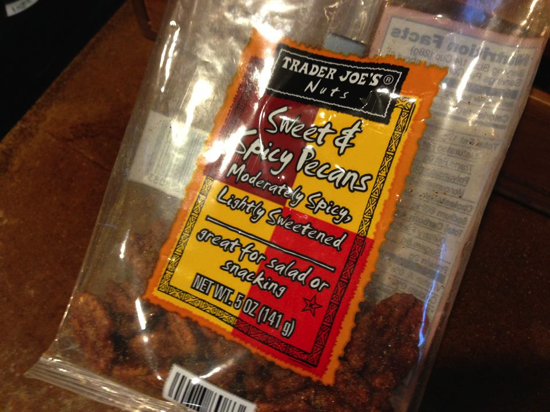 i made the asian turkey meatballs from skinny taste. i followed her recipe aside from the fact that i added hoison sauce to the dipping sauce. fun fact: my mac just autocorrected "hoison" to "poison".. i assure you, i didn't poison the sauce. i steamed some jasmine rice to go with the meatballs because who wants to eat noodles made from zucchini like the recipe suggested? not me.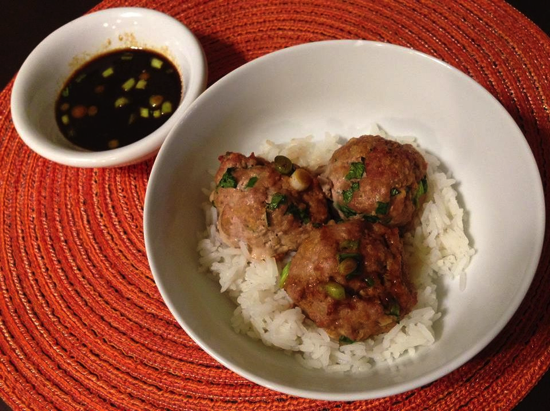 i have made these meatballs before, years ago, and am glad i remembered them! they are really delicious and super quick & easy. start to finish under twenty minutes.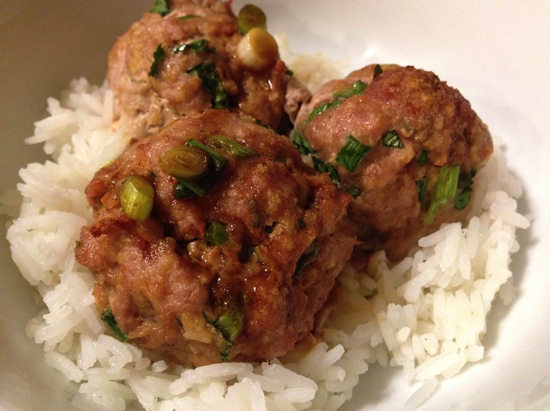 fox had a little bit of a meatball and his favorite: avocado.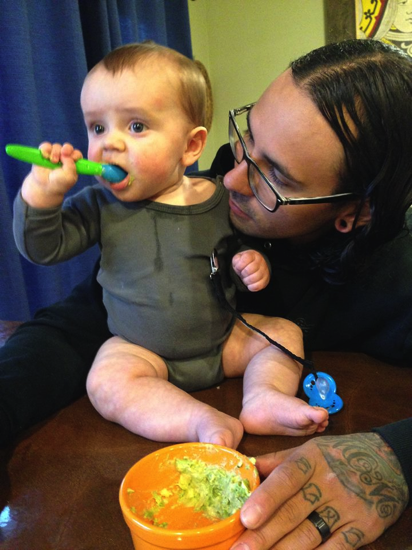 after dinner we gave fox a bath and did his bedtime routine and then put him down for the night.
after fox went to bed, i decided i should probably work out since it had been over a week. yesterday i had super good intentions to work out. i put on my gym clothes and headed to gold's. i walked in, scanned my bar code, and headed to the free weights.. but i got chased down by the employee. he told me my membership expired in november. ummm.. oops? i have definitely been to the gym since november. granted, probably only 5 or 6 times, but i've been, nonetheless. i guess they never noticed my membership had expired when i'd scan my code.. their bad. i decided against signing up for a new membership right away, because i want to see if there's anything else more appealing before i commit. so instead i went to the store and grabbed a few things and headed home.
anyway, that whole story was to tell you that tonight i decided to do an at home workout! it was too late to go to GPP since their last class is at 5:45 (i still have a membership there).. so a home workout it was. i didn't feel like busting out any equipment, so i did this little body weight workout and called it good. it was surprisingly challenging.. probably because i've been a slacker.
i just finished that and typed this post up. i am sure there will be some cereal in my future, or maybe one of those tasty sounding flavors of quark. we'll see. and then i gotta get to bed so i can do this whole thing all over again tomorrow.. except an hour and a half earlier since i go to work early on thursdays and fridays (so i can pick fox up from his sitter on time and actually see him for a bit before his bedtime! sucks to be a working mom.)
whelp, that was my wednesday! hope yours was fun filled. check ya later!
Qs~
1. do you have a gym membership?
2. are you an early riser or do you like to sleep in (if you have the choice)?
xo. janetha g.