i was never big on hot dogs when i was growing up. i refused to eat them unless i absolutely had to—like if we were camping and it was the only option. but there was one exception.. i loved cheese dogs. you know, the hot dogs with the line of cheese (was it even cheese?) through the center. loved those. so much that, and this may gross you out, i would eat them cold right out of the fridge. don't judge me.. i also ate dirt as a child, so there's that.
anyway, fast forward to now days. i still don't like hot dogs, unless i am at a baseball game or in chicago. but smoked sausage is another story. i love smoked sausage. i especially love smoked chicken sausage, so when the opportunity came up to try the hillshire farm smoked sausage in a recipe, of course i was on board.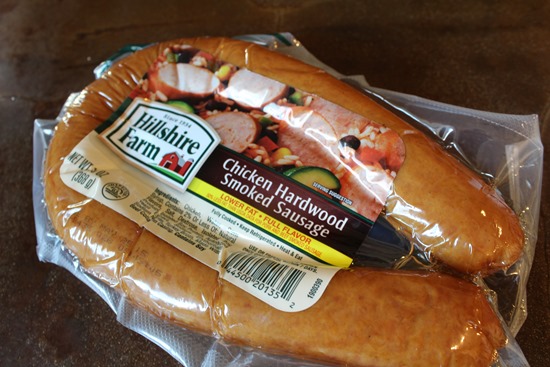 i like working with precooked sausage for a few reasons.
for one, you can buy it at the beginning of the week and it will keep in the fridge for quite awhile before using it in a recipe. i do all my grocery shopping on sunday, so when i buy fresh poultry, meats, etc i usually have to stop in to the store near the middle or end of the week in order to make meals on friday or saturday. with this sausage, i don't have to worry about that.
another reason is, well, it's already cooked! you take it out of the package and it's recipe ready. how easy is that? you don't have to worry about contaminating surfaces or cooking it before putting it into a recipe. it's great on its own, but it is also so simple to work with and make any recipe extra tasty.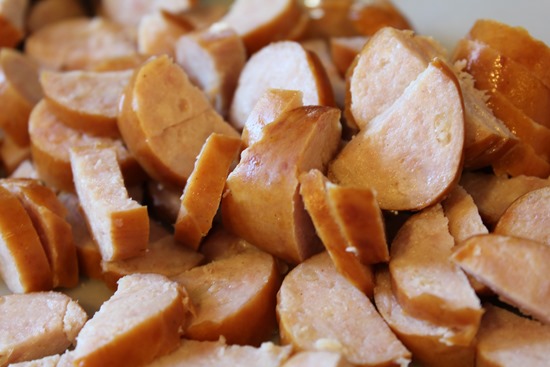 the third reason is that it's already seasoned. like i said, it makes any recipe extra tasty.. and you don't have to do anything to it in order to achieve that delicious flavor. the work is already done. hillshire farm has spent the last 75 years perfecting the flavor. that makes it ideal for me, as a working mom.. it's perfect for a weeknight meal after a busy day at the office and spending my after work hours with fox!
i picked up some hillshire farm smoked chicken sausage and knew i wanted to pair it with something cheesy. i grabbed a few other ingredients to put this delicious pasta dish together. and it turned out great! it actually reminded me of those cheese hot dogs i used to love from my childhood.. only ten million times better.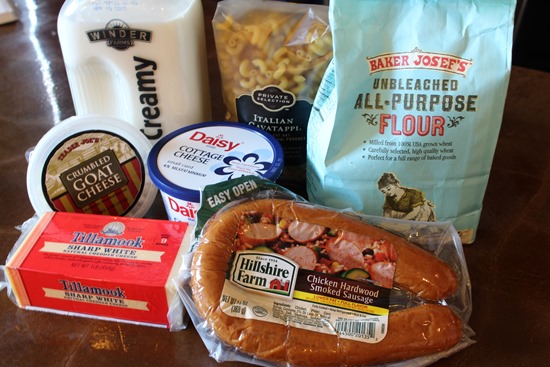 i could have gone with macaroni, but cavatappi is just so much fun to eat. i love the spiral corkscrew shape and the way it fills up with cheese. speaking of cheese.. i couldn't just stop at one kind. that would be silly! i went with sharp white cheddar as my main cheese, then added blended cottage cheese to add to the creamy factor and add a punch of protein, and finally finished the dish off with goat cheese for a special kick. i just love goat cheese!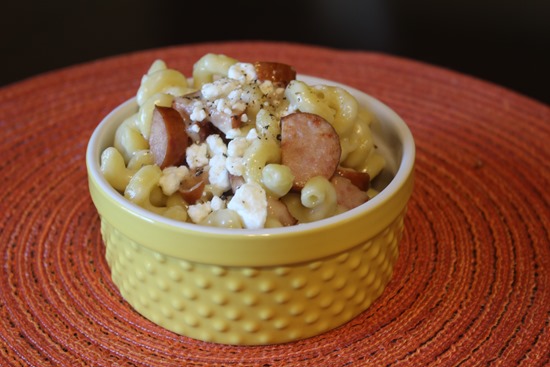 three cheese cavatappi with smoked chicken sausage
makes six servings
ingredients:
1 lb cavatappi or other noodle of choice
one hillshire farm smoked chicken sausage (13 oz)
2 TB unsalted butter
2 TB all purpose flour
1/2 tsp salt
1/2 tsp black pepper
1 tsp ground mustard
2/3 cup cottage cheese, blended
1/3 cup milk
8 oz sharp white cheddar, grated
12 oz goat cheese, crumbled
directions:
cook pasta according to package directions and set aside.
dice the sausage into 1/4 inch slices. i also cut them in half so they were half moon shapes.
in a deep skillet or saucepan, melt the butter.
turn the heat to medium-low and whisk in the flour.
add the salt, pepper, and mustard. whisk.
blend the cottage cheese and milk. add to the skillet and whisk. make sure the heat is not too high, you don't want to scald the milk!
add the cheddar and stir continuously until melted.
add the pasta and stir to combine.
add the sausage and stir to combine. heat until sausage and pasta is warmed through.
top each serving with 2 TB of crumbled goat cheese and additional salt and pepper. enjoy!
another thing you can do between steps 2 and 3 is heat the sausage in the skillet so it is a little browned. this is totally optional as the sausage is already cooked, but marshall likes the sausage to be a little crispy on the edges.. so i did it. totally up to you!
this pasta was so easy to throw together! it was creamy and delicious and the perfect comforting dinner.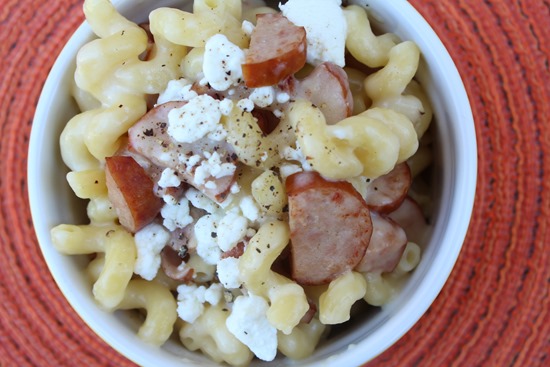 we ate it alongside some steamed asparagus, but i think that it would have also been great to throw the asparagus into the pasta. you could actually add all sorts of veggies to this dish!
for more great recipes using hillshire farms sausage, visit sausagesosimple.com. there are so many yummy ideas!
Qs~
1. what is your favorite quick & easy dinner recipe?
2. what foods were a childhood favorite for you?
xo. janetha g.
#spon: I'm required to disclose a relationship between our site and Hillshire. This could include Hillshire providing us w/content, product, access or other forms of payment.