that's a whole lot of Cs in the title! i love alliteration. and cereal. and cookies. i had the idea the other day to throw some chocolate chex into the dough of my favorite chocolate chip cookie recipe.

i couldn't get the thought out of my head.. so a few days later, i tried it out.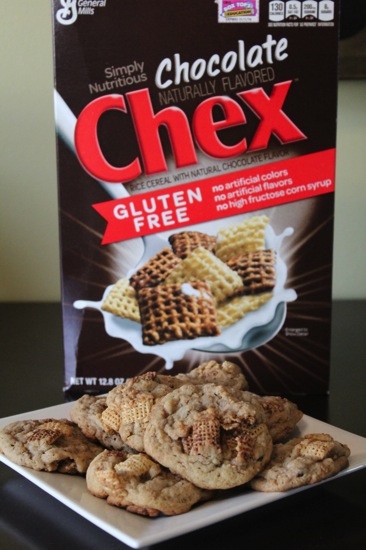 i am happy to report it was a huge (tasty!) success.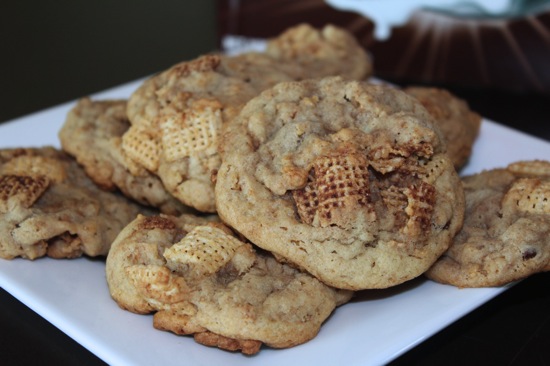 chocolate chex chocolate chip cookies
makes 2 dozen
ingredients:
3 cups all purpose flour
3/4 tsp baking soda
3/4 tsp salt
1/2 cup butter
1 cup brown sugar
3/4 cup white sugar
2 eggs
2 tsp vanilla bean paste or extract
1/2 cup chocolate chips
2 cups chocolate chex, divided
directions:
preheat oven to 350 degrees fahrenheit.
in a bowl, combine flour, baking soda, and salt. set aside.
in a mixer, cream together butter and sugars.
add eggs, one at a time, mixing well after each one.
add vanilla. mix well.
slowly add flour mixture until combined.
mix in chocolate chips and 1 cup of chex.
turn off mixer, and fold in remaining cup of chex.
place balls of dough on ungreased cookie sheet about 1" apart.
bake for 10-12 minutes, until bottoms are golden.
the texture of the chex inside the cookie was awesome. i am so happy that it worked so well!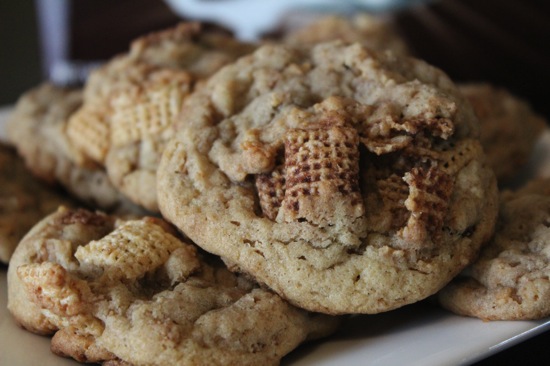 i can't wait to experiment more with cereal and baking. they just go hand in hand!
Qs~
1. what was the last thing you baked?
2. what is your favorite kind of cereal? and kind of cookie?
xo. janetha g.