i freaking love sandwiches. a lot of times i find myself having the conversation with others where we talk about if we could only eat one thing for the rest of our life.. what would it be? my answer: sandwiches. maybe it's a cop out answer, but i think it's a good one. they are so versatile! they are good for any meal of the day. i probably eat at least five sandwiches a week.. sometimes even ten.
my favorite dinner sandwich is something warm–like a pulled pork sandwich with swiss and coleslaw, or a mediterranean panini with chicken, feta, and hummus. my favorite lunch sandwich is always, always turkey & avocado. i will never tire of that combo. and for breakfast, my favorite sandwich is a simple ham, egg, and cheese sandwich.
i feel kind of silly sharing a recipe for a sandwich, because it's just so easy.. but i guess that's the beauty of it. sandwiches are easy. they are quick, tasty, and a great option.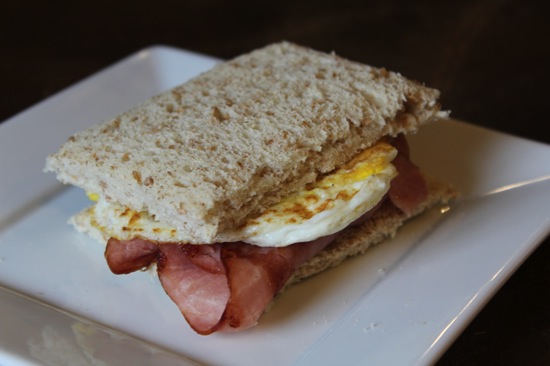 simple breakfast sandwich
serves one
ingredients
one large egg
three slices of deli ham
a sprinkle of shredded cheese
two pieces of bread, toasted (or an english muffin.. or a bagel.. any bready vehicle will do) 
directions
fry the egg in a little butter. i like mine with the yolk broken but still slightly soft in the center. you could also scramble it.
remove the egg from the pan, then put the ham in the pan to warm it up.
flip the ham over, then sprinkle the cheese on top and melt it.
assemble the egg and ham with melted cheese on the toasted bread.
tada!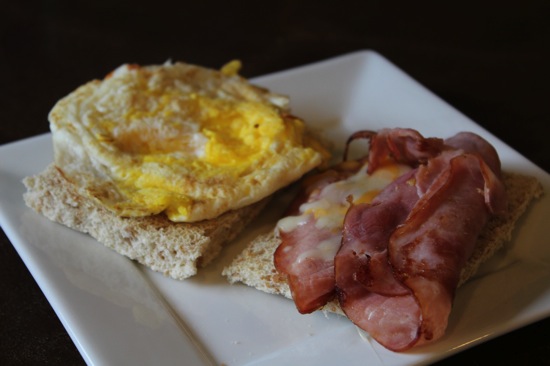 are you wondering where my crusts went on the bread? no, i didn't cut them off because i'm carb conscious (hello, i love bread!).. i cut them off because these two were giving me the big eyes.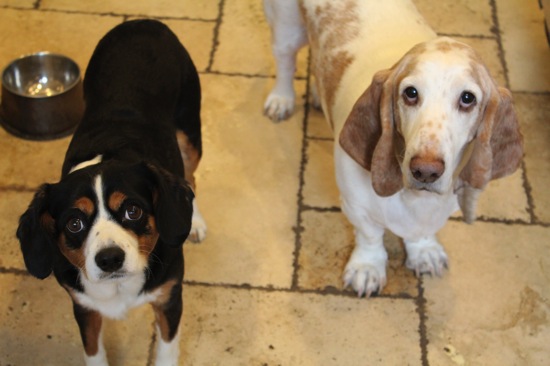 i am a sucker. they didn't get any of my ham, but they got my crusts.
for this sandwich, i used hillshire farms naturals lunchmeat.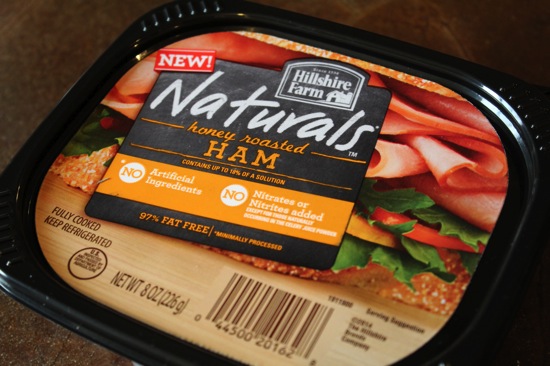 since i am such a sandwich connoisseur, i feel like i have a good background to rate this lunchmeat. i'm constantly finding ham too salty (i am one of those people who rarely salts food) and so i often buy low sodium versions. i also like a little sweetness to my ham, so i will buy honey smoked ham when buying it at the deli. i am happy to report that the hillshire farm honey roasted ham was just the right amount of salty and sweet. also, and this probably only matters to weirdos like me, it is sliced to the perfect thickness.
i like that this lunchmeat is 100% natural with no artificial ingredients or preservatives. additionally, no nitrates or nitrites have been added. one thing i appreciate about this lunchmeat is the packaging. it comes in an airtight container and then is also wrapped up inside the container. shouldn't all lunchmeat come like that? it makes storing it so much easier–i usually end up storing lunchmeat in my own tupperware. no need with this stuff. oh, and if you don't like their lunchmeat, you can get a 100% refund.. no questions asked. so you may as well try it!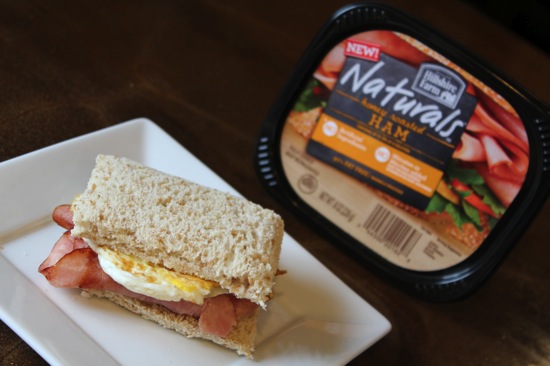 this sandwich is great for on-the-go.. but today i ate it at home. poor fox has RSV and we are hibernating until he gets feeling better. luckily it is a mild case and no hospitalization is required. but please keep him in your thoughts as he tries to recover!
i hope you all enjoy your weekend!
Qs~
1. what is your favorite kind of sandwich?
2. what would you choose if you could only eat one thing for the rest of your life?
xo. janetha g.
#spon: I'm required to disclose a relationship between our site and Hillshire. This could include Hillshire providing us w/content, product, access or other forms of payment.