so, i have an ask me anything box on my blog and i decided to log into the dashboard because i hadn't seen activity from it in ages. like.. over a year. i honestly forgot about the box. well, as it turns out, the questions were being asked… but the email notifications had started going to my spam for some reason! woops! so i have a solid year of questions that went unanswered. haha.. hmmm. a lot of them are irrelevant now, so i probably won't answer them (and the people who asked them may not even be reading my blog anymore) but there are quite a few that i will work on answering over the course of a few posts! sorry about that, if you had asked a question and thought i was ignoring you, i wasn't.
when i saw this question, i laughed:
Are you ever going to answer these questions? :)
yep! sorry! i didn't know they were there! answering now.
i had some questions regarding my pregnancy, so i'll start with those.
How come your view on having kids changed?
well, it didn't ever change. i knew i wanted kids, we've always wanted a family.. but i knew i wasn't ready for them. you can see i answered a similar question in this post.  the truth is, i have never been very maternal. i am the youngest in my family and was never around babies much. i felt very uncomfortable holding them. i was scared of having a baby of my own!
but years went by and marshall and i got to a place where we wanted to start a family. so we did. and it's crazy.. the second you hold your OWN baby, you just know how to do it. it really did come naturally and now i LOVE being a mom. best thing ever.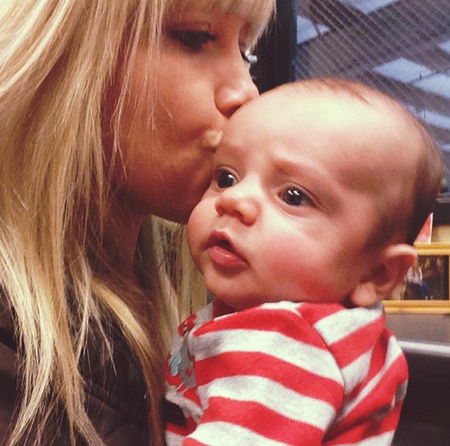 Hi! Personal question, but how long were you trying before getting on Clomid? I'm asking because I ovulate way too late in my cycle, but have only been trying for a few months. Not sure if time will correct this or not. AND It sounds like you had some trouble conceiving. I am too. Can you share your challenges, how long it took, and what you did to overcome them ?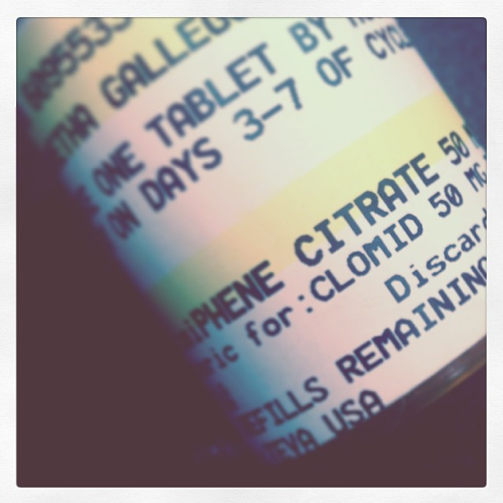 i had to do a few things before i started clomid. i would say it was about 9 months of other stuff before making the decision to take clomid. first, marshall had to get a procedure done to fix his issues. then i had to get tests done to see what was up with me. once all the things the doctor thought it MIGHT be were ruled out, she had me to really close ovulation tracking (i used the app called fertility friend.) as it turned out, i was ovulating late. that's why i went on clomid, to fix the timing of my ovulation. luckily it worked after one round.
Did you have to cut back completely on exercising to successfully get pregnant?
no, i didn't have to cut out exercise at all. that wasn't my issue.
How much weight have you gained? How are you dealing with weight gain/body changes?
i gained about 25 pounds during my pregnancy. i actually was fine with the weight gain and body changes. it was just the uncomfortableness of the third trimester that sucked!! physically, it was annoying. mentally, i was fine.
so how do you feel about delivery? drugs or no? midwife, doula, whatevs, or just classic hospital?
i knew i wanted an epidural going into this. and i got one. read my birth story here.
and now moving on to a few other random questions…
Since you're doing a crossfit-like fitness routine, do you see yourself ever jumping on the paleo train?
NO. never. paleo is definitely not for me. i just like to eat what i want, when i want.
how do you pronounce your last name?
my last name is gallegos. you say the LL like you do in tortilla. it's pronounced: "guy-ay-gos".
Wondering how tall you are? What is your current weight on maintenance? Thanks :)
i am 5'1" and i weigh 130-135 depending on the day.
How come you made your Instagram private?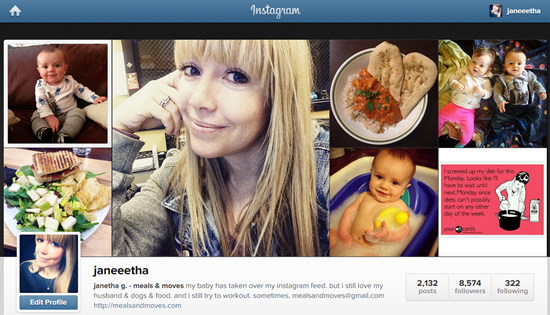 it's not. you can see my instagram here. i did have it on private for awhile because of all the spam/robot accounts following me, it was annoying! but instagram fixed that and deleted all the spam accounts. it took my followers down by about 3,000.. so that means before i had made my account private, 3,000 fake accounts had followed me. annoying.
So, I was wondering since you don't use capital letters when you write in your blog, do you use them at work? If so, is it hard to switch from one to the other? I know, strange questions… but it intrigued me ;-)
no, i type the "right" way more than i type in all lowercase, so i am actually more accustomed to typing with capitalized letters and whatnot. but i have been blogging like this for almost 5 years and am pretty good at toggling between the two styles. fun question!
Would you rather own a ski lodge or a surf camp?
well, i don't surf.. and i love to snowboard.. BUT, we are talking about being the owner of something, not the teacher. so, since i could hire teachers.. i'm going to go with surf camp! i would much rather hang out and live at the beach than in the snow. i love the mountains and snow, but i can always visit them, right?!
Would you rather have a kangaroo or koala as your pet?

funny question! ironic, too, since my mom sent me this comic today, made me laugh:
i think i would rather have a koala, though, because kangaroos seem like they would require way more effort and space and food and area to bounce around in.  but, dang, koalas look like they have some serious claws! haha.
okay, that's enough for today!
so, if you want to ask me anything.. you can use the box below. and this time, i will get the questions and answer them in a timely manner. ha!
use the box below to ask me anything:

Qs~
1. how tall are you?
2. would you rather live in the mountains or near the beach?
3. what diets have you tried (such as paleo, atkins, etc.)?
xo. janetha g.