hello and happy thursday! i just typed wednesday, actually, and had to back space.. so three cheers for it really being thursday!
what's new with you? not a ton is going on in my world. just the usual.. working, eating, momming. i'm gonna ramble today, kay?
not a ton to report on the food front, but i have been eating the same wrap for lunch every day this week and it's so good.
a sun dried tomato wrap with avocado, chicken, sprouts, and hummus. i forgot about wraps! i used to eat them all the time and it's like i just rediscovered them. not sure why i stopped making them for lunch for, oh, three years or so. duh.
we took fox to the chiropractor on monday and again today for his GI issues. a few little taps was all it took to align him and, what do you know, it has actually seemed to help! he has slept a lot better and he pooped tuesday morning and i am a believer. he has been SO happy.. none of that crying-for-who-knows-what-reason and he's been super smiley. hopefully after a few sessions he will be good to go.  he's already a changed little guy!
locals—if you are looking for an amazing, reputable chiropractor, you must check out kirk wersland at integrated wellness in bountiful. my insurance doesn't cover chiropractic care, but i was still just charged my $25 copay and nothing else. i feel like he was super knowledgeable and helpful. he's been working on babies for 15 years with great success. i am so happy to have this option and am confident it will help my little man!
while i am on the subject of alternative medicine.. i have been spending so much time reading about essential oils lately!
i use a few different ones on myself and on fox, and i really want to learn more about them and start using them more often. my friend ashley was kind enough to send a TON of info about them and i have been going through the links she sent. there is so much to learn! but i have had great success with the oils i have used in the past, so i definitely want to get more and learn how to use them. the problem with me is i buy them and then i am never sure exactly what to do with them. i rub a few different ones on fox's feet and i have put drops into his bath.
i need to educate myself and then buy the ones i know i will use. because they are not cheap! but a little bottle goes a long way, so that's good. anyone else use essential oils? what are your favorites? what about using them on your kiddos? i would love to hear how you use them.
i got a pressure cooker for christmas and i still haven't used it. i actually don't even know where to start and i am a little intimidated by it! i checked google and pinterest to see what i could make, but i honestly just got overwhelmed and decided to cook my pork loin in the slow cooker instead. i need this book hahaha.
any pressure cooker pros out there that want to help me get started?! i want to put that bad boy to use!
speaking of kitchen tools.. we are in the market for new pots and pans. we have had ours since we got married (almost five years ago, weird!) and they are starting to flake and chip and ugh. we looked at costco the other day but weren't too impressed with the selection. it's such an investment that i want to be sure to get ones we love and that will last for a long time. there are so many to choose from.. stainless steel, nonstick, cast iron.. ahhhh my brain can't take it. do you love your pots and pans? what brand/material is the best?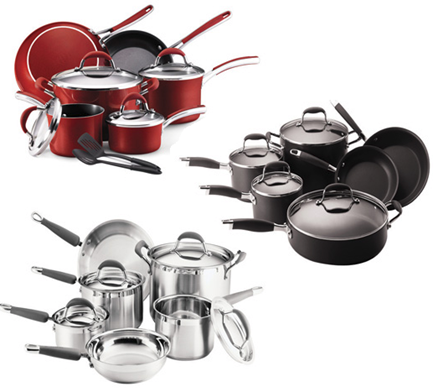 you have probably heard about fabletics. they are allllll the rage. i have had a gift card for an outfit since last june! i got it at blend retreat and i didn't ever cash it in because i was pregnant. i recently remembered it and so i had been checking the site to see what outfit i wanted. most times, sizes were sold out in the outfits i liked. since you have to order the outfit as a whole, i just kept checking back to see if there was ever an outfit i liked with all the sizes i needed in stock. i finally had success!
i ended up ordering this outfit and i can't wait to get it! so many people rave about the quality and fit of fabletics, so it will be nice to see firsthand if it's really all that. i am not sure that i will order again.. we'll see. it's a good deal, you get an outfit every month for fifty bucks and you can skip any month you want, no obligations, but i really just don't need a ton of workout clothes, ya know? a new outfit every month is fun, but not really a priority these days. we'll see.
well, that's about all that is going on in my head for now. thanks for reading my rambles! hope the rest of your week is great!
Qs~
1. how often do you buy new workout clothes? have you tried fabletics?
2. what do you think about alternative medicine?
xo. janetha g.