hello! how is it only wednesday? this week is dragging for me. probably because i am not only awake all day.. but typically all night these days, too. so the weeks seem double long. that seems like legit reasoning, right? haha.
so, the sleep deprivation and the whole mom brain thing (which, i can vouch, is a thing!) is definitely getting to me. here are some examples.. hopefully they make you laugh as much as they made me. because when the struggle is real, all you can do is laugh at yourself! (and drink coffee!!)
so, let's start with this morning. i already knew i would be writing this post tonight, so i didn't need any new material. but, of course, i am me and can't make this crap up. i went to make my shake. poured 12 oz almond milk in my shaker bottle. reached up to grab the shake packet out of the cabinet and before i knew it…
crap. almond milk allllll over the floor. and the stove. and me. drenched in almond milk all day. awesome. (but, as my instagram friends pointed out, at least it wasn't breast milk!)
okay, moving on to the rest of the examples i had in my back pocket for this post…
marshall sent me this text on friday night…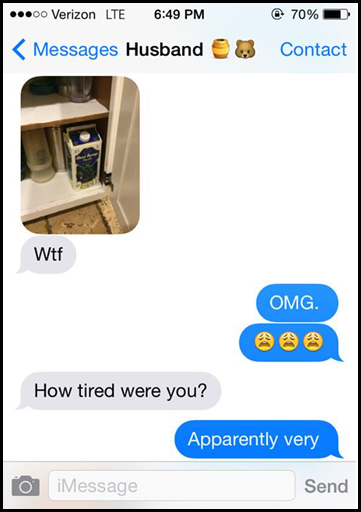 yeah. that's the almond milk. in the bottom cupboard where we keep the shaker bottles. because why would i put it back in the fridge? that would be too easy and make the most sense. i filled up my shaker bottle with almond milk for my shake, and then clearly wasn't with it when putting the milk away. whoops!
i was supposed to go to the store to get buns and cheese. for meatball subs. our favorite. we have tons of meatballs in the freezer. we don't need meatballs. i had to write down on a post-it that i was getting buns and cheese, because i knew i would forget. yet i still sent this text to marshall to confirm what i was supposed to get.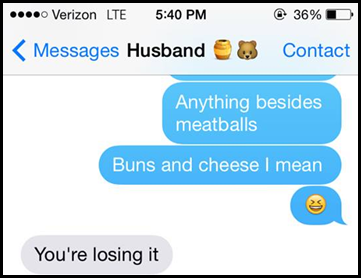 yeah. i'm not losing it. i have already lost it. the struggle is real.
i still take the dogs to daycare twice a week. they don't get a ton of exercise these days, partially because it's winter and dark and cold when we get home.. but also because we are so busy with work and fox. those poor dogs! but getting them to daycare is nice and they have a chance to run around and have fun. except these days… i have the hardest time remembering that i actually took them to daycare in the morning…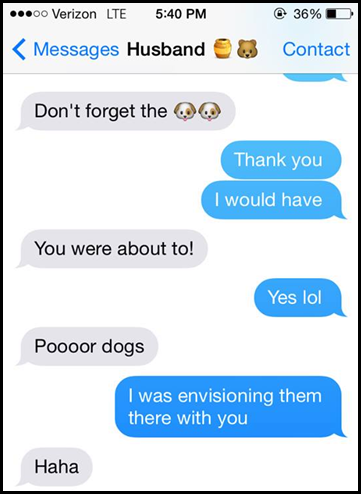 oh, man, i'm sorry penny and randy. this time i didn't get on the freeway before picking them up. yes, it's happened once before. at least we still cuddle with them.
fox's doctor told us to start giving him probiotics again. i had purchased them previously from amazon and so i knew i had a bottle at home. i went home and looked EVERYWHERE for them. they were gone. totally missing. we bought another bottle. and then marshall went to grab the new bottle the other night and laughed at me… because.. well.. the original bottle was sitting right there, in his dresser cabinet. sigh.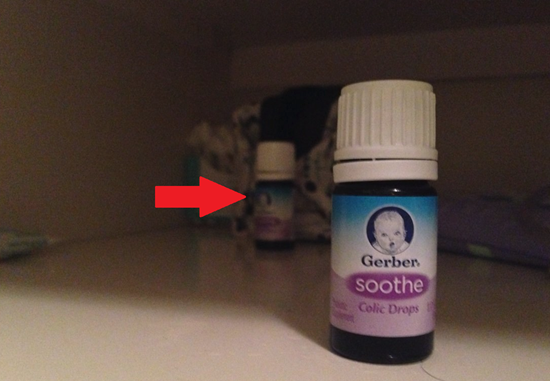 duh, janetha.
and it's not just me that is struggling. marshall is, too. the other night he said the aquaphor had gone missing. he couldn't find it anywhere. we were both in fox's room talking about it and i was like, "that's so weird! i wonder where it went!" the next morning i was changing fox's diaper and glance over, only to see this…
yep. the aquaphor. sitting on his dresser in plain view. sigh.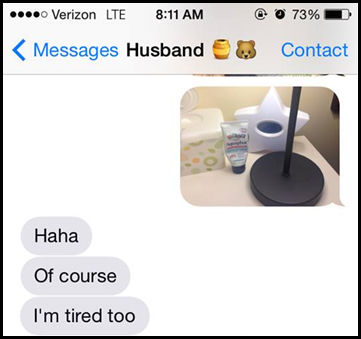 our poor brains.
although.. it could just be hereditary. got this text from momma b today…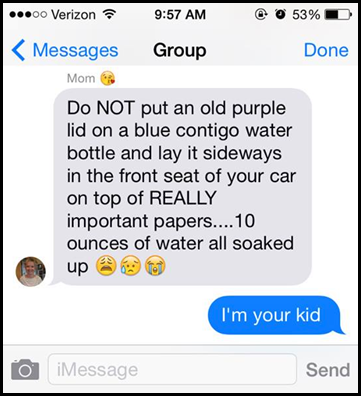 haha. oops.
other funny struggles that don't have to do with me losing my mind?
having to wear the same 4 outfits over and over because i need to have easy access to my boobs for nursing (and don't especially want to buy more clothes that are conducive to nursing.) ((and i totally just typed "by" instead of "buy"…)) plus.. it lets me wear leggings as pants the majority of the time. which is nice, since my jeans are still too tight.
not knowing very many things that start with the letter X! fox is calm in the car as long as i am singing or talking to him. so one thing i do is play the alphabet game.. i have a theme for every time. cities (A is for albuquerque, B is for boulder), or names of our friends & family (C is for candice, D is for doug), or foods (E is for eggs, F is for fruit.) but then i get to X.. YOU GUYS, THERE IS NO FOOD THAT STARTS WITH AN X. nobody wants to eat a xylophone.
constantly having "five little speckled frogs" stuck in my head. i am actually humming it out loud right now as i type this and fox isn't even awake.
never having clean hair again, even on days i wash it, because my cuddly little guy loves to drool on my locks any chance he gets. he also loves to tug on my hair. marshall's, too (his is longer than mine!) i totally see why moms cut off their hair. but i don't think i could ever do it.. i've always had long hair! i am good with the slobber tangles and yanks, it's fine.
oh.. and i should mention that i thought about writing this post the other day as i was walking the aisles of target like a zombie, staring at the diapers and trying to figure out which one was the best deal (to my credit, i figured out a way to get pampers swaddlers for $0.17 a piece after using the instant gift card rebate and my red card, so at least i can still do math.. with my iphone calculator..) and, because i didn't want to forget about the idea for this post, i emailed the idea to myself. thanks, technology.
i have the feeling that this is just the beginning. motherhood takes your brain cells. but at least you get the sweetest, most awesome reward in return!!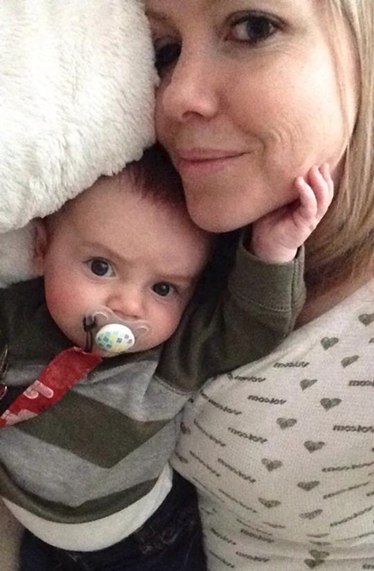 on a serious note, fox man is going to be seeing a gastroenterologist soon. we can't get to the bottom of his sad, gassy wails. and the wailing makes him worse from swallowing all that air. cross your fingers that we can find a fix for him. i hate seeing him struggle. my struggles are funny. his, on the other hand, just suck.
Qs~
1. what was your last "duh!" moment?
2. what song do you have stuck in your head?
xo. janetha g.