hey! happy sunday. how has your weekend been? good i hope. i have had a mix of good and bad.
good!
my dear friend, jenn, is in town! jenn has been traveling the country for years with her family–you may recall when i saw her in 2013. since then, they have welcomed a new baby to their family (yes, while RVing!! she's supermom!) and their travels have brought them back to utah. marshall and i headed up to park city to have lunch and catch up on saturday afternoon.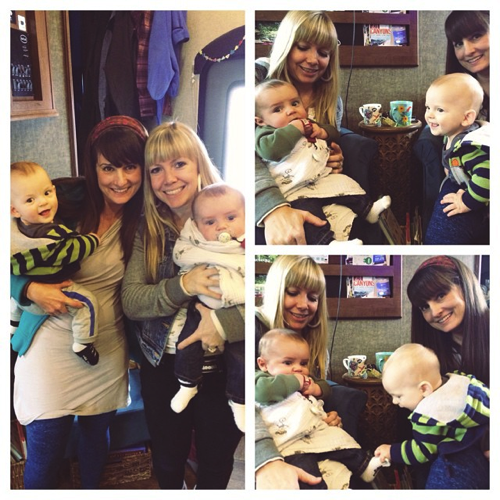 i stole the photo from jenn's instagram, because that photo of her babe pulling off fox's sock was too cute not to share.
it was such a lovely afternoon! jenn & her husband are amazing cooks, and made me and marshall our very first cuban meal. it was INCREDIBLE. i immediately asked for the recipe so we can make it at home ASAP.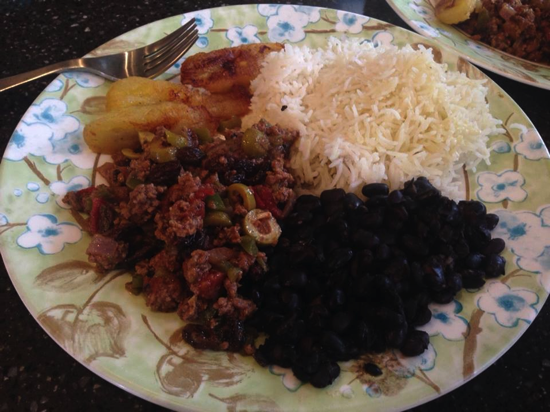 so fun!
bad!
my brother, doug, had a BAD accident on friday night. he was night snowboarding and came up over a roller and a kid was sitting in the middle of the run (duh…) and doug collided with him. his femur hit the kid's helmet and, well, the helmet won. his femur is shattered. ugh. he was lifeflighted to the hospital and had a rod put in his leg. he is still there. his road to recovery is going to be long, i know that for sure.. i broke my humerus snowboarding in 2007, and the recovery SUCKED. my arm was bad enough, i can't even imagine it being my leg.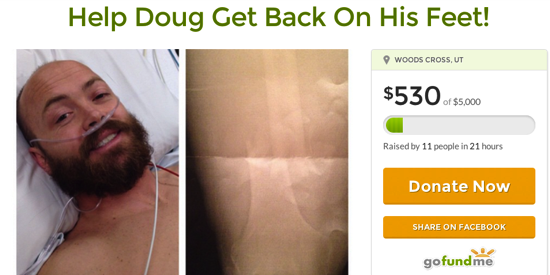 anyway, he is obviously going to be unable to work (let alone walk) for quite some time. i started up a fundraiser because i know how hard it's going to be for them to deal with medical bills and being injured and out of work. it is http://gofund.me/dougbenson. no pressure, but i wanted to spread the word about it in case you do feel inclined to donate. regardless, please send prayers and thoughts and whatever good things you believe in to him and his family at this time. thank you!
good!
i was surprised with a delivery from general mills. i had no idea it was even coming! it was definitely a nice package to unexpectedly come home to.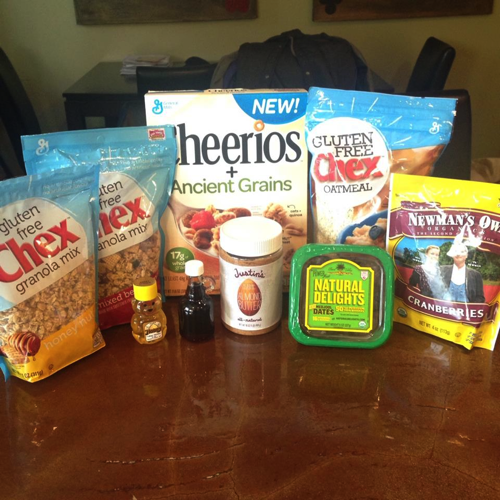 do you SEE that? CHEX GRANOLA?! i am obsessed with chex, what a great idea to put it in granola! i tore into the honey nut one right away and it is flipping fantastic. i also immediately had a bowl of the ancient grains cheerios. my favorite cheerios are honey nut, but this new variety may be replacing them as my new favorite. the package came with a bunch of recipe cards that use all the items in the package. i plan to make some of them.. that is, if i can bear to part with the most adorable little bottle of syrup! gah.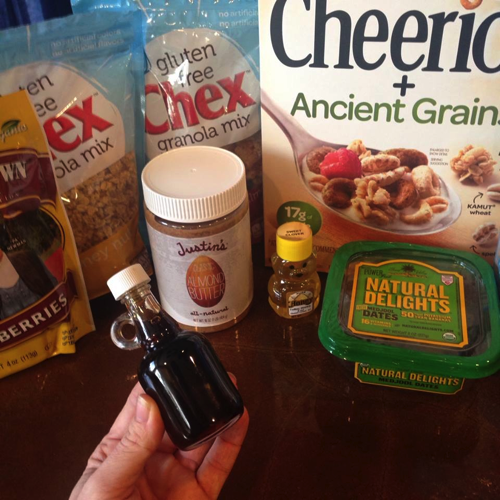 bad!
weekends used to be for sleeping. not anymore! haha. i knew i would lose sleep when fox came into the picture, but his sleeping is actually worse than it's ever been. :( even worse than the four month sleep regression. it sucks! i feel so bad for the little dude. you see, he goes down for the night really well, but his extreme gas wakes him up and he just wails the night away. last night he slept from 7:30 – 12:30 (which is an awesome stretch!) and then was up crying uncontrollably, screaming, and farting with a rumbly belly from 12:30-1:50, then again from 3:15 to 4:30, then up for the day at 5:45. poor guy is in pain and super confused about it i am sure. and the nightly rigamarole makes him tired.. we are all pretty sleepy around here.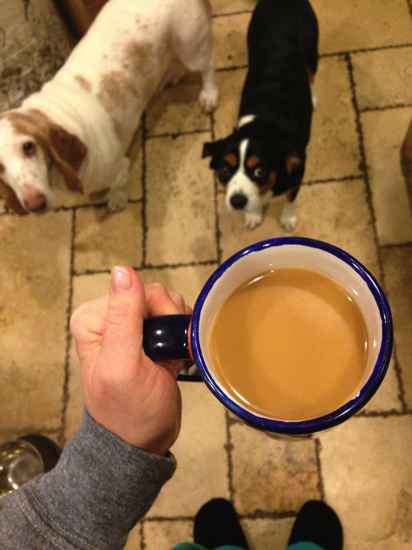 luckily he has had some great naps today. he is actually taking his third one right now as i type this. i am hoping he grows out of this, we have literally tried it all.. elimination diet for me, gas drops, gripe water, zantac, the windi, gaviscon, massage, bicycling his legs, the list really does go on! i spoke to a breastfeeding specialist and she doesn't really think it's what i am eating. she did mention that it may be his latch, he is taking in too much air, because it's not quite as bad when he has pumped bottles (but it's still bad.) so i have the number for a lactation consultant to check that out. his pediatrician is hoping his insides just need to mature. in the meantime… no sleep 'til brooklyn. or something like that.
good!
these SOCKS.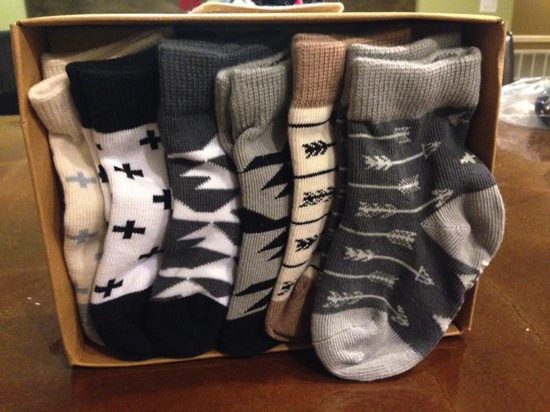 freaking so cute, huh? i picked them up at babinski's yesterday. i love baby socks. and look at their cool program if you lose one: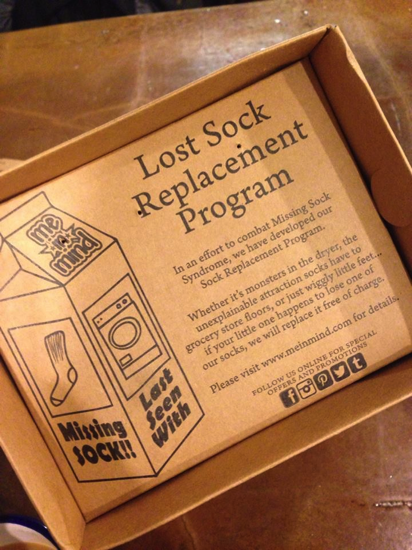 that is legit!
bad!
i totally failed at my goals these past few days. i am not beating myself up over it because, well, life with a baby is hard work. but i haven't made it to the gym and i haven't hit my daily gallon of water goal, which are my two goals for the 12 week thing my family is doing. whoops! better luck tomorrow, right? on the upside, i have kept in line with my advocare nursing challenge, so that's good. my digestion is better than ever and i know that eating well is helping combat the whole tired thing.
good!
all the grocery shopping is done for the week! we had a little family outing earlier today to costco, trader joe's, and smith's. isn't fox the cutest little shopping buddy??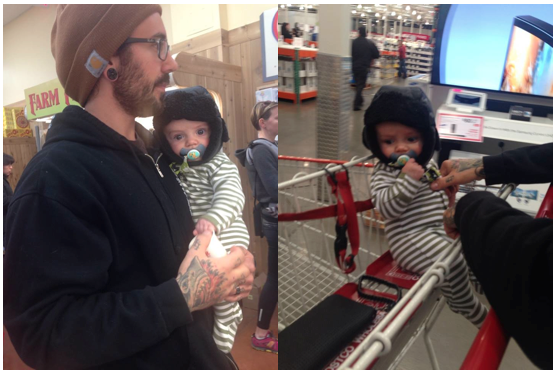 if you are interested, here is the meal plan for the week!
breakfasts: since i am doing the advocare thing, breakfasts every day this week are the nondairy meal replacement shake. i LOVE it and actually look forward to it. i ix it with ice and almond milk, and sometimes a banana.
lunches:  i picked up a couple salads from trader joe's as well as some of their precooked lemon chicken. i have never tried that, so i hope it's good. i will also be making turkey avocado sandwiches on sprouted wheat bread.
snacks: apples, oranges, rice cakes, toast with almond butter & banana, cucumbers, celery, hummus, and hard boiled eggs. i also picked up a few KIND bars. should be set in the snack category!
dinners: 
sunday – dinner at my parents' place tonight, yay!
monday – jessica's buffalo chicken soup
tuesday – pot roast
wednesday – making shredded beef tacos with the leftover pot roast, using soft corn tortillas & guacamole
thursday – meatball subs.. a weekly staple. we use fresh buns from smith's bakery and marinara & meatballs from trader joe's
friday – dinner out
saturday – who knows? not me
so that's the plan! should be a tasty week.
i think it's best to end on a good note, don't you? i am off to finish making randy's food. we are still making his food from scratch every other week, in two-week batches. his liver disease has gotten worse, but we seem to think that the homemade diet at least slows the damage down. wishful thinking. :)
i hope you all have a wonderful week!
Qs~
1. share one good & one bad from your weekend.
2. what's on your menu this week? links welcome!
xo. janetha g.