hi! happy sunday. it's 7:45 AM and fox and marshall are watching cartoons, so i thought i would pop in to say hello.
so, first off, about my title! i don't think i have been so sore in ages.. i mean, it's for sure been since 2013, before i was pregnant. like i mentioned, i committed to working out at least three times a week starting last monday. well, my body was in for quite the shock. after being sedentary for so long… my muscles have had a major wake up call! but not in a bad way, i actually like DOMS and it's a nice change.
anyway, if you are looking for a killer lower body workout, you have got to try the climb. you do have to have a barbell to complete the back squats, so if you don't have one at home you will have to head to the gym. the recommended weight for ladies was 95#, but that was laughable for me, so i went with 75#. you see, with back squats, you really want to make sure you squat deep to activate those glutes. otherwise you are doing yourself a disservice (plus, the lunges will totally hit your quads HARD, so doing halfsies on the squats is a bad idea.) i went with the lighter weight so i didn't have to sacrifice form.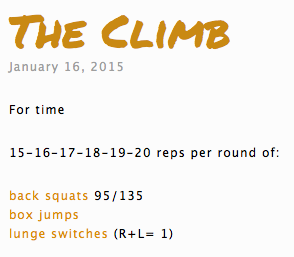 head to the GPP site to see demos and get tips on the workout, including alts for those box jumps. our box at GPP is only 15″, which is perfect in my opinion, but i know others like to go higher. the nice thing is you can customize this to your ability and you will get an awesome lower body workout no matter what!
so, i did that on friday, and by saturday morning my butt felt like an anvil fell on it. like i said, in a good way. i was going to go to candice's body pump class at gold's (err.. i mean vasa fitness. all the gold's gyms around us changed, but i will forever call it gold's) but i told her there was no way my legs were having that!
luckily the GPP programming is designed for each workout to follow the previous one, and saturday's workout, top heavy, was all arms. just what i needed! there was also a little cardio (and running.. ugh) in there to get our heart pumping. as much as i hate running, it actually helped shake out the soreness.. i took those 800m "runs" very slow. more  like "dogs"–>walking jogs! again, i went down on the weight of those biceps curls so i wouldn't sacrifice form. i am feeling it most in my chest from the flys!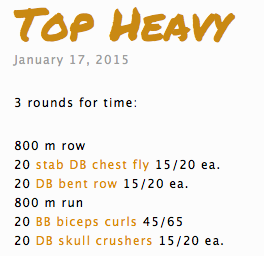 if you aren't sure what those moves are, you can head to the site for demos.
so, now that my whole body is nice and sore, i am taking today off. aaaand probably tomorrow, too! muscle memory is a cool thing and i am sure i will be back to my old self eventually, but i am in no rush. for now, i just want to be able to be strong enough to carry fox (and his 234 pound car seat) around without a struggle!
after that workout i ran to the bank, then grabbed jamba juice for marshall and myself. i tried one of their new juices, the veggie harvest. it was a mix of beets, apples, carrots, and greens. SO good! i am glad they have pressed juice, i hadn't been in ages and had no idea they'd come out with that. i can't be bothered to make juice at home, i'm too lazy, so it's nice to be able to grab one from there.
the rest of my saturday was a mix of lots of productivity followed by complete laziness. we cleaned the whole house and washed, dried, folded, and put away (!!!) every last bit of laundry. we went to target to get a few things, but mainly for the ergo 360. fox doesn't love facing inward in our other ergo, so we got this one so he can look out at the world around him. he loves it already!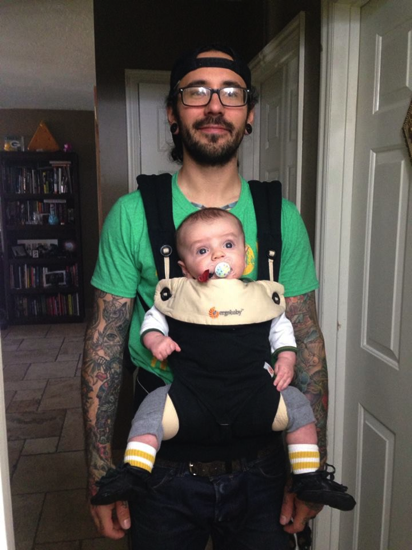 fox decided to be a GREAT napper yesterday, and since all our busywork was done, we decided to veg out with netflix and start the second season of the fall. we had watched season one back in october and were anxiously awaiting the next season.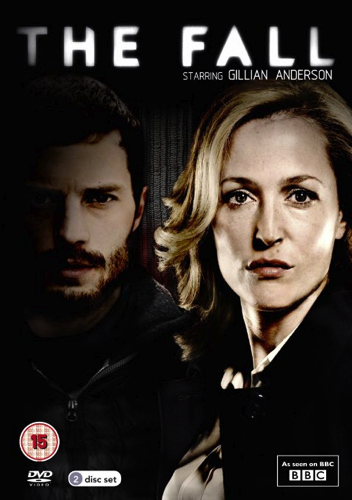 after an episode, fox woke up so we played with him for awhile and then he got sleepy so he lounged on marshall while we watched another episode. the hand holding, my heart exploded, i can't even handle it!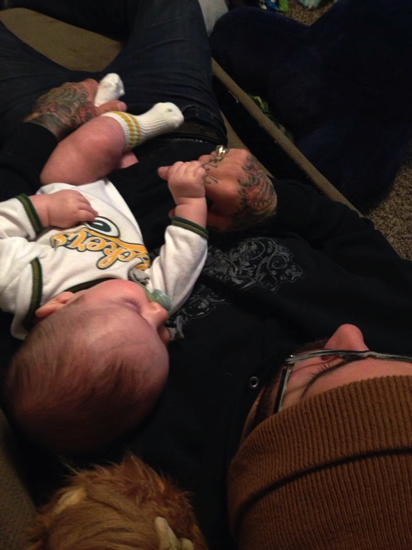 he went down for another nap so we ended up watching more episodes.. he woke up.. we played.. he went back down.. more episodes. we took a break for some chipotle. marshall grabbed it while fox and i played. he was squawking away, so cute!
before we knew it we were 5 episodes deep and only had the finale left! it was bedtime for fox, so we gave him a bath and did his bedtime routine.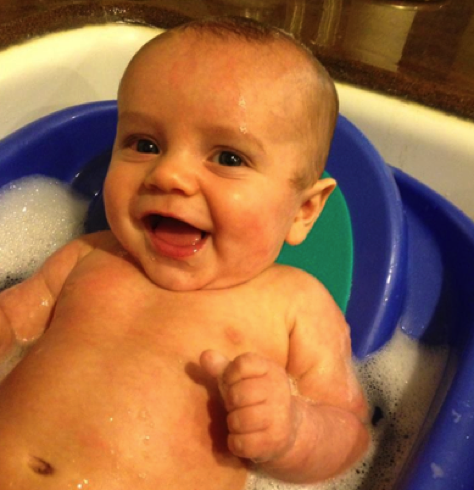 once we put him down for the night, we watched the 90-minute finale. hahaha.. we watched 6.5 hours of netflix yesterday. it took me back to the days of when marshall and i were first dating and we would binge-watch series in his bedroom. we reminisced about how we were just kids back then, and now we have a kid of our own!
unfortunately, the night didn't go quite as well as the day had. not sure if it was the chipotle i ate or what, but fox was up crying with gas the whole night long. it broke my heart! he hasn't been this way in quite some time, especially since i have been eating better, so i think it must have been my dinner. maybe the beans? who knows. ugh. marshall and i took turns holding him and trying to soothe him, he wouldn't nurse, and he was just one sad dude. this morning we gave him medicine and put a heating pad on his belly. he actually fell asleep about 30 minutes ago as i was writing this, so here's hoping he feels better! it's so hard when your baby is hurting, because they can't tell you why. so sad!
now i am doing some meal planning and will do grocery shopping a little later today. i am on day 7 of my nursing advocare 24 day challenge and it's going really well! while it's tough to not eat a lllll the sugar, i can feel a difference. the sugar withdrawal headaches have subsided and i definitely can tell a difference with my digestion, energy levels, and just how i feel overall. i just finished eating breakfast–steel cut oats and eggs with avocado.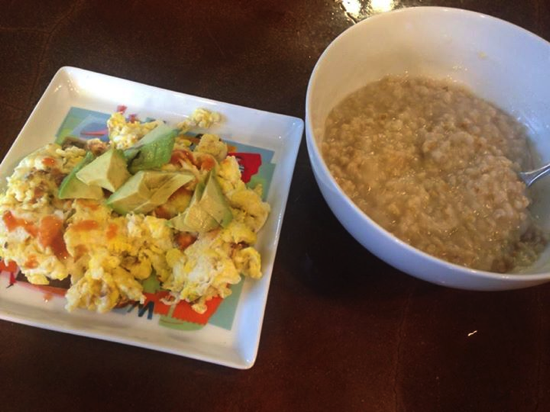 breakfast is always easy for me–this is what i ate every day before cleaning things up (except now i omit the cheese since i am not doing dairy for now.) it's dinners and junk food snacks that i struggle with! but it's been eye opening this past week, i have realized how reliant i had become on candy, fast food, and junk. i think it's fine to have that stuff, but not to rely on it like i was. so it's good that i'm doing this.
week two of my family fit challenge starts tomorrow. my brother in law is in charge of this week's daily challenge and he announced that it will be different core work that he will tell us the night before, so sorry to say those who want to follow along will not be able to! but maybe try to do some type of different core work each day? i am going to continue on with my goal to drink a gallon of water a day and exercise at least three days a week.
i have one last thing to tell you in this post.. and it's a big one: BLEND RETREAT TICKETS GO ON SALE TONIGHT!!

yes! we are thrilled to have quest nutrition be our official sponsor for blend! we also have so many other awesome sponsors lined up so far, including: flapjacked, justin's nut butter, love grown foods, earth balance, barbara's, goodbelly, detour bar, bhakti chai, bob's red mill, and many more in the works!  you can check out THIS POST for all you need to know about the event. tickets go on sale at 8 PM EST/6 PM MST tonight. go HERE to secure your spot! we have to cap this retreat because of limited space in the cabins, so be sure to snag a ticket early on. i am so so excited for this year's event. fox and marshall are tagging along! and boulder is awesome! come play with us!
sorry, i lied, one more REAL last thing.. GO PACK GO!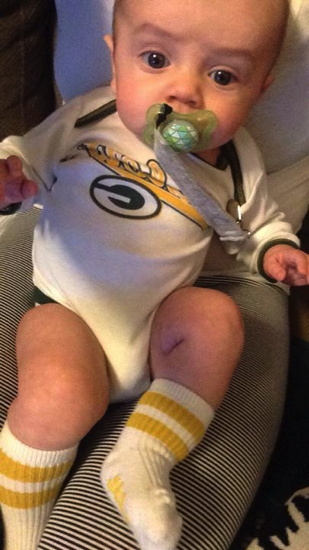 fox has his team spirit! hoping we see them go to the super bowl!
Qs~
1. what was the last TV series you watched?
2. do you like working out your upper body or lower body better?
xo. janetha g.