hi! how about a little old school meals & moves action? i think yes. except life is different with a baby thrown into the mix.. my whole day seems a lot longer than it used to!
4 am. fox woke up and i fed him (he had slept really well since his previous feeding at 11:30 pm the night before!) then put him back down to sleep.
6 am. fox woke up for the day, but marshall did, too.. so he got up with him. it's a nice arrangement and i get a little extra sleep.
6:45 am. i hopped in the shower and could hear fox shrieking, even through the shower noise. it's his new thing. it's not awesome.. but i am sure it's a phase. he shrieks when he is happy. when he is tired. when he is hungry. when he is sad. when the sky is blue. when randy's ears are floppy. you get it. he definitely has "found his voice."
7 am. i fed the little squealer and then multi-tasked playing with him and doing my makeup/drying my hair/getting dressed. then marshall took him off my hands and got him dressed (love his outfit, you will see it below!) and into his carseat.
7:30 am. i said bye to the pups and headed out the door.. only to get stuck by a dumb train for the 342nd time this year. yeah, i know it's only january 14.
8 am. i got to work.. fox had a cat nap on the way, and his beanie fell over his eyes. oops! sorry, bud.
i had my fiber drink & catalyst pills, part of my nursing 24 day challenge.
marshall came to say bye to us after loading up for the day. i mixed up a spark while he held fox for a bit before leaving.
fox played in his bouncy seat while i got my morning stuff done. banking, spreadsheets, the usual.
side note.. i was changing fox's diaper sometime in this hour and laughing about how we used to track every. single. one. of his diapers on an app. yep. i guess that's what you do as first time parents. if i kept track of every diaper i changed now days, i would go crazy!
8:45 am. i needed to make breakfast, so i put fox in my new (used) ring sling. i bought it from a facebook group i belong to. fox isn't in love with babywearing because he really likes to wiggle around, but sometimes i need my hands.. so we are practicing with the ring sling and hopefully he will like it more and more. p.s. it's hard to take a selfie with a baby in a ring sling. for me, at least.
we headed into the kitchen. i made three eggs with hot sauce (frank's!) and some frozen trader joe's steel cut oatmeal. i also had my omegaplex capsules.
fox played on his mat while i ate. so wiggly! but isn't he cute in his shoes?! haha baby shoes crack me up. so pointless, yet so cute.
9:15 am. it was time for fox man to take a nap, so i swaddled him up and put him down. he slept right through his next feeding (usually would be at 10, three hours after his previous one) and didn't wake up until 11. in the meantime, i got a lot of work done and i also had a snack—an orange and a rice cake with sunflower seed butter.
i was worried he would wake up while i was downstairs making my snack and washing a bunch of dishes in the work kitchen sink, but i when i got back up to my office he was still snoozing.
11 am. i fed fox (i went in the conference room to sit on the couch and do it, but sometimes i just do it at my desk) and then he sat on my lap while i entered orders.
somewhere in here i ended up drinking 1/2 gallon of water.. halfway to my daily goal! i have a 32 oz bottle i fill up, so i just need to drink four of them.
12 pm. i headed downstairs to chat with the girls and see if the mail came. fox practiced his rolling.
12:20 pm. back at my desk, fox was showing tired signs.. so, even though he'd only been awake about an hour, i swaddled him up and put him down. he fell right to sleep. i had no idea how long his nap would be, so i used the time to my advantage and busted out a whole bunch of work.  i also took my catalyst pills again.
1 pm. i hurried down to the kitchen to make lunch, hoping he wouldn't wake up while i did so. luckily i made it back and he was still sound asleep. i had leftover turkey chili for lunch.
it's not pretty, that's for sure. and i will also note that it's not my favorite recipe.. it's jamie eason's of bodybuilding.com and, eh, it's not great. it was my first time making it. it's edible, and filling, but i won't be making it again.
i worked and ate, because using fox's naptime to get work done is really crucial.
i really, really, really, really wanted to eat candy after lunch. i typically have 3-4 mini candy bars in the afternoon. i didn't realize how reliant i was on that afternoon sugar pick me up until starting the program this week. interesting, since i used to not even enjoy candy! i was eating it purely out of habit. it'll take a few to break the addiction, i am sure, but my teeth will be better off.
1:45 pm. fox woke up with a big, cute stretch. i fed him and then he squealed like a banshee for quite some time. my boss was like, "wow.. fox screams loud.. a lot." hahaha.. good thing they need me around there! fox would get us kicked out, for sure.
more work happened and more tummy time happened and more shrieking happened. good thing he's cute! it was definitely one of my more challenging afternoons as far as having a baby at work goes. some days are easier than others.
3:15 pm. fox went down for a third nap. i didn't swaddle him this time because  got off at 4 and didn't want him to sleep for hours. he sleeps much longer when swaddled.
i was able to finish the rest of my work up while he snoozed. i am actually super lucky he was such a good napper today. usually he will get one long one in and then maybe one or two cat naps in.. but he was a champ with naps all day!
3:55 pm. fox woke up right on time, so we packed up and left for the day.
4:30 pm. i fed fox again and marshall got home from work while i was feeding him. he took over and i changed for the gym.
5:00 pm. i had a snack. honeycrisp apple + peanut butter.
5:10 pm. i headed out for a bang trim! i was in major need. thanks, whit! also, i hate how it gets dark so early.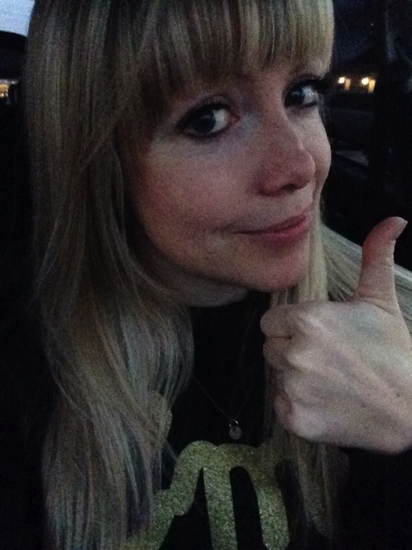 5:45 pm. i filled up the gas tank and then went to GPP for some tabatas. i always check my phone every five minutes or so during my workout–call me a crazy mama. marshall was texting me, telling me fox was having a hard time and crying a lot. poor guy seems like he's in pain with his belly more often than we like to see (i mean, ideally it wouldn't be happening at all!) so i decided to cut my workout short (i ended up doing 6 of the 10 tabatas) and head home to help out with him.
6:30 pm. i fed fox and soothed his sad soul. afterward, i got to work on dinner.
i made chicken breasts stuffed with tomato basil hummus & artichoke tapenade, a harvest grain mix tossed with oil and balsamic vinegar and seasonings, and steamed asparagus.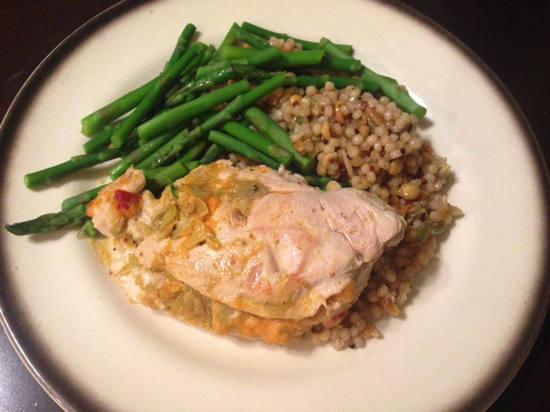 marshall was so excited to be eating something other than tacos or spaghetti (those are the two things he makes, and he is the one usually in charge of dinner.) i am glad i was able to make a tasty meal for us!
the meal started out like this…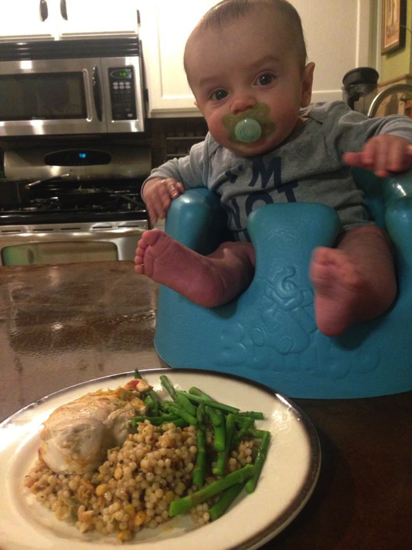 …and ended like this. fox just really wanted to be held today, and i am perfectly fine with loving that little boy.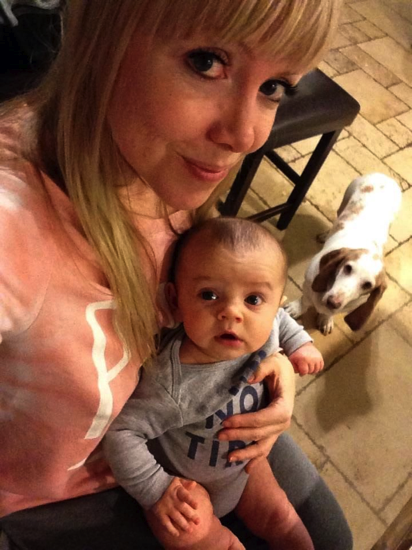 randy begging, per usual. oh.. i also took my omegaplex. yay for day 3 in the books with no slip ups. that's mind blowing.
7:30 pm. we started fox's bedtime routine, bath first…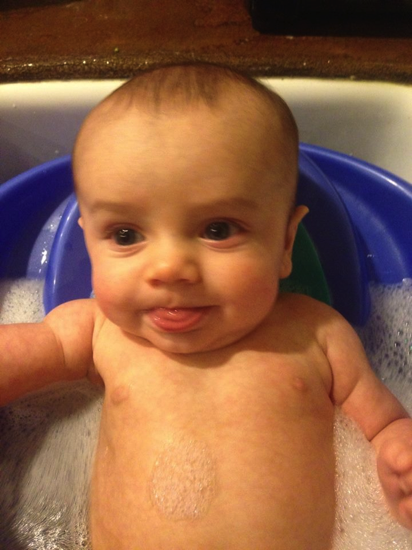 yes, that's a pink owl hooded towel. it's fine. (it's from danica! a gift from years ago!)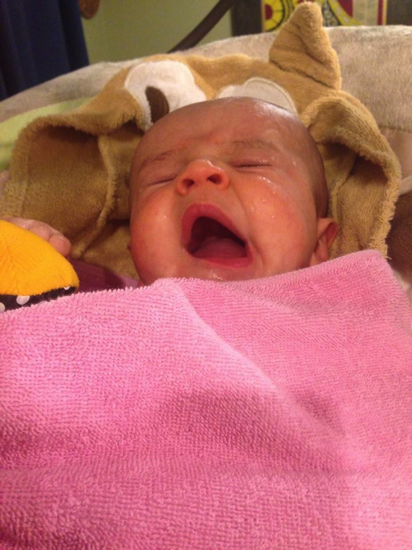 …then lotion, medicine, PJs, story, nursing, bed.
i just put him down and did my 100 squats for the family weekly challenge, then typed this post up! about to hit publish and then hit the hay myself.
whew! that was my day! nothing too exciting, but it's my life these days. it was actually a pretty typical day for me, so i am glad i chose to share today. even though some days are really challenging to work with fox around, i am going to seriously miss these days when they are gone. i only have a little over a month left with him going to work with me, and i am already crying about it. the plan is for marshall to stay home a couple days, have my mom watch him one day, and hire my SIL's mom to watch him a couple days. while i know he will be in the best hands, i still am sad that it's not his momma that gets to be there for him. it sucks. i also worry about how.. um.. spirited he is. hopefully his sitters don't quit one week into the gig!
man i am so sleepy.. i am going to call it a night. it's 8:30.. i usually am in bed before 9 PM most nights. gotta get that sleep in when i can. thanks for reading. chat soon!
Qs~
1. what was the highlight of your day?
2. what's for dinner?!
xo. janetha g.