now that i am back on the better-eating wagon, i checked my blog archives for simple, tasty meals to make. since i love to cook and create recipes, my passion is to think up recipes that are not only healthy, but delicious and different! i haven't been able to make up NEW recipes lately, but it's been ages since i have prepared any of my older ones. i dug up five dinner ideas to share with you today. hopefully it will help you get a little more creative in the kitchen, i know it's going to help me!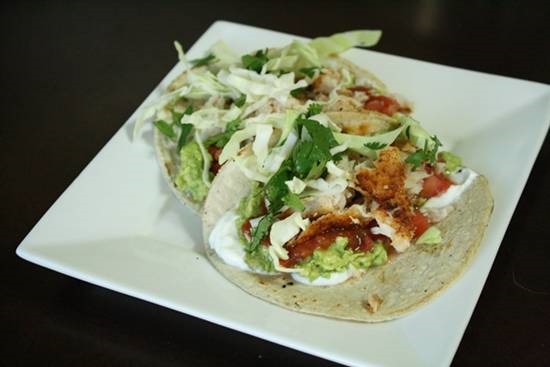 FISH TACOS
makes 4 servings of 2 tacos each
ingredients:
12 oz opah, mahi, or other flaky fish
2 tsp olive oil
2 tsp old bay seasoning
juice of 2 limes
1/4 head of cabbage (any color), chopped
1 small bunch of fresh cilantro, chopped
8 corn tortillas
garnishes: plain greek yogurt (or low-fat sour cream), mashed avocado, pico de gallo, salsa, shredded cheese
directions:
rub fish with oil and seasoning. broil for about 5-7 minutes on each side until cooked through, then flake with a fork.
combine lime juice, cabbage, and cilantro in a bowl to make a slaw.
warm tortillas in a skillet over low heat or in the microwave.
assemble tacos layering the fish, slaw, and garnishes. enjoy!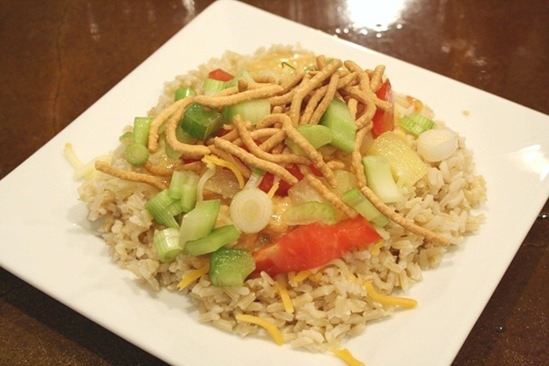 HAWAIIAN HAYSTACKS
makes 4 servings
ingredients:
1 lb boneless, skinless chicken breast, diced into 3/4" cubes
10 oz can cream of chicken soup
10 oz can low sodium chicken broth
2 cups cooked brown rice
garnishes: diced green onions, shredded cheddar & monterey jack cheeses, diced tomatoes, diced celery, chow mein noodles, crushed pineapple, shredded coconut, slivered almonds
directions:
in a saucepan, combine chicken, cream of chicken soup, and chicken broth. bring to a boil and then reduce heat to low. simmer until chicken is cooked through. alternately, you can cook the chicken in a slow cooker on low for 4-6 hours.
assemble haystacks layering 1/2 cup cooked rice, chicken, and garnishes of choice. enjoy!

CHICKEN PESTO PANINIS
makes 4 servings
ingredients:
four ciabatta rolls (or another bread of choice)
4 oz pesto (store-bought or make your own by combining 2 cups fresh basil, 2 TB olive oil, 1 clove garlic, salt, and pepper in a food processor or blender)
12 oz boneless skinless chicken breasts, grilled and sliced (you can buy this pre-cooked at your grocery store!)
2 vine ripe tomatoes
4 oz crumbled feta
4 TB balsamic vinegar
salt & pepper
directions:
slice ciabatta rolls in half and spread an ounce of pesto on each side.
layer chicken, tomatoes, and feta on one side the roll. drizzle with balsamic vinegar and top with salt & pepper.
sandwich together and place in panini maker. if you don't have one, simply grill the sandwich on a greased skillet over medium heat. enjoy!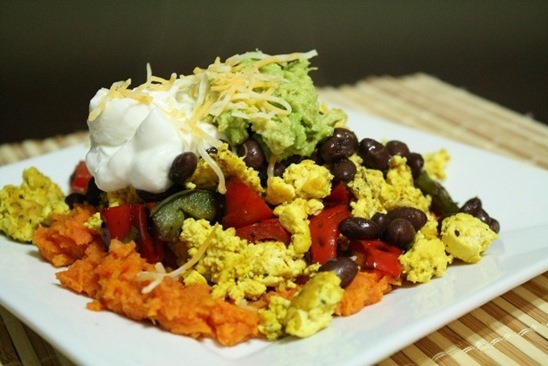 TOFU SCRAMBLES
makes 4 servings
ingredients:
2 TB olive oil
14 oz block firm or extra firm tofu, pressed and drained
seasoning: 2 oz nutritional yeast, 1 tsp garlic powder, 1 tsp onion powder, 1/2 tsp salt, 1/4 tsp pepper
2 medium sweet potatoes, boiled & mashed
1 red bell pepper, diced
1 green bell pepper, diced
1 bunch green onions, diced
4 oz canned black beans, warmed
2 oz avocado, mashed
2 oz plain greek yogurt
shredded cheddar cheese (optional)
directions:
heat 1 TB oil in a skillet over medium heat. crumble tofu into skillet and add seasoning. sauté, stirring often, for 5-7 minutes. set aside.
heat remaining 1 TB oil in the skillet over medium heat. add peppers and onions and sauté until soft, another 5-7 minutes.
assemble by layering sweet potatoes, tofu, peppers and onions, black beans, avocado, yogurt, and cheese. enjoy!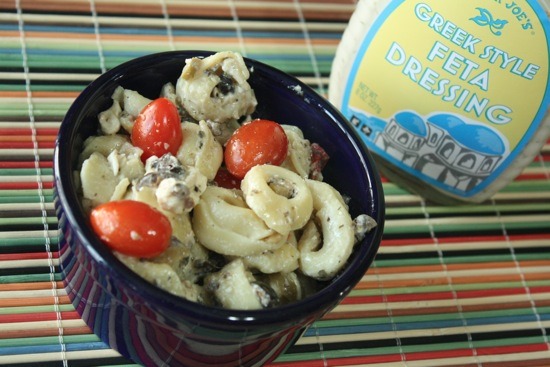 GREEK TORTELLINI SALAD
makes 4 servings
ingredients:
8 oz pesto filled tortellini
6 oz olive tapenade
6 oz crumbled feta
4 oz greek-style feta dressing
2 cups grape tomatoes
optional add-in: diced grilled chicken breast
directions:
cook tortellini according to package directions.
toss cooked tortellini with remaining ingredients.
serve warm or refrigerate for 2 hours if you prefer it cold. enjoy!
i hope these healthy dinner recipes make it into your kitchen!
Q~
what is your favorite healthy dinner?
xo. janetha g.