i may not have much time to create new recipes or try awesome workouts, but i definitely use STUFF every day, and some of that stuff i absolutely love! let's talk about it.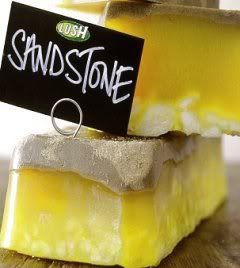 i went into lush before christmas to get marshall his deodorant to put in his stocking (their deodorant is pretty awesome.) i had never tried any of their soaps, so i perused the mountains of smelly, soapy goodness and walked away with a chunk of the sandstone. not only does it smell good, but it gets the job done! i rub the soap on my heels in the shower and it's like my own little pedicure every time. i highly recommend it!
dolce & gabbana light blue perfume.
on the very top of my christmas list to marshall was, "good smelling perfume that you like the smell of." you see, i have a handful of perfumes, but he either doesn't really like the smell of them or, the one that he does like, is the one my mom uses so he says i smell like my mom. haha. so right after christmas we went shopping and picked out a perfume we both love. i have never been a big perfume wearer (mainly stick to body spray from bath & body works) so this perfume is perfect. like the name says, it is light. it's not overpowering and i love it!
i spend a lot a lot a lot of time on my phone while i am nursing fox. social media gets boring and sometimes it's just not my turn in words with friends. so when marshall told me about a new game he downloaded, i thought i would give it a try. i am now officially addicted to the game "threes" and i warn you that if you download it, you will not be able to stop playing. it is mindless and entertaining! get it!
utah makes my lips dry, and for some reason pregnancy and breastfeeding also makes my lips dry. weird, but it's a thing. i have forever been in search of chapstick that doesn't actually make my lips drier the more i use it (does anyone else notice that with some brands?) i randomly bought this one day and am converted. i should have known, since i love aquaphor's other products. i actually didn't know this existed until i was staring at the wall of lip balm at target about a month ago. super glad i picked it up.
GAMES. i love games! especially now that i am a homebody with a baby and don't get out much—i rely heavily on games for entertainment. we have been playing a ton of rummikub lately because it's something marshall and i can play with two people, but the other night we found out about the great dalmuti. candice had us over for dinner and games and we played this fun card game. it's a lot like scum or presidents & assholes if you are familiar with those games, but even more fun! we immediately went out and bought it and played it with my parents tuesday night. my dad does NOT play games, but even he couldn't resist this one—it's fun for everyone. you do need 4 to 8 people to play it.. so if anyone wants to come over to my place and play, you're all invited. ;)
i didn't think my old hairdryer was bad.. but then it dropped and a piece broke off of it, so i had to replace it. i bought this ceramic hairdryer off amazon (same brand as my old one) and, you guys, i dried my hair in under four minutes!!!! i am so happy!
speaking of hair.. i saw this article on thought catalog the other day about how to wash your hair. sounds dumb, right? i've been washing my own hair for over two decades, you'd think i would have it down. but this simple tip in the article has seriously changed my hair for the better. it really does make a difference, as dumb as it sounds! since i can't wash my hair as often as i used to, i am glad i found this technique. it really makes my hair lighter and it's not weighed down and doesn't get greasy. (if you really care about it, click the article and read, i won't bore you with the details if you aren't interested, hah.) here i am on a good hair day, but bad sleep day. ;)
let's face it, i had to sneak in a photo of fox somewhere in this post!
by the looks of this list, it seems like i get to shower and wash my hair and spruce myself up daily! not the case, but i do what i can, when i can!
hope your thursday has been great. one more work day until the weekend!
Q~
what are YOU loving lately?
xo. janetha g.