hi, guys! happy new year. i hope you are all enjoying your first week of 2015. i have decided i really want to make an effort to blog more often. while i am super busy with a baby and a full time job, i realized i really miss taking the time to ramble—it's something i need for me, so hopefully i will find the time to do so! here i am, the sixth day in, and finally getting around to posting. ha. baby steps, right?
it's kind of weird when you take a blogging hiatus, because you come back and aren't quite sure where to pick up. plus, my hiatus has been looooong, and my life has changed SO much since fox arrived! so bear with me as i find my blogging voice once again. i know it's in there somewhere.
it was nice to have quite a bit of time off over the holidays. i only had to work one day between christmas eve and january fifth. (yes, that made the first monday of the year extra tough!) it was probably a good thing i had so much time off (marshall did, too) because fox has been on one.
he had his shots a week ago and that landed him with a fever and lots of achiness. we had to head into the doctor after two days of a fever just to make sure it wasn't anything to worry about (it wasn't.)
he's hit the fourth month sleep regression i'd heard so much about and he's hit it HARD. poor dude won't sleep much at night, which means we aren't sleeping much, either. last night we reverted back to letting him sleep in his rock'n'play (he's been in his crib) just so we could catch up on some ZZZZZs. i keep reminding myself that this is just a phase (and i can sleep when i'm dead, right?)
on top of the sleep issues, fox's GI problems have been really bad lately, which i am sure contribute to crappy sleep. it's so sad to see him in pain! we are working closely with his doctor to try to find a solution, or to at least ease his discomfort as best as we can!
anyway, enough about that! even though things have been rocky, we have had a ton of fun spending so much free time with our little man. it makes me long to be a stay at home mom, but it's not in the cards and i've been trying hard to accept it. it just makes me cherish all the time i do have with fox even more!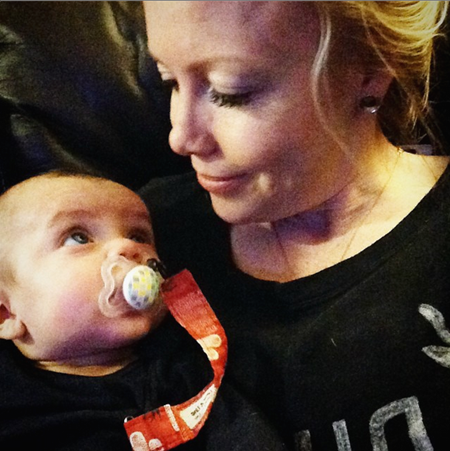 we hung out at home and at my parents' place for the most part over the break, but we did get out to a party on new year's eve. luckily my good friend lives in a mother-in-law apartment adjacent to the house where the party was, so we just tucked fox man into bed in his apartment so he could snooze while we celebrated. he's pretty content to sleep anywhere as long as his white noise is blasting.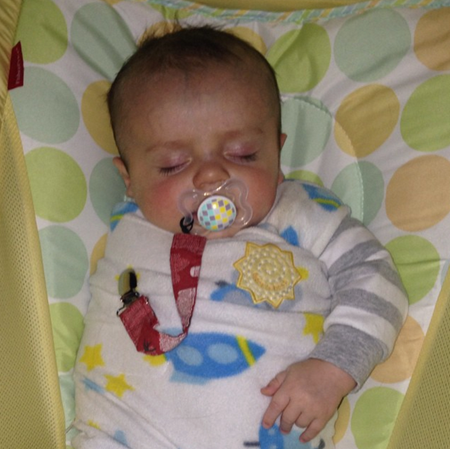 the party was an "around the world" theme, where we were to dress up like people from another country.
marshall and i went with mexico, because 1-he is mexican and 2-momma b had ponchos on hand. we snagged a couple sombreros at the party store and called it good! (and, yes, he shaved that awesome 'stache the next day…)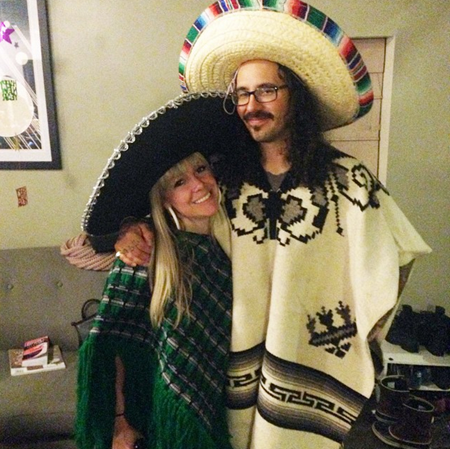 midnight came and went and, to be honest, the next day just felt like any other day. i usually feel like there is some fresh new start and a clean slate with the new year. i set resolutions and goals and tackle january head on. but these days i am more in the "survive the days one at a time" mode, so january 1st didn't have quite the same significance, hah!
however, i am going to be doing a fun little family activity for 12 weeks. my mom sent out an email to all us kids about the importance of staying healthy and fit. here is an excerpt of her email:
Love you kids, I want to be around for a long time to play with you and my grand kids, getting fit and staying healthy is the only way to do that!!!
that sentence really struck a chord with me. you see, since giving birth (okay, basically since getting pregnant…) i have let my healthy habits go. i went from eating about 75% "clean" to, oh, maybe 10% on a good day… or 5%.. oops. we eat out more often than we eat in, cookies for breakfast have become my new normal, and i have let my water consumption fall by the wayside. (since i am breast feeding, this is all really stupid of me.. that alone should motivate me to be better!)
workouts are no longer a priority, so i went from exercising six days a week to maybe 2 or 3.. but usually it's more like 1 or none. i try to make it to GPP as often as i can, but some days i am just too tired or too busy and working out is at the very bottom of my to-do list.
while i keep using the "i have a baby" excuse, i know that i should suck it up, eat a vegetable, and invest some time in my own health. not only do i need to set an example for fox one day, i need to also be around for a real long time to set an example for future grandkids. (yes, i realize how far down the road that is, but it's still something to consider!)
anyway, my mom's email and proposal was just what i needed in order to prioritize my life and get motivated to re-discover my healthy habits. they have to be hiding somewhere, right?!
so over the next 12 weeks (starting this coming monday) my family and i will be doing a few things to work towards becoming healthier people. first, we have set personal physical and nutritional goals. i am still working on mine, but will let you know what i choose!
second, we will be doing a simple fit test at the beginning, middle, and end of the 12 weeks to see how our fitness improves over time. here it is:
Max # air squats in one minute.
Max # of burpees in one minute.
Longest plank you can hold (time it.)
Max number of jump ropes strung together without messing up (count them.)
Max number of tricep dips in one minute.
Longest wall sit you can hold (time it.)
Max number of push-ups in one minute (from toes or from knees.)
Fastest mile you can run.
so, nothing too intense, but enough to gauge our progress!
finally, we will be doing weekly challenges declared by one member of the group. each week, there will be a little prize awarded (we will draw a name from those who completed the challenge.) this will be things like drink a gallon of water every day, eat veggies at every meal, do 100 squats a day, etc.. so nothing crazy, but fun and challenging enough to keep us motivated and focused!
of course, we love a little friendly competition. we all put $20 into the pot and there will be points awarded for everything we accomplish—5 points for reaching our physical and nutritional goals, 1 point for every weekly challenge we complete, and 1 point for every part of the fit test we improve on. each point=an entry and a winner will be drawn from all the entries at the end!
anyway, i wanted to share this with you guys to let you know it doesn't have to be some drastic challenge to improve your health and fitness. every little bit adds up. and it can also be fun! i also like that what we are doing focuses on being healthier and not skinnier. it's important to remember what actually MATTERS in life. i am excited to participate in this with my fam and it will definitely help me out in the long run. plus, it'll probably give me something to ramble about! ;)
one more thing i want to focus on in the new year is mental health. i posted this quote on instagram: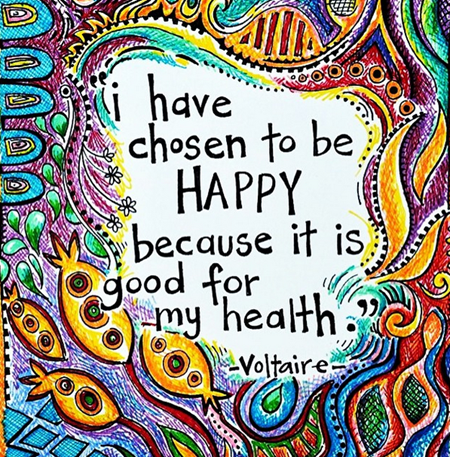 all too often we get caught up in physical goals, and we will even sometimes sacrifice our happiness in order to meet those goals. as a new mom, i have found myself with a lot of time at home, just hanging out with fox. while i love love love it, it can get a little lonely. going from having all the freedom in the world and a super busy social life to never really getting out or seeing friendly faces can do a number on you, even if you are doing what you love. so i have needed to check in with myself periodically to make sure i am mentally happy, and take a time out for "me" if needed (which goes back to blogging more often, making time for hobbies), because that is a key aspect in overall health.
anyway, that's all for today! i am excited to see what 2015 holds. 2014 was pretty awesome, but i have a feeling this year will be even better, watching my little man learn and grow!
Qs~
1. did you make new year resolutions? why/why not and if so, what are they?
2. what are you looking forward to this year?
xo. janetha g.