hi. nearly three weeks has whizzed by since i last posted. crazy.. it seriously feels like it was just yesterday. life is flying by in the blink of an eye! can we please slow it down? a year ago tomorrow i found out i was pregnant, and now i have a nearly four month old! crazy.
i have a little bit of downtime today, so i thought i would pop in and ramble a little. i miss it. i never have time for it these days.. but that doesn't mean i don't still love to blog. sucks that my posts are now so few and far between.. but i will do what i can, when i can! that's what matters, right?
i am still really enjoying being a momma. i love little fox man with every fiber of my being.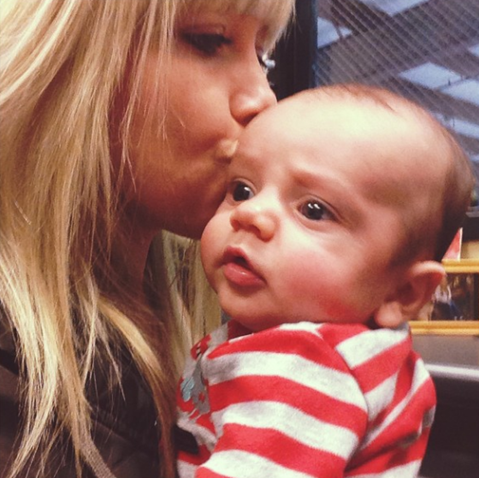 seriously.. this guy makes me so happy! i never knew i could love and care about someone so much. i mean, i love marshall to bits, but this is a whole other level. and i am sure marshall would agree. it's so nice that we both have this extreme love for our little dude and can share the feeling together. families are pretty awesome, huh?
i will be honest, i have been worrying lately, and i have been struggling with my worries. i used to never be a big worrier… if i did find myself worrying too much, i always reflected back on this quote:
because, seriously, worrying doesn't do us any good. but now that i have a tiny human i am responsible for, i have found myself worried a whole lot about the future. so much that it's keeping me up at night (when fox actually decides to sleep, and i should definitely be sleeping as well!) and messing with my brain and tying my stomach in knots.
you see.. i have a great job.. i love it! it's been such a blessing to have an awesome job for the past ten years. but.. i don't have any type of retirement plan. and there are no health insurance benefits. that's something that comes with working with a small, local company. and those are two of my worries at the moment.
i probably should have started my own IRA over a decade ago, but apparently i am not a grown up and didn't. and now, for some reason, i am freaking out about it (and we have opened an IRA for both marshall and myself.) not sure why having a kiddo finally kicked my butt into gear on that one, but i am glad it did.
and then there's the insurance. you guys! health insurance is a rip off! of course our insurance went up after i had fox, and then it'll go up again in january because america's healthcare prices for the self insured is an absolute joke and the monthly premium for a family of three rivals a mortgage payment.
so those are a couple of the things that i haven't been able to stop thinking about. anyway.. it's left me stressed! and, well, worried! worried about being able to take care of fox and any other kiddos we have in the future.
and then there's that whole sadness and worry and guilt of having to be a working mom.. which has weighed on me pretty heavily lately. i only have a couple months left of taking fox to work (which i am so grateful i've been able to do so), then we have to get childcare and it breaks my heart. i know it's more and more common now days and it's FINE.. but it makes me sad. i grew up with my mom at home (she became a real estate agent when i was eight) and i know what a huge deal that was for me. i just feel bad i can't offer that to fox. makes me sad.
i guess i have had a lot thrown at me at once and my emotions are getting the best of me. i know everything will be fine and life is awesome.. but i am such the type to think about the future and plan rather than just live in the now and enjoy. luckily i have a husband who is the complete opposite, and we really balance each other out. both are important—to plan and prepare and to live and enjoy.
anyway, that's what my brain is doing these days. here are a few other things i have been up to!
i had a weekend as a single mom because marshall had to take a trip to arizona for a funeral. it was a lot of work and i quickly realized how much this parenthood thing is a team effort. single mommas, i salute you! here are a couple photos from our weekend without marsh.
fox had a play date with his BFF aka my BFF's little girl. aren't these two the cutest?! she is 7 weeks older than my little guy.
these past couple weeks have been pretty festive! my awesome sister chopped down a christmas tree for us this year. isn't it adorable? i love how sparse it is.
fox loves to stare at the lights!
marshall and i did some christmas shopping for fox and made a date of it with lunch at red butte cafe. it's one of our favorite restaurants in SLC! i had the french dip and a heff.. no shame in daytime beers, folks.
we went to see santa the other day with some of the cousins. fox is still too little to be scared, but he was pretty full of funny facial expressions! (my niece was not stoked.)
marshall says he wishes kiddos could go see the grinch instead of santa. fox wasn't into that idea!
we also were able to see over 100 different nativity sets from around the world. it was really cool to see the various takes on the nativity.
we still have a few more christmas traditions coming up to enjoy. i LOVE the holiday season soooo much! this time around it is so different with a baby! it is a lot of fun now, even with him just a few months old, and i can only imagine how fun it will be once he is old enough to really understand.
i will say that now that we have a baby, our lives have gotten a lot more… boring. i am in no way complaining, i had my solid decade of nights out partying and i got that out of my system. but we are definitely realizing how ho-hum our lives are now that we are home and tucking fox into bed at 8 PM each evening. sure, we could get a sitter if we wanted to go out, but it's almost easier to get him down to bed ourselves rather than make someone else do it. (plus, we love bedtime with that little dude!) i am sure once he is a little older and easier to manage, we will go out more often. right now it's in the more trouble than it's worth stage.
the only downside to that is it can get a little lonely at times. all my friends are already pretty busy as it is, so when there is the rare social event and i can't make it, it bums me out that i don't get to see everyone. i got a case of cabin fever recently and i made more of an effort to get out and do grown-up things and see my friends and socialize, which definitely helped take that lonely edge off! even if i only stayed at an engagement party for 45 minutes before my little man zonked out on my shoulder.. haha. (this was the weekend marshall was out of town, or i would have left the little one home!)
i guess i never really realized that i would have such feelings of loneliness once fox came. i am usually too busy loving him and caring for him to have time for that feeling to kick in, but i think with the holidays i have felt it a little and it's strange. apparently it's a thing, though, because i recently read this post (and the zillion comments)and it assured me i am not alone. or crazy.
geez i went off on a ramble there again, didn't i?! promise, no more deep thoughts the rest of this post.
on the meals & moves front, things have been pretty repetitive. that works well for me since i don't have a ton of time.
breakfast is always, always, always a bowl of trader joe's steel cut oats and a coffee with french vanilla so delicious coconut milk creamer.  then a couple hours later, i have breakfast number two (breast feeding makes you hungry, guys.) it is always two or three eggs scrambled with goat cheese, 1/4 a avocado, franks red hot, and a piece of toast. never gets old.
lunches lately have been a little more fun because amanda (my friend/co-worker) and i have been making crock pot meals in the morning so they are ready by lunch time, then we eat them all week. so far we have done tortilla soup and chicken cordon bleu. do you guys have any crock pot recipes that take about 4-6 hours that you love? do share!
marshall is a babe and makes dinner practically every night! staples include spaghetti, tacos, pizza, different kinds of soup, and last night he made the most delicious nachos. mmmm. nachos don't photograph too well.. but they are damn delicious.
i have been able to get to GPP about 3 days a week consistently. it's nice because fox really likes it there and he kicks his legs to the music. it's super cute.
i am slowly gaining my strength and endurance back. it has been hard, but i am finally able to do the prescribed weight on some of the workouts. i did yesterday's one as written (even though it left my lungs on fire.) i guess that's what taking nearly a year off of working out will do to you. my core is more weak than anything, which is expected, and i am in no rush to hit the ab workouts very hard. i don't want to damage them by jumping back into it too soon. plus, marshall told me he likes my extra, um, baggage. bless him.
i keep saying i will do workouts at home when i can't make it to the gym, but that has yet to happen. when i am at home i would rather be cuddling fox or cleaning up the house… or sitting on the couch. ha. i figure i have a whole lot of time to get back to where i used to be (and, really, i have no real need to get there at all…) so i am taking it easy and doing what i can, when i can. it's my new motto.
well, these rambles have turned out to be pretty long. thanks for reading.
before i go, i want to share an opportunity with you guys to give your input and earn an amazon gift card (because we all love amazon, am i right?) i was signed on to this campaign and received a promo item for participating.
see below: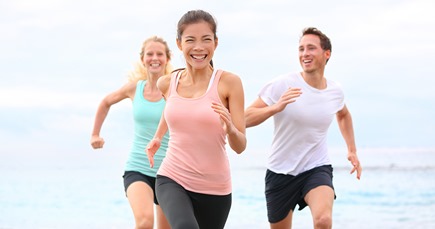 What keeps you moving? In partnership with Communispace, a leading health brand wants to hear your opinions on health and wellness in their exclusive online community!
This private online community offers the chance for members to learn from others who are also passionate about staying healthy. Members will serve as advisors by providing feedback directly to brand decision-makers.
In addition to the opportunity to impact the brand, members will receive a $5 Amazon gift code for joining and an additional $10 Amazon gift code each month for participating.
Learn more and see if you qualify by taking this short survey: http://mayweask.com/wellness
sooo. that's all i've got! hope you are all having a great week! i will be popping in more often in the next couple weeks because i have quite a bit of time off for the holidays. although, my sister and her fam will be in town, so we will see just how much of that free time is spent with them and not online. it's all about making memories!
Qs~
1. what are your favorite holiday traditions?
2. are you one to plan ahead or to just go with the flow?
xo. janetha g.