oh, hey there. these past couple of weeks have been a whirlwind. very fun, very challenging, very busy. want to know my biggest tip on getting it all done when you have a new baby? don't open your laptop. in fact, just let it die completely and forget you have a blog and don't even try to post a new post, because that will take up valuable minutes you could be doing something else–ANYTHING else.
haha, no.. i do miss blogging. a lot! but, seriously, these past two weeks have been hard on me and i haven't had a spare minute to ramble. but now, as my sweet little nugget naps and i have NO saturday plans, i am finding a few spare minutes to say hello. and, you know what? i don't even know what to say! it's like i have forgotten how to blog completely. but i can fill you in on these past couple weeks.. just the highlights! err.. lowlights? if it was something that wasn't super awesome, is that still called a highlight because it stuck out as a main event? am i even making sense? i need some sleep.
so, what's been up with me?
well, a couple mondays ago i got an IUD. that felt pretty awesome………………
glad that's over with. i chose to get an IUD because i have forgotten to put deodorant on about 31% of the time, so you can imagine that i don't trust myself to take a birth control pill at the same exact time every day. not gonna happen. and, while i love my baby with every fiber of my being, if i were to get pregnant again any time soon, i would legit cry. so, yeah, IUD, no more babies. for now.
in other lady-related news.. i got measured for a bra! guys, i know nothing about bras. i didn't really have much in the way of boobs before this whole pregnancy thing. i rarely wore a bra and when i did i hated it. so after having fox, i headed to the store and bought some nursing bras… in a 38C. i mean, who knows why i bought that size, but i did. but i hated how awful everything was fitting so i asked my bestie michelle to help me out–she's a manager at victoria's secret. i headed to her store last weekend. fox came and watched the whole process.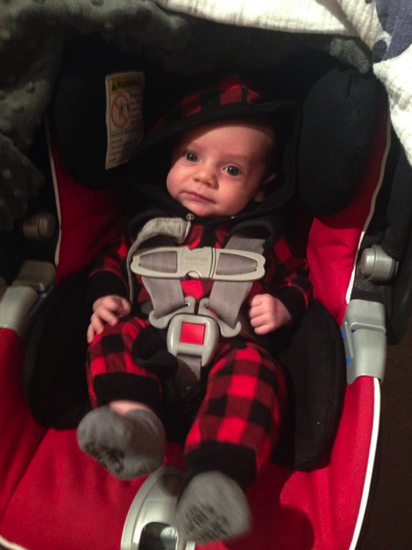 as it turns out, i am a 34DD. a DOUBLE D YOU GUYS. that's two Ds! i still laugh when i think about it! i hope they go back to how they were.. big boobs are annoying. i don't get why people pay to have them. they are just in the way. but they are totally worth the hassle because they feed my baby! so that's cool. (by the way, i bought a front-close bra which is great for nursing. i also bought this sports bra which has clips on the straps and acts just like a nursing bra! i wish VS had actual nursing bras, though.)
my little baby has been giving me a run for my money! i think my last post mentioned that he was being a pill when it came to nursing.. he just didn't want to do it and it would sometimes take an hour to get him to nurse for maybe 10 minutes. sometimes he wouldn't end up eating at all! on mondays he stays home with marshall, and takes 3 pumped bottles. monday night rolled around and i tried to breastfeed, and he wasn't having it. he has a hard time going from bottle to boob (boob to bottle is a walk in the park!) and so monday's bottle shenanigans made bad matters even worse. i did some research and, come to find out, fox man was on a "nursing strike" and he was super anti-my boobs. once i realized what was going on, i asked for advice on good old instagram. (got TONS of great input on that post! thank you guys!)  i also consulted with a lactation specialist and with fox's pediatrician.
because he wasn't eating, i thought i should feed him pumped bottles during the strike. not the case. i was instructed to just put up with his constant squealing and screaming whilst trying to feed him. and if he decided not to nurse? well.. too bad. try again in a bit. bottles would just make the situation worse, so either he nursed or nothing. obviously this isn't the case with all babies, but fox's doc said as long as he had plenty of wet diapers i needed to take the nurse-or-nothing-at-all route. i took some advice from a few friends and got a nipple shield. it basically feels like the nipple of a bottle but you place it over your real nipple. sometimes women use it if nursing is painful, but i was using it to trick my baby… and it worked! he ended up eating really well once i introduced the nipple shield. i used it for a day or so and then he suddenly remembered that eating is super cool and he's been pretty good ever since. he will still struggle sometimes after having a bottle or two that day, but i just revert back to the nipple shield for a few feedings and it seems to work.
there are times he still gets frustrated and screams and cries when i try to feed him. this takes a LOT of patience on my part–i just let him scream at me and have to be persistent and get him to eat. eventually he will, but sometimes it takes over 20 minutes to get him to finally settle down and eat. aye aye aye. the thing is, bottles are SO much easier for him to eat from. they require very little work! and before this whole nursing strike, i don't think we were following the right guidelines on feeding a breastfed baby from a bottle. you really have to make them work for the milk and try to replicate the breastfeeding experience as best as you can. (this is a good article about all that.)
one thing that has helped a ton is finding the right bottle for the job! we have gone through five brands of bottles, but finally found the one that works best for transitioning from bottle back to breast. the brand is comotomo and apparently they are sold out most places, but my local baby boutique shop (babinski's for you locals) had some in stock. SO glad i snagged these.. they have been a lifesaver!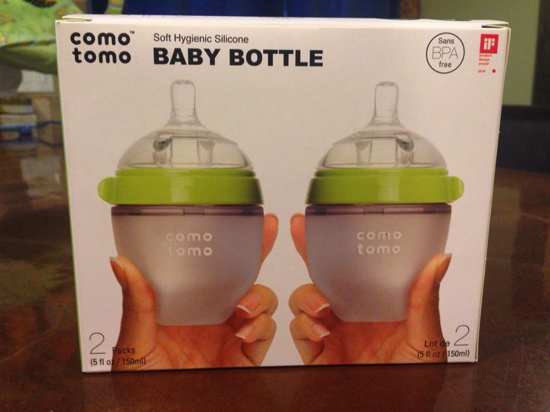 i also got this cool baby briefcase while i was there–it keeps track of all fox's paperwork! since i had to turn my home office into his nursery, i have limited space for paperwork around my house. this little briefcase is perfect for keeping things in order.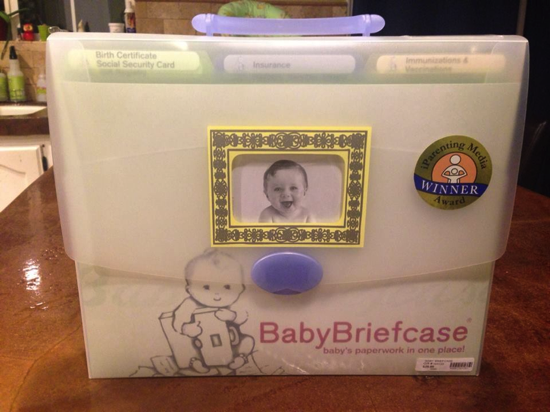 if it's not one thing it's another. after the nursing strike fiasco, fox started sleeping horribly. he used to sleep from 9pm-4:30 or 5am. this past week he has been waking up at 1 and then every hour or two after that. yikes. it's been really hard on me and i think i have forgotten what it's like to sleep–like really sleep. actually this past week has been worse on me than when he was a newborn! apparently there's a 3 month growth spurt, so maybe he is just going through that. last night was the best he's had in over a week–he slept 6 hours and then another 3. phew.
he is also napping poorly, which makes taking him to work with me AWFUL. he has been crying so much more and since he isn't napping well, he is cranky. crying baby+working in an office=bad news. guys, it's HARD to be a full time mom and have a full time job. like, really hard. especially right now. i am not gonna lie.. it sucks. i wish i didn't have to work and could just mom all day long, but that's not an option for me. i know i am fortunate to be able to take my little man to work with me until he's 6 months, and i am so grateful for that. but it's still hard and i struggle and get stressed! and these past two weeks have really been challenging for me. no reason to sugarcoat it, babies can be really hard.
at any rate, i know this struggle is temporary and i will get through all these sleepless nights and cranky days and growth spurts and there will be a day that the little dude sleeps for a solid 10-12 hours. i cannot flipping wait. i keep telling him that it's a good thing he's cute. ;)
ah. he's a funny guy.  despite all the crap that has been going on, he has been SO much fun lately. he smiles all the time now and he is really responsive! he even giggles at us and he is a little chatterbox. it's so fun to watch him grow and develop. he recently discovered his hands (well, he knew about them before and sucked on them a little but didn't REALLY understand what they were yet) and they are THE BEST THINGS ON PLANET EARTH.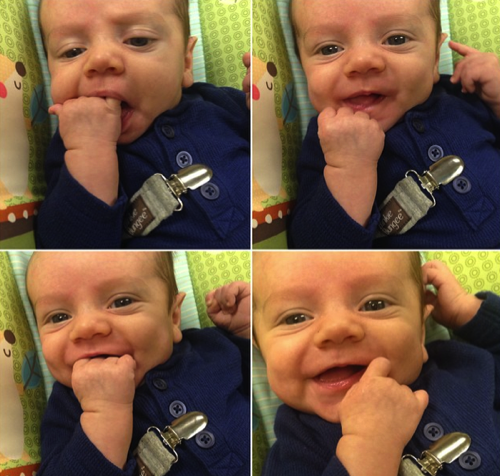 love him!!
speaking of work being hard.. something else that sucks real, real bad is my AMAZING administrative assistant had to quit. on the day of the nursing strike, no less, haha. it sucks so bad, she was amazing and i am sad to see her go. devastated. her last day was yesterday and we had a little going away party for her. she loves fox and is so great at helping with him at the office.. so he is sad to see her go, too. it's so great to work with these awesome ladies!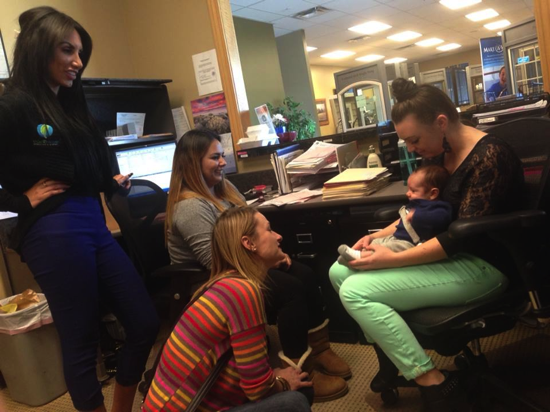 luckily i was able to find a replacement fairly quick. she worked three days this past week and started to train, but she still needs to learn most things… so  hope fox cooperates and lets me train her. ;)
you know it's been a rough couple weeks when you go to the GYM for a BREAK. yep.. who am i?! i started going back to GPP recently, probably 3 times a week, and it seriously is a break for me from everything else. now i get it when moms say that! i do take fox with me most of the time. he actually loves it there and kicks his legs to the music and has a great time. he likes to be out and about and see new faces and things.
momma b even stopped by one night to hang out with him while i worked out! she was missing him and GPP is close to her casa.
working out again has been rough! i lost a lot of my endurance and strength, but i am sure it will come back sooner rather than later. the body is pretty cool like that. but for now, i am scaling back the workouts and going at my own pace. that's my favorite part about GPP.. the workouts are so easy to customize to your fitness level. well, i also love how short they are, since i'm not exactly full of spare time anymore!
i know this post is pretty ranty and full of debbie downer stuff, but i have one more thing to add to the list.. my poor dogs have lice!!!!! yep. LICE. like i said, if it's not one thing, it's another! they had their vet checkups on thursday for their shots. randy also got his bloodwork done to see if the special diet and medication regimen we have him on is helping his liver disease. (haven't heard back on that yet.) the vet called me to break the news that they have lice, and i was already having a super bad day.. so.. yeah. that was fun. apparently dogs with a weak immune system are more susceptible to contracting lice. lice can't typically thrive on a dog with a normal immune system.  randy's immune system sucks due to his liver disease, so he caught the lice from another dog at daycare. ugh. luckily it is species-specific and fox, marshall, and i are not at risk to get it.. but.. eww. they started randy on frontline plus for three months to get rid of it. penny is being treated as well. poor pups.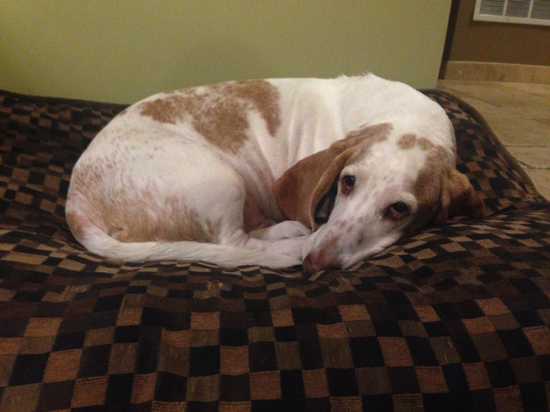 can you guys understand why i haven't blogged in two weeks?! haha.. this post was pretty whack, but i am all about honesty and keeping it real. life can be tough! but it can also be great! and you just have to remember to embrace the good and let go of the bad. roll with the punches and smile every day. all in all, life is really really really awesome. i shouldn't whine, but sometimes.. ya gotta.
on a happy note, i am so excited for the holidays! i can't believe thanksgiving is right around the corner. it just started snowing a little bit here in utah and it's getting suuuper cold. i started my christmas shopping and i am getting really excited for all the fun that comes with the holiday season! i need to pull everything out of my garage and start decking my freaking halls!!
okay, little man is up and it's time for him to eat dinner. thanks for letting me rant and ramble. it was actually quite nice to type this post. i think i will try to make time for it more often… we will see how that goes. :)
Qs~
1. your turn.. if you need to whine, complain, or rant about anything.. i'm listening! leave a comment. it feels good to let it out, even if just through a blog comment!
2. and on a happy note.. what is one thing that has made you smile real big lately?
xo. janetha g.