hi!
wow, pretty stoked on all the comments on my last post. thanks for sharing your two cents on the topic. hopefully we can all invest more time on focusing on things in life that have zero to do with what our bodies look like.
today has been a hard day, not going to lie. fox has been on one all day. he has finally settled down, though. more on that later.. first, let's rewind to friday–halloween!
i had to work, fox did too. he was a skeleton for the first part of the day.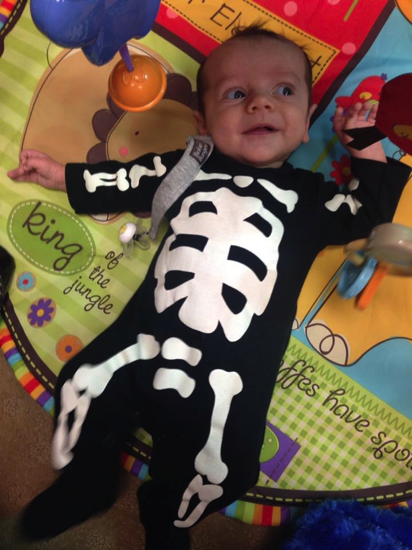 we had a luncheon at the office, which was also a costume party! i was extra lame and just wore a jack o lantern t-shirt with a green beanie for the stem… but fox man was a monster!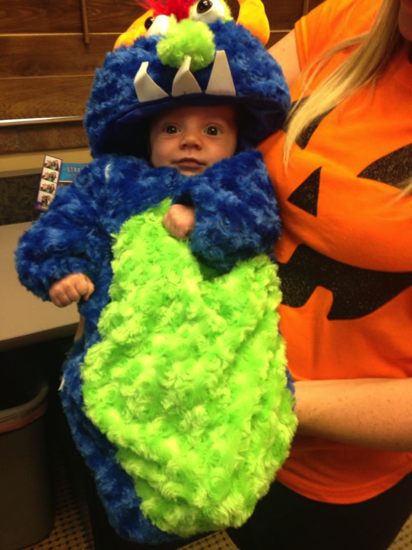 pretty cute monster, don't ya think?
we had zupas soup & salad for lunch, along with eclairs and spooky sugar cookies for dessert. no photos of all that because apparently i am no longer a food blogger and am just a baby blogger. oops. gotta try to remember to take food photos more often.
halloween evening we headed to my brother's for dinner followed by trick or treating in their neighborhood. fox fell asleep halfway through the shenanigans! but we were able to snag a family photo before he dozed off.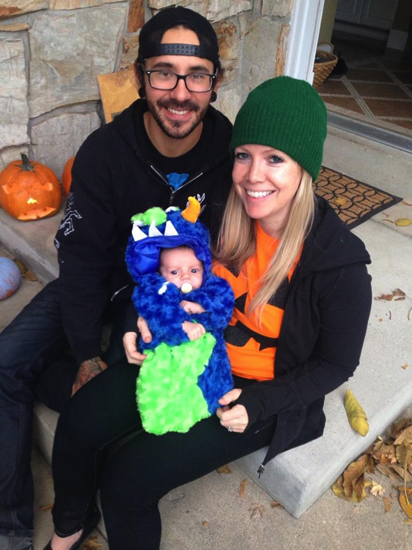 we also hit up my parents' place and my sister's as well. i love that they all live super close to each other, and relatively close to me. i am working on finding a house closer to them, though.
fox's first halloween was a success! we had a lot of fun, but it will be even more fun when he knows what's going on.
saturday was a busy, busy day!
first off, we woke up at 7 and i was alarmed! fox usually wakes up at 4:30-ish to eat, but he didn't! after my initial freak out and making sure he was breathing, i got really happy that he slept 10 hours straight. what in the world?! all the halloween fun must have worn him out. i fed him breakfast ad then i fixed myself a meal–the same thing i have been eating for weeks: two eggs over easy, goat cheese, sliced avocado, hot sauce, and toast.  i also pumped because going 10 hours between feedings does a number on your boobs. i typically don't pump after he eats because it's not worth it/i don't get a lot, but i got 3 ounces even after feeding him. pumping mamas know how big of a score that is!
after breakfast and before the busy day got started, marshall and i relaxed on the couch with the dogs, coffee, and a little roy orbison on the record player.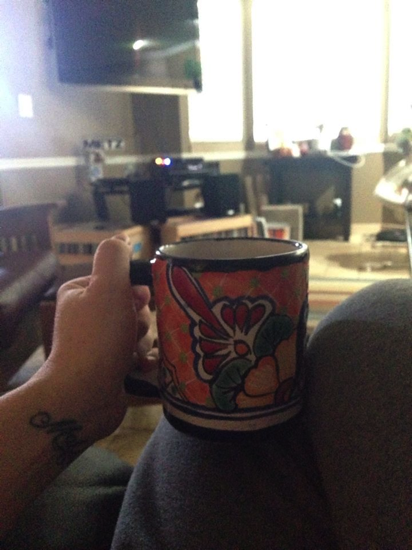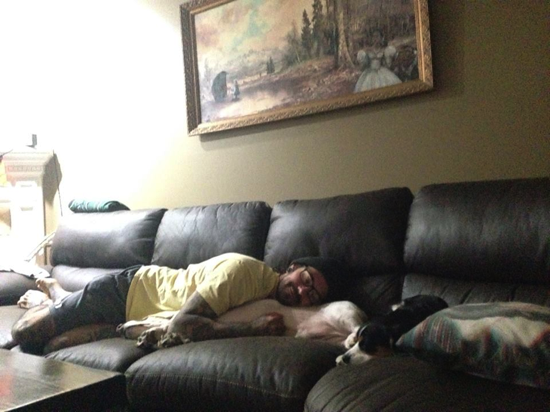 fox napped.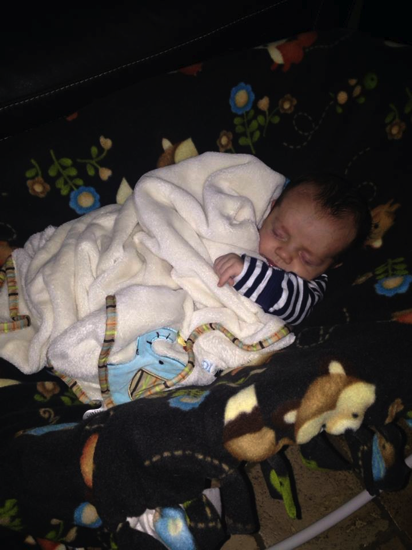 i cleaned myself up and then hit the road! first i had to find fox some nice pants for the baptism later that day. i went to kohl's and cursed the fact that their carts aren't big enough for fox's infant seat, so i lugged him around whilst looking for pants. let's call that my workout of the weekend. i did find him some khaki corduroy pants.. baby clothes are so cute.
next up was a baby shower! my life-long friend, melina, is due in december! i am excited that our baby boys will be just four months apart.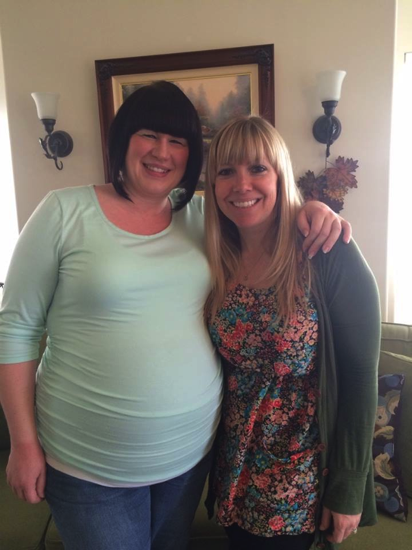 it was an adorable shower with tasty brunch items. look, i took photos! mainly because the parfait was so cute, thanks to the miniature spoon.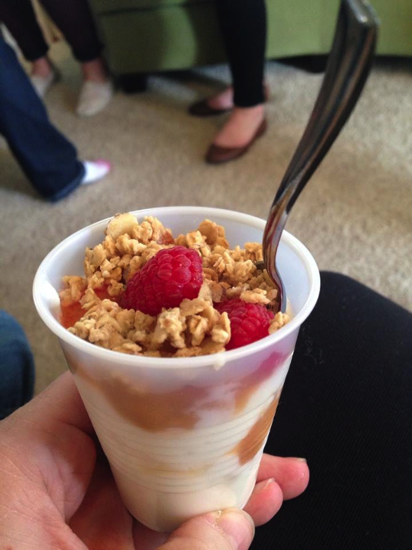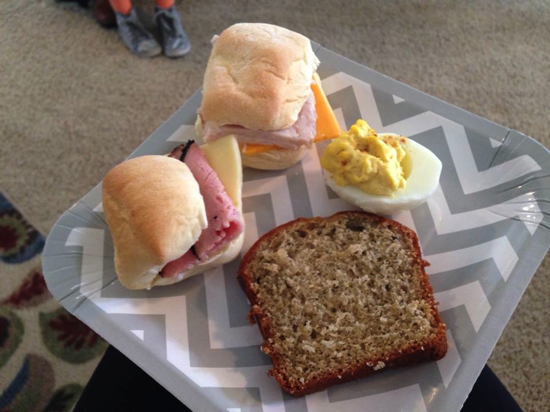 fox had a good time at the shower, too!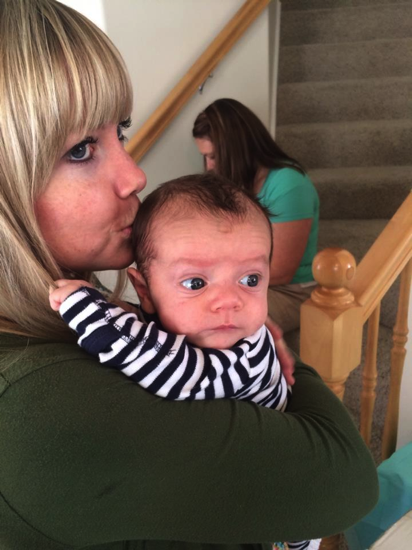 after the shower i headed home so fox could eat and nap. when he was up, we headed up to my parents' house to see my sister and her family. they were in from california just for the day! they drove here for two baptisms.. my nephew's and then another relative on her husband's side of the family. it worked out well that they were on the same weekend. my nieces were so excited to finally meet their new baby cousin!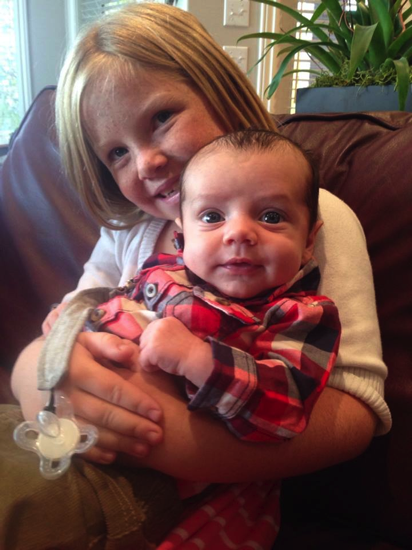 we headed to the baptism at 5. fox decided he would rather cry than pay attention, so we headed to the mother's lounge. that's definitely the best part about mormon churches.. the mother's lounge. i fed fox and then had to have a mini photo shoot since it was his first time ever wearing shoes.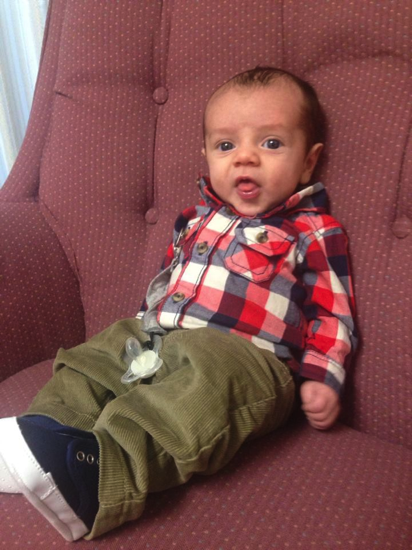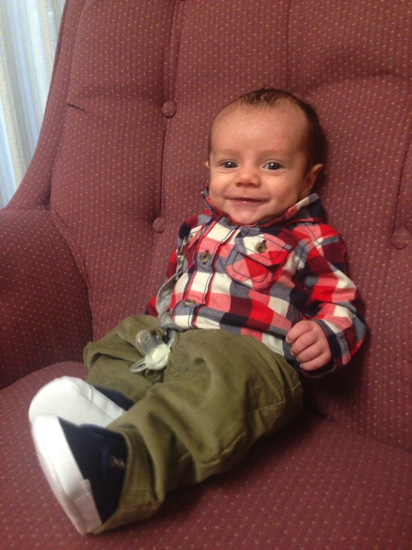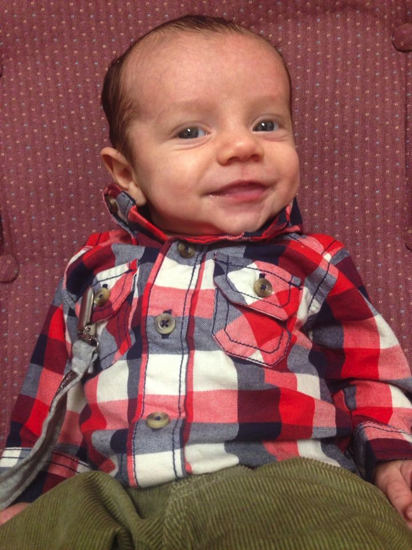 he looks 23!
i caught the tail end of the event, but forgot to snap a photo of luke.. so i snapped one afterward back at his house. congrats to luke on his baptism!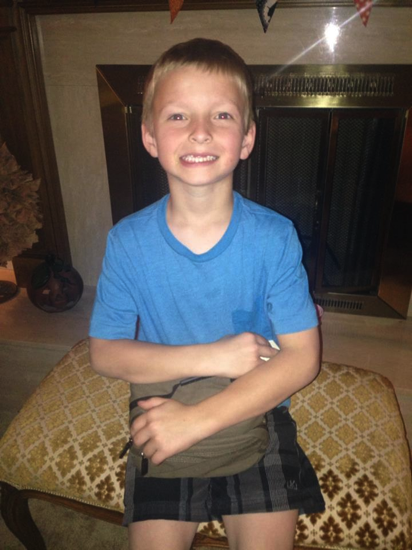 we tried to get a photo of all the cousins (minus my nephew who is at boot camp for the marines)–this was the best we could get. ben is under the table, you can see his arm. it works.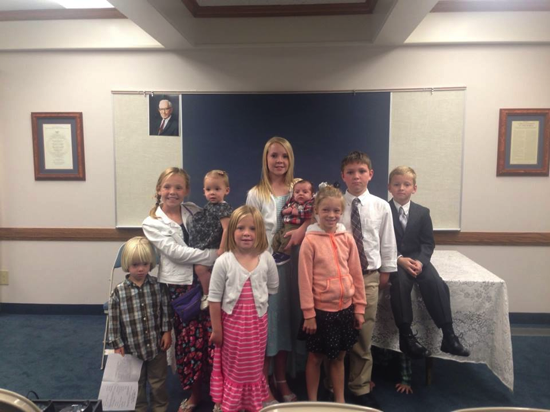 we headed to my sister's afterward for dinner. of course, i didn't take food photos. why would i do that? i did make this BLT macaroni salad for the dinner–it was so good last time i made it and i wanted to share the deliciousness. there were a couple other salads and then we also had pizza and breadsticks. i did take a photo of marshall and my brother in law while they were eating the food. fox got none.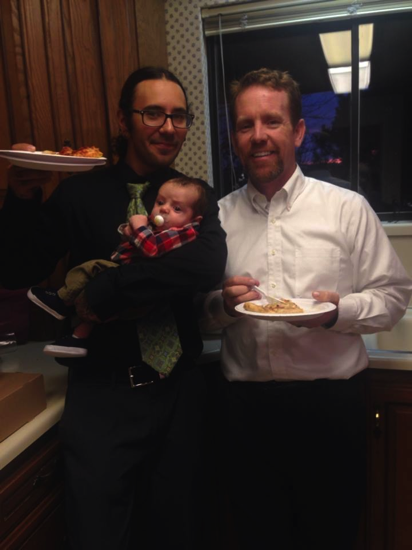 family photo op!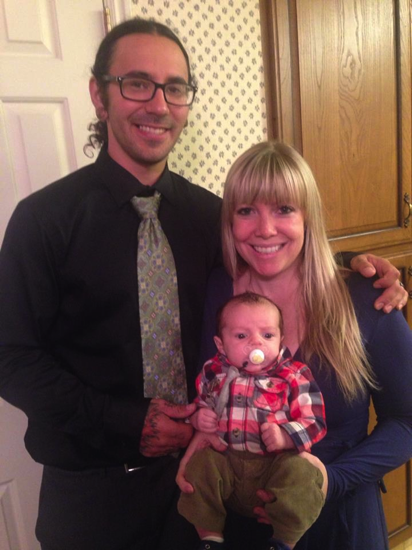 definitely a fun filled day.. but i was happy to hit the sack saturday night, and did so around 9:30.
i was worried that daylight savings time would really mess with fox's schedule, but he woke up at 4:30-ish like usual, even with the time change. weird. i fed him and went back to bed until 6:45. i fed him again and then made myself some coffee. i also pumped because fox had only been eating from one side all morning. i ended up with another 3.5 ounces for the freezer stash, so that's nice.
i fixed myself my usual breakfast and even remembered to take a pic.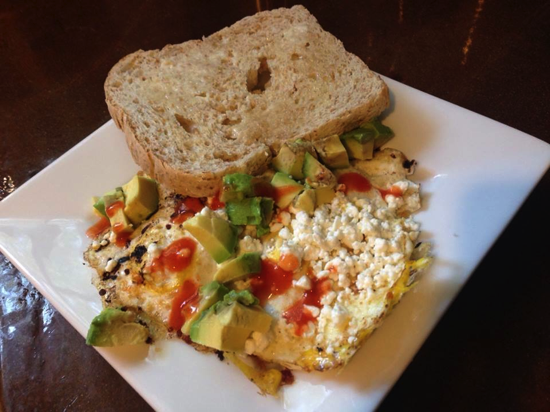 never gets old. at least not yet!
the rest of the day was downhill.. we aren't sure why! maybe the time change threw him off after all? or a growth spurt. or his reflux. or lingering side effects from his shots last monday. or he's a 10 week old baby and has bad days. probably that.
i fed him at 9:30 and then at 10 i headed out to trader joe's and whole foods to get groceries for the week. marshall stayed behind with fox, which was a good idea because it was rainy and cold in the SLC today. no baby needs to be out in that. i thought i would have until at least 11:30, but probably 12:30 because fox always takes a long morning nap. wouldn't you know it, he started flipping out at 10:45. poor guy. marshall tried everything to console him but he wasn't having it. i got home just after 11 and tried to feed him, but he didn't want anything to do with nursing. he was just squealing and screaming and crying, even at the breast, and it was the saddest thing in the world!! i decided to see if he would eat from a bottle. marshall thawed some of my breast milk and fox ended up eating that, but then going right back to the fussing and whatnot. it was sad! we tried everything to console him, and eventually he passed out in my arms for a little over an hour. phew.
when he woke up, it was the same circus act. he would try to nurse and then start wailing again. he ate on and off. i nursed him a total of nine times today compared to his usual seven.. but they were short sessions and he fussed a lot throughout them. it was like this all afternoon into the evening. i did calm him down a bit by reading him a story (if you give a mouse a cookie!) and rocking him. he ate a little bit here and there, between his bouts of fussiness and his cat naps. poor guy has had a rough day. he just took another somewhat lengthy nap in my arms and now we are hanging out while marshall makes dinner.
hold on.. time to eat.. he made spaghetti!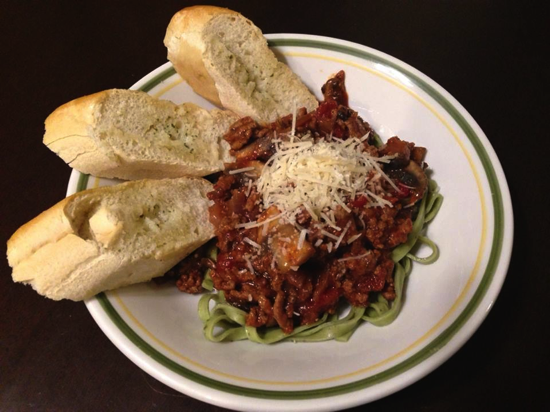 well, i guess it's technically linguine. the spinach and chive linguine from trader joe's, topped with semi-homemade marinara.. ground beef, onions, portobellos, and jarred sauce. plus alexia garlic bread. i think we could keep alexia in business based on how much of this garlic bread we eat. it's soooo good!
after dinner fox was fussing it up again, so we went and rocked and cuddled and i tried feeding him again. he ate a little bit, then passed out.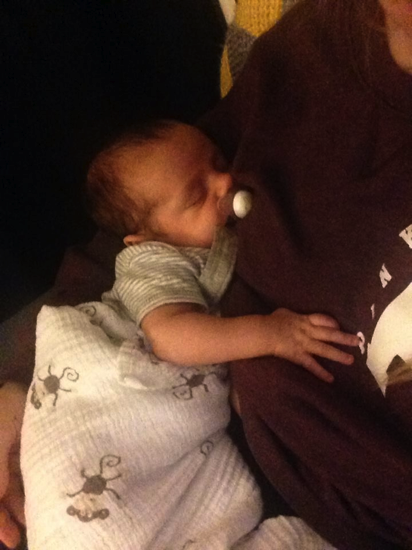 we did his bedtime routine 45 minutes early tonight–partially because it's been a rough day and partially because of the time change. i just got done feeding him his night cap and then finished off this post. i hope he's back to his usual self tomorrow and also hope he's not hurting! i imagine it's confusing and even painful to do all that growing.. poor guy just needs a little extra love, and i am more than happy to give it to him.
well, i'm gonna go ahead and publish this and go to bed! even though it's only 8:30.. i am BEAT. and sorry if the end of this is all over the place, i stopped mid-post and picked back up and don't have the energy to make sure it all makes sense. which is more authentic, anyway, because i am one tired momma with no time to proofread. and i know you guys don't care.
ok! bedtime! hope you all had a great weekend! have a fabulous monday and first week of november. i get my IUD tomorrow.. yippee! haha.
Qs~
1. did you dress up for halloween? if so, as what?
2. do you eat the same breakfasts over and over or do you switch it up?
xo. janetha g.