hey! happy friday! i thought i would pop in and share a recipe that we made last sunday (and i've been dreaming about ever since—it was so good!) and a workout i managed to squeeze in last night (and am already feeling sore from, thanks to my 10+ months of lethargy.)
first, the meal. because food always comes first. this recipe is a cross between french onion soup and beef stroganoff.. and it's a casserole. no wonder it was so good. i came across the original recipe on pinterest and changed it to fit our needs.
i began to prepare the meal and i was fully planning to do a step by step photo tutorial as i used to always do with my recipes.
and then i had to mom. not complaining.. i love momming! fox is way more fun to hang out with than the stove.
so marshall stepped in and finished the second half of the meal. teamwork at its best. so, no step by step photos.. just the recipe and the final result.. which was DELICIOUS!
[pinit]
french onion beef stroganoff casserole.
prep time: 20 minutes; cook time: 25-30 minutes
yield: four servings
ingredients:
4 oz wide egg noodles, cooked and drained
1 tb olive oil
1 lb tri tip sirloin steak, cut into 1" cubes
1 medium yellow onion, sliced into thin half-moons
1 medium red onion, sliced into thin half-moons
1 cup crimini mushrooms, sliced thin
12 oz (1.5 cups) beef broth
2 TB whole wheat or all purpose flour
1 tsp fresh thyme
1/2 tsp sea salt
1/2 tsp black pepper
1 cup seasoned croutons
1 cup shredded swiss cheese (or gruyere)
sour cream, for garnish
directions.
preheat oven to 350 degrees (f).
cook and drain noodles according to package directions, place in an 8×8 or 9×9 casserole dish.
in a deep skillet (i used my le creuset), heat olive oil over medium-high heat.
add onions and cook for 5-7 minutes, until onions begin to soften.
add steak and mushrooms, stirring frequently until mushrooms have softened and steak has browned on all sides.
transfer mixture to casserole dish, combining with noodles. mix everything up a bit!
in a saucepan, bring 10 ounces of beef broth to a boil.
in a small dish, combine remaining 2 ounces of broth and 2 TB flour. pour this mixture into the boiling broth in the saucepan and whisk vigorously.
add thyme, salt, and pepper to broth mixture. continue to whisk until mixture thickens.
pour mixture over beef and noodles. top with cheese and croutons.
bake for 25-30 minutes, until cheese is melted and browned around the edges.
serve with a dollop of sour cream. enjoy!
this really was so good! marshall loved it, too. the croutons were a fun addition to the casserole. we can't wait to have it again!
and now.. the move! or i guess i should say moves. this is a 20 minute tabata workout that you can do anywhere—the gym, outside, in the comfort of your own home. that is key for me, because fox comes first and i can't always make it to the gym between feedings.
the workout is actually 30 minutes total with a little warm up and cool down, with 20 minutes of tabatas. in case you don't know what tabatas are, it's a four minute block of 8 rounds—20 seconds of work followed by 10 seconds of rest for the 8 rounds. i love tabatas because you can truly adjust them to your skill level and go at your own pace. you simply do as many movements as you possibly can in the 20 seconds of "work". i chose to do 5 separate movements for a total of 20 minutes of tabatas.
i use this app to time my tabatas from my iphone. it's pretty handy. here's the workout.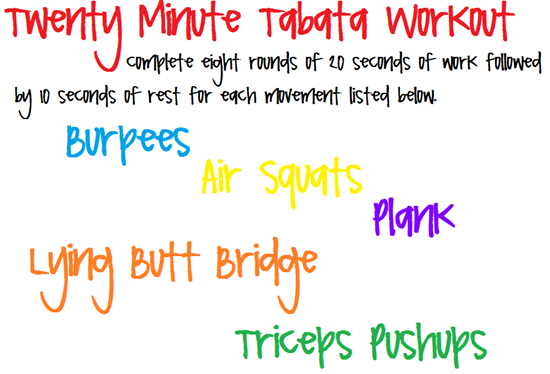 [pinit]
cool down with 5 minutes of walking or you could opt to stretch for five minutes. or you could get crazy and take 10 minutes and do both!
here are links to demos of the movements:
i chose to do burpees first because that's when i had the most energy and they are the most demanding.
my butt is super saggy these days, and while i know you can't spot train anything.. squats and bridges really can't hurt my situation at this point.
my biceps are getting a ton of action carrying fox's car seat, but my triceps are getting neglected so i chose to do those.
and, finally, i am not going to be doing sit ups and crunches for awhile (to each their own when it comes to postpartum core work) but i do want to strengthen my core.. so i threw a plank in there for this reason.
while i am still not quite back on the regular workout wagon (i worked out three times last week and twice this week), i am definitely all about quick and effective workouts when i do find the time for them. this one fit the bill.
well, finally the weekend! it's been another long work week for me, and now that i am a momma, weekends are even more special. i really look forward to spending those two days with fox and marshall (and penny and randy!) and just soaking up our time off together. and that's just what i plan to do.
hope you have a good one! :)
xo. janetha g.