well. it happened. i went to gold's. for the first time this year… yikes. it was not as bad as i had expected… i mean, i've been putting it off for quite some time, milking my postpartum recovery for as long as possible. but i guess it eventually had to happen, right?
i ran a mile. scratch that, i jogged a mile. the first mile in 11 months.. maybe more.
it was quite the production to get my butt to the gym. first of all, i had to make sure my baby was fed and there was an adequate window of time for me to leave the house. then i dug up some gym clothes.. real stretchy ones. then i had to remember how to tie shoes with laces and make sure my gym membership hadn't expired. then i had to replace the batteries in my headphones. after all that, i hit the road. folks, it's not easy to do things that take time when your life revolves around a little, tiny 9 pound master. sure, i could pump and have marshall feed him.. but it's just so much easier to feed him myself. so i live my life in blocks of 2-3 hours at a time.
once i got to the gym, i checked the time and realized i had 30 to 90 minutes, depending on when fox decided he wanted to eat again. i decided a jaunt on the treadmill was my best bet. i thought a mile would be a good place to start. here's a little play by play of what was going through my mind.
0.00 mile – do i still have a gym playlist on my iPod shuffle? oh, yep.. there it is. sweet.
0.01 mile – okay.. (walking) wonder what speed i should turn it to. 6.0 sounds good. surely a ten minute mile is do-able.
0.03 mile – well, this isn't so bad. at least i remembered how to move my legs briskly.
0.05 mile – omg. these milk jugs are NO JOKE. why did i choose this built in bra workout top?! i definitely need to be wearing a sports bra. maybe two of them. plus the built in bra top. these things are heavy! i wonder if the milk makes them heavier than just having big boobs. who knows. not me. i've never had big boobs. oh, gosh, i hate these things. 
0.25 mile – quarter mile in! i feel pretty good. although these boobs are really, seriously weighing me down. i can't imagine going faster. ouch. i wonder if i look ridiculous with these things bouncing up and down. i mean, i FEEL ridiculous. and it's kinda painful.
0.35 mile – whew. getting a little winded. my lungs kinda hurt. geez, how was i ever a smoker? sick. 
0.38 mile – starting to sweat. did i put deodorant on this morning?? that was at 4:45 AM i can't remember that long ago. i think i did. i even showered this morning. showers are so much harder to squeeze in now, it's almost like i shouldn't work out on days that i have already showered. what a waste.
0.40 mile – i see no familiar faces. i guess that's what happens when you take a year off.
0.45 mile – oh, wait, i know that dude. we used to talk about jump roping. OMG jump roping. that is something i will never do as long as i am breast feeding. these knockers couldn't take the impact.
0.50 mile – yay halfway!  i kind of want to walk but that's only because i am lazy. it's a mile. suck it up.
0.51 mile – ugh.. my legs are HOT. i shouldn't have worn these thick wunder unders. definitely should have worn shorts. but they are nowhere near as stretchy. don't think i want to even attempt wearing those yet.
0.53 mile – wait a tick, i think i was wearing these same capris when i fell off the treadmill! i remember because they were so thick that they didnt get a hole in them when i fell. oh my gosh, that was ridiculous. and how was i ever going that fast? no wonder i fell off. 
0.56 mile – i fell of a treadmill. how in the world do women do this running thing whilst PUSHING A STROLLER. i mean the fitness aspect is one thing, but my lack of coordination is what would sabotage me. sorry fox, no stroller jogs for us.
0.65 mile – dang these are some good jams. i totally forgot about some of these peppy ballads. i think i forgot about the band shiny toy guns completely.
0.69 mile – but, wait, me first and the gimme gimmes? why did i think that was gym music? i put like nine of their tracks on this playlist. they definitely don't make me feel like working up a sweat. what was i thinking? 
0.75 mile – woohoo! a quarter mile to go! it feels like i have been running for eight years. running is so boring. how do people do this for 26.2 miles? or 13.1. heck, even 5…
0.82 mile – is that elbow sweat? yeah, i think i feel a drip of sweat on my elbow. i mean the only other thing that feels like that on my elbow is breast milk dribbles from it falling out of fox's mouth… and he's not here.. so, yeah, must be elbow sweat.
0.83 mile – oh man. speaking of breast milk i bet he's gonna want to eat sooner than later because he didn't eat very long last time. i better make it home by 7 just in case.
0.84 mile – aww.. i hope fox isn't doing anything ridiculously cute that i am missing!
0.95 mile – ok.. home stretch. good job for not stopping. 
1 mile – yay! did it. that wasn't so bad, after all. i could probably do this again soon.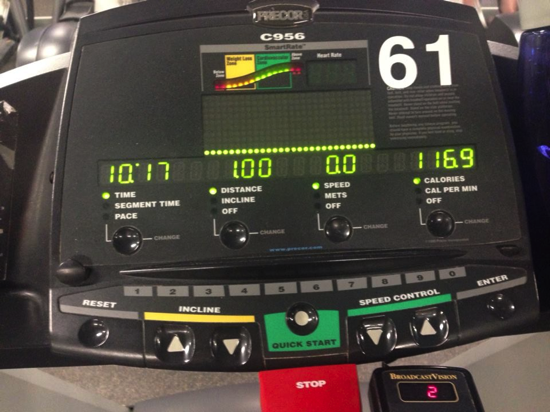 i then proceeded to walk another half mile, rounding the big, bad workout to 20 minutes and 1.5 miles.
pre-pregnancy/pre-fox, i used to go into the locker room after my workouts and take a photo in the mirror so i could then post it here and tell you all about my workout. but there's no time for that these days, i would much rather hang out with my baby than take gym selfies.
good thing i decided to keep it short and simple and head right home.. because he was ready for dinner sooner rather than later!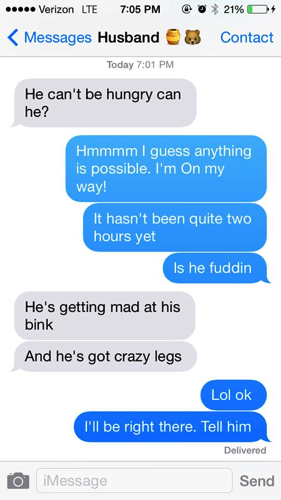 after i fed him, marshall and i ate dinner. trader joe's turkey meatball subs & spinach salad. so simple and fast and tasty. we are all about quick meals these days. this one was actually more nutritious than most nights.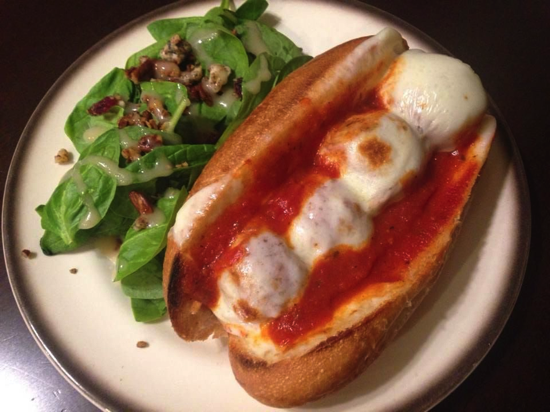 so, we just got done with fox's bedtime routine and i fed him again and put him to bed. while i was feeding him and thinking about typing this post, i pondered on how quickly my priorities have changed. i mean, i have never been a super go-getter when it comes to working out. i like to get in and out and on with things.. but i used to always make sure i went 4-5 days a week. back before i found GPP, i was doing my own thing in the gym and would sometimes spend 60-90 minutes there. that baffles me. when i got pregnant, i was so happy to have a reason not to go to the gym. i thought i would be back on the wagon once i had my baby.. but i am now humming a different tune.
now days, i really don't care about if i make it to the gym or not. YES, i realize the importance of it and the need for it. i am sure i will eventually get back in the habit because i know it's good for my health, but, dude, i have a brand new baby. that is so much cooler than a workout and the gym will always be there. sure, workouts are satisfying and fulfilling. but watching this little guy's face light up at a stupid toy bird or giving him a bath is wayyyy more satisfying and fulfilling.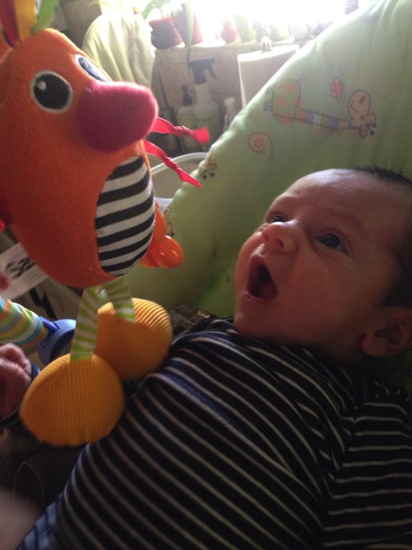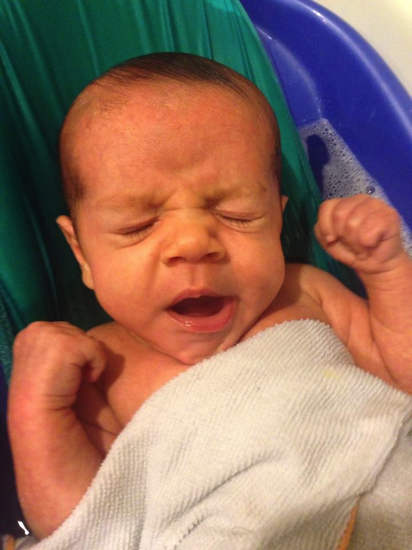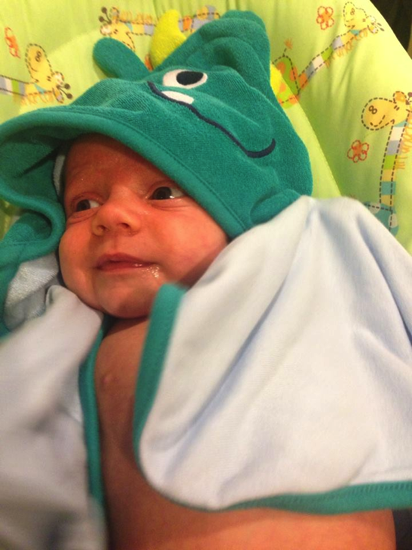 and since i am back to working 40 hours a week now, i really cherish those few hours after work to play with him before he goes to bed. plus i have to make dinner.. eat dinner.. hang out with my husband.. clean my house.. love on my dogs. there is not time for 60-90 minute workouts. i will try to squeeze things in here and there because i know i should.. but gone are the days of getting to the gym being near the top of my priority list.
and on that note, i gotta go to bed. because even though i don't get much of it, sleep is very near the top of my priority list! good night!
Qs~
1. do you like short workouts or longer ones?
2. what is your favorite quick & easy meal? yes.. i want your ideas :)
xo. janetha g.