hi! happy 7 weeks to my baby! well, yesterday.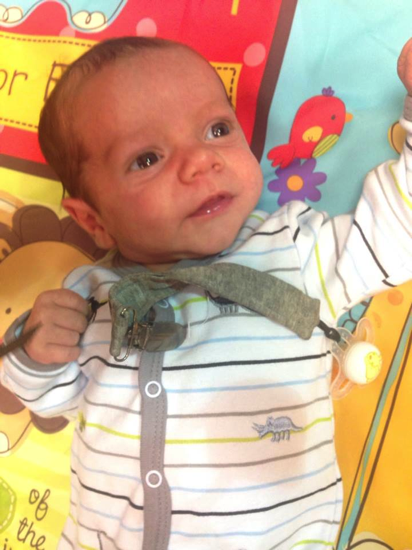 can't believe it's already been that long. time sure goes by a lot faster now—especially compared to when i was pregnant and it crept by slower than molasses.
it's been a very rough week for me. i went back to work on monday and it has thrown me through a loop. so much, in fact, that i have run myself ragged and have a sore throat and my immune system probably hates me too much to fight it off. hopefully i don't get super duper sick, i am taking a couple breastfeeding-friendly meds (ibuprofen, throat lozenges) and hoping for the best! i am just glad i survived my first week back!
on the upside of things, i get to take fox to work with me! i was nervous about how it would all play out, but it turns out to be working well. on mondays (my busiest, meeting-filled day) he stays home with marshall.. but he is with me tuesday through friday. i have a ton of baby gear at my office and fox is great about hanging out while i work.
he must have known we were going back to work this week, because starting on sunday night he dropped his 2 AM feeding and sleeps 7 or 8 hours now, waking up at 5 AM.. which also helps me be super early for work since i'm already up. ha. i will never need to set my alarm clock again…. anyway, i hope it's not a fluke, because it's pretty dang nice to get a little bit more sleep than before. especially now that i'm putting my 40 hours in again. i will have to do a post about having him at the office sometime. but today, i wanted to post miscellaneous tips i have been given or discovered since becoming a mom.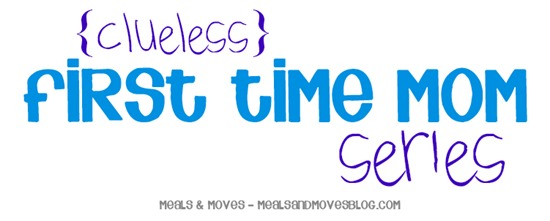 i am far from an expert on anything, especially on being a mom, but these are a few things that have helped me so far. and sorry if any of them seem common sense-ish.. i told you, i'm clueless.
mama tips
freezer meals. this is something i didn't do before having my baby, and boy, oh boy, do i wish i had!! i had good intentions to make them. i even pinned some freezer-friendly recipes. but i guess i got too busy (and was making 3 weeks of randy's homemade food to put in the freezer.) when fox came, we really didn't have time to cook. for the first two weeks, friends and family brought dinner which was amazing. after that, it was up to us to figure out dinner and our solution was almost always to grab a burger and fries or chipotle. or we would eat cereal. i probably didn't eat a single vegetable for the first month after having my baby. anyway—eating out is convenient, but it's expensive! i wish i had been more proactive and had made freezer meals. at least a week's worth or something. learn from my mistakes, mamas to be.
don't buy all of everything. so, i had no idea what i would need to have on hand for postpartum, but i had the internet! so i bought lots of all the things! nipple cream, nipple pads, tucks, big maxi pads, etc. anyway.. as it turns out, i didn't need all of that stuff. and i have, like, 3 boxes of nipple pads. but my boobs don't leak. i thought that happened to everyone.. i guess not. and i don't use nipple cream because my nipples don't hurt. i have 4 tubes of it (i had one tube on my registry and several people got it for me.)
what i should have done is just waited to see. the hospital provided lanolin nipple cream and maxi pads. i could have taken that home and then bought more when i needed it. and if my boobs did end up leaking, i could have gone and bought the nipple pads (and just used a folded up tissue if they happened to leak and i didn't have anything.)
anyway.. just wait and see what you need before you stock up. and if anyone needs some nipple pads, you just let me know. ;)
give in to postpartum hormones. hormones are a bitch! but you will have postpartum hormones and you will want to cry when your husband tells you your perfume is a little bit strong (even though you agree because you accidentally sprayed too much.) so go ahead and cry. and just know you will want to cry way more often for the dumbest reasons. and that's okay. just give in and do it. i told marshall that i am a tender soul and i may just burst into tears at any minute and to just give me a hug if that happens. that worked out way better than trying to hold back and not let all the emotions out.. even if they were silly and senseless. that's how it goes.
have a breast pump on hand. i got a free breast pump through my insurance (okay, i guess it's not really free considering how much i pay for my insurance..) but i didn't pick it up right away. my milk came in and i didn't have a breast pump and my baby didn't eat enough to relieve my freaking full boobs. it was SO painful! and it was at night, so i couldn't go grab my pump. my sister is amazing and went and picked up her friend's pump and brought it over to me. once i got my hands on that and pumped, i felt ten zillion times better. i was NOT prepared for that.
make a pump bra from an old sports bra. my friend jessica told me about this. it sucks to hold the pump parts to your boobs while you pump, and hands free bras made specially for pumping are like $30 or more. i just cut a couple little holes in the nipples of an old sports bra and BAM, free hands free bra. the only downside is it doesn't work with some pump parts, i noticed it doesn't work with the ameda purely yours since the shields aren't removable, but if you have the medela it does work perfectly. and pumping goes by so much faster when you can use your hands to look at your phone. ;)
baby tips
tuck the weenie. maybe this is common sense, but not for this first time mom. the nurse at the hospital advised us to tuck fox's weenie so it points downward in his diaper so when he pees it doesn't come out the sides or top. yeah, seems like a no brainer.. but i would never have thought of it. i hadn't changed many diapers in my life before fox.
place the clean diaper under before taking off the dirty one. this was another tip the hospital nurse gave us. we always place the clean diaper under fox before taking the dirty one off and it makes for super speedy diaper changes! it also gives him less time to pee on us. ;)
waterproof pad liners. fox has been known to bust out the fire hose on occasion and that gets his changing pad cover wet. jessica turned me onto these waterproof changing pad liners and they save me from washing the whole cover all the time. i have six of them—i think they are like $9 for three at target.
gripe water. another tip from jessica. don't know what i would do without her haha. i had never heard of gripe water, but it's awesome! it's a natural way to remedy gas, colic, upset tummy, etc.. it may not always work, but we found it to bring fox some relief. i just found it at walgreen's. you want to make sure to get the alcohol-free one.
rectal thermometer to remove gas. fox had some gas issues (still does, occasionally) and his pediatrician recommended we use a rectal thermometer to help get the gas out. i have also heard you can do this using a q-tip and vaseline, but the thermometer has a little mark that tells you how far you can go.. the q-tip does not.. so i am scared of trying it that way, ha.
saline solution for eyes. often times, i will see that fox has a hair in his eye (probably because we have a furry house) or some other gunk junking it up. the solution is simple, we just rinse his eye with some of my saline solution. the first time i saw a hair in his eye i panicked and was like "how the hell am i gonna pull that out of there." but, no, saline usually washes it right out.
pacifier clip. if you are going to use pacifiers, GET A PACIFIER CLIP. fox spits his binkie out approximately 427 times a day. we have this one and i love it. and, because i think he's cute, here's fox modeling the clip in a few shots. ;)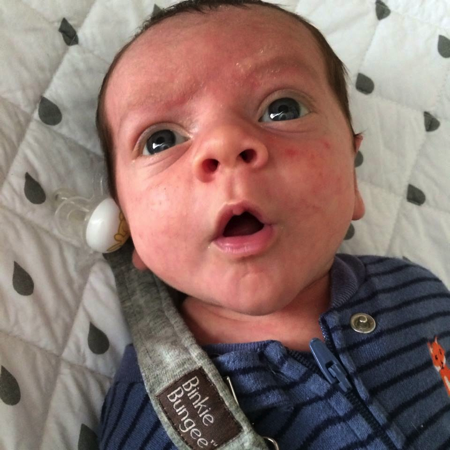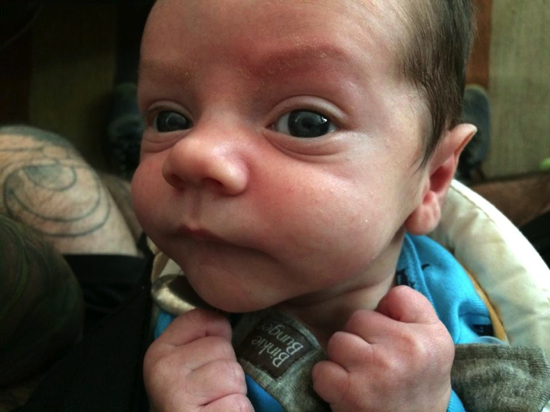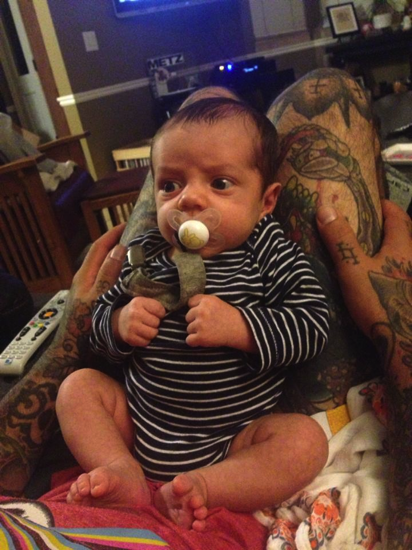 use baby aquaphor instead of lotion. lotion can actually dry your baby's skin out more when you think you are moisturizing it. we use aquaphor on dry patches instead, and it works perfectly. it also works wonders on diaper rash! oh—but i should mention that there is this layer of skin that peels off babies around 2 weeks or so. i thought it was dried milk on his hands at first, but it's skin. this is normal and fox's doc said you shouldn't put anything on it.. it will just shed and then their skin will be baby soft and smooth again. his all peeled off and cleared up by the time he was 3 weeks.
put clothes on from the bottom up. jessica gave me this tip, too! apparently it's not too common, but it works well for us. we put fox's onesies and PJs on from his feet up, like you would pants, instead of over his head. it was awkward and hard to do it over his head. but onesies and jammies have notches in the shoulders that allow the clothing to stretch and pull on seamlessly from the bottom up. if you are challenged at putting tiny clothes on your baby like i am, maybe try this method.
warm up their bed. so.. fox has the habit of only wanting to fall asleep in our arms. or, i should say HAD the habit. we have broken him from it and warming up his bed helped a ton in the process! his bedtime routine (which is very beneficial, by the way! he sleeps so much better since we've started it) is bath then tummy time then pajamas then story then swaddle sack then feeding then bed. while i am feeding him, marshall puts a warm corn bag in his rock & play (where he sleeps) and then when i finish feeding him and take him to bed, it's nice and warm like a human body. he loves it and doesn't make a peep when i put him in there.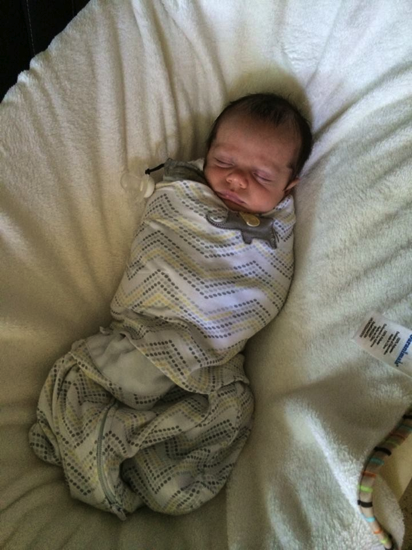 those are my only tips for today! i am sure i will have lots more to add to this list as i go. i feel like i learn something new every day! this baby thing isn't easy by any means, but it is a lot of fun and i am enjoying the process. it's easy to enjoy when you have such a sweetie to stare at all day. ;)
Qs~
1. mamas.. any tips to share with the class?
2. weekend plans? 
xo. janetha g.