oh, hey! my baby will be six weeks on thursday and i am just now getting around to telling you about the hospital stay and bringing him home. it's fine. i am sure you guys have been waiting on the edge of your seats for this post, sorry to keep you in suspense. ;) actually i wanted to write this because A- i love looking back on these type of posts and B- i want to rehash my hospital bag and tell you what i did and didn't use.
so, because i am chatting about the hospital stay and bag and things i learned, let's go ahead and add this to my clueless first time mom series, mmkay?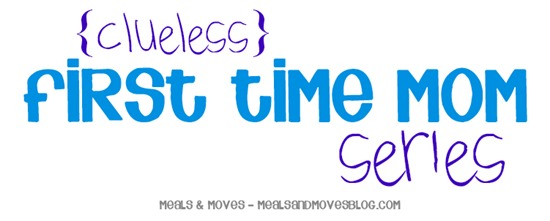 i had fox on thursday night and we were allowed to stay in the hospital for 48 hours from the time of his birth. we were more than ready to go home saturday morning. this was super surprising to me, as i had always thought i would milk the hospital stay for all it was worth. i really couldn't fathom them letting us go home with a brand new, tiny human after just 48 short hours. but then, once i was living it all, i realized that i was super ready to get back to the comfort of my own home, and i was more than comfortable handling and caring for fox. it's true what they say about instinct kicking in! pretty rad.
so, after i delivered fox, they let us hang out in the delivery room for an hour before moving us to the recovery room. that's like going from a suite at the bellagio to the last room available at the motel 6. hah, okay, maybe not that drastic.. but you catch my drift. actually, while the rooms in the hospital were teeny tiny, the staff was incredibly amazing and made the whole hospital experience a treat!   and the only time the size of the room really mattered was when we had a ton of visitors, so it was just fine.
i hadn't eaten in over 24 hours, so my parents picked us up some noodles & co for dinner. i was so grateful! (and so hungry!) i quickly learned that never in my life will i be focused on my meal–instead, i will be focused on my little human. between visiting with visitors, talking to nurses, and staring at fox… i barely remembered to eat! and by the time i did, it was cold. and i most definitely didn't take a photo. photos of food? who cares! i have this cute little nugget to photograph 104293 times!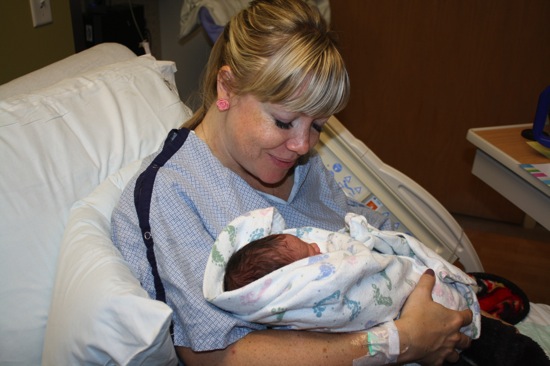 we had quite a few visitors thursday night. after it all died down, it was time to bathe fox. he had to eat twice before they would bathe him (not sure of the logic behind that), and since he was eating every 2-3 hours.. bath time didn't come until almost 11 PM. i was surprisingly wide awake for it all! my epidural had worn off and i could walk, but i was a little shaky so they wheeled me to the nursery (where the bathtub was located) and then i was able to stand up and walk around in there. one thing i had been worried about with an epidural was not being able to move around and walk, but that didn't turn out to be an issue for me.  the nurses were awesome and taught us all about bath time and gave us tips and tricks for making it pleasant. marshall helped give the bath and i stood to the side and snapped some pics.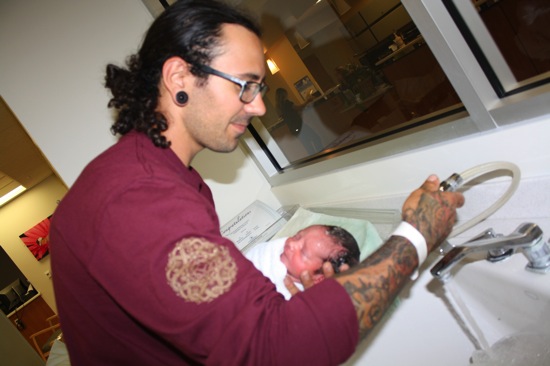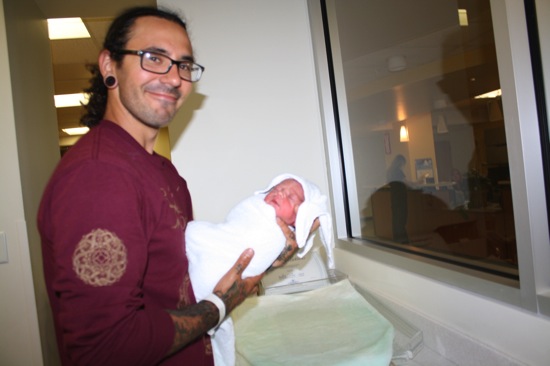 she also took his footprints. i am glad i took his baby book so they could put a set of prints right in the book in addition to the other sets of prints they took.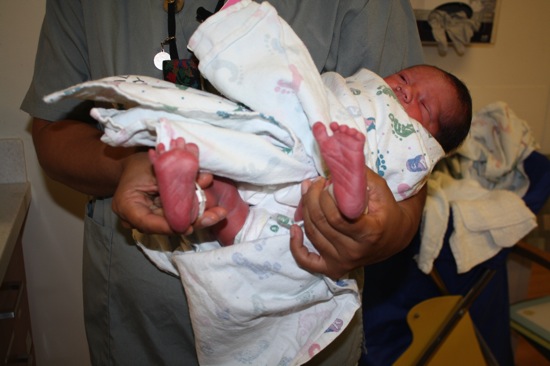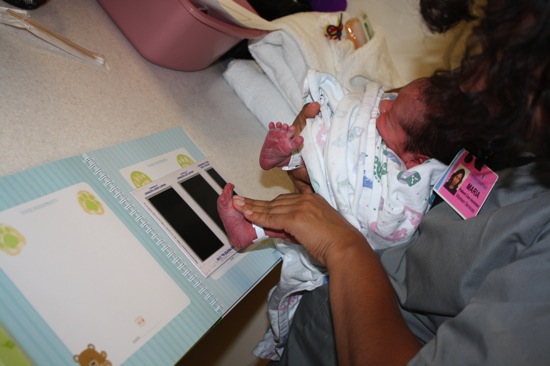 after his bath we headed back to our room and cuddled up with our new little man. and, yes, marshall may have cuddled right up in the hospital bed a few times. that was surprisingly roomy.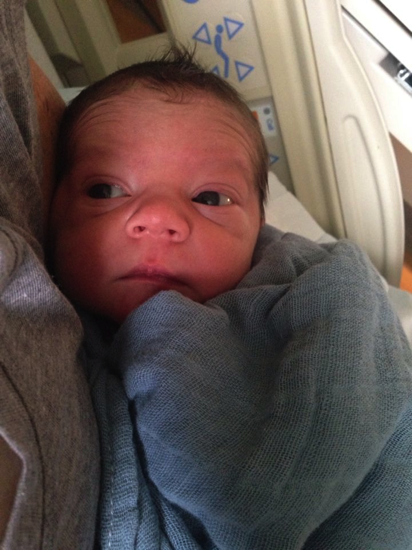 that first night was long. we had a hard time dozing off because we were still so excited. plus, nurses came in quite often to check on both me and fox. i spent a lot of time just staring at him in his little bed.
marshall experienced his first diaper change that night!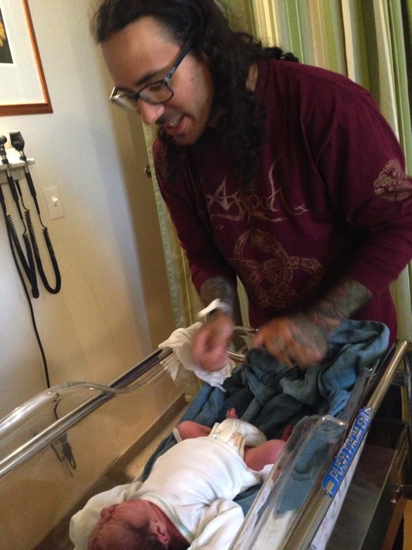 i fed him quite often, so that kept me up as well. i didn't mind a bit!
the next morning we ordered breakfast, which.. surprise surprise.. left something to be desired. i'd stayed in this hospital before, i knew what to expect!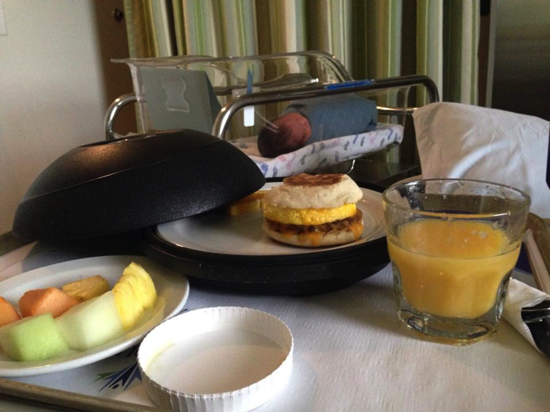 friday was filled with a lot of the same.. visitors, nurses, cuddles, and just relaxing with our new baby.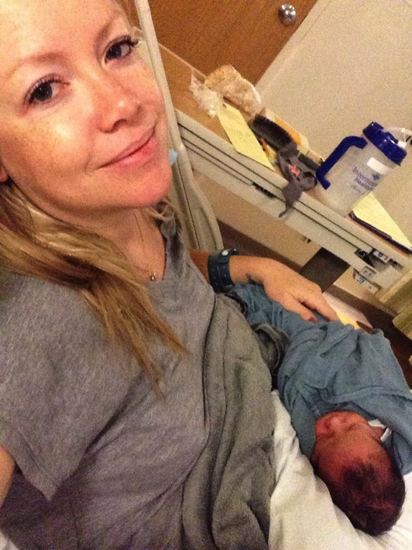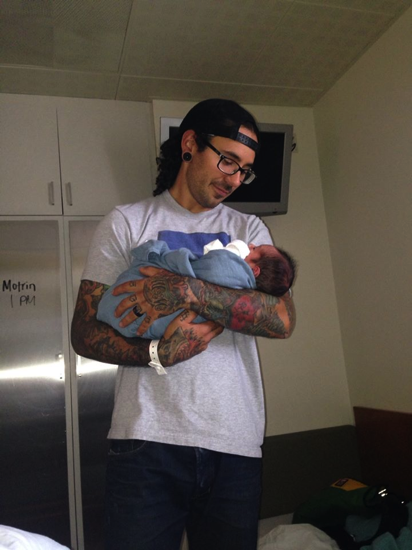 friday night rolled around and i was definitely sleepy. i decided to take the advice i had been given by so many mommas–let them take the baby to the nursery so you can sleep! because, i promise, with the baby in the room you probably won't sleep. you will be worried half to death about him still breathing. silly, i know, but it's true. i had them take fox to the nursery between feedings and they would just bring him back and wake me when it was time to eat. i know it's hard to do, new mommas, but definitely take advantage of this perk when you can! now i see why everyone stressed it to me. even with fox gone to the nursery, i still was woken up quite often by the nurses. they sure check on you a lot! but i was happy to know i was in good hands. 
by the time saturday rolled around, we were ready to go home. we got the hospital breakfast again and marshall took off to pick up the dogs from daycare and take them home. while he was gone, i did all the discharge paperwork so we could just take off when he got back. i also had a mini photo shoot with fox because, well, why not?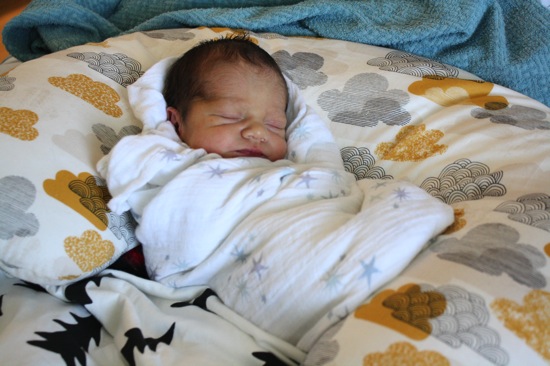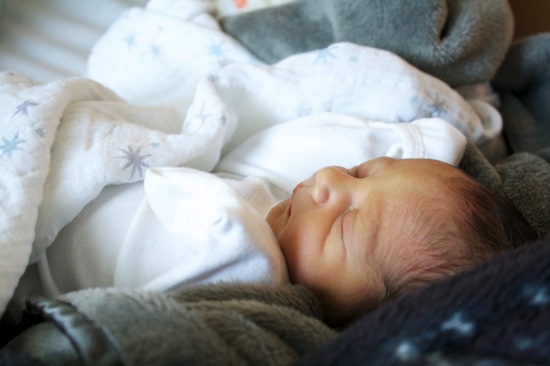 ready to go home!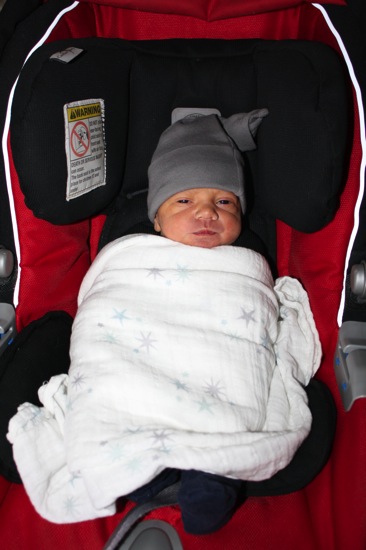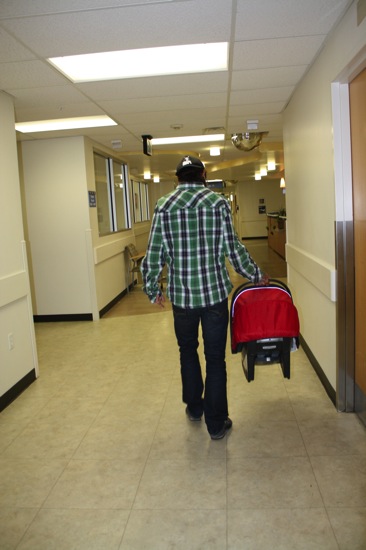 went in as two, came out as three!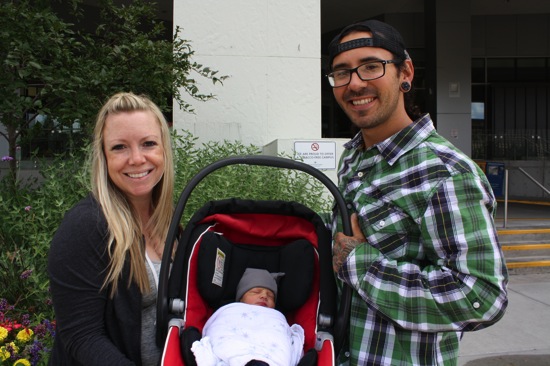 when we got home we were excited to introduce the pups to fox. they had been around babies plenty, so they didn't act too strange.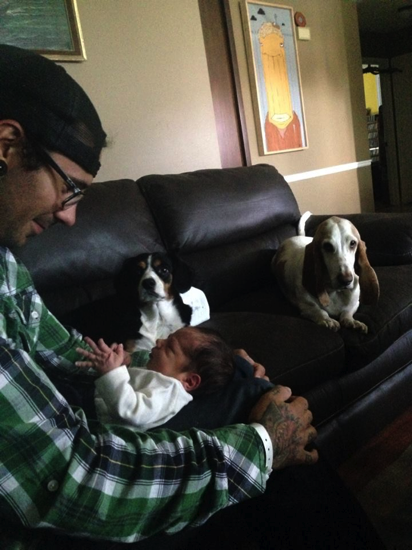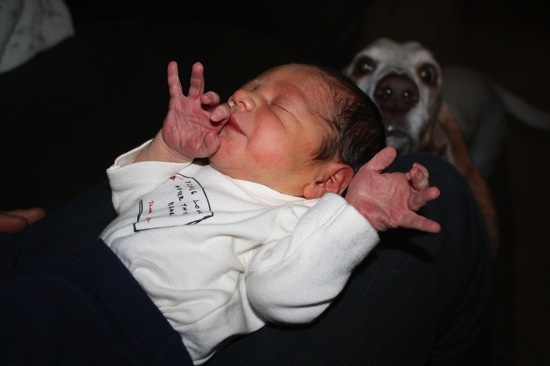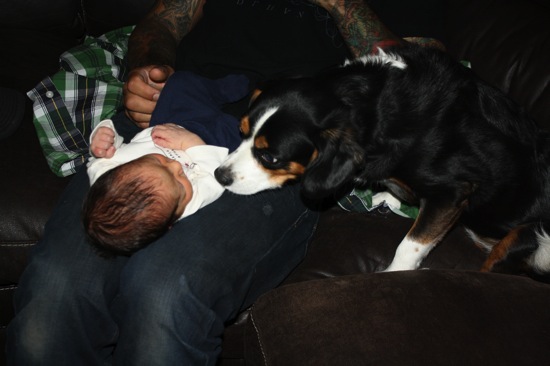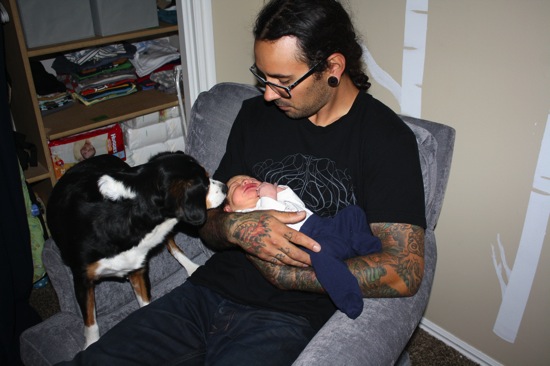 it was pretty cute to see them interact! 
and that's a wrap! glad i remembered all those details.. phew. haha.
SO.. the hospital bag.
after reading SO much information about what to take and what to leave behind at the hospital, i realized nothing you read really is all THAT helpful. it's such a personal preference type of thing and what you do and don't need will vary so much depending on who you are (and how accessible things are in case you forget something you want.) so, with that in mind, here are my notes on my own personal hospital bag. 
(my full list is below, with my remarks in bold red.)
clothing: 
a black robe 

i did wear this on friday, it was nice because the hospital gown closed in the back.. so it was nice to have something that closed in the front.

a pair of big, baggy black PJ pants 

nope! didn't wear these. they check your basement so often that wearing pants is kind of a joke.

PJ shorts nope! see above. same reason.
a V-neck nightgown 

i did wear this, it was nice and long, the V-neck made for easy breastfeeding, and the nurses/doctors could still easily check me.

two nursing tank tops 

i only wore one and it was on the way home.. simply because i needed something to wear on the way home. i could have easily done without these.

a nursing bra & a nursing sports bra no, i just went bra-less the whole time. i actually prefer not to wear a bra, so i don't know why i even took them to begin with.
underwear (although i have been told i will probably just use the mesh underwear the hospital provides) –

i only wore my own underwear on the way home. i used the hospital's mesh underwear the rest of the time. 

flip flops

yes, well these were the shoes i wore to the hospital and going home. i didn't leave my room otherwise so i didn't need shoes.

socks

nope, didn't wear them.

something to go home in—i chose my maternity yoga pants and a baggy V-neck T –

it was cold and rainy that day, so i wore the yoga pants, a nursing tank, and a lulu zip up that i'd worn to the hospital. so i would add a hoodie/jacket to the list.. glad i had it with me.

 
toiletries, etc.
contact solution, extra pair of contacts, and eyeglasses i just used my contact solution but am glad i had the other stuff just in case.
travel size shampoo, conditioner, face wash, and soap

i only used the face wash.. i didn't end up showering! you spray off your lady bits every time you go to the bathroom.. and i didn't get all hot and bothered during labor, so i skipped the showering and waited until i could shower at home. trust me, once you HAVE your baby.. you will go a lot longer than 48 hours without a shower!!

disposable face wipes

YES.. i used these often.

toothbrush & toothpaste yes, obviously.
face & body lotion i used the face lotion.
deodorant yes.
tucks wipes no.. BUT, i did use them a ton once i got home!
lanolin

no, but my nipples didn't/haven't hurt much

bang buster headband no, i was planning to use this for labor, but it ended up not being long and sweaty like i'd expected.
bobby pins yes, i pinned my bangs back the second day since i didn't wash my hair.
hair elastics yes, pulled my hair up.
hair brush & comb used the brush often, i love brushing my hair. didn't use the comb since i didn't style my hair while there.
a little makeup—eyeliner, BB cream, and neutral shadow

yes, this was nice to have to make me look less like a zombie.
baby gear.
newborn size onesie this is what he went home in
0-3 month size onesie didn't use it.. but glad we had it in case he ended up being bigger.
swaddle blanket 

YES YES YES!! the hospital blankets are thick and rough. i was SO glad i had a soft muslin swaddle from home to wrap him in. and, it's funny, every single nurse commented on how much they loved that he had it.

baby blanket 

no, didn't need this.. but i did use it to take some photos. 

newborn beanie (our hospital only has baby blue and pink, i wanted gray) yes, we put this on him after he was born.
boppy pillow yes, i used this for breastfeeding. 
baby book (for foot and hand prints) yes, we filled some stuff out during the downtime at the hospital
other items.
small notebook & pen

YES! marshall took notes during labor and i took notes of all the advice the nurses gave as well as the info we needed to care for fox when we went home. 

ipad & charger

no.. didn't use this. but marshall did a little bit.

iphone charger

yes, obviously.

camera & charger (make sure it has a camera card in there)

yes, i am glad i have some photos with a "real" camera.

mints & gum yes, definitely. 
chapstick YES
so.. basically i took too many clothes, which is what i ALWAYS do when packing for something. and i didn't need the toiletries since i didn't end up showering. i am glad i went in prepared but not TOO overpacked. pretty good considering my typical overpacking track record. ;)
well.. i better go. fox is about to wake up from his nap and it'll be time for his second lunch! i am so grateful he is napping. he has had a rough go round with reflux and hasn't gotten much sleep.. which leads to over-tiredness.. which leads to cranky babe. it's a vicious cycle. we went to the doctor today, though, and he's getting fixed right up! hoping we can get his reflux under control so he's not in pain, and so we can get some sleep. since this is my last week of maternity leave (boohoo) i am hoping to get it somewhat remedied so it's not as hard for us when we have to start going into the office!
hope you all are having a great monday. chat soon!
xo. janetha g.