…while on maternity leave. with a 5 week old. 
fox is 5 weeks today! i have to go back to work on october 6th, so i am just enjoying these last bits of my leave, hanging out with him and trying to get him into a routine so when we go back to work (yep, i get to take him!) it won't be too hard on him with me working. to be honest, i am super scared of how it will all work out. i know it's best if he is with me since i breastfeed and he needs his momma, but i also don't want to neglect him in any way while i am working. i may leave him home a couple of days a week and take him the rest–it just depends on how well he adjusts to the office. as long as he is looked after and taken care of, that's all that matters. he's top priority!
anyway, i had been wanting to document my whole day just so you could see how different life is now that i have a teeny, tiny 8 lb master. i've always loved day in the life posts.. it's been a real long time since i did one.. so here we go!
this is LONG, by the way, so.. yeah. you've been warned. and i bet it's pretty flipping boring to most folks, too. but now that it's written i may as well publish it, right? you know how i can never shut up.
1:00 AM – wake up to fussing fox–it's time to eat. this is his first nighttime feeding, after going down to bed at 8:45 the previous night. feed him in the dark, rocking in the chair in his nursery, for 41 minutes. yeah, 41 exactly. i have an app to time his feedings and track his diapers. it's called mammababy and i love it! it's fun to see the changes in patterns. like the night before, he ate for 24 minutes at this feeding. and the night before that, 33 minutes. i'm a nerd. 
1:30 AM – put him back to bed, he is sleeping in the newborn napper attachment on the pack n play in our room right now. i go back to bed after shoving randy out of my spot. he always steals it when i get up.
4:00 AM – fox man is crying again. like clockwork, it's time to eat! his diaper is dirty, so this time i change him, give him his reflux medicine (the doc prescribed gaviscon every 8 hours), and then feed him in the dark again. i do nighttime feedings (and diaper changes) in the dark so he will go right back to bed. i used to turn on the lamp and talk to him, but it made it hard for him to understand it was still night time. now that we don't talk and there is no light, he goes right back to bed. 
while feeding him, i ponder about going back to work and wish i could shift it so he woke up at 2 and 5 instead of 1 and 4, because then i could just stay up and get ready for work and head to work. maybe if i push his bedtime back an hour, everything would be pushed back. make a mental note to try that tonight. worth a shot… although he's the boss and wakes when he wants to! i figure i could always stay up after the 4 AM feeding, get ready, and go into work before we open. and then i realize how much my life has changed since i used to barely make it out of bed before 7:30 to make it to work by 8:30. funny.
i doze off accidentally while pondering all this.. and wake up at 5 AM with fox snoozing on my boob. whoops. that has happened a few times during our second nighttime feeding. 
5:00 AM – get up from the chair, take him back to our room and put him in his bed. get back in bed, after shoving randy out of my spot… again. 
5:00 – 6:30 AM – binky duty. for some reason, the first half of the night fox sleeps great. then the second half, he HAS to have his binky.. and every time he spits it out it's an emergency. so marshall and i take turns putting it back in.. every 15 minutes or so. it sucks.. but the alternative is worse (he will scream and wail and nobody needs that.)
6:30 AM – marshall is up for work, and fox is up for the day.. so he changes fox and i get up to feed him. 
6:38 AM – feed fox for 31 minutes. head to the kitchen and chat with marshall for a few, then he leaves us to head to work. 
7:15 – 7:45 AM – let fox hang out in his bouncer while i take care of feeding everyone else. 
i feed penny and randy– randy eats the special homemade food we make for his liver disease. penny eats dehydrated food from the honest kitchen. high maintenance pups.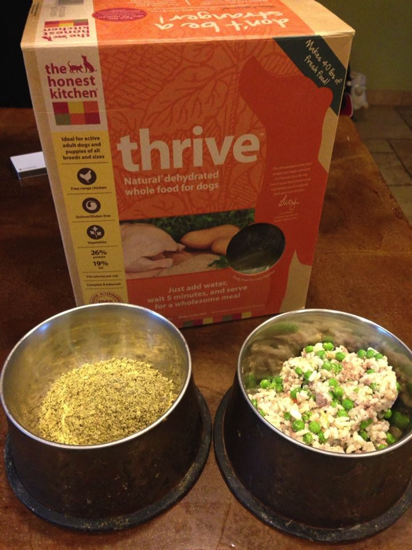 if you are a dog person, you HAVE to read this article. it's perfect. randy is #5!
i make myself a protein shake with the nondairy advocare meal replacement, almond milk, a frozen banana, and ice. fox's pediatrician had me nix dairy for his reflux. i can have little bits if it is in something, like butter in cookies (see below), but i have cut it out for the most part.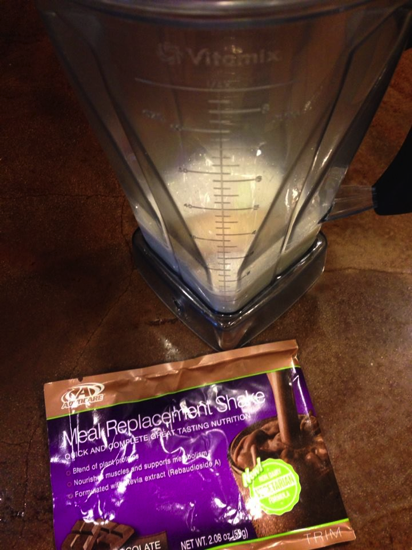 annnnd i have a cookie. because i love cookies.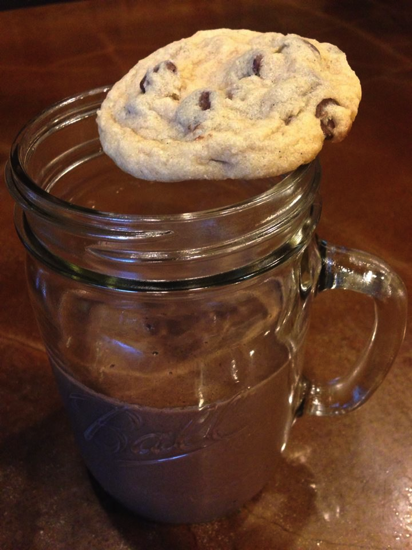 7:45 AM – fox is getting sleepy, so i get him ready to go down for a nap.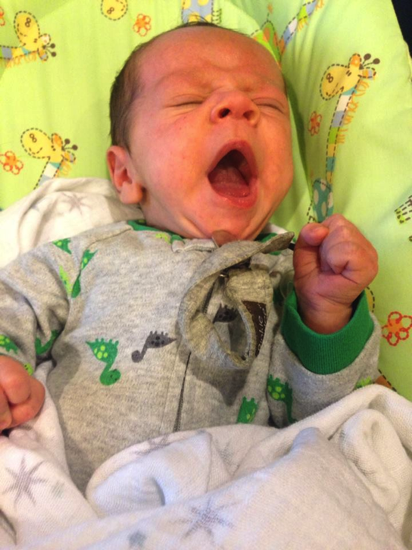 7:45 – 8:30 AM – we nap. it's lovely. i needed it.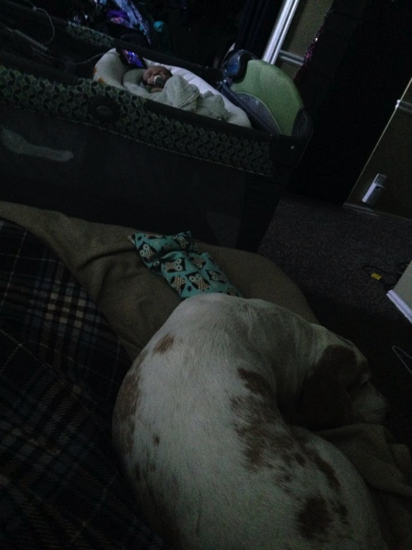 8:30 AM – i change the little man's diaper and it is time for him to eat again! this time for 32 minutes. i pay bills from my phone and manage my bank accounts. thank god for iPhones and apps and technology!
typically he would be up again and hang out for awhile after eating, but he seems to be extra tired. we usually have the eat-play-sleep pattern.. but he zonked right out in my arms after eating. i figure he is extra sleepy today and plop him in his rock n play. yeah.. we have like 67 places for this dude to sleep/lay.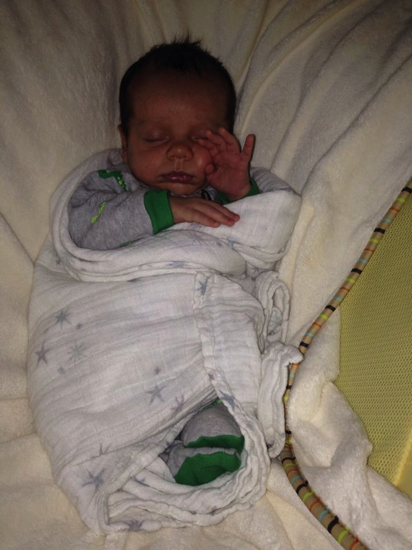 9:15 AM – pump for 15 minutes. penny and randy join me.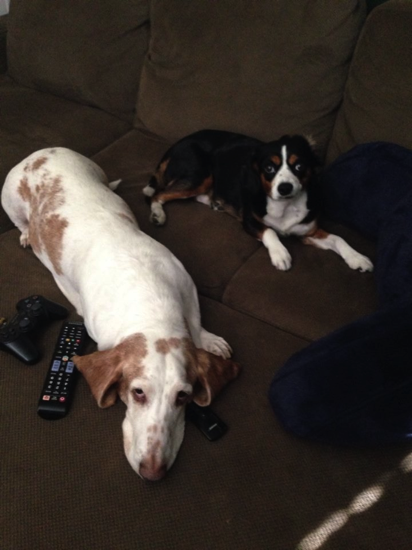 i need to get a freezer stash of breast milk for days i leave fox home (with marshall or a relative or friend.) turns out it is pretty hard to work it all out. if i pump too soon after feeding i don't get much. if i pump too late after feeding, i don't have a ton for fox's next meal (or he just has to work to hard to get it and gets pissed off at me.) i had only fed him from the right boob just before this, so i figured the left one would produce a good amount. i look at my phone while i pump, thanks to the hands free sports bra i made to pump in (per jessica's suggestion.) grateful i have this portable phone charger because being tethered to a pump or to a newborn makes it hard to charge your phone.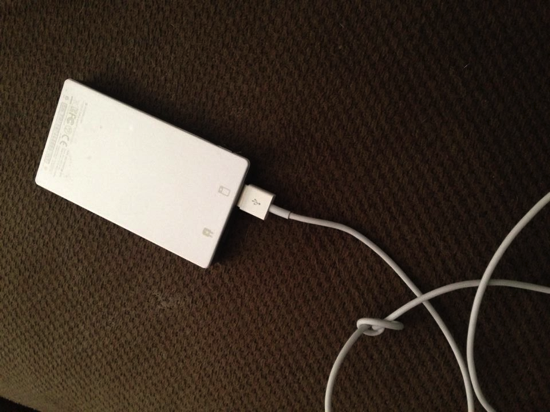 i look at timehop and realize it's been a year since i finished my advocare 24 day challenge. boy oh boy life has changed in a year! i also realize i haven't showered since monday. thumbs up, folks.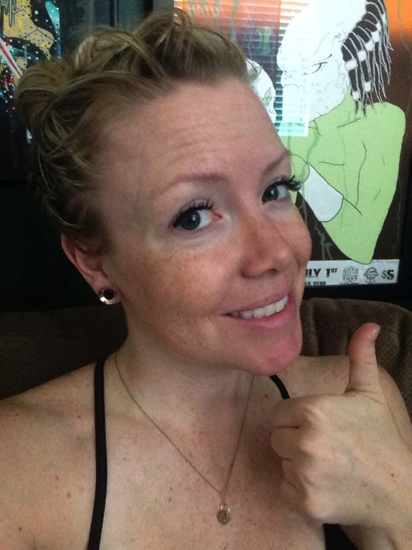 9:30 AM – i finish pumping , change out of the pumping bra, clean the parts, store the milk.. this stuff takes so long!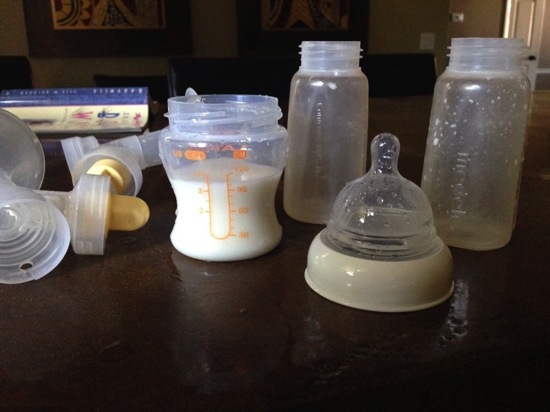 i get way too excited about pumping 3.5 whole ounces. who am i? i am getting jazzed about breast milk supply. 
i realize i haven't drank ANY water all day. quickly down about 50 ounces.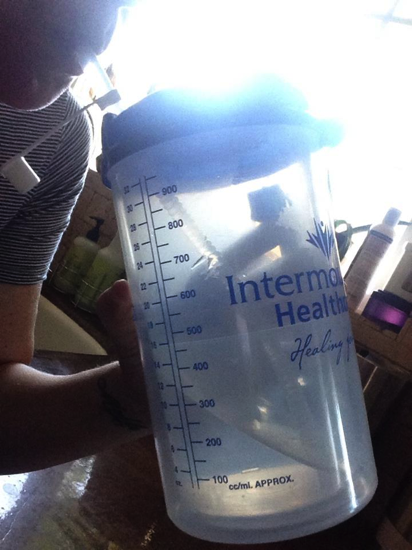 10:30 – 10:45 AM – fox is sleeping, so i bolt to the shower. i try to hurry. and, yes, i was swaying the whole time. i figure he will probably be wailing when i get out. i was right. i hurry and pick out one of my oh-so-fabulous nursing tanks and throw on some VS sweats because– pockets, and realize i may or may not have the chance to dry my hair today. i head out to see what's up. it was a binky emergency! i put it back in his mouth and rock him back to sleep. he LOVES the sleep machine app turned onto white noise and we use marshall's old iPhone because it's portable and easy.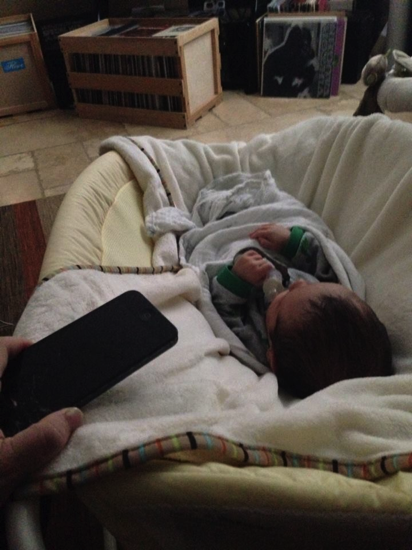 10:55 – 11:30 AM – lots gets done in this block of time! i dried my hair first, hoping he wouldn't be wailing when i turned off the hair dryer. he wasn't.. sweet. i trimmed my bangs because who knows when i will get in for a bang trim, and then i made my bed. something about having a made bed makes me feel like i have everything else pretty together.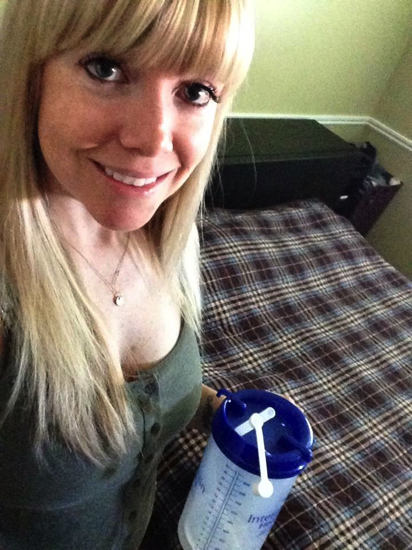 next up i throw in a load of laundry and empty/fill the dishwasher while cooking some frozen trader joe's oatmeal, because i am starving. i eat it with a dollop of my mom's homemade strawberry jam.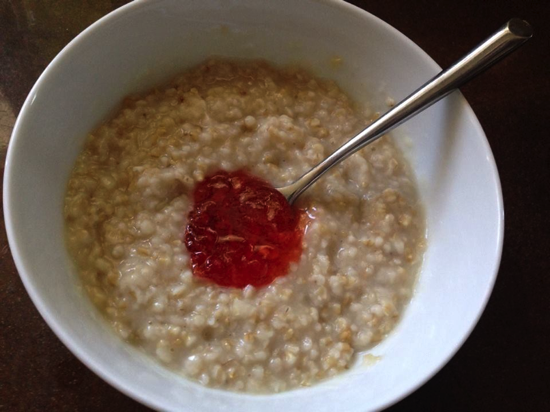 11:30 AM – fox wakes up, which is right on cue since it'd been 3 hours since he ate. i change his diaper and take his jammies off. i like to feed him skin to skin when i can.. partially because it's supposedly good for your milk supply.. but mainly because naked babies are adorable and freaking SOFT!!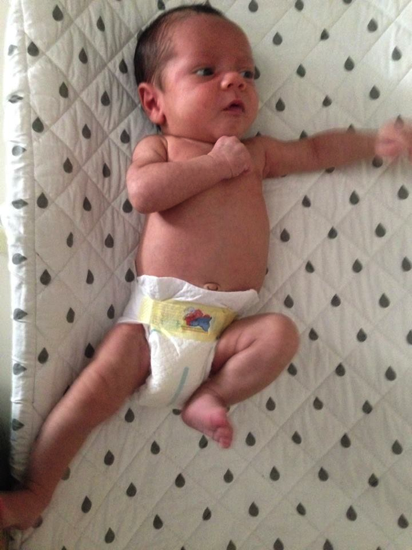 i love feeding him when he is more awake. it kind of sucks because he claws the crap out of my boobs, but it's so adorable to have him wide awake and making cute noises and just being fun and funny. i snap a bunch of pics and send them to marshall.. but i will spare you the photos of my baby sucking on my boob. 
12:15 PM – wow, afternoon already! it's time to play, so i head to fox's room and change his diaper again, give him his reflux medicine, and get him dressed for the day.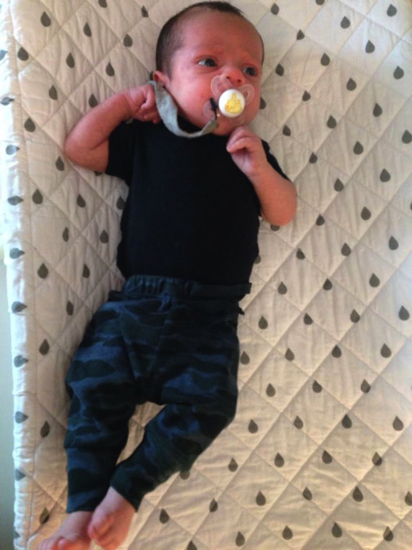 12:20 PM – next up is tummy time! he LOVES it! the dogs do, too.  
after about 20 minutes of tummy time, i roll him over to his back so he can stare at the musical mobile on his play mat thingie. he is always so jazzed to stare at the mobile. it's adorable to see him get so excited.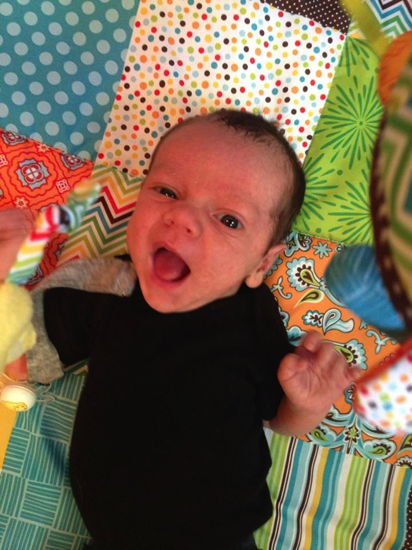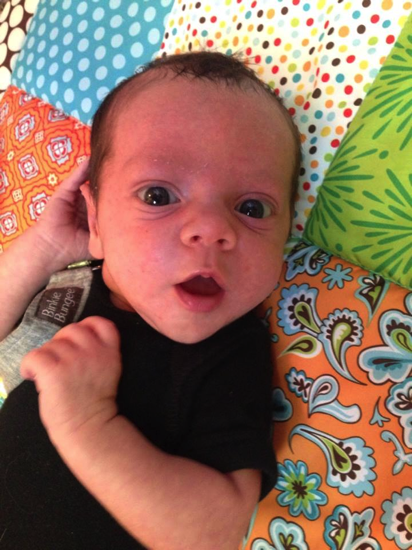 1:00 PM – it's time for a nap again! he started to yawn and rub his eyes, so i bundle him up in a swaddle, turn on his white noise, a put him down in the rock n play. after a few minutes he is snoozing.. i am so glad he is getting better at putting himself to sleep, since he used to only fall asleep in our arms or on our chest.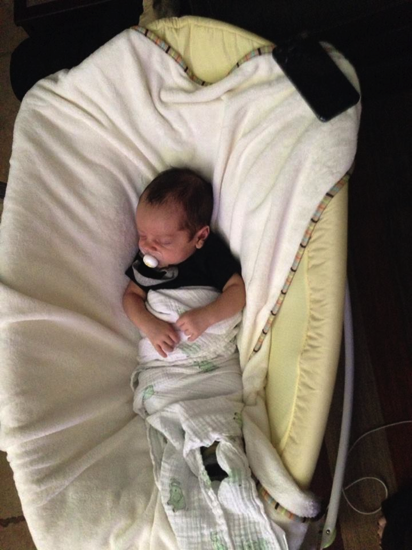 1:15 PM – time for me to drink some coffee! i love this pumpkin one from green mountain. it's the best pumpkin k cup, in my opinion. i got it at target. i pair it with so delicious coconut milk vanilla creamer.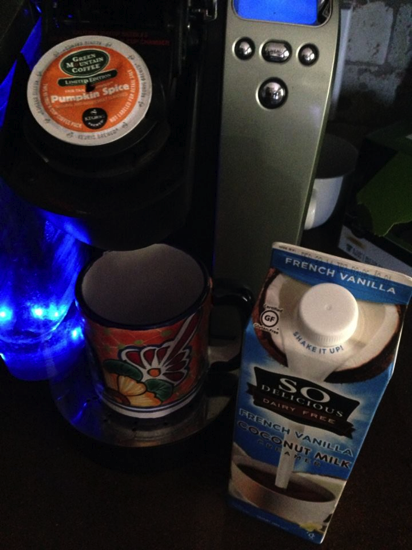 also.. cookie. and more water.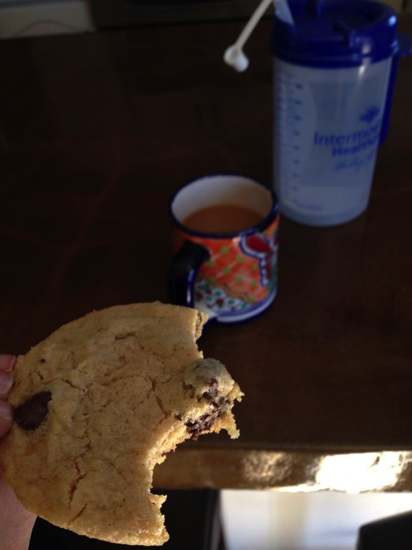 i sit down on the couch and type up this post of the first 12 hours of my day.. which takes longer than anticipated because i ramble. bravo if you are still reading. i sure missed typing my rambles! i realize this post is going to be twenty seven miles long. i still have a ways to go. save this as a draft and go on with my day…
1:30 PM – i'm hungry! lunch is two salads: costco's chicken greek pasta salad and my favorite chicken ramen salad that jessica brought me yesterday! yum.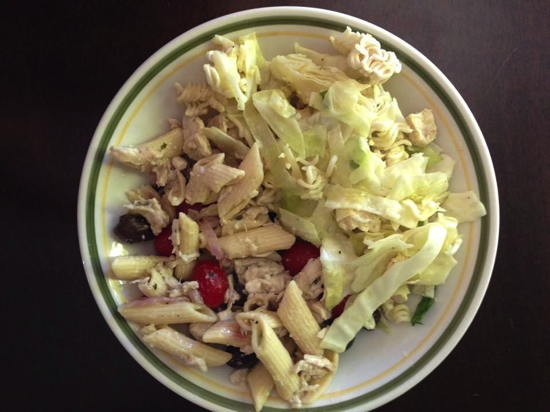 while i eat, i rock fox with my foot because he's stirring and i want to eat. i also google the best baby carriers for sitting at a desk and the best baby carriers to breastfeed in because i want something for when i go back to work. i have a soft stretchy wrap and an ergo, but i am thinking a ring sling would be better for that. any input is welcome, mamas!
2:15 PM – fox is up! change his diaper and feed him. 41 minutes this time.. hungry guy! i had to pee SO flipping bad. you really learn to hold it when you are nursing a baby, tell ya what. oh, i also brushed his hair with the hospital toothbrush they gave us.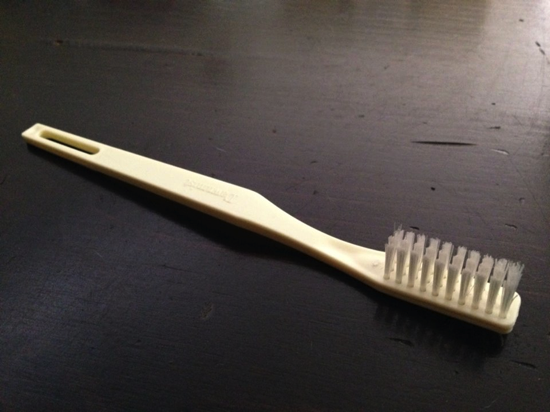 3:00 PM – walk down the road (holding fox) to get the mail from the community mail box. probably the most exercise i'll get in all day. ;) yay, more insurance paperwork and medical bills. it's so confusing and coming at us from all directions! i wish there was just one big bill and one big insurance paper so i could call it good and be done. 
3:03 PM – (yeah, mail took awhile..) cuddle with fox and talk to him about the meaning of life and other deep thoughts. he acts somewhat interested.. but i have a feeling he would rather swing.
3:22 PM – put fox in his swing. switch the laundry. eat some cookie dough. please tell me i'm not the only one that saves some dough to eat straight up when making cookies.
3:30 PM – he is over the swing. or just needs a diaper change. yep. diaper. change it. cuddle some more. sing songs that i have become really good at making up on the fly, and talk about what he wants to be when he grows up. you guys should hear me talk and sing to this 5 week old. i am sure i sound ridiculous.. but i sure enjoy it.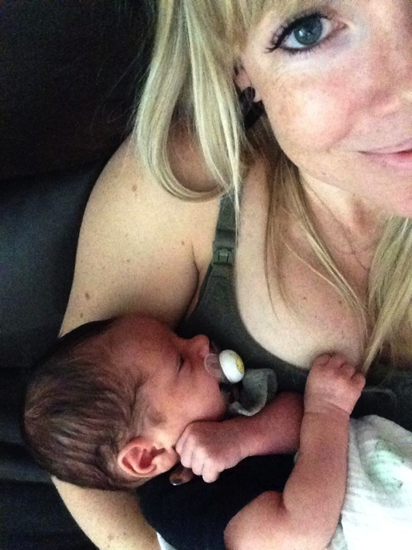 3:45 PM – he's getting tired and is ready for another nap.. but he is fussy and cranky and fighting it. i decide to get the ultimate nap ready for him since he is crying and letting out squeals.. which generally means he is hard to get to go to sleep.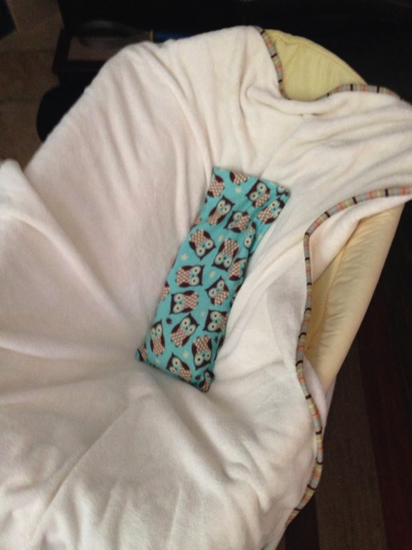 i warm up his bed with a corn bag for a few minutes, swaddle him tight, turn on the white noise, and sway him for about a minute before snuggling him into bed. after a few minutes, he's out. works like a charm.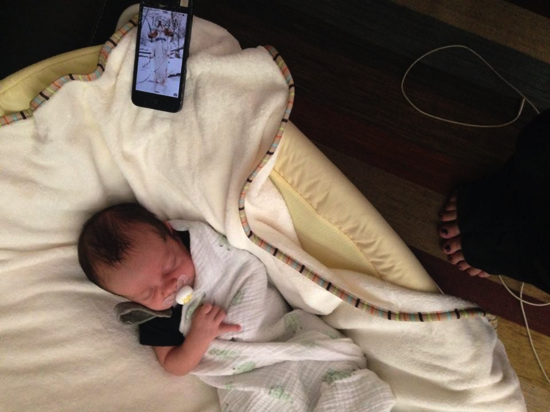 we were having problems with missing his tired cues and skipping naps, then he would be over tired, and it was a vicious cycle! so glad i know what to look for now, and how to get him to go down for a nap without having to walk around the house and jiggle him for the entire time. 
4:00 PM – i should probably be napping at this point, too, but i am dumb. i fill up my water and check my email and turn on the TV.. TV is boring.
4:05 PM – come to my senses and nap. 
4:20 PM – just kidding! he's up. this is about the time that his reflux and gas starts to really bother him.. poor guy. so the next hour or so is kind of a blur. i feed him, i burp him, i give him gripe water, i lay him on a rolled towel on his belly, i try all the things that his doc advised. and he is just having a fit. my heart breaks to hear him squeal in pain and i just hope he spits up and burps and farts everything out that is inside hurting his poor little body. sigh. nothing more sad than seeing your baby struggle and be in pain.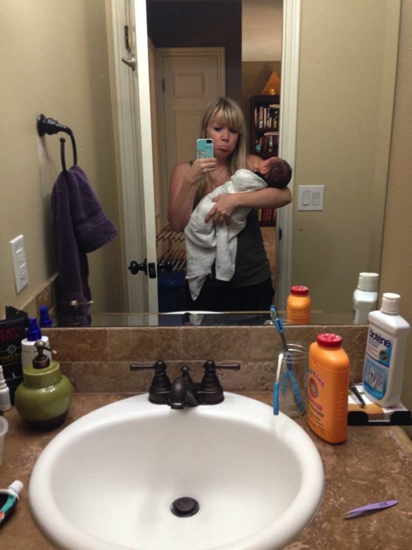 5:30-ish PM – marshall gets home from work. yay, we love him! fox is still fussing a little, but he has calmed down and is in his bouncer to try to work some of the gas out. 
5:45 PM: i eat some more chicken ramen salad straight from the fridge and take off to the store to get a few things. i lied earlier about the mailbox jaunt… walking around the store is the most exercise i got all day. marshall texts me photos of him and fox while i am gone. love that. oh, i saw this sign outside the store (it has a new starbucks inside).. only in utah does starbucks try to deliberately sell you on their drinks that AREN'T coffee. also, they can't spell caffeine.  (for those of you who don't know, mormons can't drink coffee.)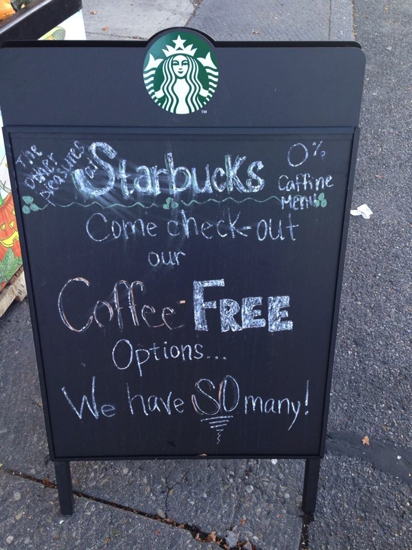 7:00 PM – i get home and eat a couple hard boiled eggs that i bought at target because i am flipping starving. i used to never have a hard time remembering to feed myself. something like that was unheard of for me. however, these days it becomes common for me to realize i should eat and hunger hits me pretty hard. especially since i an breastfeeding.
i had thought about taking photos of all the groceries i got like i used to back in the day, but that idea quickly became laughable.. because, well, life.  fox is screaming and crying and having a mini meltdown about how hard it is to be a baby with a bubbly belly. poor guy. 
sometime after the hard boiled eggs – change fox, feed fox, give fox his medicine, cuddle fox. marshall takes over in the kitchen and makes chicken noodle soup.
around 8:00 PM – i need to pee so i give fox to marsh. i change into PJs (i had put on clothes to go to the store) and then fold the load of laundry i'd done earlier.  and i eat another cookie. fox falls asleep. i sit on the couch and type a little bit of this post while marsh watches football. like all of our baby gear? swing.. bouncer, rocker.. it's taken over the living room. (okay, all the rooms!)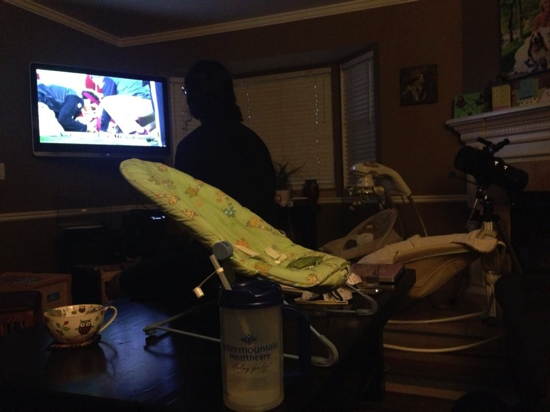 we also make our football picks for our football pool at the pups daycare. i bet they miss daycare! they haven't been in five weeks.
and then it's time to eat dinner. yum. times this by two. thanks, marsh.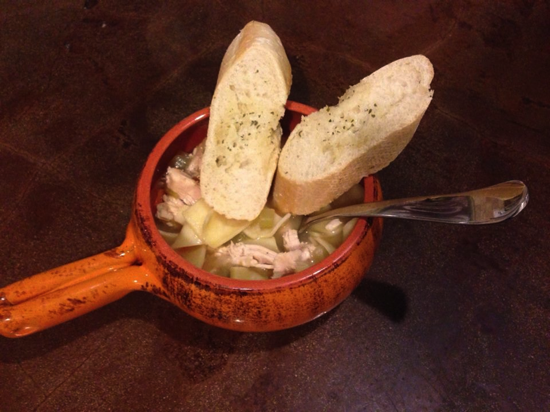 fox is up, so i rock him in his rock n play with my foot while i eat.
9:00 PM – that's right now! it's time for fox's bedtime routine! bath, lotion, PJs, swaddle sack, eat, then bed. we will warm up his bed with the corn bag and turn the white noise on. here is a pic from last night's bath.. because i am going to publish this before i go put him to be.. so i can go to bed, too.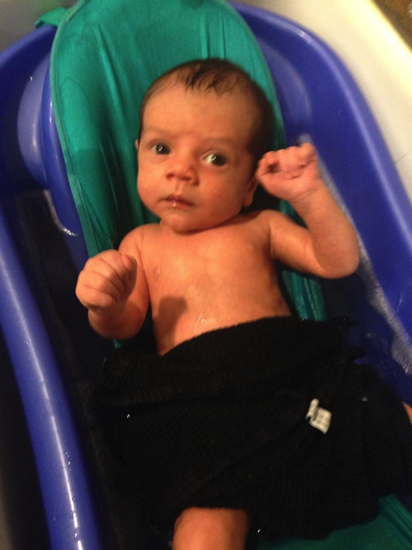 p.s. thanks to my friend, steph, for telling me to put a warm rag on him during bath time. he does SO much better!!
and THAT.. friends.. was my whole day. wow. holy crap. this is really long. i better go up to the top and warn you that this post is longer than the nile. i am not even going to re-read otto proof read.. so sorry if there are typos. and i have no conclusive words, i should just end this post here and go to bed. because i am beat. and i can't wait to do it all over again tomorrow! (but i will tell you what.. i won't be doing another one of THESE posts for quite some time. just, no.)
thanks for reading! 
Qs~
1. what was the highlight of your day?
2. what's the last thing you took a photo of?
xo. janetha g.