i started typing this post last saturday. it's now friday and i am finally finishing it up. i'm not editing it to make it look like i typed it all at once, because it's kinda comical how long it actually took! hopefully i will find the time to blog more frequently.. but right now, my life is consumed with all things baby and i am trying to soak up every last minute of my (short) maternity leave! anyway.. here's the post.
hi! thank you for all the kind words on my birth story post. i can't believe that it was over three weeks ago (now four!) that i had my little man. time sure flies by when you are busy with the sweetest newborn on the planet. (i may be biased.)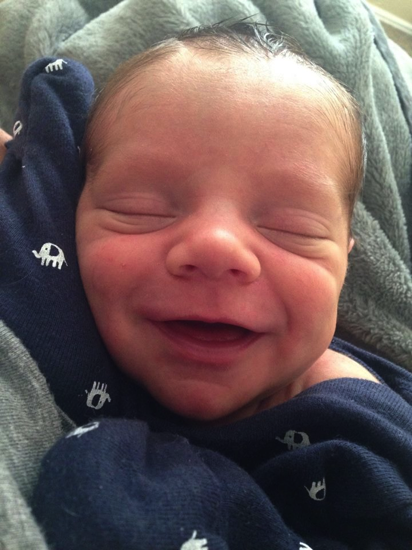 i was planning to tell you more about my hospital experience and bringing fox home, but that can wait for next time. today i want to randomly ramble about what my new normal is: taking care of a brand new baby on maternity leave–now without his daddy, since marshall went back to work after two weeks. come october 6th, when i go back to work, i will find another new normal. one i am frankly terrified of figuring out, since this newborn gig is more work than a full time job. adding it to my real life full time job will be tricky. but i will cross that bridge when i come to it.
i am going to go ahead and add this post to my clueless first time mom series, because it will be full of all the new things i'm experiencing. now that my baby is here, i am definitely living up to that clueless first time mom title.. but i am also super surprised at how many things have just come naturally to me. it's pretty crazy and cool.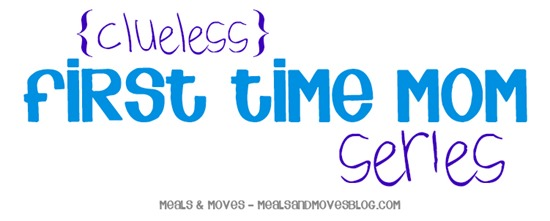 so, i started typing this post a few hours ago (it's saturday morning) but then it was time for the dogs to eat, and then time for fox to eat, and then i found some time to eat (cereal and coffee.. nope, not cooking much these days.) i have a feeling this post will be published next wednesday at this rate. ;) (nope. i was being too optimistic. it took me until today–friday.) but that's all part of figuring out how to make it work with a new baby.
i try to limit my laptop time, since my priority is taking care of and spending time with fox. when i do open this bad boy, paying our bills and managing marshall's LLC comes way before blogging, obviously. i have also had to do some work from home while on leave.. luckily not too much, but some. you really learn to prioritize and take care of the really important things when you can, and all the other stuff really doesn't matter. and, yes, showering and changing my clothes sometimes falls into that "other stuff" category. and that's quite alright. babies don't care how you look or what you smell like ;) although i have managed an every-other-day shower schedule.
so! life with a newborn. i love it. a lot. you always hear mothers gushing about how much they love their children and there's nothing that can describe that love. they were right. so i am not even going to try. i'll just say i love that 7 pound, 4 ounce nugget (his weight at his 2 week checkup!) more than i ever dreamed i would. it's rad. holy crap, my tiny human is so, so amazing.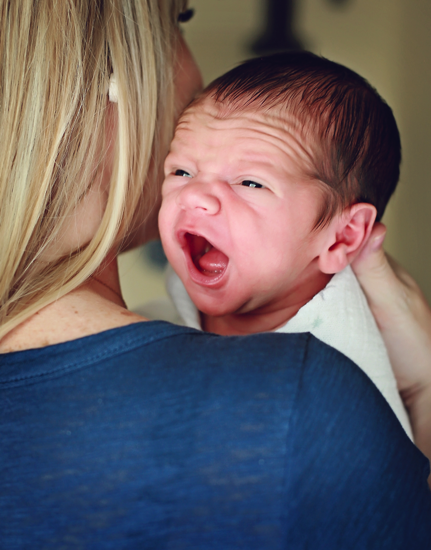 gah. he's so sweet. and he smells so good. i never thought i would love the newborn stage. i told people, "just give me a toddler, newborns make me feel awkward!" lies. i love how little he is and when he grows it makes me sad. it's so much fun having a tiny baby. who am i?! i also used to be suuuper awkward when holding babies. i actually felt so awkward that i would decline holding them for fear i would do it wrong. but the second that little man came into my life, i was suddenly the baby holding professional. how does that happen?!
since my maternity leave is so short, i am trying to make the most of it and not worry too much about typical day to day stuff like cleaning, cooking, and–yep–blogging. that can all wait. there are only so many moments of napping with a newborn on your chest. and i will never get those moments back.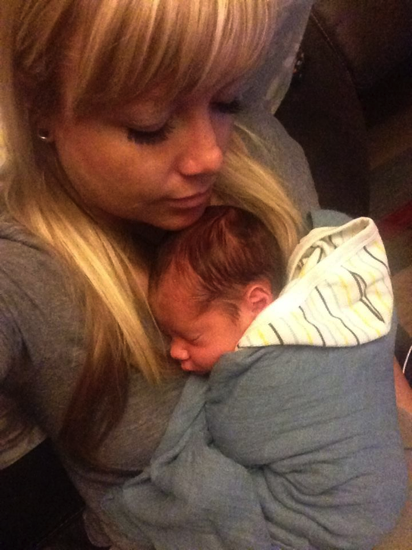 here are some fun facts about my new life!
when i find time to shower, i have found that i sway back and forth while i am showering. without my baby. it's my new motion. i do it everywhere, even if i'm not holding fox. my mom will be holding him and i will find myself just swayyyying away.. baaack and forth. my mom assured me that never goes away, that she found herself swaying in the grocery store just the other day. i am her youngest child, at 31. (here she is with my little mister, burping him and swaying away!)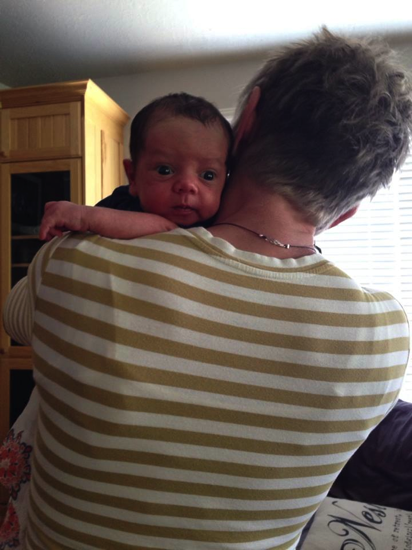 my life is now full of all sorts of wipes.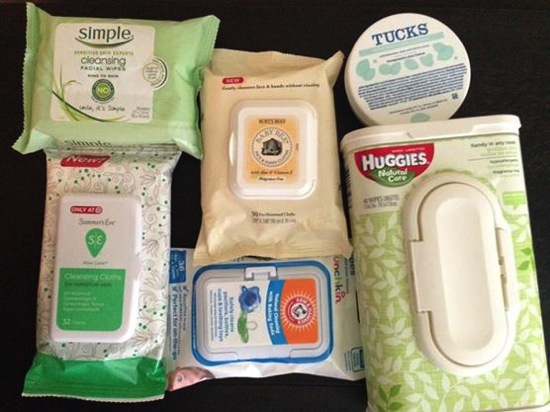 wipes on wipes on wipes! some for me, some for fox. why don't they make magical wipes that fix dinner or fold the laundry?
from the looks of my camera roll, you would think i do nothing but stare at my baby.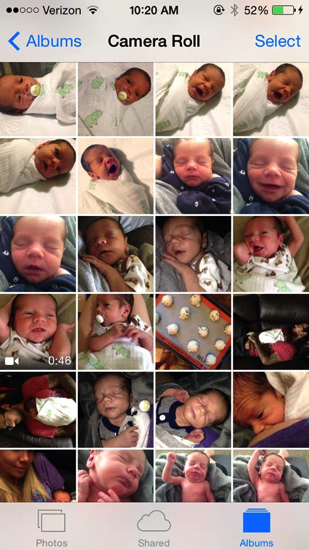 okay, so maybe that is what i do 94% of the time. and, yes, the other 6% has involved baking cookies. some days i end up with more free time than others. but, yeah, it's kinda ridiculous how many photos i have taken… but that's what technology is for, right? i just don't bother to take photos of anything else now that this guy is ruling everything around me. and that's quite alright.
penny and randy are the sweetest helpers on the planet. they follow us around, cuddle up on the couch, and make sure to bark at every last visitor that comes our way. after all, they may be trying to come steal the baby! (sure wish i could explain to them that they really don't need to bark at my mom every time she comes over…)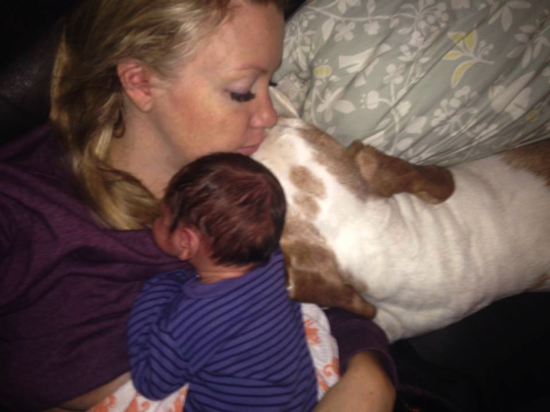 guess what? mom brain is a thing. i am so scatterbrained right now. i keep doing really dumb things, forgetting stuff someone told me 3 minutes prior, and occasionally will just stare straight ahead, blankly, trying to recall what i was doing and why i was doing it. i attribute a lot of that to the fact that i am functioning on very little sleep, but i know moms who still have this issue, even after a full night of sleep. so it's gotta be a little bit of mom brain combined with the sleep deprivation.
speaking of sleep.. if you have read my blog for awhile, you know i love my sleep. in fact, i used to sleep until nearly noon on the weekends. i have never been a morning person and my love for sleep is probably the thing i knew i'd miss most once fox arrived. i was right. i miss sleep. i am tired. more tired than the worst-hangover-of-my-life-and-have-to-work-at-7-AM tired. but, somehow, i figure out how to function on just a few hours of sleep. it's the weirdest thing. speaking of being tired.. isn't his yawn adorable?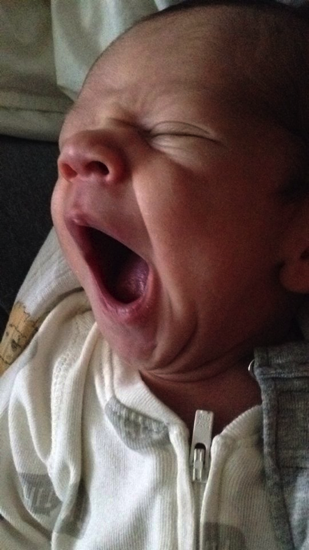 but i am completely okay with dealing with my new schedule… probably because i know it's not a permanent thing, and it will get better as he gets older. it baffles me that i am able to function so well on the amount of sleep i get. i remember hearing and reading that you just make it work, and you really do! right now i am up every 2-3 hours for about an hour at a time on the good nights. then there are rough nights, when i am up every 1-2 hours for 1-2 hours at a time.. which equates to up all night. i am breast feeding, so marshall can't help out too much with these middle of the night adventures.. but he does get up to change fox or rock him back to sleep. he's a great dad.
speaking of marshall.. seeing him with fox makes my heart melt and i have never loved him more! he's just so dang sweet with that baby of ours.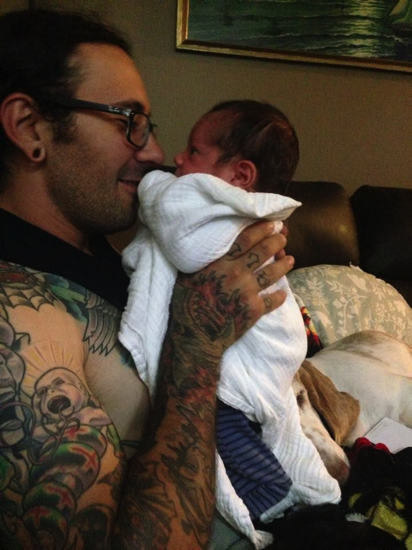 i consider myself fortunate that i have such a supportive spouse who is willing to help out so much. i know way too many women who don't have that type of help, and that flat out sucks. i will say this–i am very glad that marshall and i have such a strong, solid relationship. (additionally, it's very good that we waited until we we sure we had that strong, solid relationship before bringing a human into this world!) while it's super fun to have a new baby around the house, it's also very stressful. it's important to acknowledge that and to expect it. we are tired. we are confused. we are learning. everything is new. and babies cry.. a lot. caring for a newborn takes patience and love. you not only have to be patient with the baby, but also patient with each other, as you learn how to do this whole parenting thing. we do lots of things different from each other, and neither of us is right or wrong. i am glad we make a good team and are able to figure it all out together.
aaaaaand now it's wednesday. (and now it's actually two days later, friday.) yep. i started writing this last saturday, guys.. and i haven't had a spare minute to open my laptop since then! i mean, yes, i have had spare minutes and i could have probably made myself finish this post.. but i think there are more pressing issues to deal with when fox is sleeping.. like this monstrosity in my room: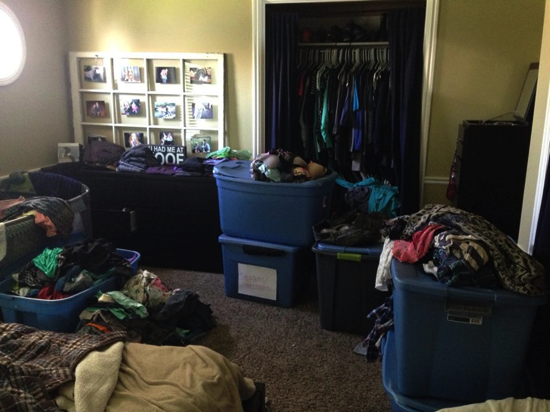 ack, it gives me anxiety just looking at it. i know. it's bad.
sooo.. i suppose this issue won't be relevant to ALL those with a newborn, but it's my current clothing situation. you see, we were planning to buy a new home and move sooner rather than later. so when i got pregnant and couldn't wear my clothes, i figured i could pack them all away.. since i wouldn't be wearing them any time soon. plus, all my clothes were in the closet and a couple dressers in my old office which is now fox's nursery, so even if we didn't move (which we obviously didn't), i had to clear that room out for him in case we stayed. and now that i am not pregnant.. well.. i need clothes! so all the bins came in from the garage and i figured i would sort through them in my free time (haha) and pick and choose the clothes i want to wear this fall. because, believe me, your postpartum body is a whole new animal when trying to get dressed. maternity clothes are too big or accentuate the belly. pre-pregnancy clothes are out of the question (hello, new hips and giant, milk-filled boobs!) so with that new issue paired with my limited space to store clothes inside my house.. my work is cut out for me. and at this rate, i will be picking through the bins until my baby is 9 years old.
holy crap, i just spent way too much time telling you about the bins in my room. like you even care. sorry about that. i told you my brain was all over the place!
and now it is friday.. we are current, folks! i should probably stop rattling off bits and pieces about life with a newborn and wrap this up so i can publish it.
life with a newborn is awesome. i love it. i feel like a piece of my life i was missing is now fulfilled and i am stoked. also, i should note that it is flipping hard. the hardest thing i have done. definitely harder than being pregnant or giving birth. i am not even complaining about it. i am just telling you the truth. caring for a newborn is a lot of work. don't have kids unless you are willing to make the sacrifice it takes to care for them. it's not just another task to add to the to do list. it's a list of its own. at least it is for us.
something that gets to me is some new moms act like they have it all together, that this gig is a piece of cake and they can still do everything they did pre-baby, like their newborn is the most perfect baby on the planet, and they can conquer the world. who knows, maybe that is the case for some women.. but i highly doubt it.
bottom line? i knew a baby would be time consuming, but some days i am surprised at just how time consuming they can be. and not in a bad way! in an i-never-want-to-go-back-to-my-day-job kind of way.
in conclusion…holy crap. i love being a mom.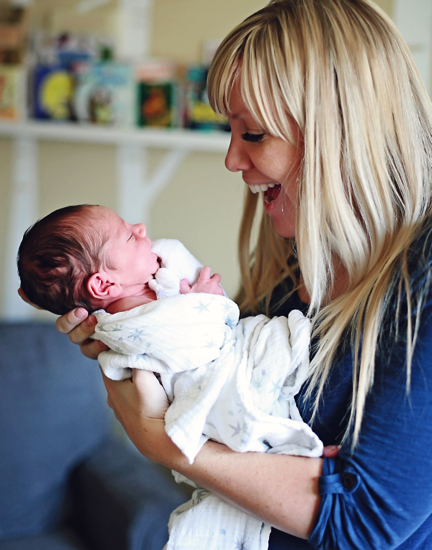 and i will try to come back again soon to tell you more about my adventures. you know, in that 6% of my time that i am not staring at my baby. he's got me wrapped around his teeny, tiny finger. and i couldn't be happier.
xo. janetha g.