i was super happy to hear that you guys are excited about me rambling about my experiences as a first time mom. i love that you agree that none of us have it all together, and we can learn from each other and what works for us individually.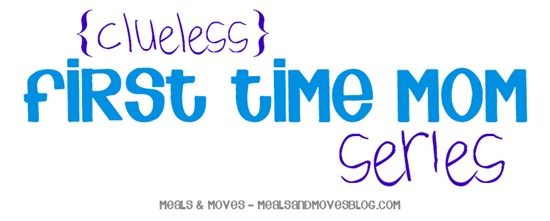 today i want to talk about my hospital bag.. which, for some reason, i did way too much research about before packing. seriously you would think i was packing for an expedition in the wilderness for eighty days the way i was doing research regarding what to take with me.
but, in the end, i consulted my BFF who just had a baby and based my packing list off what she actually used. i tried to trim it down, because.. well.. i live 20 minutes from the hospital. it's not like i am traveling two hours when i go into labor and i won't have family or friends available to access my things at my house (or the nearest target) so if i forget something, no big deal.
i thought it would be fun to tell you what i ended up putting in my bag and then, after i come home and blogging seems like something i can actually do (who knows how long that'll be.. still not sure what to expect once the little dude gets here) then i will compare what i took to what i used, and what i wish i'd taken.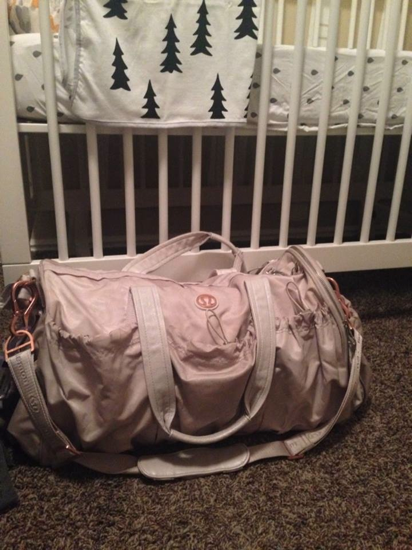 first of all, can i just tell you about how traumatic it was for me to buy a couple items that i'll need when i get home from the hospital?
a few of my inside sources told me i would need brief underwear aka granny panties (but i hate that term…) and it has been over a decade since i bought anything except a thong. sorry if that's tmi, whatever. so there i stood, in the target underwear section, absolutely dumbfounded and wondering what exactly to buy. it's not like you just know these things. plus, those bad boys come in sizes with numbers.. like 3, 5, 7, 9.. what ever happened to small, medium, and large? after spending entirely too much time staring (i know it was too much time because my contacts began to dry out and gloss over), i picked a few pair and called it good. i committed. i hope they fit.
item number two was a pack of maxi pads. i do not recall EVERY buying maxi pads in my life. like.. ever. i used them in my early teen years, but that was back when momma b did all the feminine hygiene product shopping! when mands told me i would need the biggest, baddest pads on the block, i told her she would have to go to target with me. she has four kids. she knows. i made her pick a pack for me.. i am confident they are the right ones. i should have made her pick my underwear, too.
pregnancy is so glamorous.
anyway.. the hospital bag. remember, i am clueless, so my list below is in no way expert advice. it's just what i put in my bag and i'm hoping it's all i want and need when D-day arrives! (i just wish i knew when that would beeeee!)
i am linking a few things so you can see the exact items i packed.
clothing.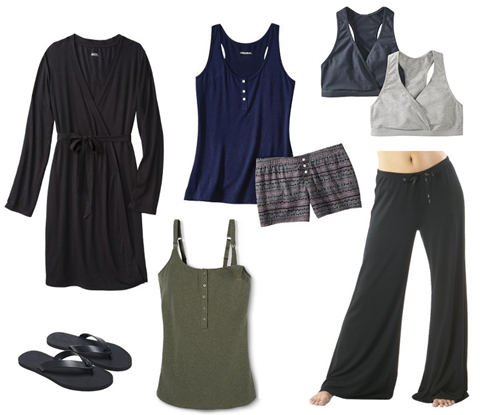 i am pretty indecisive when it comes to what i want to wear, so i decided to bring pants, shorts, and a nightgown so i have options. yeah, i am kinda weird.. but none of it takes up too much space, so i would rather just have one of each. aaaand you will see most of it is from target, because, well.. target.
a pair of big, baggy black PJ pants—i found these ones with amazing reviews and when i received them i can see why they got such awesome reviews! they are the softest, comfiest pants ever. i need to snag another pair.
PJ shorts (they came with a tank, too.. but i am not taking the tank with me since i already packed the nursing tanks.)
a V-neck nightgown – i got this two sizes too big so i could pull it down if i need to have boob access ;)
underwear (although i have been told i will probably just use the mesh underwear the hospital provides)
flip flops
socks
something to go home in—i chose my maternity yoga pants and a baggy V-neck T
toiletries, etc.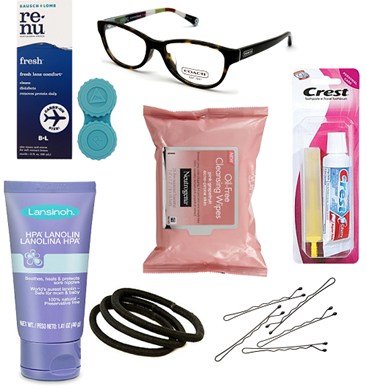 contact solution, extra pair of contacts, and eyeglasses
travel size shampoo, conditioner, face wash, and soap
disposable face wipes
toothbrush & toothpaste
face & body lotion
deodorant
tucks wipes
lanolin
bang buster headband
bobby pins
hair elastics
hair brush & comb
a little makeup—eyeliner, BB cream, and neutral shadow
baby gear.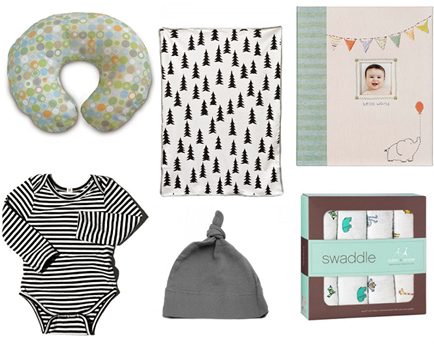 newborn size onesie
0-3 month size onesie
newborn beanie (our hospital only has baby blue and pink, i wanted gray)
baby book (for foot and hand prints)
other items.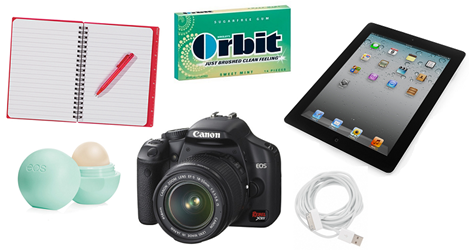 small notebook & pen
ipad & charger
iphone charger
camera & charger (make sure it has a camera card in there)
mints & gum
chapstick
for the dad.
yeah.. he's on his own. he can pack his own bag.
so.. that's what i have packed! i am sure it's too much and i am also sure i will learn something from my experience.. but that's what firsts are all about, right?
on the baby front.. i have been having contractions here and there and they hurt like a bitch! but they aren't the real deal. i actually had to go into the doctor yesterday and they hooked me up to the monitor to make sure everything is OK since i was in quite a bit of pain. everything is fine, i am definitely having contractions, but my doc says my body is just practicing.. umm.. awesome. i can't wait to feel the real thing. thank god for epidurals. i have my 39 week appointment tomorrow where i will get checked.. last time she checked i was dilated to a 1 and 70% effaced. i also had an ultrasound and he is 6 lbs 13 oz as of last friday.
we are definitely ready for him! last night my sweet sister in law showed me and marshall the ropes of the car seat to make sure we don't put it in backwards and upside down. the plan for the pups is in place (they will go to their daycare, unless it is the middle of the night.. in which case they will hang out at home and then my mom will take them to daycare.) i really can't think of anything else we need to do. so, yeah, come onnnn baby.
i hope this is the last post i post before i have this little man.. but i am still one week from my due date so i should just be patient. truth be told, it's super hard to wait! it wasn't until this past week that i started to get impatient. and now every day feels like ten. oh well, he will be here soon enough! can't wait!
Qs~
1. what is the last thing YOU packed a bag for?
2. been there, done that folks.. any items you'd add to this list?
xo. janetha g.