oh, hey! dropped off the blogging planet for about two weeks, but here i am! i miss you guys, so i thought i would pop in and just tell you what's going on in my life.
as it turns out, there is a whole lot of stuff to get done before i have this baby. i am only three short weeks from my due date (yikes!) which means i am technically "full term".. which also means i am basically a human jack-in-the-box and he could really come any time now. (double yikes!) i had my 37-week apt today and nothing is really happening. my doc has started checking my cervix, so that's… fun…. ha. (sarcasm.) actually i was measuring a little small the past couple of appointments, so i will be getting an ultrasound next week. you typically don't get any ultrasounds past the 20 week mark (unless there is a specific reason for them) but my doc would like to check the baby's weight to make sure everything is ok. she's not worried, his heartbeat sounds great and he has been moving CONSTANTLY (i love it!).. but it's always best to check to be safe. so, we will get to see him once more next friday before we meet him in the flesh!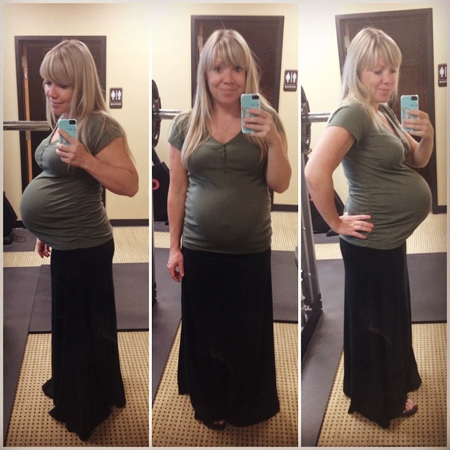 it's times like these where i really realize this blogging thing is just a fun thing on the side for me, and i am so, so grateful it is not my job or an obligation. i can't imagine feeling pressure to churn out mediocre blog posts whilst trying to get ALL THE THINGS done that i need to get done. because, let me tell you, it's a lot. i mean, i expected there to be a lot of things to do, but now that it's crunch time.. i'm like, "holy shit."
the hardest part of prepping for this baby has actually been getting ready to leave my day job for six weeks. (boo.. only six weeks.. in canada they get a year! and they don't have outrageous medical bills just to have a baby! but, then again, i am not allowed in canada.) i don't talk about my day job often, but it is very, very involved. there is a laundry list of tasks in my job description and each one of those tasks has, like, 8 steps. i feel bad for the ladies who have to handle my crap while i am gone. throwing quickbooks at someone who has never used the program in their life is a pretty harsh move.. sorry amanda! i love you for it! i have been working hard at typing a "maternity manual", as i call it, to help coach them through the month and a half i am missing from the office. i have never been gone for more than a week, and even when i miss a week, i am typically doing work stuff while on vacation.. so this is really rattling everyone's cage.
work stuff aside, i have also been finishing everything up at home to get ready for our little dude.
the nursery gets closer and closer to being done every day. i like to work on it because it's one fun part of being 8.5 months pregnant, ha. who knows if it will be done by the time he gets here.. but since he'll be a newborn, i really don't think he will care if the curtains are hung or if the book shelves are installed.
here are a few of the pieces i have coming/have recently purchased for the nursery..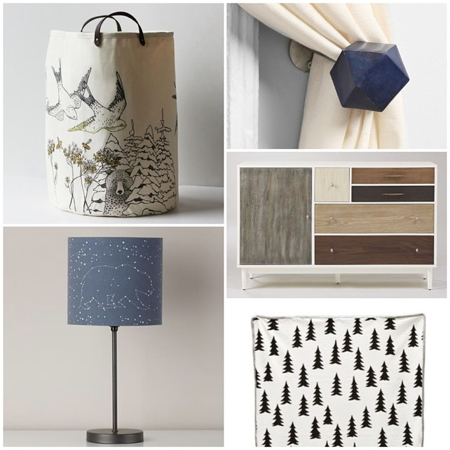 i am not very savvy when it comes to decorating, so hopefully all my mishmashed selections work well together and it looks good when all is said and done. i will be sure to show you guys the finished product once it's done! hoping to finish that up this weekend.
aaaand i got a diaper bag. i wasn't going to and was just going to use a bag i had laying around, but then this one caught my eye so i ordered it.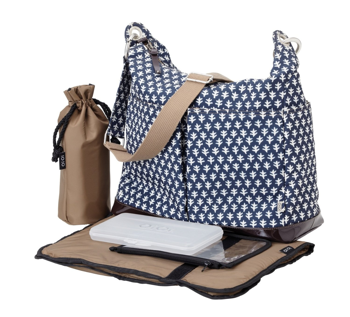 speaking of bags.. i should probably pack my hospital bag. yeah. it's getting real close.
we have also been working on making a big stash of freezer meals…… for randy.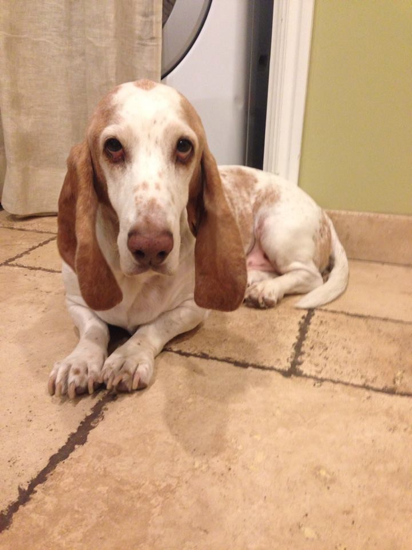 yeah, most couples who are about to have a baby make freezer meals for themselves. not us. we make freezer meals for our dog. we have been making randy's food each week ever since he was diagnosed with liver disease. it's quite the process, so we decided to get a few weeks of food in the freezer so when the baby comes, we will have some reserves and can take a few sundays off from making the food. we do it each sunday and it takes about two hours, so the freezer stash will definitely help us out! unfortunately we can only fit three weeks of food in the freezer, or we would do more. he gets a blood test next week and we will find out if this whole rigamarole is helping him get better. fingers crossed!
in other news, we have officially become addicted to house of cards on netflix.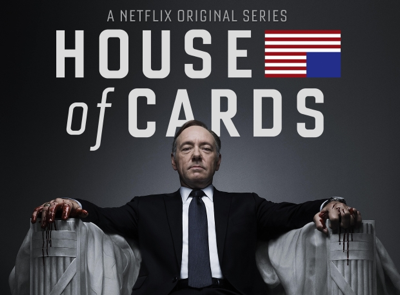 i definitely don't have a ton of extra time, but i have somehow convinced myself that staying up until midnight to watch episodes of the series is a good idea. then when morning comes i curse my decision.. but, of course, the cycle repeats itself every night. sigh. you can bet i will be up again until midnight tonight. i can't help myself!
on the meals front, marshall has been making dinner almost every night. he has really stepped up to the plate during my pregnancy and he helps out so much. i am super grateful for that, since some days i just have no gas left in the tank once i get home from the office.
some of our staples have been BLTs, burgers, steak, tacos, and pizza. of course i have zero photos of our meals.. didn't i used to be a food blogger? one thing i do have a photo of is the glorious CORN.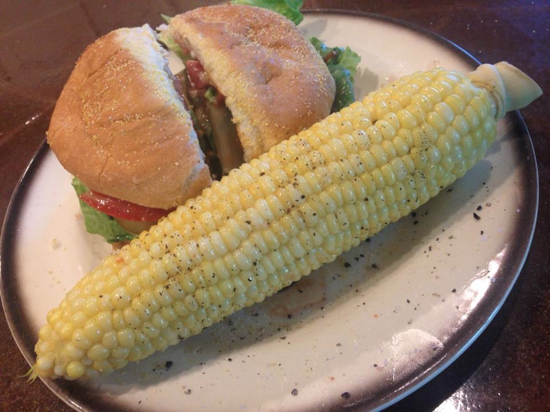 we have been eating corn from the local produce stand at least three times a week. I LOVE CORN SEASON! almost as much as i love peach season. seriously.. corn on the cob is like candy for me. so good.
we've also been eating lots of watermelon.. it's so good right now.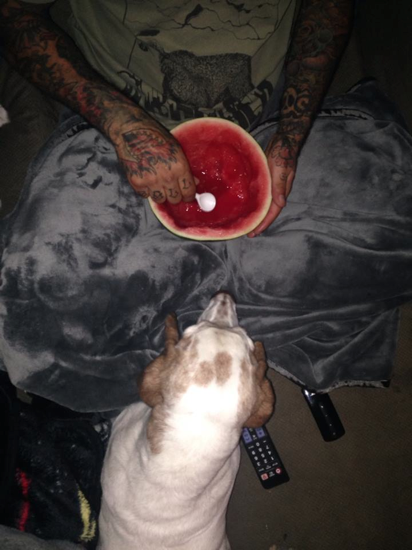 poor randy just wants us to share the watermelon.. because a gourmet human food diet isn't enough for the poor soul.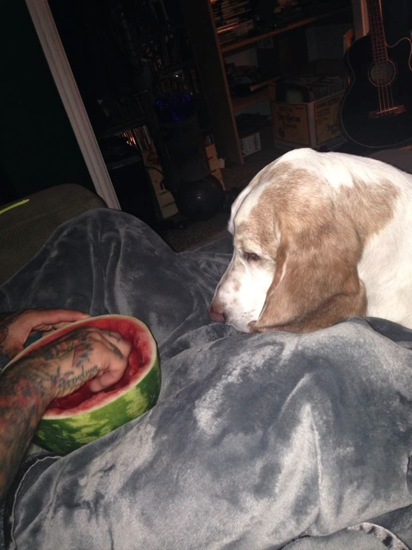 i have been craving nachos a lot lately, so we headed to porcupine pub & grill the other night and had some. the only thing missing was a beer to go with them.. but that will come soon enough!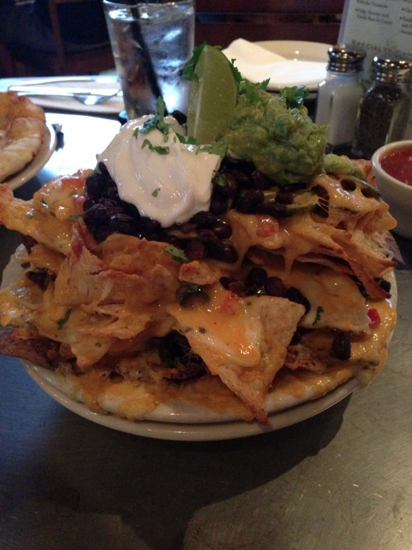 annnnd i've been making lots of banana splits at home. yum.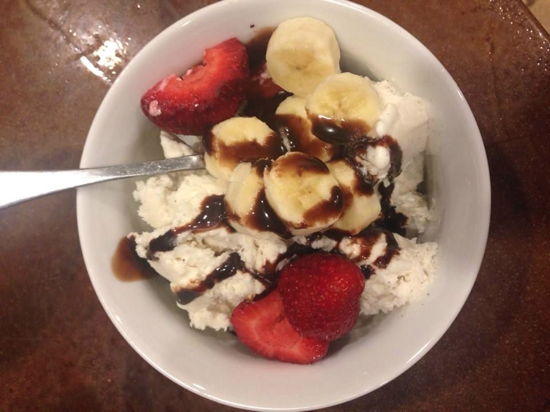 on the moves front, well, there still aren't any. as you may know, i quit working out in january and never looked back. some people think i am dumb for opting not to exercise throughout my pregnancy. i know there is a lot of pressure for gals to have a #fitpregnancy and all that jazz, but i am just not really concerned about it. i have a lot going on and working out is really not a priority for me. call me dumb if you want, but i really think i will be A-OK when i hop back on the workout wagon post-pregnancy. life goes on. it's only nine months out of my life.
well.. that's really all i have to report. we have our company lagoon day tomorrow (it's a local amusement park) so that will be nice and uneventful for me.. haha.. walking around in the sun and not going on any rides. but at least i won't be at the office, right? other than that, i will be spending the weekend finishing odds and ends around the house and hopefully catching up on that sleep i've missed out on thanks to my house of cards addiction ;) marshall has a bachelor party all day and night on saturday, so i am sure there will be plenty of time to kick back and relax.
i will surely not be back on the blog until next week at the earliest, let's be honest, so have a wonderful rest of your week and a fun weekend!
Qs~
1. what TV show are you into at the moment?
2. what food can you not get enough of right now?
xo. janetha g.