the great thing about utah is that the 24th of july is a holiday–pioneer day. which also means no work for me.. and when it lands on a thursday, like this year, i can typically get away with convincing my bosses to keep the office closed through the rest of the week. high five for a four-day weekend! okay, that's not the only great thing about utah.. but it's pretty high up there on the list of cool things unique to this state.
i used my day off to my advantage and actually stepped foot in my kitchen! ever since getting pregnant, my poor kitchen (and this poor blog) have been neglected. but not today.. i made full use of the kitchen! in fact, i whipped up not one, not two, but three new recipes today. marshall asked me, "are you sure you remember what you are doing?" ha–that should tell you how long it's been since i created a new recipe (let alone three.) what in the world has gotten into me?!
mustard. that's what. yep.. mustard.
i was recently contacted by french's mustard to share their #naturallyamazing campaign. french's mustard has an unwavering commitment to creating a 100%-natural product with no artificial ingredients. just stone ground mustard seeds and spices naturally give french's the taste we all know and love (and that famous yellow color!) french's wants to remind the world that their mustard is all-natural and always amazing. i couldn't agree more.. which is why i got overly excited when i received their initial email.
no, really. it's kind of ridiculous how excited i was. marshall, too. you see.. we are, what you would call, mustard enthusiasts. marshall especially. in fact, he's got a mustard bottle tattoo. i call him mustard man.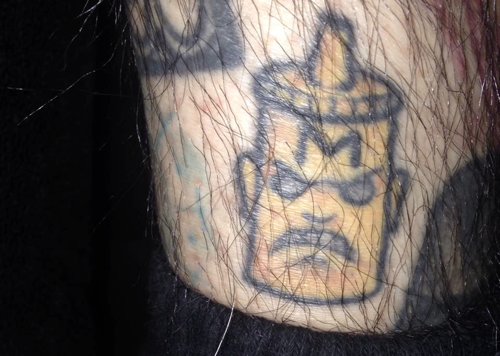 and while we love all mustard–honey, spicy, dijon, you name it– it's safe to say that we especially love french's yellow mustard. i'm not saying that because they hired me. i'm saying that because once we bought the whole foods brand of mustard and promptly discarded it after realizing the taste doesn't come close to that of french's. it was too vinegar-y. we made sure to pick up a bottle of french's the very next trip to the store so we didn't have to deal with mustard disappointment one more time. have i convinced you that we are crazy yet? yeah. mustard freaks over here.
anyway, i got their email and was excited. then i got the package and was even more excited.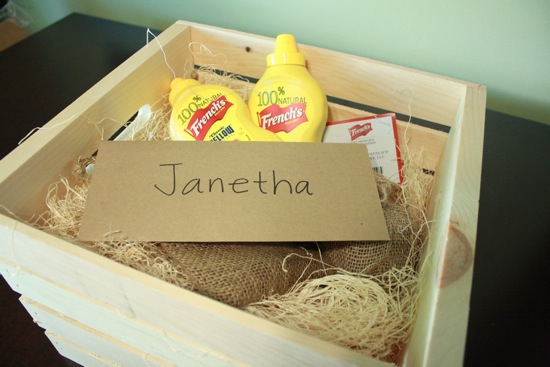 all the mustard things!
they even sent mustard seeds! i mean, i suck at gardening, but i will give it a go…
i told marshall i needed to create a recipe to showcase french's and drive home the fact that it is naturally amazing. wanna know what he said?
"make a mustard sandwich. bread. french's. bam. that's all you need because mustard is that good. it doesn't need anything else." 
while some folks might agree that a sandwich comprised solely of mustard and bread is downright fantastic.. i have a feeling that it doesn't quite count as a recipe. so i decided to get my creative juices flowing and whipped up this mustard-based meal–perfect for a sunny summer day!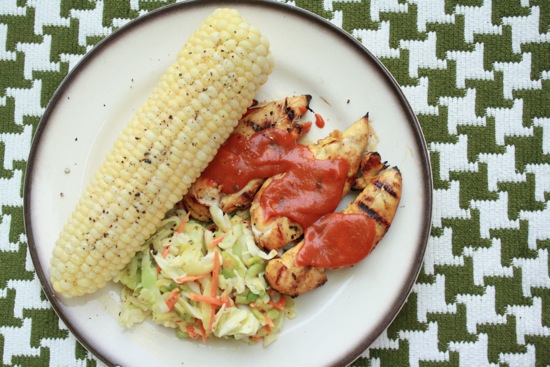 [pinit]
on the menu: mustard marinated grilled chicken tenders with mustard barbecue sauce, tart & tangy mustard & vinegar slaw, and corn. because every summer meal needs corn. it was the only component not containing mustard… but, come to think of it, i really don't think mustard on corn is a bad idea.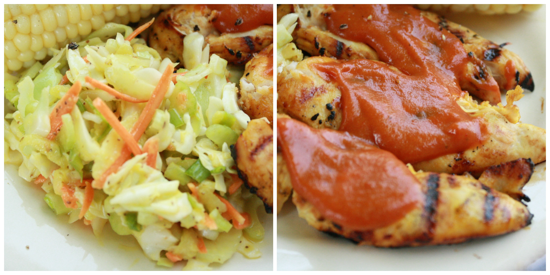 here are the recipes!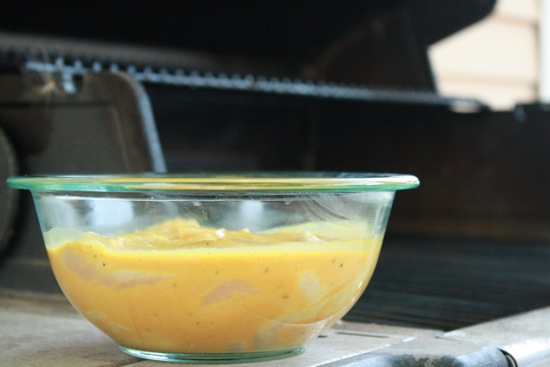 [pinit]
mustard marinade makes enough marinade for ~1-1.5 lbs of meat of choice; great for chicken, pork, or steak
ingredients:
1/4 cup french's yellow mustard
1/4 cup apple cider vinegar
2 TB olive oil
1 TB honey
1/2 tsp salt
1/2 tsp black pepper
a dash or twelve of hot sauce (depending on your taste buds)

directions:
whisk together all ingredients.
pour over raw chicken/pork/steak/whatever you are using.
seal in a tupperware container (or you could also use a gallon ziploc bag.
let marinate for at least 30 minutes (but the longer, the better!)
cook meat however you want.. we grilled our chicken!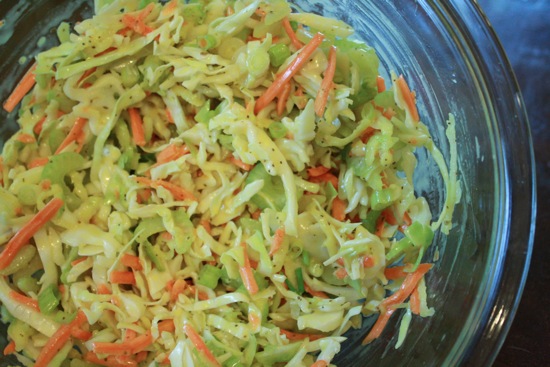 [pinit]
tart & tangy slaw serves 4-6
ingredients:
1/4 cup olive oil
1/4 cup apple cider vinegar
2 TB french's mustard
2 TB honey
1/2 tsp dried oregano
1/4 tsp celery seed
1/4 tsp salt
1/4 tsp black pepper
6 cups undressed, bagged coleslaw 
4 stalks of celery, diced thin
4 green onions, diced thin
1/2 a granny smith apple, grated

directions:
blend oil, vinegar, mustard, honey, and spices together using a blender, shaker bottle, or whisk.
place remaining ingredients in a bowl.
pour dressing over the slaw, toss well.
cover coleslaw and refrigerate for at least one hour.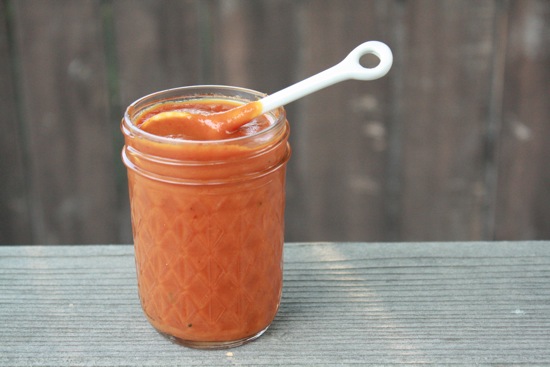 [pinit]
mustard BBQ sauce makes about 10 ounces
ingredients:
2/3 cups french's mustard
1/3 cup tomato paste
3-4 TB brown sugar
2-3 TB honey
2 TB white vinegar
2 TB water
1-2 TB hot sauce
salt & pepper, to taste

directions:
combine all ingredients in a small saucepan.
turn heat to medium, whisk until sauce begins to boil.
turn heat to low, cover, and simmer for 30 minutes.
add more sugar/honey/hot sauce/salt/pepper according to your taste preference.
transfer to a bowl to cool.
you can use immediately, but the flavors will get better with time. it is recommended to let sauce sit for 4 hours before using.
as you can see, i tried to use a lot of similar ingredients for all of the recipes. i hate preparing a meal that takes 532 ingredients. plus, using similar ingredients in each component really tied everything together.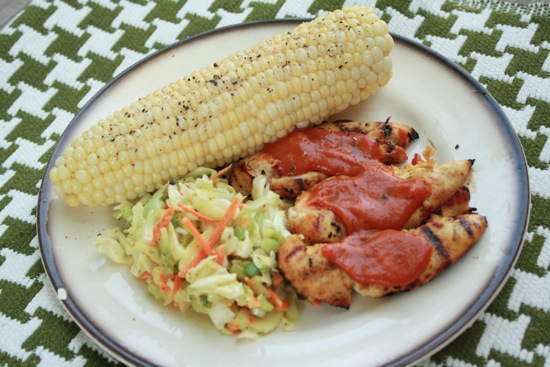 [pinit]
i have to say that my first big day back in the kitchen was quite the success! marshall definitely agrees. however, he better not get his hopes up… i am officially 5 weeks away from my due date (eep!) so i have a feeling there won't be a whole lot of culinary creations coming up.
but, hey, there's always mustard sandwiches.
Qs~
1. do you like mustard? 
2. how did you last eat mustard?
xo. janetha g.
this post was sponsored by french's mustard. product and compensation was provided. all enthusiastic opinions regarding the product are, quite clearly, my own. 

check out more great #naturallyamazing recipes on french's pinterest! their pinboards are definitely something to salivate over!