hey, guys! it's saturday afternoon and also happens to be the very last day of me being 30. it's definitely the most mellow birthday weekend i've had in the history of birthday weekends, but being pregnant will do that to ya.
actually, the weekend got off to a really rocky, unexpected start and i think i should share it with you guys so you can send your good vibes and/or prayers. i am cuddled up on the couch with my favorite long dog right now, because he is not doing too swell…
back story: about a month ago, we took pen & rand in for a dental cleaning. they do blood work before putting them under, and randy's liver levels were high.. so they didn't want to put him under. they gave him an antioxidant to help the levels and said to come back in a month. yesterday when marshall took him back, the blood work showed the levels had doubled and his liver was worse than ever. yikes. :( this required an ultrasound of the liver.. so marsh took him to the doggy hospital to have that done.
the ultrasound came back and showed 100% abnormality in his liver. one hundred percent. this is when i began to really freak out.. as you know, i love my dogs more than most humans. they suggested we take a laparoscopic biopsy of his liver, so i headed up to the hospital to give him some loves before he went in for the procedure.
we picked him up last night after about six hours of waiting (which sucked real bad) and he was quite groggy and whined the whole way home.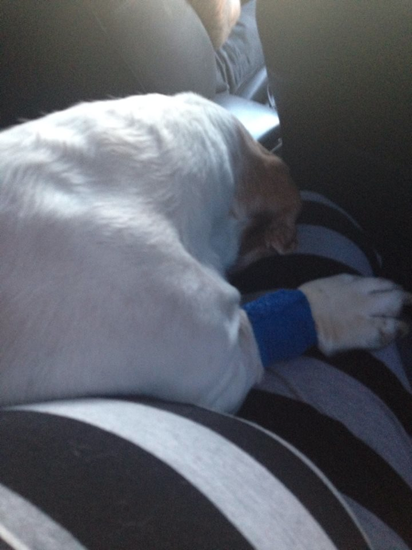 the doc said that his liver is in rough shape, but they won't know WHAT it is until they get the biopsy and culture results back, which will be early next week. it could be so many things, including autoimmune hepatitis or cirrhosis of the liver. they said cancer is at the bottom of the list, so that is encouraging. they also said that whatever it is, it's still in the early stages since he wasn't showing any symptoms and it was caught from the blood work. (moral of the story? get regular blood work for your pets!) i am trying not to freak out (or google too many things) until we know more info about what's wrong.
the poor guy was up quite of the bit of the night crying, and has been crying a lot today. i think he is in a great deal of pain from the incisions and biopsy. he is probably also super confused, i wish we could explain to him what is going on. they shaved his wrists for IVs and shaved his belly as well. he still looks pretty dang adorable, if you ask me.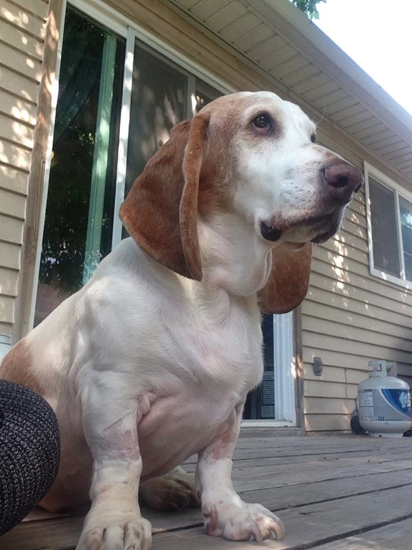 so.. yeah.. the weekend has gotten off to a sad start. i just want our guy to be OK, but we really can't do much until we know more. i did get him some honest kitchen dog food (which is easier on his insides) and an herbal liver cleanse at the natural pet store today. something that sucks is we have been feeding our dogs blue buffalo grain free holistic dog food, thinking it was best for them, and of course we have found articles about the food linked to liver problems. ugh… it is so hard to know what's best with so much conflicting information out there. hopefully that food had nothing to do with this issue (penny is fine) and it's just coincidental.. but we are switching their food anyway. liver problems are prominent among older male canines.. and with randy turning 9 this summer, that could be the reason for all this.
blah…. it sucks. at least he's got his BFF to cuddle with him, and we don't plan to go anywhere tonight so we can give him some extra love.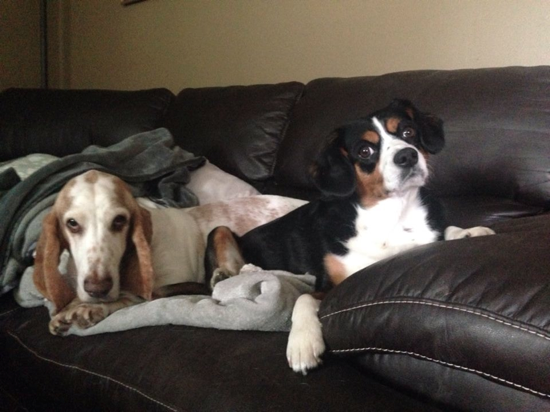 in other news.. i have celebrated my birthday week through food. i started the work week off with a glazed twist donut…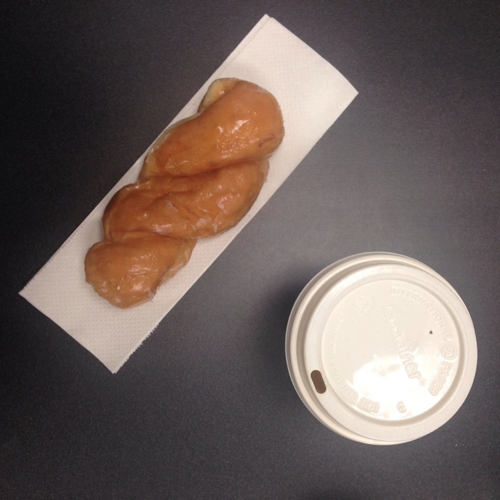 …and ended the work week with a chicken philly & fries from joni's deli.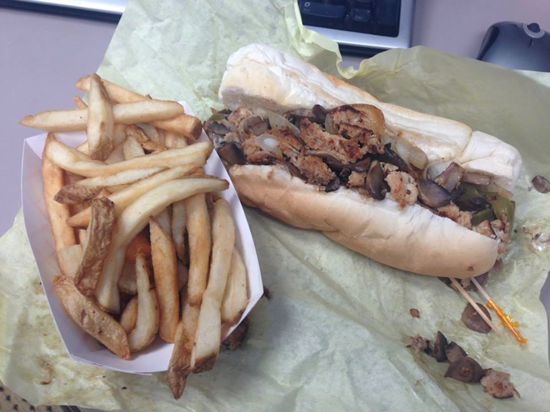 i also treated myself to a cut & color on thursday. my hairdresser, whitney at garden day spa, is the best! went a little lighter for summer.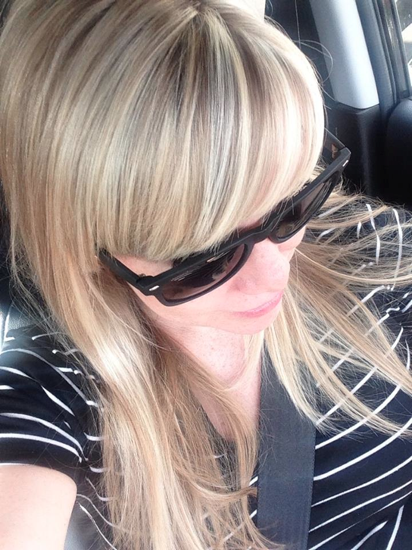 tomorrow is my actual birthday and i plan to go to brunch and hopefully hit up the pool. food and relaxation–perfect for a pregnant birthday! speaking of pregnancy.. things are all good with the little man. i will be 28 weeks on thursday, which means i have my gestational diabetes test. i already feel like i am pretty pregnant, so it's hard to wrap my head around 3 more months. since i have no torso, my belly just keeps going out, out, out!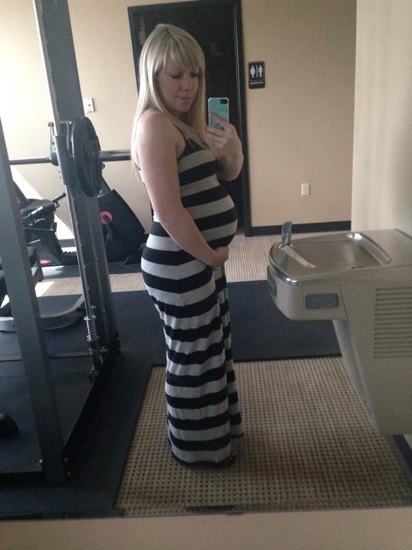 actually, today a lady said i was about to pop. when i told her i had 3 months left, she said i am in for a long, miserable summer. ha, thanks, lady!
i am enjoying things right now. i don't have too many negative symptoms (just heartburn and exhaustion.) he is kicking a whole bunch and it is fun to tap on my belly and have him kick back. he is definitely a wiggle worm and responds quite a bit to marshall's voice, which is adorable. i can actually see him kicking and punching my belly this very minute. kinda weird, but super cool.
oh! blend retreat is less than a week away! i am really excited to see everyone up in park city on friday. actually, my planning partners, lindsay and lauren, get here on wednesday so the fun will start then and won't end until sunday. i am really looking forward to it! we still have spots so if you are a utah local (or want to buy a plane ticket on a whim!) then you should definitely come. it's going to be super exciting.. we rented out the canyons gondola specifically for the event. i am stoked to get up there and enjoy the mountains.
well.. i can't really think of anything else to ramble about. thanks for reading and letting me get my worries off my chest. i'm going to go cuddle up with the hound dog and enjoy my night in with my little fam. please keep rand man in your thoughts!!
i hope you are all having a great weekend! check ya sooner or later. :)
xo. janetha g.