hey! long time no blog. things have been go, go, go around these parts. we have actually been super productive getting the house ready for the arrival of our little man. we have also been ticking off the big items on our list, like the crib, glider, dresser, and stroller. i feel slightly more prepared that i felt last week!
today was jam-packed. we spent a solid 30 minutes this morning brushing the dogs.. seriously, SO MUCH FUR! followed by a little basking.. it was such a beautiful day.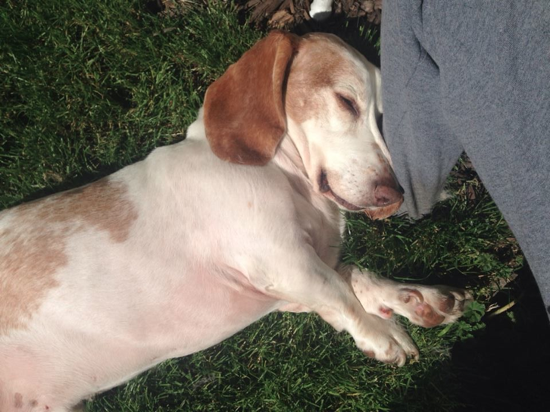 then we cleaned the house top to bottom for a few hours. then my parents came over and helped unload the baby's dresser from my car, since my pregnant self is pretty worthless in the lifting department. my dad and marshall tackled that project. luckily it came assembled and all that needed to be done was put the legs on.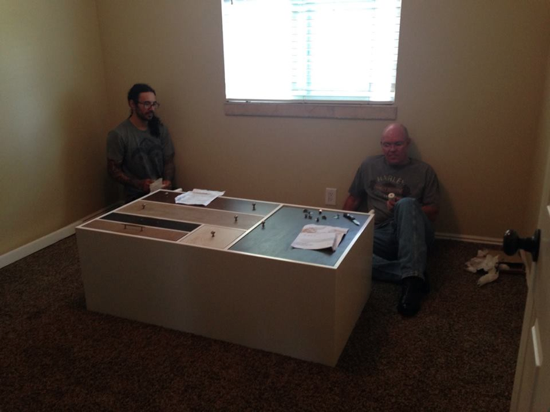 another around-the-house task was finally putting child locks on the pantry.. and NO, not because of our upcoming child. because of our dogs. we usually have to barricade the doors when we leave or they get their noses in there and eat all the food. bad dogs, haha. i am sure they are super upset we've ruined their fun.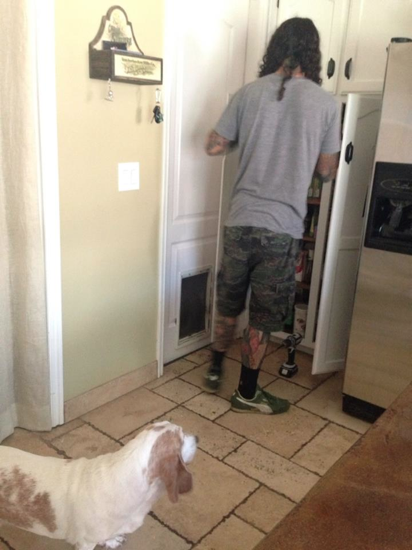 after that we headed to chipotle for lunch followed by more productivity. we went to lowes for some light switches and sockets, then to target for the baby registry! that was quite the task and i feel really lost when it comes to what we need. if anyone has any MUST HAVE baby item suggestions, i am all eyes. (for the record, we already have every item beginning with a B, i swear: bumbo, boppy, bassinet, bouncer, and bottle rack. ha!) 
once we got home from target i still had to go out and about to run a few more errands, but i left marshall at home because 1- the dogs were lonely and 2- i had already drug him all over town enough for the day. by the time i got done with my errands, i was beat. the last thing i wanted to do was fix a labor-intensive dinner.. but i wanted something delicious. i decided to throw together a  semi-homemade meal!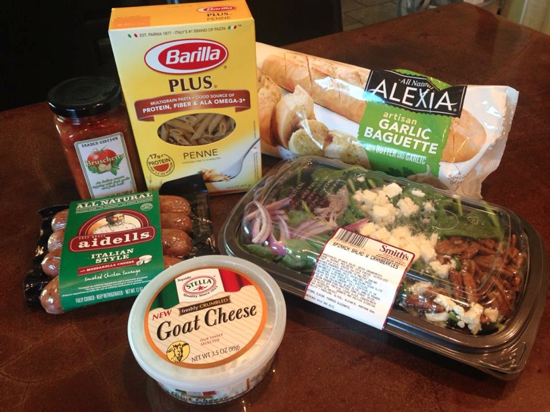 this was so simple. i just cooked 7 oz of pasta, sliced and sautéed the chicken sausage, and then tossed it all together with the jar of bruschetta and container of goat cheese. i baked the alexia garlic bread (our favorite!) and the salad was already made when i bought it… easiest meal ever! and it was dang delicious.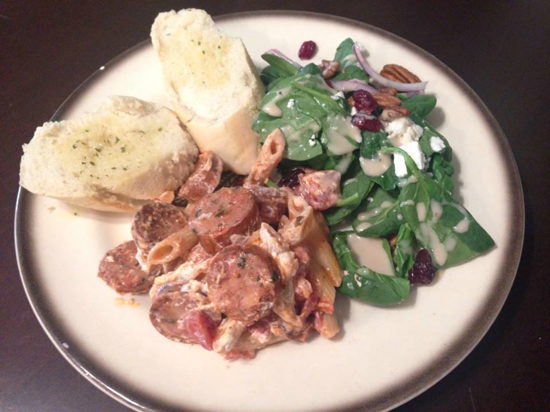 dessert was also semi-homemade. one of my huge pregnancy cravings is strawberries. i can't get enough of them! and may also happens to be national strawberry month.. and you know i love my food holidays. so this dessert i whipped up was the best of all worlds!
i have always had angel food cake as the cake part of strawberry shortcake. i know other people have some biscuit type of base, but in my world it's always been the angel food cake! since marshall and i are big fans of bread pudding, i thought it would be a fun twist to combine strawberry shortcake and bread pudding. turns out, it worked marvelously.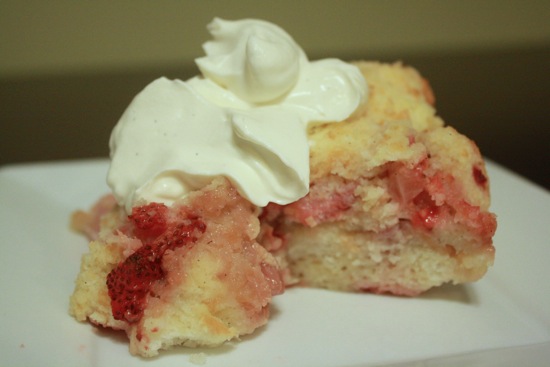 strawberry shortcake bread pudding
serves 10-12
ingredients:
one frozen sara lee angel food cake
4 eggs
1 1/2 cups milk
1/2 cup sugar
1 TB vanilla bean paste or extract
16 oz fresh strawberries, diced
whipping cream or pre-whipped cream
directions:
preheat oven to 350* F.
dice angel food cake into 3/4″ squares and place in large bowl.
beat eggs, milk, sugar, and vanilla together.
dice the strawberries into 1/2″ pieces.
pour egg mixture over angel food cake, stir gently.
fold in strawberries.
pour mixture into a greased 8 x 8 pan OR a dutch oven (which is what i used)–covered.
bake for 35-45 minutes, until firm and golden.
whip the cream (if whipping your own)–i add a little sugar and vanilla to my heavy whipping cream. 
once bread pudding has cooled a bit, slice into squares and serve with a dollop of whipped cream.
i loved the sara lee angel food cake–it was such a sweet cheat! my mom always bakes angel food cake when our fam has strawberry shortcake, but that takes a lot of time AND i don't have an angel food cake pan.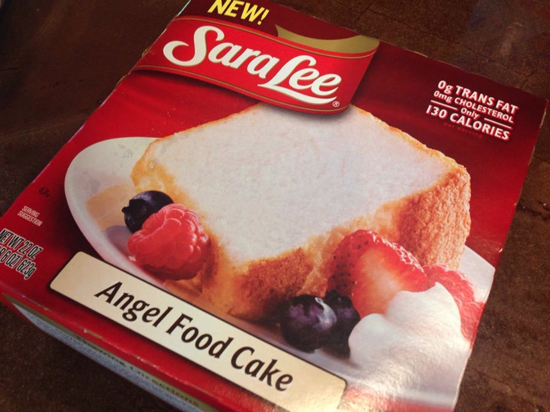 i think that it was also important that the cake was frozen when i diced it..angel food cake is typically so fluffy and hard to slice or dice, but since it was frozen, it made it really simple!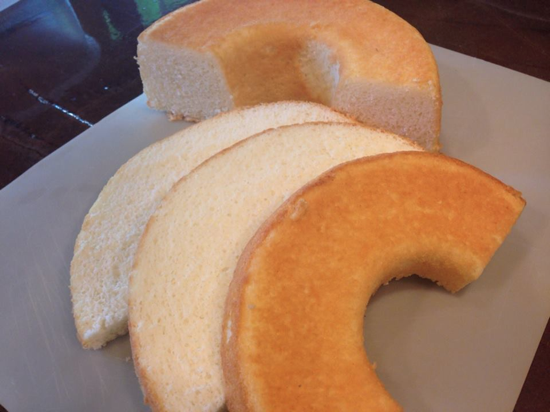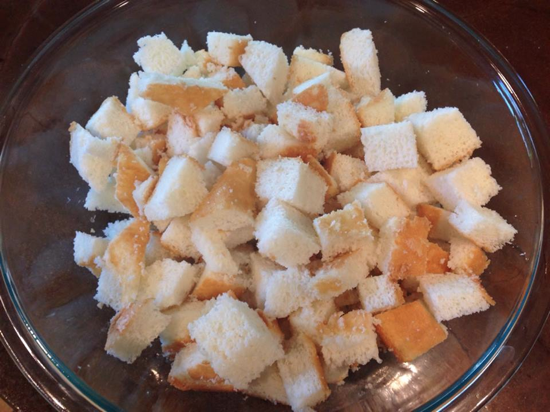 the one short cut i will never take is buying pre-whipped cream. there's no replacement for whipping it yourself!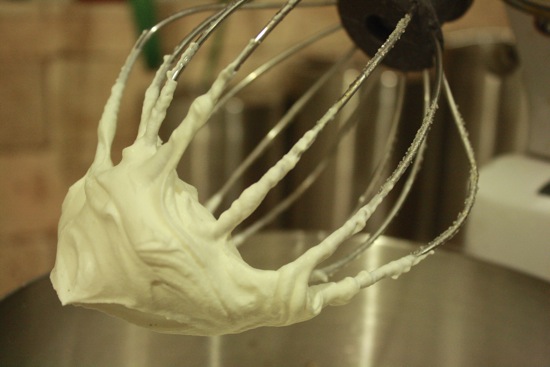 converting the angel food cake to a bread pudding was a great move–it really upped the comfort factor and decadence of this dessert.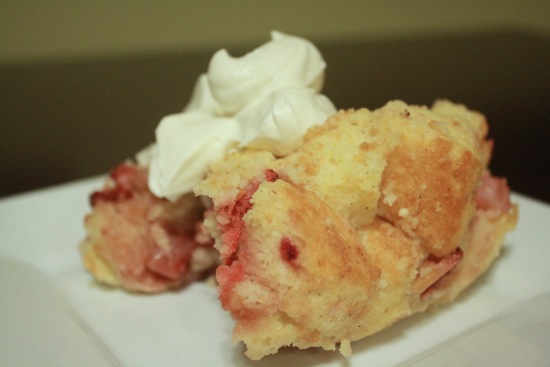 this dessert was so easy and i can't wait to make it again! it would be great for a crowd.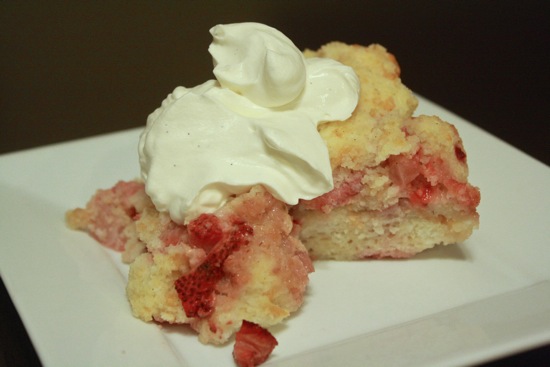 now we are finally taking a load off and watching back to back episodes of curb your enthusiasm. not gonna lie, i am super excited we have one more day to the weekend. today was waaaayyy too busy and i need a little R & R! 
i hope you guys are enjoying your memorial day weekend, whatever you may be up to. i will try to pop in again soon! 
Qs~
1. what do you use as your strawberry shortcake base–angel food cake or biscuits? or something else?
2. weekend highlight(s)?
xo. janetha g.
#spon: I'm required to disclose a relationship between our site and Sara Lee. This could include the Sara Lee providing us w/content, product, access or other forms of payment.