i haven't filled out one of these pregnancy update forms ever.. and it's friday and i like answering questions.. so, why not?
i started week 24 today, which means i am just in the tail end of my second trimester. some people say, "wow! it's flying by!" but, i promise, it's not.. haha. try living it. i feel like i have been pregnant for 182 months. but, i am sure that when i look back, it'll seem like the blink of an eye.
luckily i have few complaints during my second trimester. my only downfalls are heartburn and exhaustion, but other than that i feel pretty normal.
like i said, i started week 24 today, which means the little dude inside of me is the size of a large mango—according to THIS article. hmmm, okay.
you know what i hate? when they compare fetus sizes to produce. do you know how many different sizes a spaghetti squash, a sweet potato, or a carrot can be?! it's just not a very good comparison. when i started out and he was a poppyseed (which is why we call him poppy) that was a basic size. but produce can vary so much!
i mean, the article i linked above said that this week he is a mango but last week he was a spaghetti squash. IN WHAT WORLD ARE MANGOS BIGGER?
instead, i like to refer to this handy comparison chart!
see? makes so much more sense. i am packing a banana split.
this one is fun, too, but sometimes i feel like a baseball mitt can be bigger than a lunchbox, no?
anyway, i am not feeling my little baseball mitt move around too much because of my anterior placenta.. which is a bummer.. but every now and then i will feel a kick or a punch. hopefully, as he gets bigger, i will feel him squirming around some more.
ok! survey time!
Baby's Size: see above.
Baby's Sex: it's a boy!
Weight Gained: i don't weigh in ever, just on the day of my doc appointments, but i did for this survey and i have gained 18 lbs. no clue if that's good or bad. i think i am in good shape?
it's funny.. i have the timehop app and a year ago at this time, i was taking weekly progress shots for my trainer at the time. i opened the photo on the left up this morning.. haha.. quite a change compared to the photo on the right, which was taken this past sunday.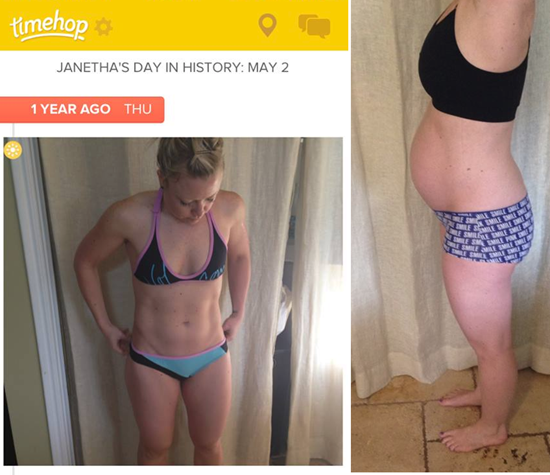 (side note, my arm is just up in the air in the preg pic. i didn't amputate it.)
Maternity Clothes: i have had to resort to maternity tops, mainly because my boobs are giant. i have had to purchase new bras, too. i stick to leggings and maxi skirts on the bottom half, which is nice because they don't have to be maternity-specific. i did buy a couple pair of maternity jeans and hate them. i hate jeans in general, so that's not a big shocker.
Workouts: yeah.. no. how these pregnant women keep up regular workouts is beyond me. before pregnant, i went to GPP 5-6 days a week. in my first trimester, i went there not more than twice. in the past 10 weeks, i have hit the elliptical four times and gone to GPP one time. screw working out!
yeah, i probably have the wrong attitude toward exercising while pregnant, but growing a human is hard work. i am always so tired after work, and laying around always trumps going to the gym.
however, i did attend a prenatal water aerobics class with jessica on wednesday. OMG, it was so fun! and so nice to just move around in the water freely. we are going to go every wednesday for 8 weeks (that's how many classes you sign up for.) it's fun that my best friend is pregnant with me and we can force each other to move just a little bit, ha. i want momma b to come with sometime and snap photos for posterity sake.
Symptoms: i mentioned above, but the only symptoms right now are exhaustion and occasional heartburn. the heartburn has actually subsided quite a bit, it used to be 24/7. but, seriously, the exhaustion is over the top. i NEVER feel normal. wait, that's a lie, when i wake up in the morning, i feel normal for about 3 minutes. then i remember i am pregnant and i gradually get more and more tired as the day goes on. oh! also, my shins are still really itchy. so odd.
Symptoms I'm Not Having: um.. everything else? that's a weird question. my BFF has had leg cramping, so i am fortunate to not have had that yet. i am no longer nauseated and haven't been for quite awhile.
Food Aversions: none! i used to hate sweets and coffee, but i am back on both now. in fact, i had honey nut cheerios and coffee for breakfast today.
i definitely don't eat vegetables.. ever.. it's not like i have an aversion to them, it's the fact that i am too busy eating all the carbs…
Food Cravings: this week it has been root beer floats. this morning i had a strong craving for yogurt in a half a cantaloupe sprinkled with granola and drizzled with honey. it hit me out of nowhere. i can't wait for the farmers market to start up so i can get delicious melon. mmmm.
other cravings that are pretty consistent are buttered toast, tuna fish sandwiches, and thai food. and avocados are basically my new favorite food. i can't get enough of them.
Stretch Marks: not yet.
Belly Button: it's been out for over a month now. i guess since i have no torso, that baby has nowhere to go but OUT. it's kind of awkward that SO many people mention it to me. you can see it protruding through my shirt, and more than five people have asked me why it's already out, and shouldn't it not be popping out yet? well, i really have no control, so.. um.. yeah.
Rings: i just wear my wedding ring, and it's still on, but it is definitely tighter than it usually is.
Sleep: i am a fantastic sleeper! i should get a gold star. i know many pregnant women have restless nights, so i consider it a blessing that i have no problems falling or staying asleep. i am sure that'll change once i'm further along.
Mood: i think i am pretty mild-mannered and happy! i see a lot of ragey pregnant ladies on the message boards i read and it makes me laugh. i am definitely more irritable, but nothing crazy. (lucky for marshall!)
What I'm Missing: it's weird to never have energy. i miss feeling "normal" at the end of the day. but, at the same time, i am real good at embracing the laziness! i know it is temporary and i'll be back to myself in no time.
i also REALLY miss runny eggs. that's the only real food restriction that bugs me. i never ate a ton of sushi and i am eating lunch meat now because my doc said it's no big deal. booze isn't a big deal because i wasn't a huge drinker.. but when my BFF invites me to vegas and i have to decline because i'll be 6 months pregnant, that makes me sad. so i guess i am missing out on stuff like that.
Baby Items Purchased: oh.. man.. i have this horrible addiction to following baby clothing shops on instagram. i have purchased so many cute, gently used items! i follow roughly fifty shops. yeeeeah.. it's a problem haha. but i figure i am getting super cute (almost new!) stuff for way cheap, and giving old clothes a new home. that's a win-win. some of my latest IG purchases…
i also ordered a bunch of stuff from aly paige because she's having a 35% off sale this week! i got some pants, bibs, sleep sacks, and swaddle sacks. she can make any of her items in any of the fabrics, so it's hard to showcase what i picked.. but i will show you when it arrives!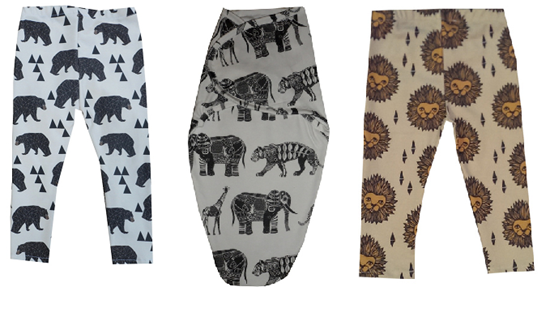 as far as other purchases go, marshall and i did go to babinsky's last weekend to pick out a crib and glider. we also found the stroller we want. we didn't purchase any of it yet, but at least we know what we will be getting. while we were there, we picked out a super cute, incredibly soft romper for the baby. we hadn't made any purchases for him together yet, so it was fun to pick something out.
lucky for me, my sister in law is handing down quite a bit of baby gear since my little niece will be just a year old when i have my baby. she is a life saver and i am so grateful to have her hand me downs! the other day she gave us a bouncer, bassinet, boppy, bumbo, and bath. lol.. all the Bs! marshall's eyes just got big, as he didn't know ALL that baby gear was required.
Next Doctor Appointment: monday! it'll be my 24 week appointment. these appointments are pretty speedy, luckily, since they are going to become quite frequent. they just measure my belly and weight and make sure i am feeling good. the one after monday will be my 28 week one, where i get a glucose test to check for gestational diabetes. after that the appointments will skip to every other week and then eventually weekly. aye aye aye.. lots of doctor time.
Looking Forward To:
*summer! my uniform these days is a maxi skirt and flip flops, and this unseasonable weather here in utah lately has put a cramp in my style. i have resorted to using the space heater at work.. because i really refuse to go buy cold-weather appropriate maternity clothes. nope. not doing it.
*my baby shower. i will be honest, showers kinda make me feel awkward because i don't like being the center of attention.. BUT i am excited for my shower because then i can finish up getting what i need for the little man. right now i have put myself on a pause because i have no idea what i will or won't need after my shower. it's at the end of june and i am definitely excited to see what my BFF mandy has in store—she's the party planner extraordinaire.
Thoughts On Dad: oh, man, marshall is gonna be the best dad ever. he is so helpful and considerate of the fact that i am a lazy pregnant lady. he beams and has this spark in his eye whenever talking about our little dude. he will be switching to part time eventually, so he will be home with our son quite a bit, and he is SO excited to be able to spend the time with him. i already love seeing him interact with my nieces and nephews.. i know he will be the greatest.
he has been great at helping me get things ready for the nursery. as you may know, we both work at a window company. sometimes he replaces old wood windows and saves the frames. the other day he cleaned one up so we can hang it in the nursery—we will put photos in each of the frames.
Other Random Stuff:
*we start our childbirth class on saturday. we have opted to do two four-hour long sessions, so it'll be this saturday and next. i am anxious to learn a thing or two about childbirth and newborns.. as i am literally clueless.
*my goal was to have my office cleaned out and ready to turn into a nursery by the end of april. whoops.. not quite there yet. but i do have the majority of it packed up and should be ready to move the furniture out this weekend. it'll be nice to get that show on the road.
*i am kind of bad at being pregnant! i always forget how far along i am and i absolutely suck at taking weekly photos of myself  (i refuse to call it my "bump"—i hate that.) i also hate pregnant lingo like preggo, bumpdate, etc.. it drives me up the wall. i am ok saying "preg" via text and typing because it's shorter.. but HATE "preggo". i am an outcast pregnant lady, haha.
*i am not registering for awhile. people keep asking about that, but i figure why should i register until it's closer to my shower? lots of times things are no longer available once the shower rolls around, and registries need updating, so i am just slacking on the task so i only have to worry about it once. i am lazy. however, i did find this super cool website called baby list. it's like pinterest and instead of registering at one store like target or babies'r'us, you can register for stuff from ANYWHERE. you find the items online and pin them to your baby list. it's rad because i like a lot of things on etsy and other stores/websites that don't have baby registries. you can also pin your standard registry to baby list, in case you want people to be able to go to target or babies'r'us to snag something off your list rather than picking something off the actual baby list. pretty cool idea! just wanted you mamas to be to know about it!
ok! that was a long update. how do pregnant bloggers keep up on these weekly? i will try to do another one in a month or so. and, of course, i will be popping in sometime throughout the week to say hi.
have a wonderful weekend! yay!
xo. janetha g.