hi! how was your wednesday? mine was soooo sleepy because we went to the chvrches show last night and concerts+pregnancy+early morning wake up calls for work DO NOT MIX. but it was worth it, the show was super good!
oh, man, i MUST be pregnant. i just titled a blog post "nursery ideas"… yikes. who knew this day would come?!
but, as you know, i always just blog about what ever is on my mind and.. yep.. THAT'S what i am thinking about! probably over-thinking it, but i guess that's the fun part? getting a whole bunch of ideas and then finally nailing it down.
so, initially i wasn't even going to go to the trouble of a nursery because, as i had mentioned, we were planning to move before my due date. well, long story short, it makes more sense for us to wait a year to move because we can't claim marshall's income until he's owned his LLC for two years. which happens to be in august. which happens to be the month i am due. haha—NOPE, won't be moving then. so we are going to stay put for awhile, use the extra money to pay down our car loans, save a little more, and deal with our little house. it's not a bad house, we love it, we just hate the area. we can grin and bear it for awhile!
so that means either i was giving up my office slash clothes room (haha—i wish i was kidding..a closet and two dressers in there with all my clothes) or marshall was giving up his TV room slash CD room slash hang out room. well, i am in that room of his just as much as he is (that's where we watch netflix and hbo go and whatnot) and i am rarely in my office—it's more of a room to store all my stuff—so naturally i am the one to give up my room.
it will take awhile to get all my furniture and STUFF out of there and stored away.. but luckily we have found a place to store everything until we do move. my goal is to get it all out of there by the end of the month so we can get going on the nursery and have it ready by june. seems like a legit timeline.
marshall and i aren't really into baby-looking stuff.. like feminine decor but just blue–or baby blue decor in general.. and, please, can chevron be a thing of the past already? these two photos are no and no in our book.
what we do love are bears! seriously we call each other bear, we call randy "brother bear", we call penny "baby bear".. bears are our jam, haha. so i ordered this bear print. it's the only thing i have purchased so far for the nursery.. i know, really getting a head start, folks.
we haven't selected any furniture, and this was something i have been agonizing over for quite awhile. initially i wanted a black crib because we already have a black book shelf to keep in the nursery. i was then going to get a white dresser/changing table combo with black knobs to tie it all together.
then i found it really hard to find a good crib in black that matched the style i am after—which is all level on all four sides rather than the popular high back (see the photo of the black crib above in the chevron monstrosity.) i did find one or two black cribs in this style, but they didn't have awesome reviews, and i am not going to buy a crappy crib just because i like the way it looks. SO, then i looked into white cribs. my sister pointed out that once the baby has teeth, there will more than likely be bite marks on the crib (definitely didn't cross my mind lol) and a white one would not show them as much as a black. my SIL mentioned white is better for dusting purposes. glad i have these veteran moms in my corner!
so i have found a couple white cribs i really like. there's this pottery barn one, but who is paying a grand for a crib?
then there is this much more affordable babyletto one. it's practically identical.
i will most likely go with it and then find a dresser/changer combo like this one. except i would prefer to find one with knobs.. gotta keep looking.
the only other furniture we will need is a chair/glider, which i will probably get in gray.
i initially wasn't planning on any painting, but my super crafty sister just painted some awesome stripes in her living room and i am floored at how great it looks. check it out: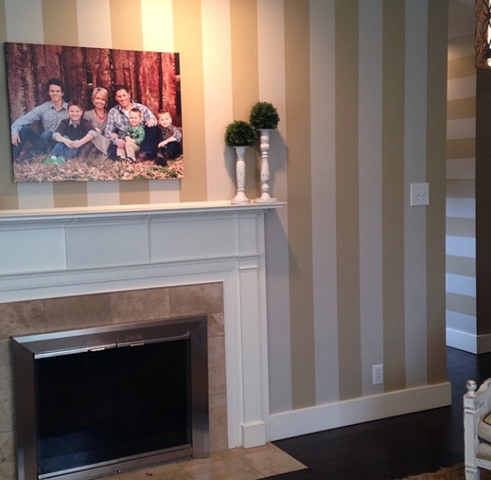 she has graciously offered to help paint a wall in stripes, so i really couldn't decline that offer! so i will likely paint one wall with horizontal white stripes over the existing beige paint.  it will definitely lighten up the room—which is tiny, so it can't hurt.
as far as other decor, we will probably have a color scheme of black, white, cream, gray, dusty blue, and forest green.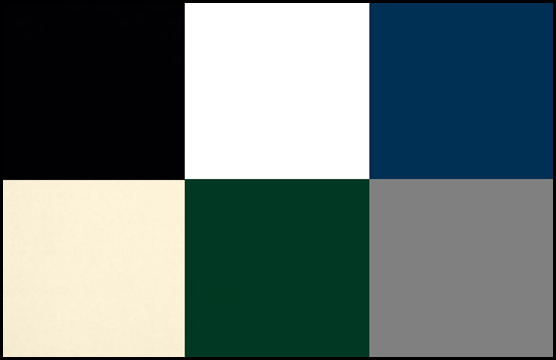 i want to stick to things like bears, trees, (realistic) owls (i don't love cartoon owls!) and other birds and things like that. marshall and i love twin peaks (a show from the 90s) and plan to tie in some twin peaks decor somehow.
i also think this is pretty dang adorable…
i love the mishmash of artwork hung on the walls like these examples. i will DEFINITELY be printing some photos of penny and randy to hang on the walls. obviously.
i really love the bedding from the etsy shop iviebaby. some of the items that caught my eye…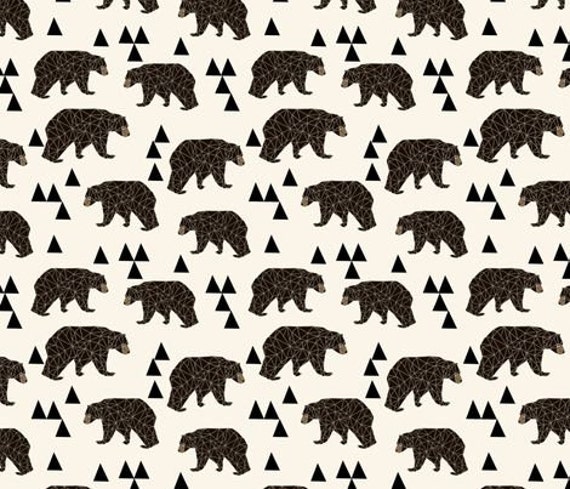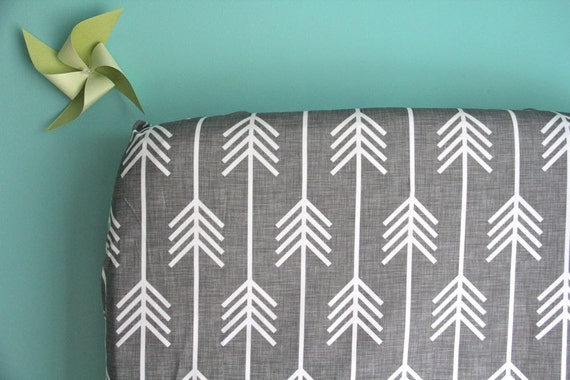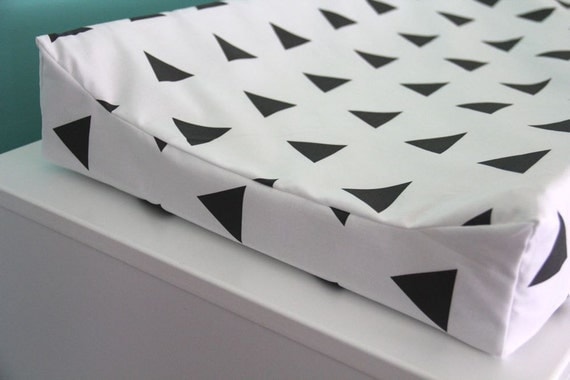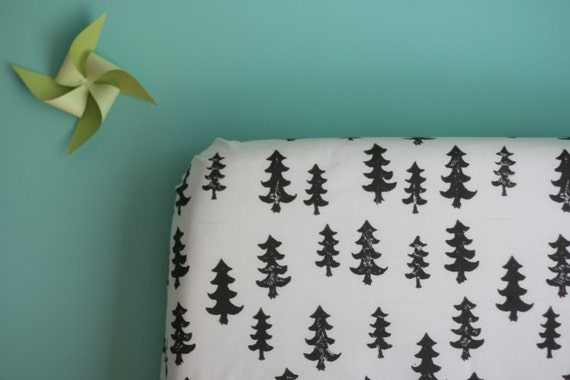 and i absolutely LOVE this blanket.. but it is not in stock right now.. grrrr.
so.. that's what i have going through my head right now. if only i could hire an interior designer to just do it all for me… i am so not the type that is good at this sort of thing! but i am sure we will end up making his space super cute.
mmmk.. i am off to eat (again…) momma b is the sweetest ever and made us scones! we are eating them alongside beef stew. it's the perfect dinner, since it's chilly here in utah this week.
hope you are well! check ya later!
Qs~
1. do you like home decorating/design? are you good at it? (liking it and being good at it are definitely different things, haha, as i like it but suck at it!)
2. what was the last piece of ANYTHING you purchased for the interior of your home?
xo. janetha g.