woohoo! happy friday! it's been quite the week here in my life, so i am excited for a couple of days off. plus, it's easter, weekend, which is always a good time. and i have a shopping date with momma b for this little baby in my belly, so it should be a great weekend.
i thought, since it's friday, a little random rambling Q&A is in order! these 20 Qs were stolen from this girl.
1. What brings you the greatest joy?
knowing that i am growing a human. i cannot wait to meet that little dude. and, although they are few and very far between, the kicks i feel from him make me suuuper happy.
2. What are your vices? 
my phone. i spend way too much time on it. 
3. What is on your nightstand?
oh, a whole bunch of stuff.. i have this one from ikea that holds way too many things and, of course, it's jam packed. i keep my makeup in there and jewelry and other odds & ends. also there is always a glass of water because i am constantly parched these days.
4. Do you have a secret talent? 
i can blow bubbles off my tongue! i can also rattle of the alphabet backwards.
5. What is your greatest indulgence?
these days.. i guess dr. pepper. i gave up soda years ago, but lately i want it so often.
6. What should every woman try at least once in her life? 
traveling! by herself! i traveled around europe with and without friends when i was 19 and i wouldn't trade those experiences for anything in the world.

with my aussie mates at a pub in london
7. What makes you laugh? 
my dogs. every day.
8. What is one thing people would be surprised to know about you?
well it's old news, but when people hear it for the first time i suppose they are surprised. i used to be a real big drug user and have been arrested many-a-time. i also was deported from canada.
9. What is on your bucket list?
i want to go to greece!
10. What is on your feet right now? 
flip flops (see photo above.) i am so glad it is warmer now, because flip flops and maxi skirts make this pregnancy thing a lot easier.
11. How did you make your first dollar? 
oh! this is fun. i have always been obsessed with cooking, and when i was a kid i had a restaurant called "janetha's place". i would draw menus and write items with elaborate descriptions and pass them out to family and the neighbors. that is definitely how i made my first buck. either that, or pullin' weeds..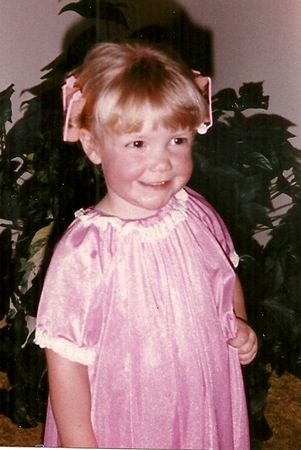 a budding chef right there.. sponge curlers and all
12. What superstition do you believe in?
i always make a wish when the clock is 11:11 or 5:55 etc.. and i have to close my eyes to make the wish, and when i open them the clock still has to read the same number, or the wish won't come true. i never claimed to be normal.
13. What items in your closet do you wear the most?
sad.. i have been boxing up ALL my clothes lately. none of them fit anymore and i won't be wearing any of the summer stuff until 2015. since we might be moving before then, i figure i may as well box it up!
i have been living in maxi skirts/dresses but none of my tshirts are fitting my boobs and belly anymore, so it's time to spend money on bigger clothes. necessary evil. sigh.
14. What is the best gift you've ever received? 
i am so not a material gift type of person. i like experiences much more than gifts. so i will say that my parents funding my semester abroad when i was 19 would have to be the greatest gift i have received. like i said in #6—wouldn't trade it for anything in the world!
just another school day in london with my BFF mylisa, going to castles & museums
15. What is on your liquor shelf? 
nothing at the moment! seeing as how i haven't drank since december. but we do have some liquor in the freezer.. i think there is some lemonade vodka and probably some fireball.
16. What is on your kitchen counter?
well, we have quite a bit of counter space. in one corner is the keurig..
in another is the spice rack, toaster, and vitamix..
and on the bar area there is a basket full of snacks. it's a fruit basket but the only fruit is the bananas and the basket part has all sorts of goodies like belvita biscuits,  krave jerky, kind bars, pistachios, and other things.
17. What would you never leave home without?
my phone.. obviously (see #2.)
18. What movie has the greatest ending?
empire records has a pretty swell ending.
19. Who is on the guest list for your ideal dinner party? 
there are too many people to name. but we would have it in greece.
20. What is one thing you wish you had known when you were younger?
only one thing? haha. that it's more fun to follow the rules. i spent a lot of my younger years in trouble and, while i did learn a lot of (hard) lessons, it would have been nice to just bypass all that crap and be where i am today. oh well, that's just part of growing up!
well, that was fun-ish. knock yourself out, answer any questions you want! and have an awesome weekend!
xo. janetha g.