hey! happy monday.. and happy st. patrick's day as well! not much celebrating over here. i actually forgot to wear green… my toenail polish is green, though. does that count? marshall said no.. so i got pinched to pieces. i then changed into my green bay packers sweats so that pinching business could be put to a stop. much better.
the most festive we are getting up in our house tonight is this green cheese i found at trader joe's. they were sampling it yesterday and after one bite, i HAD to buy it.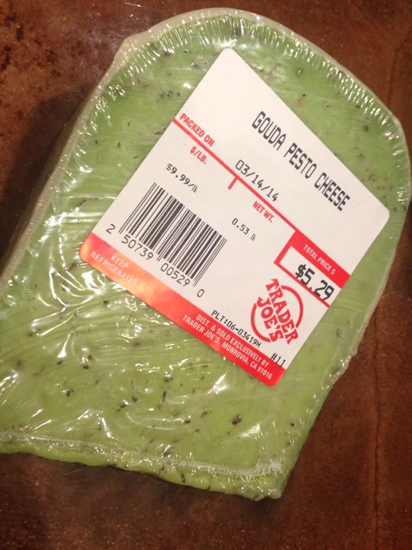 PESTO GOUDA! i love both pesto and gouda, so naturally the two combined is an explosion of awesome in my mouth. we sprinkled it over some ravioli we picked up from whole foods…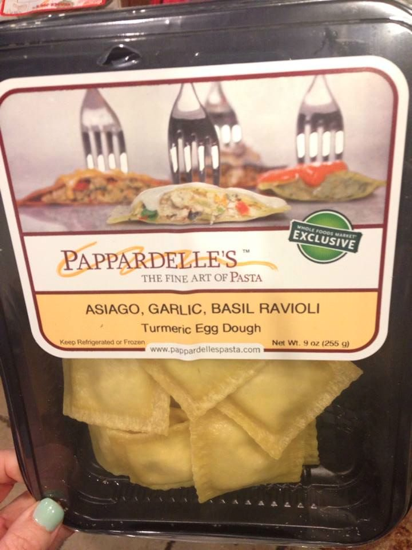 total semi-homemade dinner over here tonight. marshall spruced the jarred marinara sauce up with diced onion, fresh garlic, and a sliced portobello mushroom. it was actually fantastic!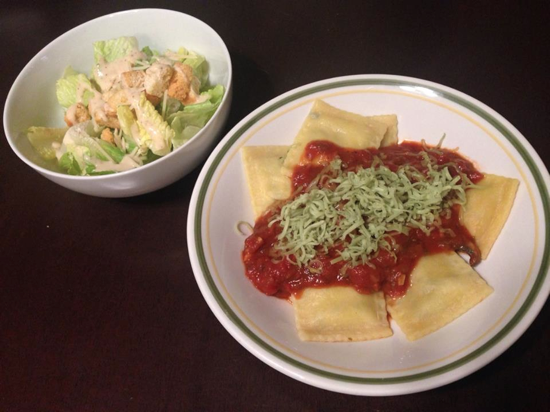 okay so my pasta looks more like christmas than st. paddy's.. oops. a little more green in the meal was a caesar salad on the side. 
except you know what? i read that st. patrick's color isn't even green–it's BLUE. i also read a bunch of other truths about st. patrick's day, like corned beef & cabbage isn't an authentic irish meal and st. patrick wasn't even born in ireland. hmmm. i found the article pretty interesting.. check it out here.
the pups are real good at begging, so tonight while fixing dinner we rediscovered their kongs and filled them with peanut butter and let them have it.  definitely kept them occupied for a solid 7 minutes!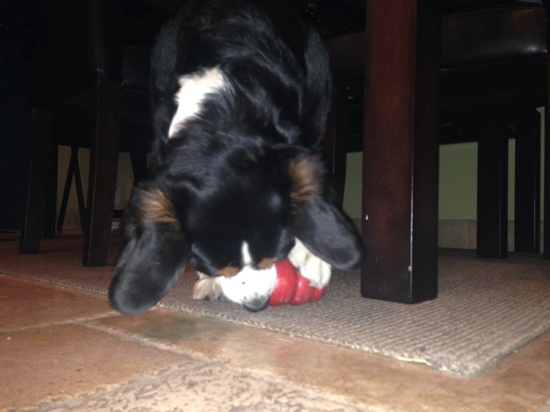 so.. how was your weekend? mine was filled with SUNSHINE. it was seriously so nice and warm here in SLC! it took a turn for a worse today–windy and cold–pretty sure i almost blew away to oz with my little dog. but the weekend? the weekend was great. 
a few highlights.. brunch at eggs in the city on the patio. i love al fresco dining! (i just typed "sity" instead of city.. pregnancy brain, it's a thing.) i had a scramble with mushrooms, onions, cheddar, avocado, and spinach. bad pic.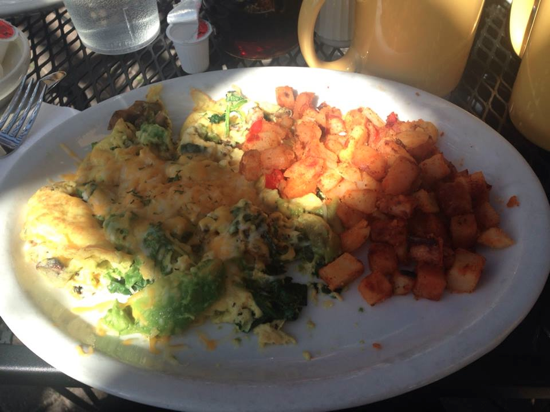 also always have to have a sweet component, so i got a pancake on the side. eggs in the city is awesome and understands the need for sweet and lets you sub in a pancake for your toast. brilliant.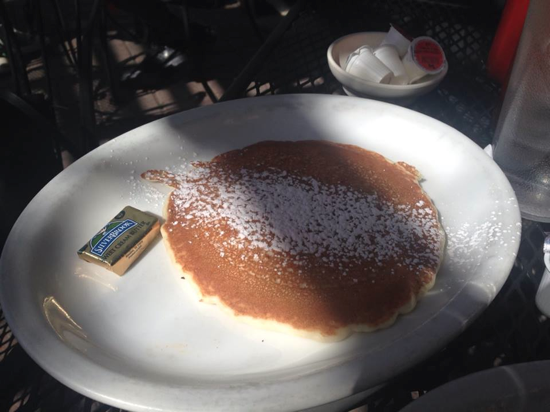 another highlight was going to the dog park with ALL THE DOGS IN THE STATE. it was so crowded! i spaced taking any photos, but we all had a good time (i was with 4 other people and a total of 6 dogs!) i did manage to take a photo of the aftermath back home, everyone was pooped.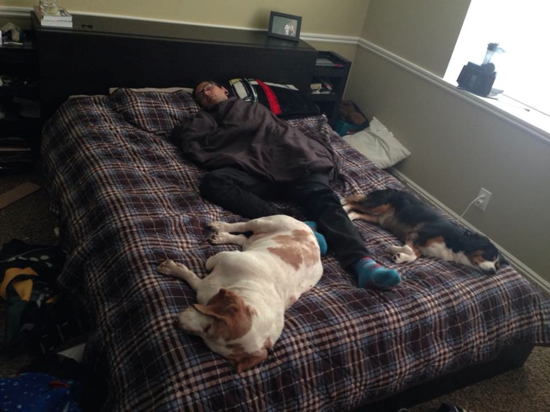 after the park we went to blue star and i had a heart beet: fresh pressed juice with beet, lemon, orange, carrot, and cucumber. mmmm.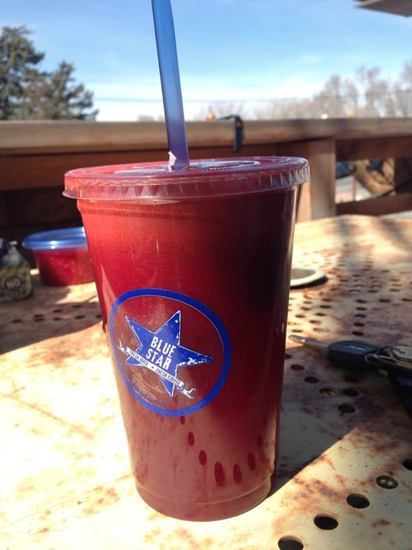 i also got my nails done with my BFF and then we shopped for maternity clothes. well, i did.. she helped. i found some cheap stuff at forever21 and h&m (just bought bigger sizes and longer stuff) which was nice because they have cheap stuff and i hate spending $$$$ on clothes i am going to wear for 3 seconds until i get bigger. someone asked for another belly shot so here ya go. this was thursday. yes, my boobs are huge and i can't handle it.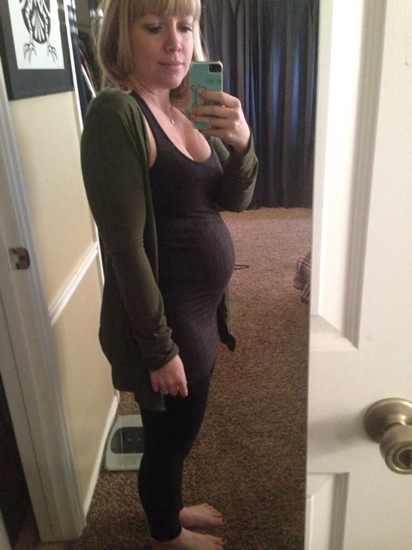 i had some black bananas so i decided to make up a healthy-ish (healthier than my go-to) recipe for banana muffins.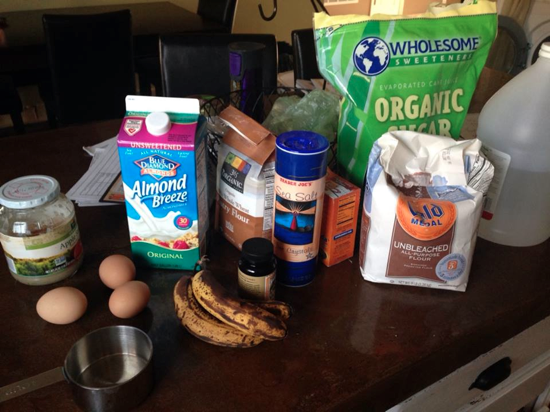 they turned out delicious! you couldn't even tell there was less than half the sugar, no oil, and whole wheat flour.  heres the recipe.
ingredients:
dry bowl:
1 1/2 cups all purpose flour
1 1/2 cups whole wheat pastry flour
1 1/2 tsp salt
1 1/2 tsp baking soda
wet bowl:
1 cup applesauce
3 eggs
1 cup buttermilk (7/8 cup almond milk + 2 TB vinegar, let it sit 5 minutes)
3/4 cup sugar
2 tsp vanilla bean paste or extract
3 mashed black bananas 
directions: 
combine dry bowl ingredients, set aside. combine wet bowl ingredients, then pour into dry bowl. mix until just combined. spray a muffin tin with cooking spray and dust with flour. fill muffin cups evenly. bake at 350 degrees for 25 minutes or until cooked through.
these were really good! marshall liked them, which meant they didn't taste too healthy, ha.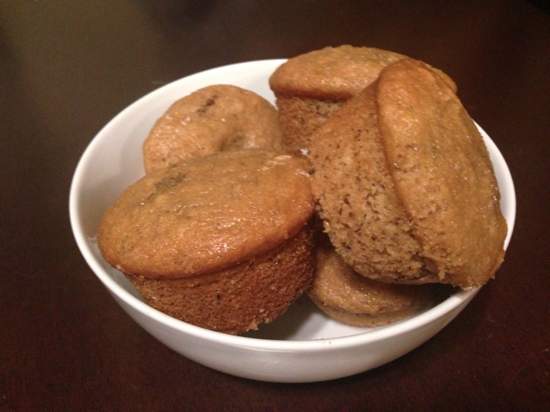 ohhh kay. that's all i've got for tonight. hope you have a great week! check ya later.
Qs~
1. what was your weekend highlight?
2. did you celebrate the holiday today? how?
xo. janetha g.