hi! thank you so much for all the kind words regarding my pregnancy. super stoked over here, and so glad i can finally talk about it publicly.
it's soooo nice and sunny today here in utah. in fact, marshall is out on his motorcycle right now! we went grocery shopping together earlier and then he decided it was just too nice not to dust it off and go for a ride. as for me, i just scoured the stores for maternity leggings (no luck) and that took it out of me.. so i am back home and decided to blog!
i wanted to share a few stories about how i personally found out about my pregnancy, how i told marshall, and how we told our families.
so, i had mentioned i was on clomid. after quite some time of trying to get pregnant naturally, my doctor prescribed this fertility drug. the issue was that my ovulation was roughly 2 weeks later than it needed to be in order to get pregnant, so i needed to move it up. (FYI.. they weren't sure why i ovulated so late. they mentioned it may have been from all the continuous birth control i took for ten years, but that's not proven.) i started the clomid and used ovulation tests and, what do you know, it did the trick and moved my ovulation up to where it should have been naturally. lucky for me (because clomid was AWFUL for me.. i had every side effect!) it just took the one round of clomid before getting pregnant.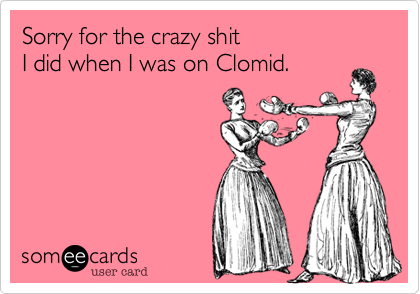 how i found out.
i started taking pregnancy tests around december 15th, even though i didn't have high hopes. most women have to have a couple, few, even more rounds of clomid before it works (if it ever even does.) i took a couple negative tests and then chilled out. i felt strange, though. i was more thirsty and tired than usual. my boobs hurt. i was craving salty foods like a mad woman, and sweets sounded horrible. i chalked it up to signs that my period was coming.. but i did have a nagging suspicion that i was pregnant.
on december 19th i took a test in the morning and got just the one line.. but there was a very faint second line that appeared 20 minutes later. like.. very faint.. not enough for me to think it was positive. i had to leave for work, but i wanted to know for sure. i stopped at the store on my way to work and snagged a digital test. this faint line stuff wasn't working out for me. i got to work and took the test into the bathroom. kind of a funny thing to do at work, but it's all i could think about! plus my work is pretty casual, haha. after what seemed like a very long 3-4 minutes, i had a positive reading on the digital test!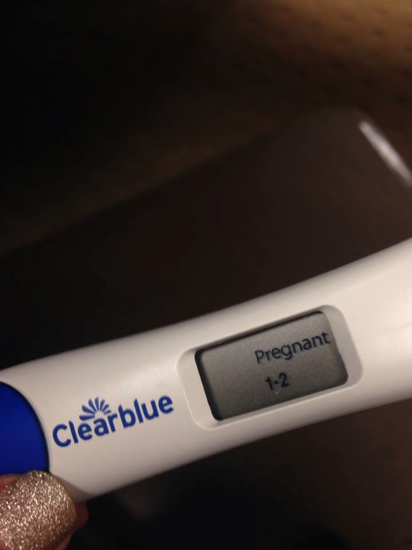 FYI.. that's 1-2 weeks pregnant. not 1-2 babies ;) haha.
a crazy feeling came over me, i can't even explain it. i was so happy and overwhelmed with emotion, but i had to hold it together since i was at work. i just grinned the day away and then headed home, excited to tell marshall the news.
how i told marshall.
usually marshall gets home way before me, but of course this particular day he happened to be on a very hard installation job AND it happened to be dumping snow. he wasn't expected home until after 8 PM. i was going crazy waiting for him! i made dinner (beef stew) and then set up my idea of how i would tell him. since it was around christmas, i got a little stocking and put the test inside. i hung the stocking on the tree.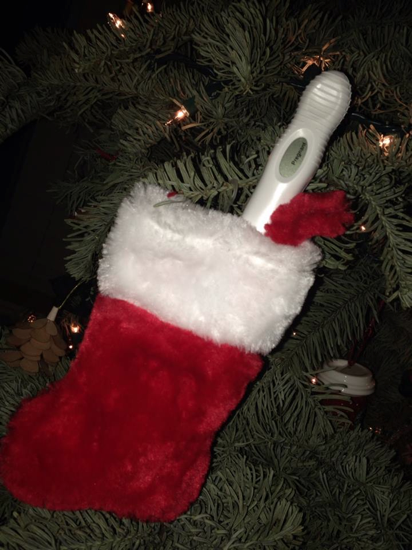 when he got home, we ate dinner and i let him unwind a bit because i knew he had had such a rough day at work. i was practically bursting at the seams at this point, but i held it together. finally after we ate, he asked if i wanted to go in the other room and watch breaking bad. i sat on the couch like an idiot and stared at him and he asked me what the deal was. i told him i got a new ornament for the tree. he said that once i said that, he knew exactly what was up. he went over to the tree and found the stocking with the test inside, and the rest is kind of a blur! lots of tears and smiles and happiness, i am sure penny and randy were happy, too. ha.
over the next week i had to go in and get multiple blood tests to make sure my levels were rising properly. the doctor put me on progesterone and, luckily, everything looked good each time i got a blood test.
how we told our families. 
since it was so close to christmas, we realized we could incorporate some fun ways to tell our families the news! i know most people keep it hush hush until 12 weeks, but i figured i would want my closest friends and my family to know whether we made it that far or not. there was no reason not to let them in on our secret!
i love that marshall thought of both ways to tell his parents. he's more crafty than pinterest!
marshall's mom lives out of state, so we skyped with her on christmas morning. marshall had sent her a photo just before we connected to skype. he hung the little stocking on the mantle along with the rest of our stockings. when we skyped with her, he asked if she noticed anything in the picture. it was such a cute way to tell her! even though it wasn't in person, it was still very special and fun.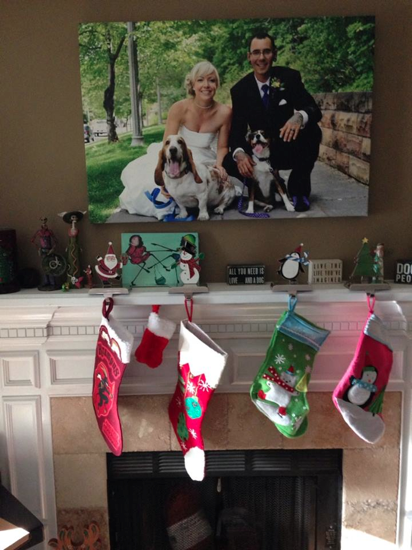 for marshall's dad and step mom, we headed to dinner with them. marshall gave his dad a christmas card that said "merry christmas, grandpa!". it took only a few seconds for marshall's dad to figure out the hidden message and then he was super excited!
my family all gets together on christmas eve for dinner. i was initially planning to tell them on christmas day, but it's rare that we all get together, so i decided christmas eve would be best. my BFF mandy found a great way for us to spill the beans. she came across this idea on pinterest. i bought a binky and attached a little note…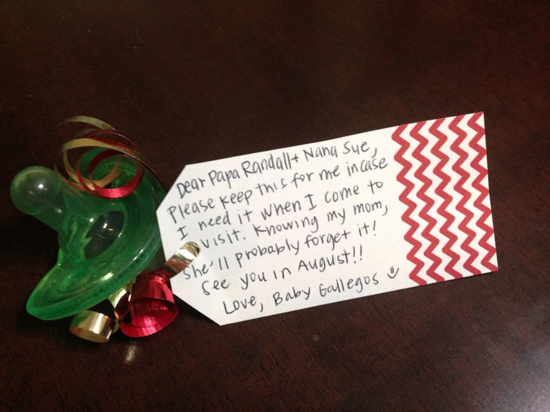 clever! and i am notorious for forgetting things, so very fitting. i wrapped the binky up in a christmas package and we took it with us to the christmas eve celebration. we typically don't open gifts on christmas eve, so i had to figure out a way for it to happen. we love to play games after dinner, so i bought a couple of games and wrapped them up and told my parents we had a few gifts for them to open that we needed to use on christmas eve.
my dad was super enthralled with the desktop skeeball game he opened, that he wasn't paying much attention when my mom opened the binky! i told him he should probably see what she was opening, ha.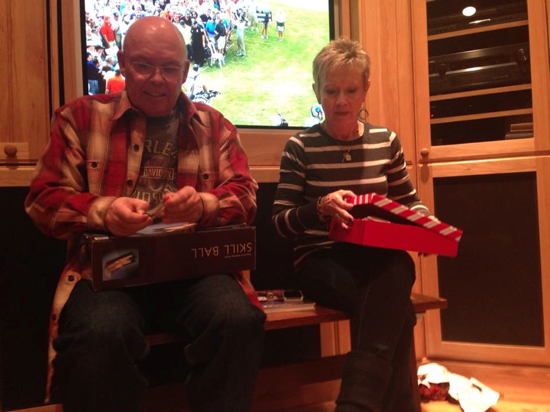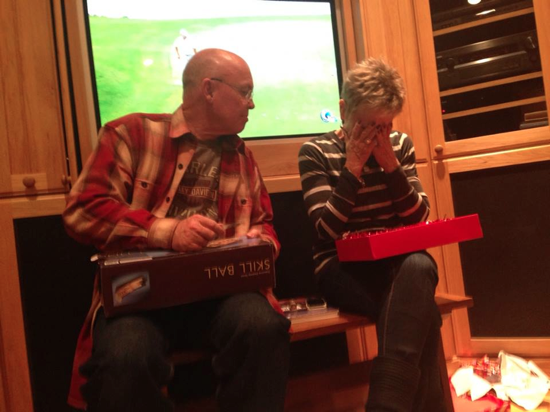 of course my parents both started to cry and then they passed the note around to share with everyone else. it went off without a hitch!
my sister and her family in san diego didn't  get the news around christmas. marshall and i visited them in the second week of january, so we wanted to wait to tell them in person. (that was SO hard for my mom, she basically avoided talking to my sister as much as she could, in fear she would spill the beans!) when we went out there, i was planning to take my brother in law a sample of my favorite pre-workout, arginine extreme. i can't take it now that i am pregnant (well, and i don't work out! haha.) so i took him the whole canister. when i handed it to him he said, "you don't need to give me this much!" and i replied, "yeah, you should take it, i can't take it anymore.. it's not allowed." he caught on right away and my sister wasn't far behind.  it was a lot of fun to be able to see their reactions, as they had anxiously been asking and asking if the clomid worked!
i also told a few of my best friends right away. i had a few clever ways that i told them, but i feel like the stories would take way too long to type out and since they included inside jokes and whatnot.. you wouldn't really care anyway! but i definitely had to tell a handful of my friends so i could have people to talk to the first few months of this roller coaster ride. my BFF jessica is actually 6 weeks ahead of me in her pregnancy, so it has been SO MUCH FUN to have her through everything! i don't know what i'd do without her!
the way i announced it on here (and on instagram) wasn't really an idea until just before i posted. we already had family photos planned–well before we knew about the baby–and then we asked the photographer to take a few shots with marshall's hand on my belly. they turned out cute, so i decided to turn that shot into an announcement. i thought it was funny that about half a dozen people said once they saw our family photos (in this post) they KNEW a pregnancy announcement was coming. that threw me off, as the pics had nothing to do with the pregnancy! it was just coincidence.
sooo, there you have it. some stories about how it all came to be and how the news was shared.
oh! i wanted to also tell you guys that we call the baby "poppy". mandy named it.. because when we found out, it was the size of a poppyseed. so she dubbed the little speck "poppy" and it has stuck! it's much better than referring to the baby as "it" since we don't know the sex yet. so, poppy it is! and to think.. now poppy is almost the size of a nectarine! life is crazy.
again, thank you for all the congratulations and well wishes. i don't intend to turn this into some pregnancy blog, but as you know i like to document my daily life.. and this whole fetus thing is kind of consuming me right now. so if you aren't into reading about it, i TOTALLY understand. i was there once. i won't be offended if you skip any and all posts having to do with babies!
Q~
those who have been pregnant.. how did you spill the beans? any fun stories? 
xo. janetha g.