hello and happy sunday! i am parked here on the couch next to my favorite hound dog. (he is nuzzled up to my legs and practically laying on the keyboard.. i love what a lover he is.) i am eating some delicious buttermilk waffles and settling in to recap my vegas trip. marshall is at the movies by himself (robocop just didn't look like my cup of tea), so this is the perfect time to ramble! 
so, we got back from vegas yesterday. just 46 hours in sin city, and it was by far the best vegas trip i have ever taken! here's how it went down..
thursday.
1:59 PM
marshall and i took a quick flight to las vegas. it's less than an hour from salt lake, which makes flying so much more appealing than the 7-hour drive i usually make when heading to vegas. since we were on such a tight schedule, we didn't want to waste hours in the car… but i really think i might rethink ever driving to vegas again! 
3-ish PM
we checked in to our suite at the wynn. never have i ever stayed somewhere fancy shmancy, but marshall had a bunch of reward points on his work  amex and we cashed them in for a gift card at the wynn! he wanted some ridiculously expensive pen, but he is a sweetheart and opted for the hotel stay instead. i can see why people pay big bucks to stay places like the wynn tower suites. they treat you like pure gold. too bad we would never be able to afford staying there again, hah.
i mean, they printed our names on the key card. i didn't even know that was a thing.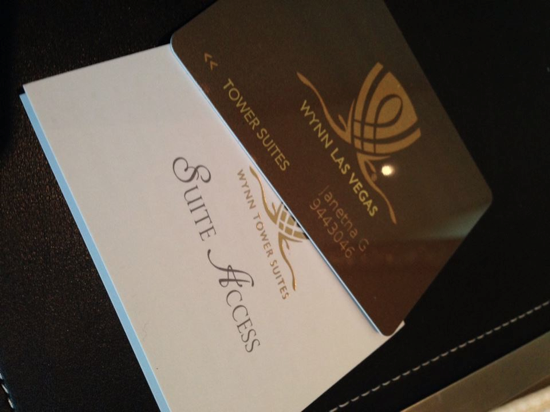 the room had a nice view..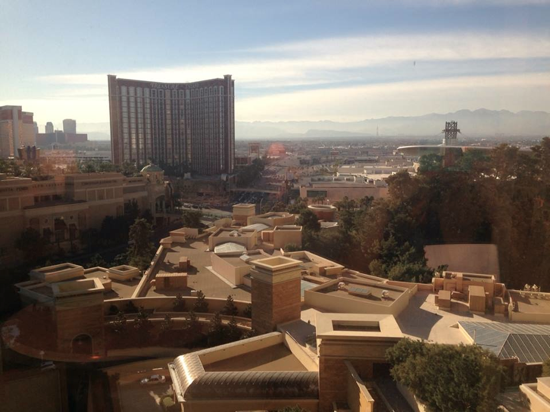 and the room itself was pretty nice, too!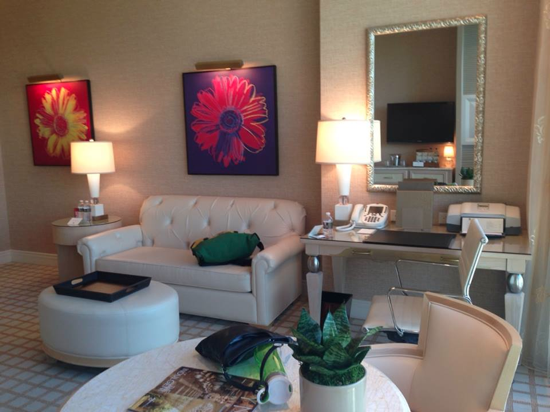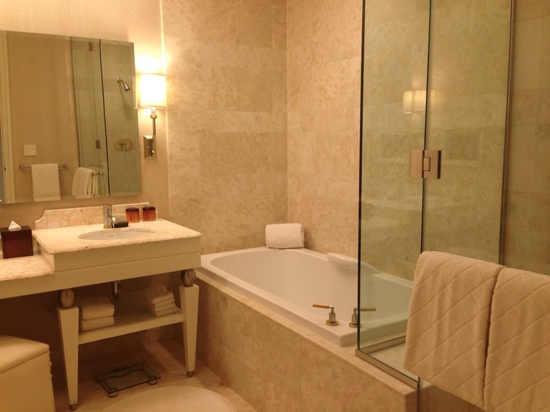 i geek out over all the mini things in hotels. i love 'em.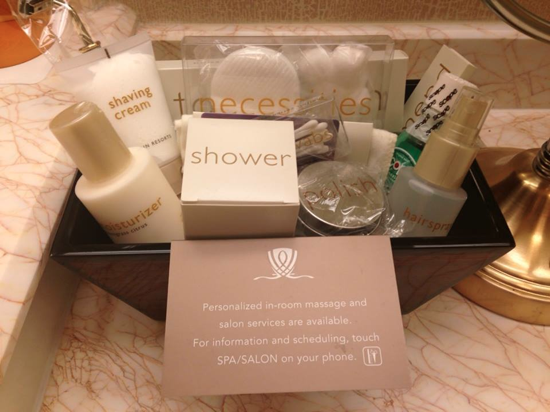 6:00 PM
we headed out to find some dinner.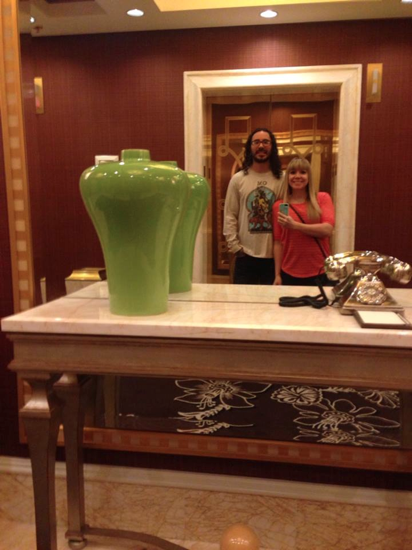 many people had suggested we check out the venetian's restaurants, and that happened to be right next door. we wandered over there and i consulted my yelp app to see what i could come up with. i ALWAYS find great restaurants on yelp.. i aim for 4 or more stars. i came across an italian place that had 4 stars and nearly 300 ratings.. which in yelp land is pretty fantastic. we decided to go there!
 it took us awhile to find trattoria reggiano (those vegas hotels are GIANT MAZES) but once we did we were stoked on how tiny and quaint it was. the waiters were all italian and it seemed like real-deal authentic cuisine.. not your typical americanized version of italian. we started with wine and the most delicious garlic knot rolls paired with oil + vinegar.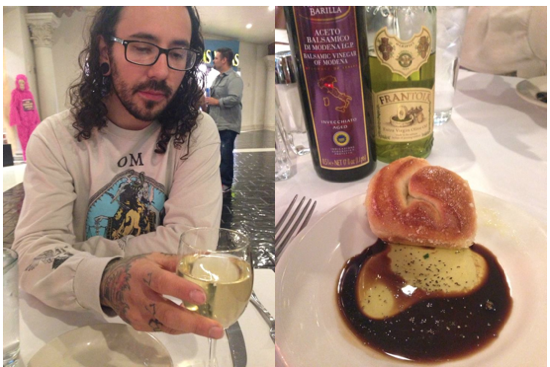 i ordered the special: cheese ravioli with roasted tomato marinara and fresh buffalo mozzarella. amazing.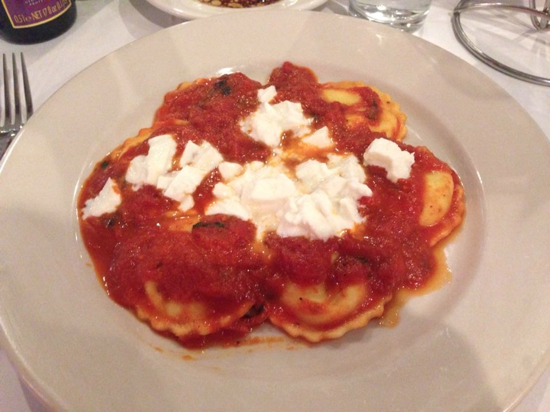 marshall ordered the pesto gnocchi with pine nuts. equally as amazing.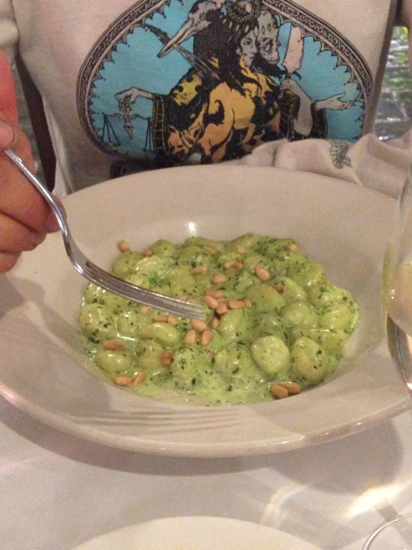 we both loved that the portions weren't crazy enormous. the food definitely was reminiscent of the authentic cuisine i had in italy. trattoria reggiano gets five stars from us!
7:00 PM
after dinner we had a bit of time to kill, so we visited a nearby bakery/coffee shop called la sugarie. we both snagged a coffee and i purchased my first-ever macarons! i had never tried them before and wanted to see what all the hype was about. i got a coconut, a strawberry, and a chocolate. i would say i like macarons.. but they aren't my treat of choice. i guess they were a little too straight up sugary? i prefer ice cream or cookies or brownies, for sure. but they were good!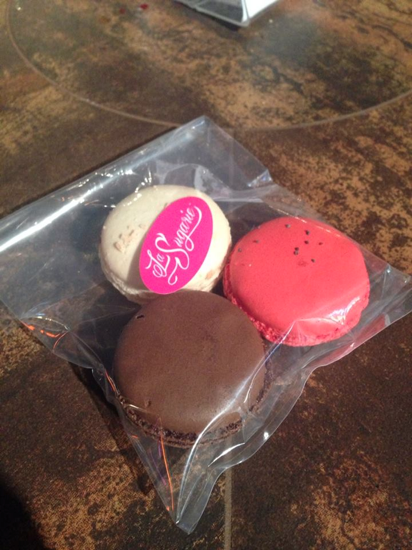 7:45 PM
we arrived at the joint at the hard rock hotel & casino for the concert. we were seeing queens of the stone age–the whole reason we went to vegas in the first place! and, lucky us, one of our favorite bands, chelsea wolfe, was opening for them! it was an INCREDIBLE show. we were right near the front of the stage. the visuals were remarkable and the sound quality was top notch. it was so much fun!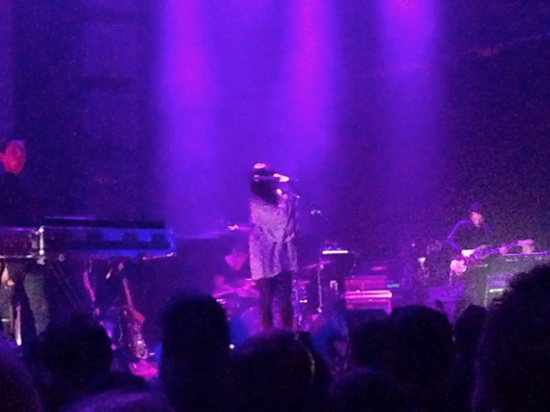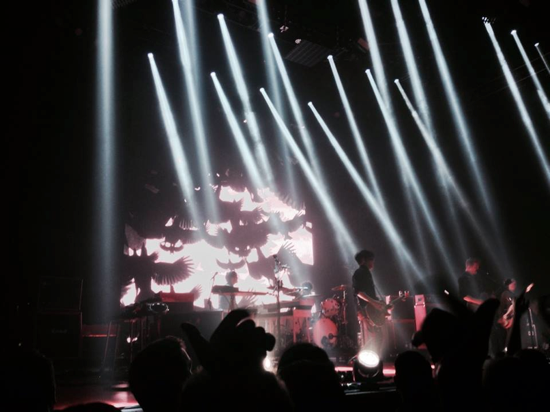 11:45 PM
after the show we were both pretty hungry. we took a cab back to the wynn and asked around to see what was open. there was just one restaurant open at that late hour. it was an italian restaurant, allegro,  but we were told they offered a late-night breakfast menu. marshall and i are both big breakfast people, so we headed straight there. unfortunately the breakfast menu wasn't offered until 3 AM, haha, so we ended up splitting a pizza. you can never go wrong with pizza!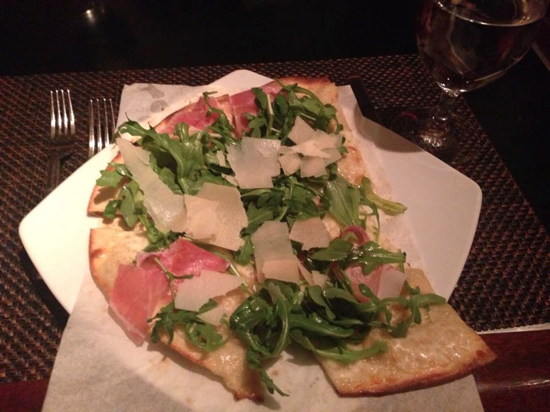 this pizza was like nothing i'd tried before. it was more of a flatbread, i suppose. it was delicious! it had melted mozzarella (no sauce), prosciutto, lemon-spritzed arugula, and fresh shaved parmesan. definitely delicious!
1-ish AM
we headed back to the room and, to our surprise, they had cleaned it. apparently your room is cleaned twice a day at the wynn. haha.. like i said.. totally not used to fancy treatment. we laughed because we had kinda left our room in shambles and they had folded everything and neatly placed any items onto a hand towel.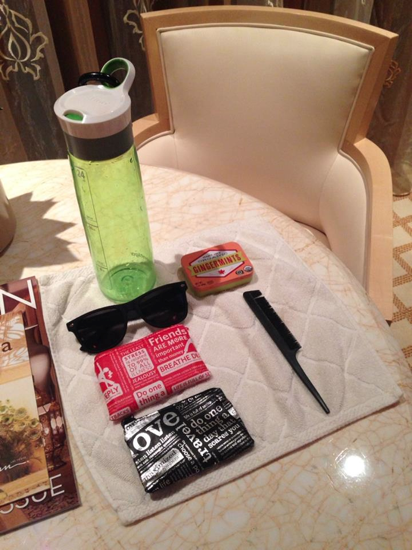 they had made the bed for us and left fine belgian chocolates. it was the perfect end to our first few vegas adventures!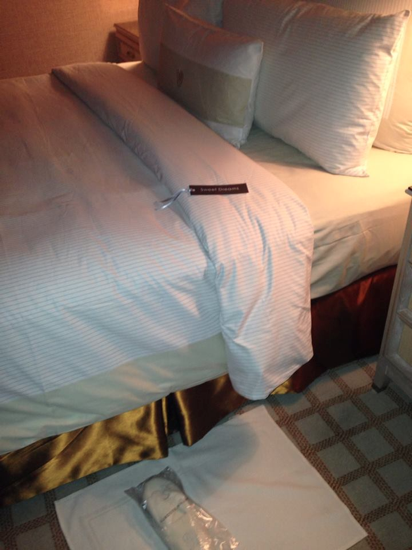 friday.
9:30 AM
we headed down to the restaurant, tableau, for breakfast. it was included each day in the tower suite experience, which was a total bargain since breakfast each day worked out to be $60 after the tip.  we started off by sharing a flight of fresh juices: honeydew green apple kale spinach cayenne honey; orange carrot ginger pear; and fuji apple bell pepper pomegranate beet lime. the third was my favorite.. i hated the cayenne in the first! too spicy.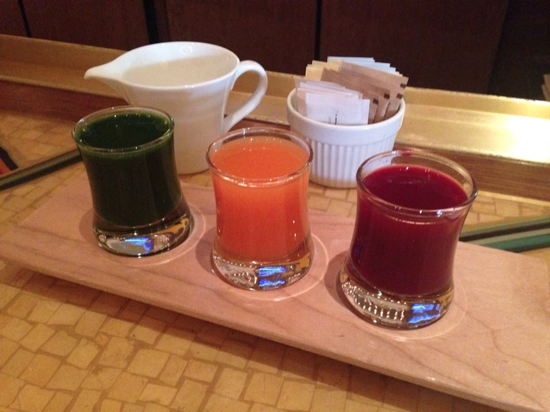 i always have a hard time deciding between sweet and savory breakfasts. i went with savory, and then–to my surprise and delight–they brought out some complimentary apple coffee cake! best of both worlds.  for my entree i had the three-egg omelet with spinach, foraged mushroom, and roth kase rofumo cheese (whatever that is, it's amazing!) it also came with toast and a little hash brown thang.
11:00 AM
after cleaning up, we headed out to wander on the strip for a bit. i always make sure to hit up the bellagio conservatory to see the display of the moment. since it was recently the chinese new year, the conservatory was based on that and the year of the horse.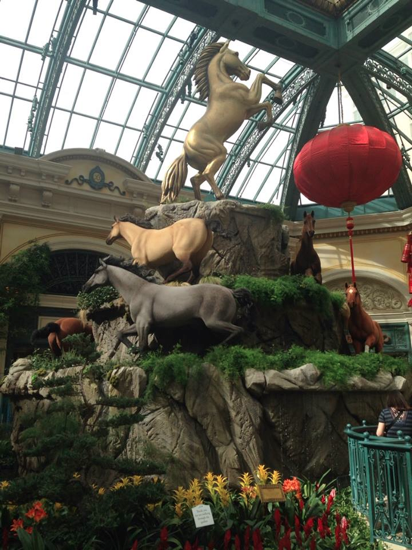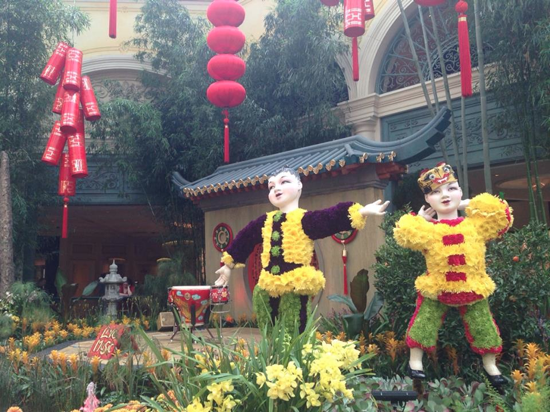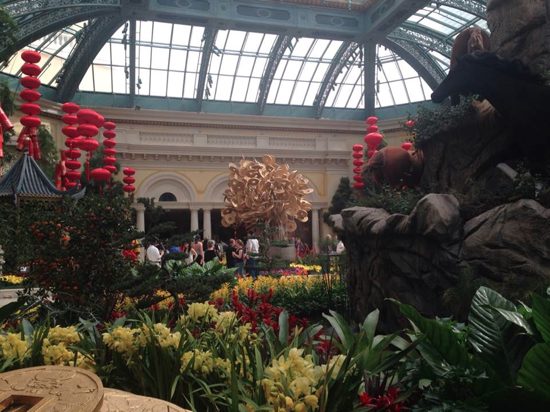 so pretty!
12:45 PM
marshall's friend lives and works in vegas, and he has an ongoing belly piece that his friend has been doing for him. so he decided to get a few hours of work done while we were in town. if you live in or are in vegas and need a tattoo, see josh or james at massive tattoo! good guys.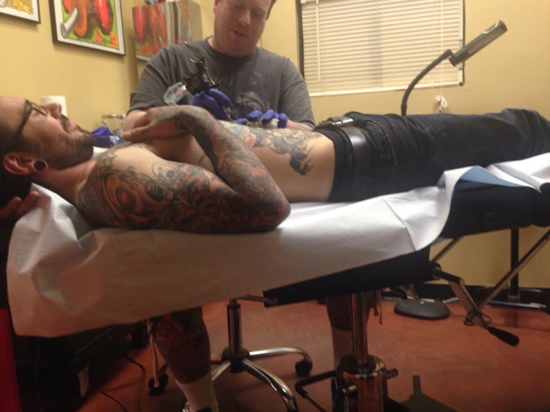 3:00 PM
i had already eaten a granola bar that i had in my purse and i was starving again by 3 o'clock. since we would still be at the shop for awhile, i wandered next door to a new york style deli called munch a sub.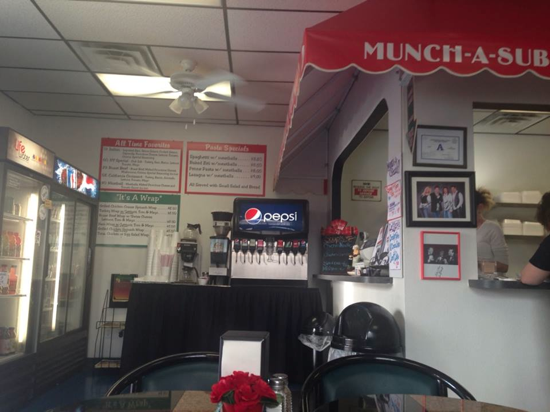 i always love running into random places to eat that end up being delicious! i got the hot turkey and swiss and it was so flipping tasty.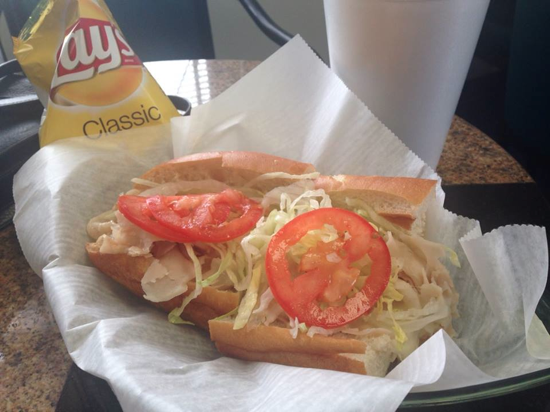 5:00 PM
we were back at our hotel and, since marshall missed lunch, he was way hungry. we cleaned up real quick and headed back out on the town.
6:00 PM
since it was valentine's day, we had to get tacos! every year, marshall makes tacos for me on valentine's day. it's one of our favorite traditions. i had read about tacos el gordo (on yelp, of course) which was less than half a mile from us. it had over 700 reviews and a 4.5 star rating. that's unheard of.. i knew we had to go! i wasn't too hungry yet, but we were going to a show later so i knew i should eat. we got two carne asada tacos and two spicy pork tacos.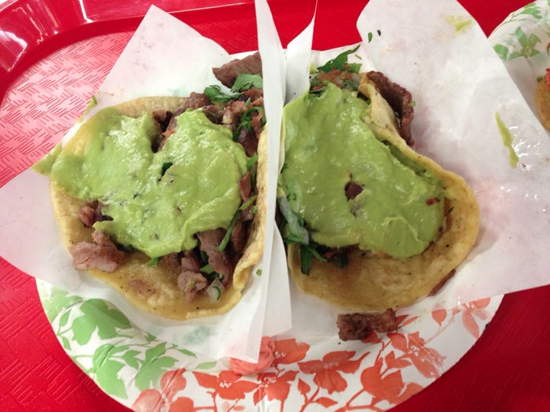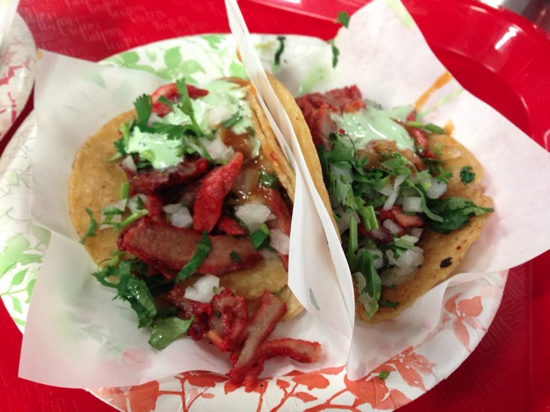 they were definitely authentic and tasty, but i am sad to say i've had much better tacos in my day. oh well, i was with my valentine and that's all that mattered!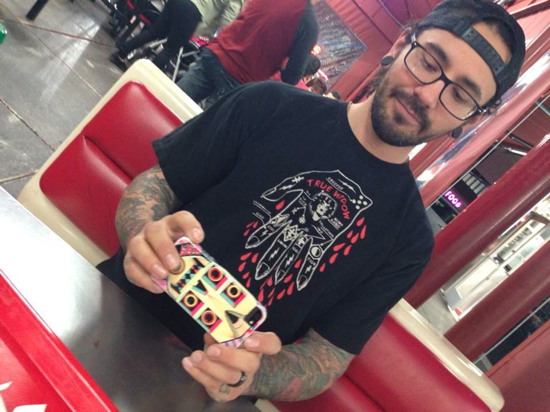 7:30 PM
we had tickets to see absinthe, which came highly recommended by several vegas-dwellers i know.  i had initially asked what cirque du soleil show to see, but everyone said absinthe was WAY better. they were right. it was a very intimate show in a small circus tent outside of caesar's palace.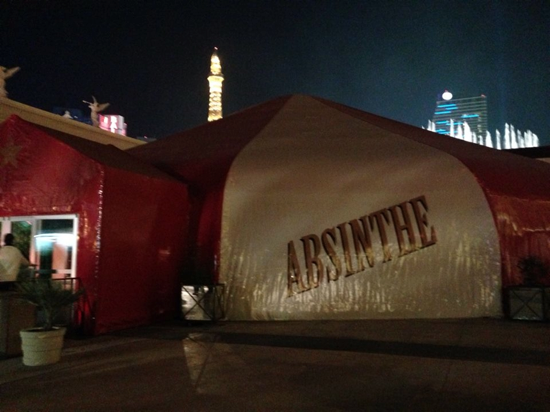 there was no bad seat in the house! we were just a few rows back from the stage, i'd say about 10 feet from the performers. the show was a mix of incredible acrobatics and gymnastics, sexy tap-dancing and singing showgirls, and ridiculously raunchy humor. we laughed until we cried and we oooohhh-ed and aahhh-ed at the performances. i literally have never laughed so hard IN MY LIFE. it was that good.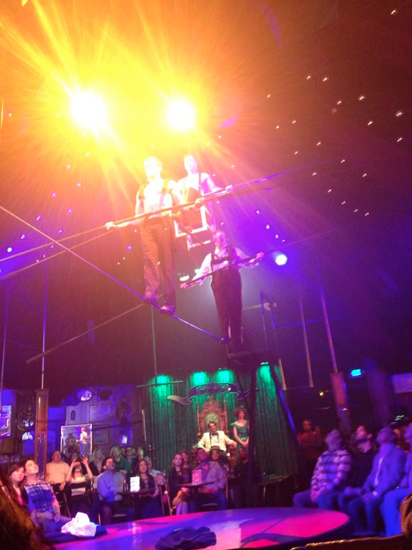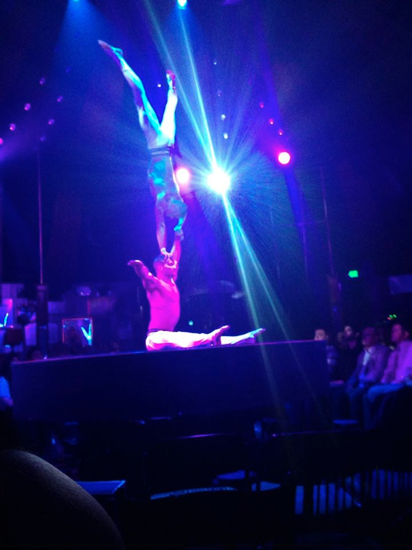 i wish i had got some video, but i failed. luckily there is youtube, so if you care to check out the german roller skating duo you can do so HERE. the girl was hanging by the guy's neck by her head spinning around in circles as he skated around in circles. umm.. just click the link. it's at the 4:30 mark in the video. do it. i promise. it's crazy. and you can click here to see a showgirl tap-dancing in a balloon. you know, because that's on your bucket list.
9:15 PM
of course i was hungry by the time the show was over, and luckily serendipity 3 was right next door!
i had been wanting to try their frozen hot chocolate since i saw it on the food network years and years ago.  little did i know they also had food, but a friend had suggested we try their nachos. the menu was massive, but i trust this friend so i ordered the nachos straight away. they definitely lived up to the recommendation! they had a mix of regular melted cheese and nacho cheese–uhh.. all nachos should be made this way. seriously so good!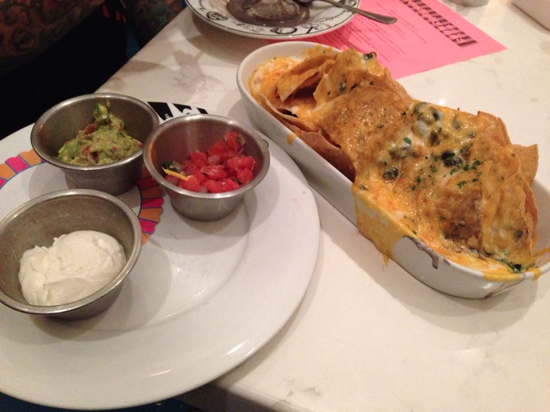 we couldn't decide between oreo or vanilla frozen hot chocolate, so we flipped a coin and ended up with oreo. it did not disappoint!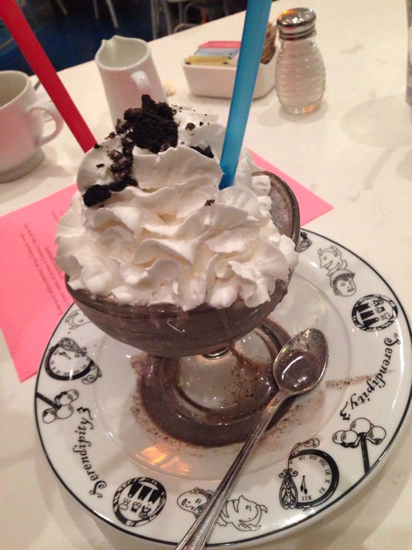 this was the perfect ending to a wonderful valentine's day with my favorite guy! (no, not the photo bomber in the back. i am referring to marshall.)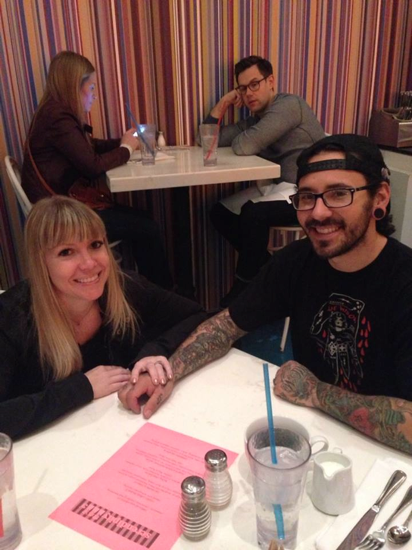 10:30 PM
we took our time walking back to the hotel from caesar's palace. vegas was nice and warm and the people watching is the best, so we were fine to make the walk. we stopped and lost some money at the slot machines while we were at it. when in rome, i suppose?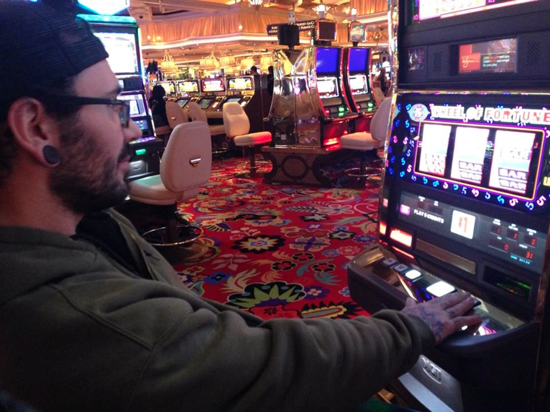 saturday.
8:30 AM
we were back at tableau for another amazing breakfast!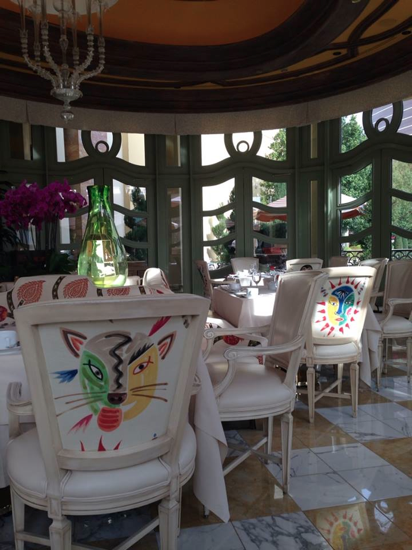 this time i went with the oat french toast with orange marmalade and warm maple syrup. i also got a side of bacon for the savory need in me.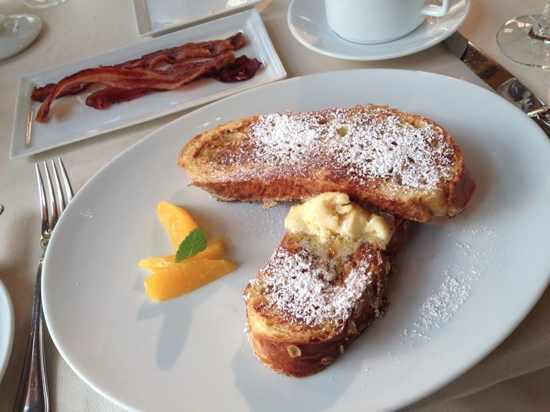 they brought out another sampling, compliments of the chef. this time it was a chocolate raspberry tart. very good! but i don't do well with chocolate at breakfast. it's just not for me.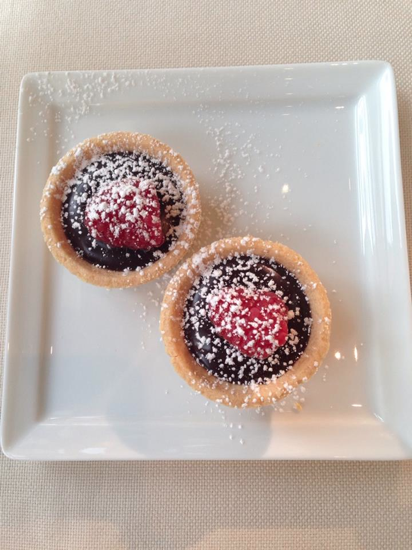 10:00 AM
we checked out and headed to the airport… only to find that our flight was delayed. we took our time going through security. marshall hates those new scanning machines at the airport and thinks they are harmful, so he asked that we both get the pat-down method instead of walking through the machine.
i had never given it much thought, but if he is right then i will be glad in the long run! we sat around for over an hour before boarding the flight to go home. luckily it is a short flight and we still made it home with plenty of time for an afternoon nap with the pups!
whew. and that, friends, was how i spent 46 hours in vegas. we crammed a lot in! it was delicious, entertaining, and a whole lot of fun. the end.
don't forget! blend retreat tickets go on sale at 6 PM MST/8 PM EST tonight! hope you can all make it!
ok.. that took it out of me time for a nap before heading to momma b's for dinner tonight!
Qs~
1. what was your shortest vacation? where did you go, what did you do?
2. if you've been, what are some of your favorite things to do/places to eat in vegas?
xo. janetha g.