dropping off the face of the blogging planet has kinda been my thing lately. and i am not one of those folks who say OH GEE GUYS I AM SO SORRY I HAVE BEEN MIA!! because, in reality, i'm not sorry a single bit. ya see, i kinda just got sick of blogging. it's strange.. nothing like this in my five years of blogging has ever happened! sure, i have gone through ruts and bouts of writers block.. but they quickly passed and i was back to the daily blogging grind. but this time? flat out sick of it. sick of documenting my life and worrying about remembering the details and finding time to type it all up.  plus, i haven't been making any new recipes, or doing any new or inspiring workouts, or been going on any crazy adventures.. so blogging about my daily life just seemed pretty darn pointless. so i didn't. but i had the itch to type today, so i am going to. hope you hang in with all my random posting times.. who knows, maybe i will be back to daily posts here in a bit. or maybe not. your guess is as good as mine.
anyway, enough of that. HAPPY NEW YEAR!  since i have no meals or moves to share, let me tell you about my dog!  
my poor randy pants is having a rough week. on wednesday he ate something that didn't agree with his belly. we were worried he ate aluminum foil, so we took him into the doggy ER for an X-ray. luckily it wasn't foil and he was just way bloated from whatever it was he consumed. they sent him home with anti-nausea pills and a pat on the bum. 
friday rolls around and this poor pup can barely walk. he was shaking uncontrollably and looked sadder than your average basset hound–i mean i know they already look pretty sad–but he was definitely down and out. he was whimpering and unresponsive and we were super worried. even his friends at daycare said he had been acting very off–not like his typical randy dog self. we called the vet we had taken him to a couple days before, worried it may have been related to that incident. they had us come in.. and as it turned out, it was something entirely different.
being a long dog, randy is prone to back troubles. we have kept him very lean his whole life, so luckily he has not run into any back troubles due to his weight. however, he must have been roughhousing and somehow tweaked his back where the thoracic and lumbar spines meet. after a quick examination, the vet could tell right away that this was the problem. i was super glad we rushed him in. he may look happy here.. but actually he was not so stoked. but he was panting uncontrollably and super drooly and the vet told us that was one of his ways of telling us something was wrong! smart fella. long tongue.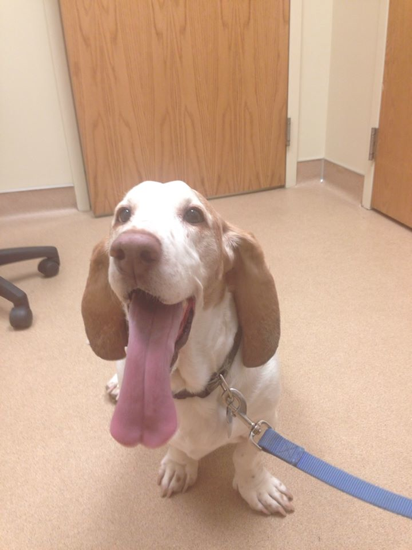 they gave him a pain injection and then sent us home with prescribed bed rest, muscle relaxers, pain relievers, and anti inflammatories. hopefully he will heal up quickly and be back to his playful self soon. we are fortunate that it was just an injury. we initially thought it was arthritis, since that is common in bassets and he is turning 9 this year, but luckily that is not the case! we will just nurse this sweet heart back to health as quickly as we can.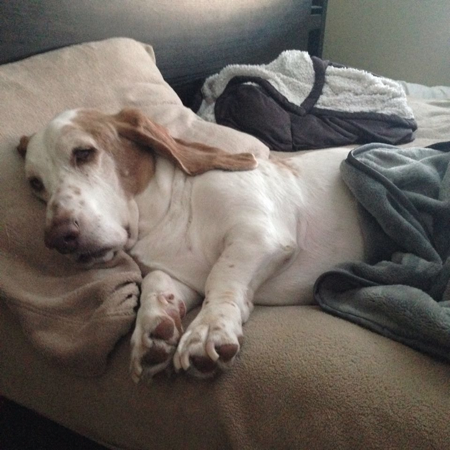 we put a dog bed on the floor so he could relax (our dogs usually sit on the couch with us) but randy wanted nothing to do with it. penny did, though!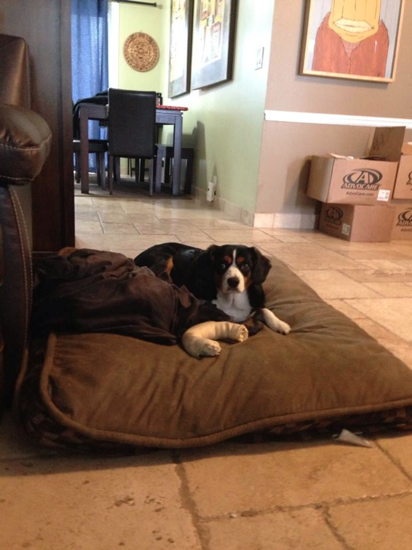 so marshall went and got him a staircase so he can get on and off of the couch. we are still trying to help him get the hang of it, haha.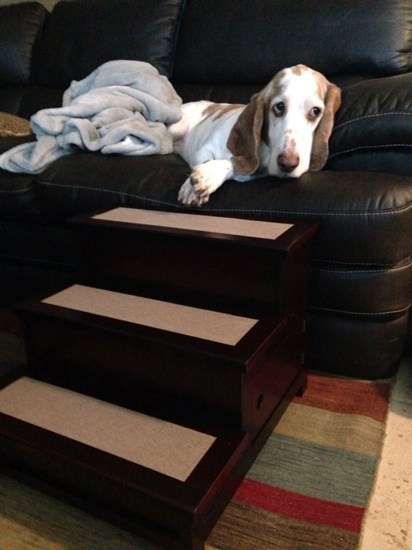 a few other random happenings around here…
i spent a good hour and a half looking at maskcara the other day (yes, that is how i spent my christmas vacation.. hahaha) and then proceeded to order her HAC pack. it just came and i can't wait to figure out how to use it, ha!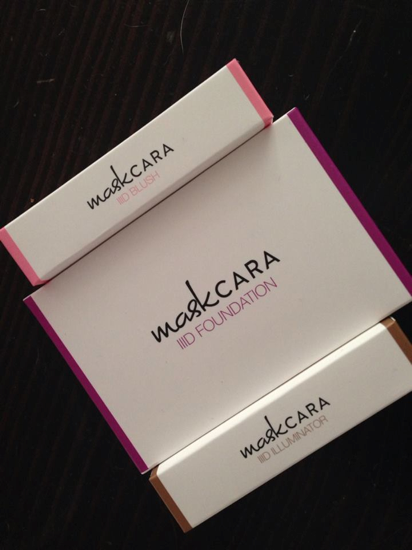 i typically don't get into makeup very much because i am totally clueless when applying, but i do like learning more and playing around with it. i need to figure out how to put my naked palettes to use! i am so not pro. do you have any good eyeshadow blogs or youtube channels to recommend?
this punny cheese i picked up at trader joe's made me laugh…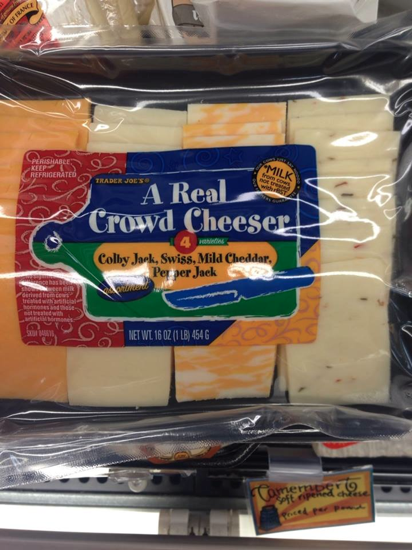 speaking of cheese. how excited are we in this house about the packers going to the playoffs?! excited enough to paint my nails like this…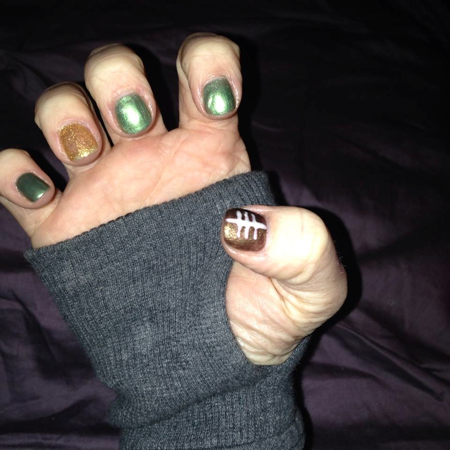 i had a girls night with my BFF the other night and she had this brilliant idea to give me packers nails, complete with a football thumb. i wish i loved packers colors.. haha. but yay! super excited about the game tomorrow! marshall is a happy man.
i lied, i do have one meal to share with you. it doesn't photograph so great, but it tasted awesome so i should share.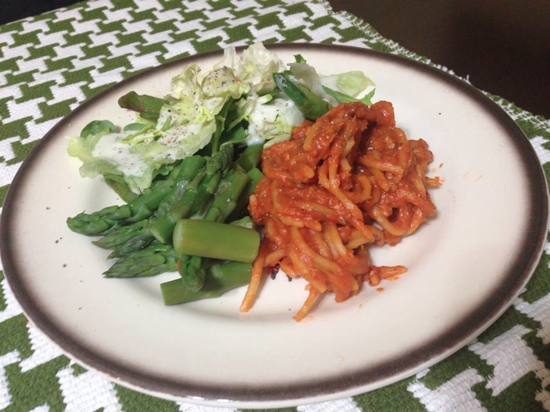 i made picky palate's crock pot creamy spaghetti and it was really good! i added an onion and cut the recipe in half. i will definitely add mushrooms next time and cut it in half one more time. it made wayyyy too much for just me and marshall. but it was delicious!
oh i should definitely tell you about this–advocare is having a corporate sale! apparently this isn't something that happens often, so you may want to get on it. all 24 day challenges are on sale for $175!

they have also come out with a new workout program, CU24. there is a whole promo bundle that comes with the DVDs, exercise ball, resistance band, water bottle, and towel. 

something else that's cool: the $10,000 24 day challenge. my team has banded together and is offering $10,000 in cash prizes for 20 winners! i know some of you wanted to get in on the january jumpstart and missed the boat, so this challenge may be of interest to you.  you just have to start any time before january 27th and turn in your results by february 21st. you can register here.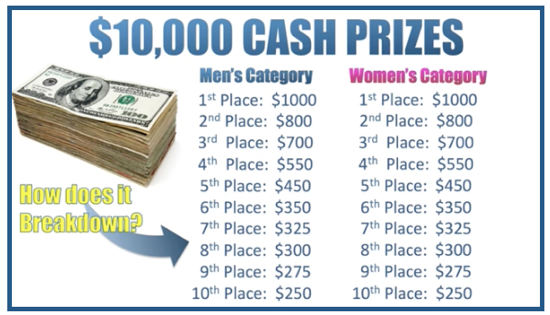 it's quite the incentive up for grabs.. if you want to do the challenge then you should definitely register for this since it's free to do so! let me know if you have questions about it.
in other news, we got a dyson!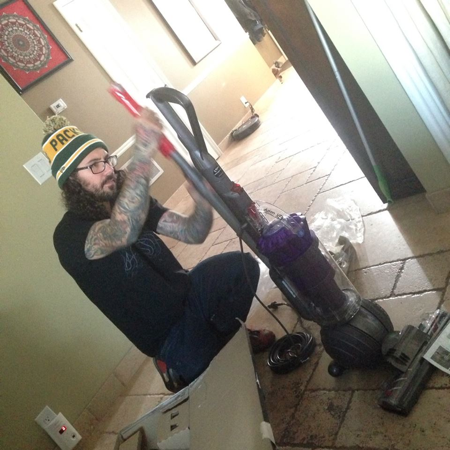 i actually am not the vacuumer in our house. truth be told i didn't even know how to work our old one. but marshall is quite the vacuuming fool and he was super stoked on this! definitely a good purchase! i found it at costco and it's the one made specially for pet hair.. and lord knows we have a lot of that floating around the house.
okay.. that's enough rambling for today. i am gonna go cuddle with my poor pup. i will be back next time with my plan for 2014. no resolutions or goals this time around.. but i do have a plan! 
have a great rest of your weekend!
xo. janetha g.