hola! how are you all? i thought for sure i would have opened my computer before now.. but, as it turns out, i have been enjoying a computer-less week off!
not much has been happening since christmas. both marshall and i have had time off and we are soaking it up. we went to breakfast together today and we saw the hobbit the other night. we have also been doing some much-needed deep-cleaning. whenever a new year rolls around i love to clean out the pantry and cupboards and closets and get rid of foods, dishes, clothes, etc that i haven't been using.
we don't go back to work until the 2nd! i do have to go in for a bit on monday to do payroll, but when i get to go to work in pajamas and it's only for an hour, it doesn't count, haha. i will have to find a way to be somewhat productive with the rest of my time off!
anyway, time for some christmas recapping! better late than never!
christmas eve was spent with almost my whole fam–minus my sister, marisa, and her little fam. they are in sunny california.
but luckily marshall and i are going to see them in just a couple of weeks! yay, san diego!
christmas eve at my parents' house is always a good time.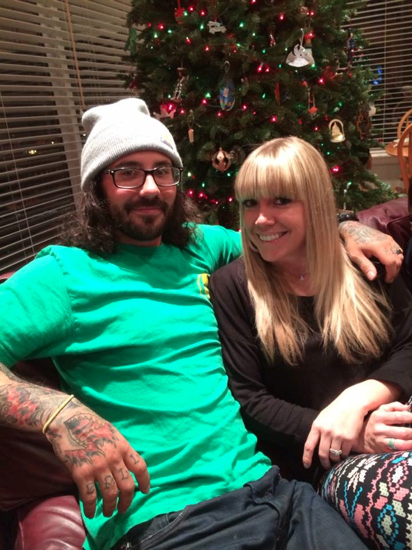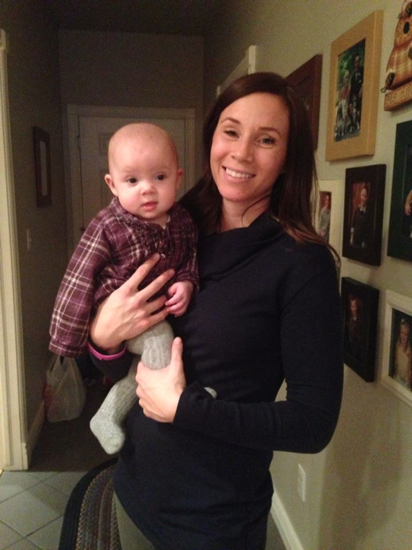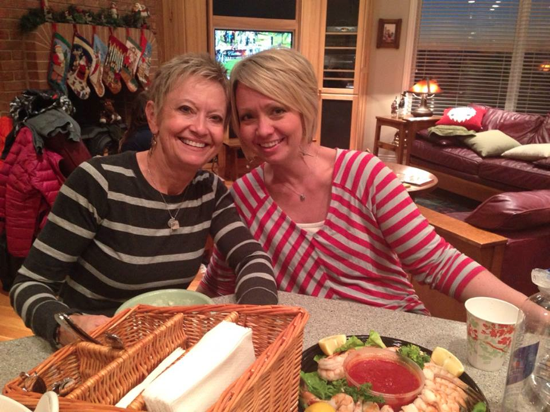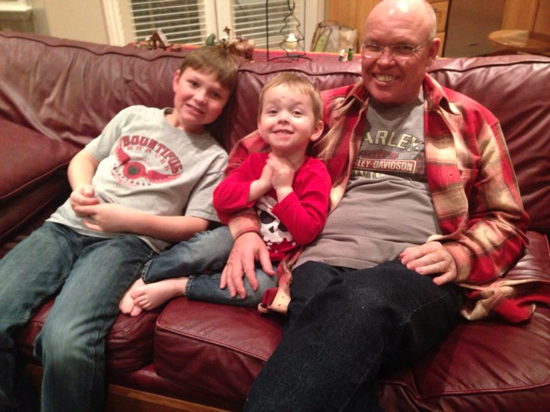 we snack on appetizers for a few hours before eating a dinner of soup and rolls. it's always been our tradition and my mom always makes her clam chowder.
for the appetizers this year we had…
shrimp + cocktail sauce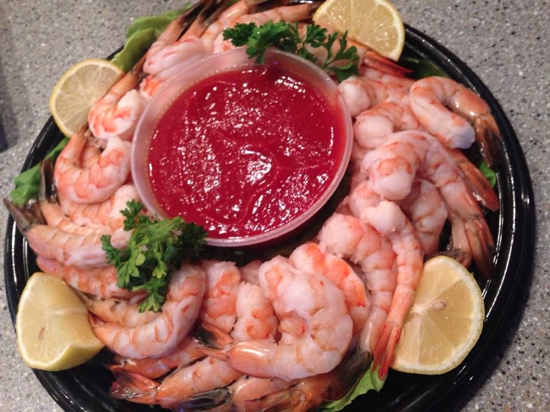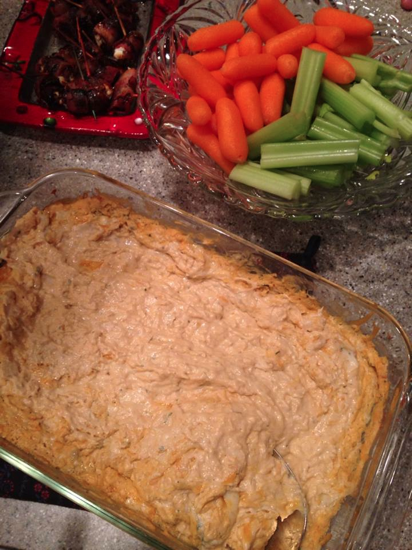 bacon wrapped dates stuffed with goat cheese + a balsamic reduction drizzle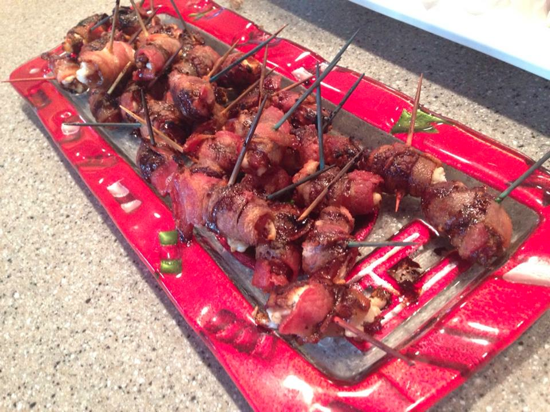 pesto pistachio sun dried tomato swiss cheese thingie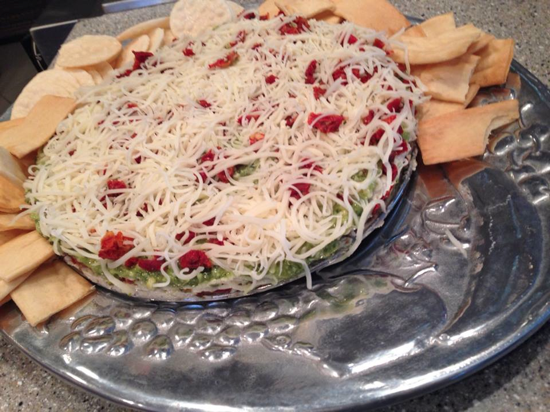 cheeseball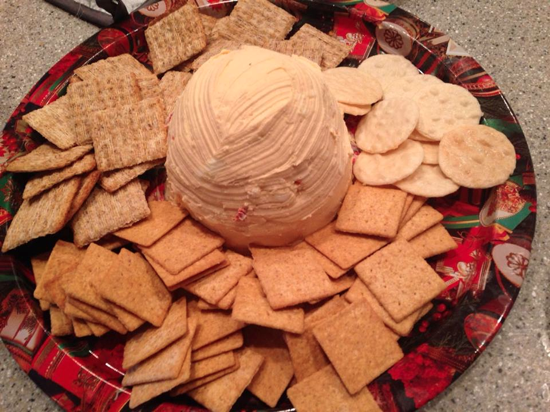 chips + salsa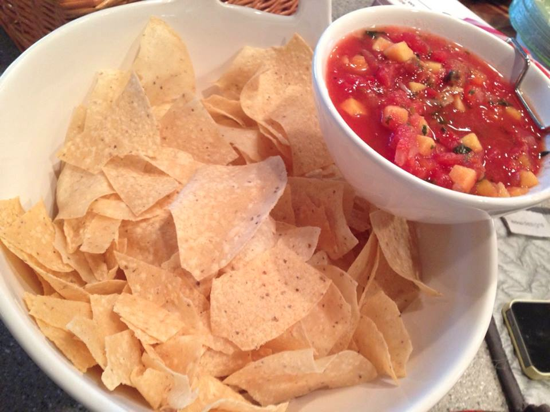 the soups this year were, of course, my mom's clam chowder…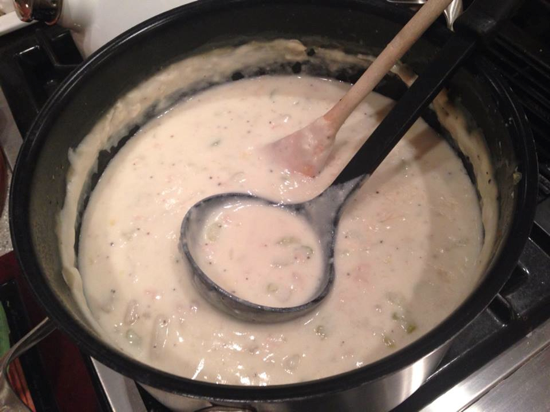 and her equally as delicious broccoli cheddar.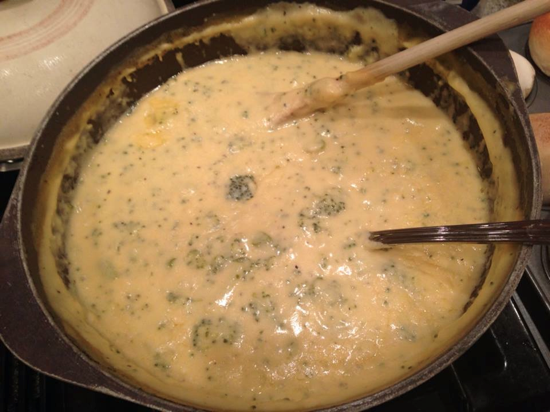 i should blog both recipes sometime! they are family favorites!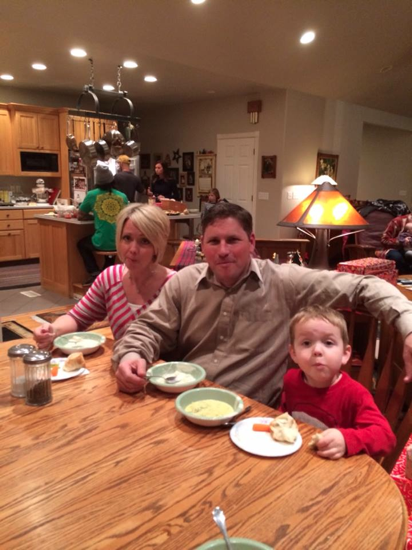 my mom got a new muffin tin and the rolls slipped right out of the tin when she pulled them out of the oven! they went flying everywhere.. it was so funny.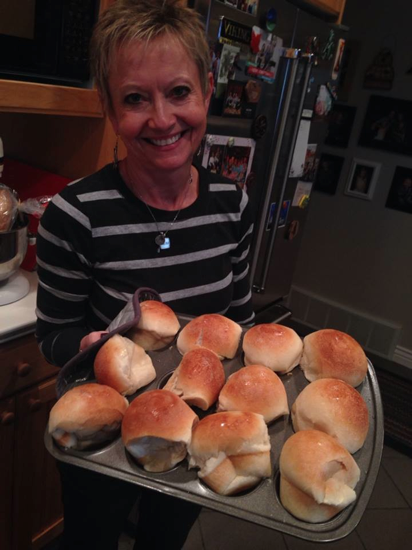 nora had a good time gnawing on my dad's thumb. she's the cutest ever.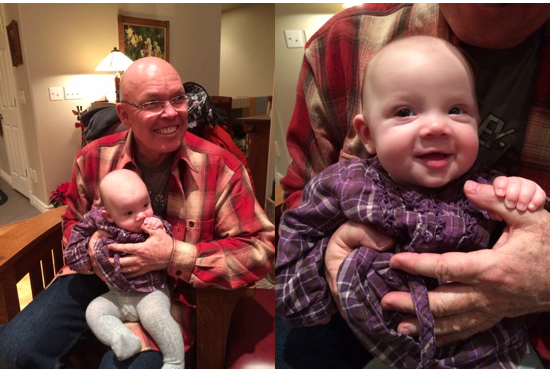 after enjoying our delicious dinner, we opened a few presents. this isn't something typical of christmas eve, but apparently people were anxious this year ;)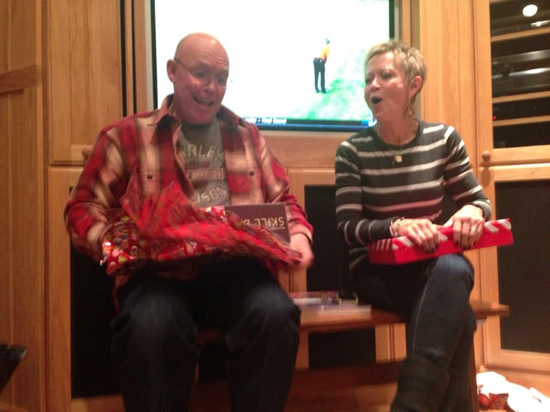 we decided to play some games. we played "headbands" because it's fun for young and old!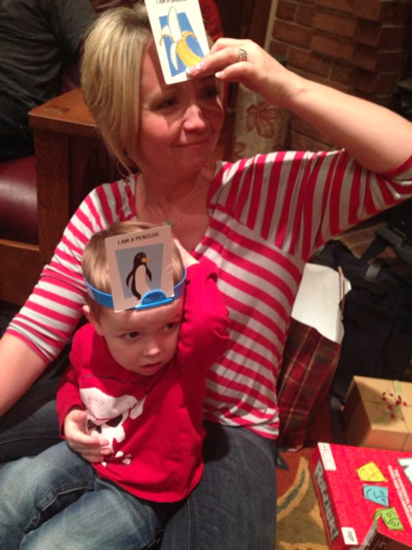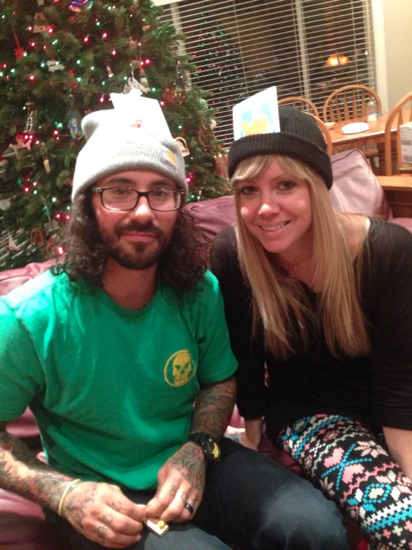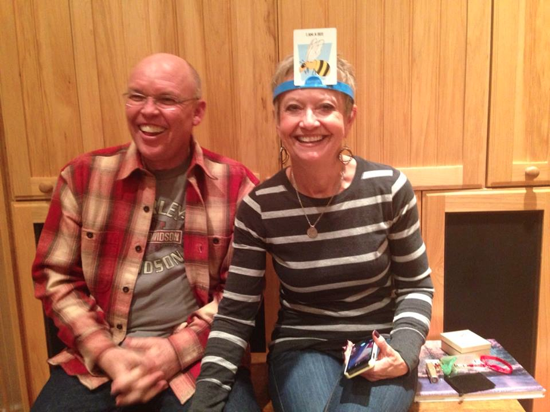 it was hilarious because my nephew kept shouting out what was on all of the headbands.. which kind of defeated the purpose of the game, but it was cute.
no family festivity is complete without my mom doing her broom trick. i should have videoed it now that i think of it.. because it's super hard to explain. but basically she is a contortionist and somehow brings the broom from the front and then all the way around her body and back front again without letting go of the broom. it's weird and i can't do it but she's real good at it. you can see greyson was super concerned about what was happening.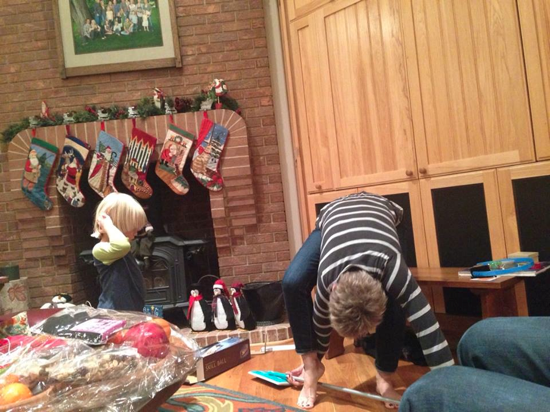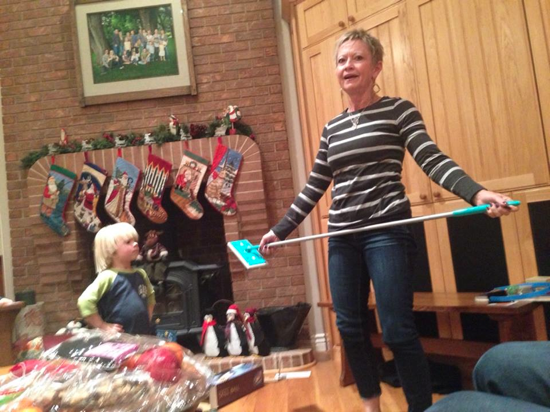 we finished the night off with lots of dessert! we had pumpkin and cherry pie and four kinds of nielsen's frozen custard. yum.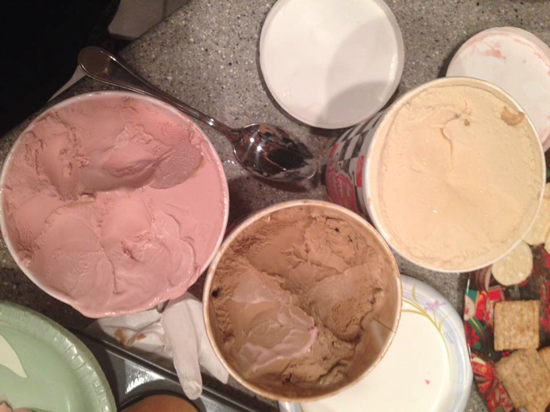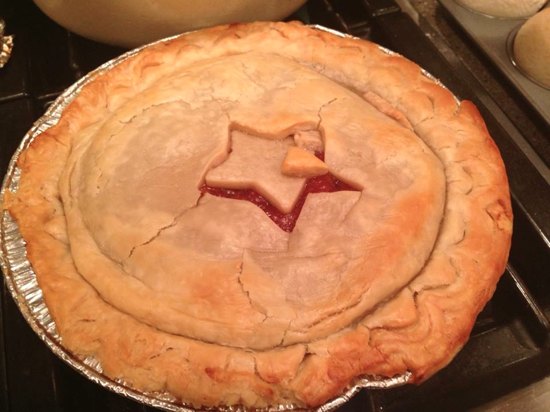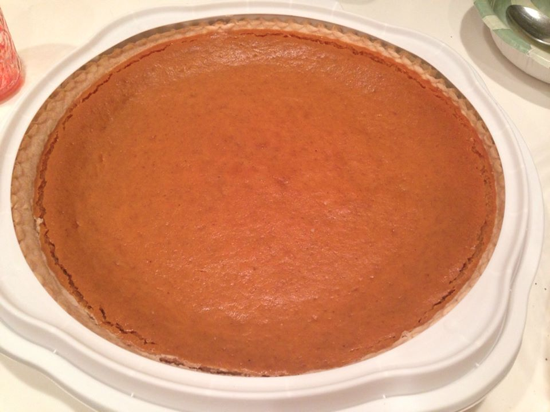 my belly hated me by the time the night was through. so. much. dairy. oy. ugh.
christmas morning was equally as eventful.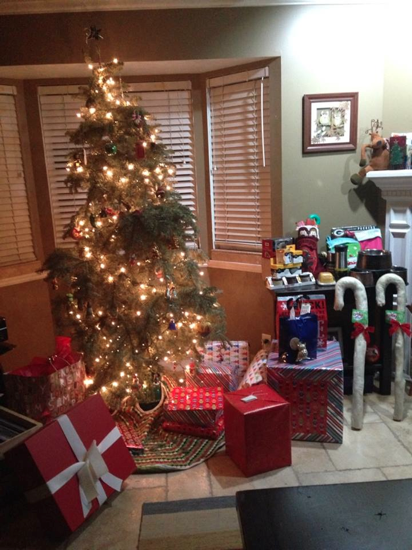 marshall and i woke up and opened our gifts from each other and also gave penny and randy some presents. of course mister randy dog got a lump of coal ;)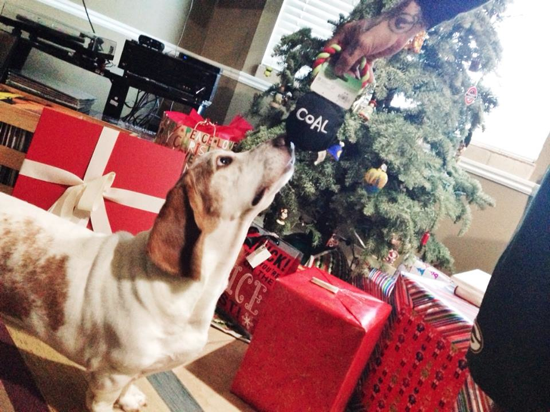 we weren't big on taking pics of our gift exchange, but it was fun! marshall is a great gift giver and i was super happy. he tracked down my favorite album ever (face to face self titled) on vinyl! apparently it is way rare and he had to get it from japan! love him.
one thing i was excited about giving him was a telescope! he is really into space so i knew it would be a good gift.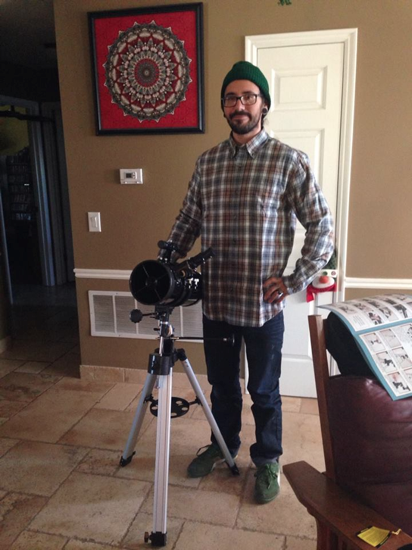 we called marshall's mom in iowa and chatted with her for a bit. hopefully she can come visit us soon! it's hard to have her so far, and as it turns out flights to and from iowa are expensive. weird. but it was fun to skype with her!
after our little family exchange we headed back up to my parents' for breakfast, stockings and a few more gift exchanges.
pretty sure my favorite part of christmas is filling my mom's stocking. she has filled ours for years and years and yeeearss.. so we play santa and fill hers for her! it's fun and i love buying odds and ends. and seeing her reaction.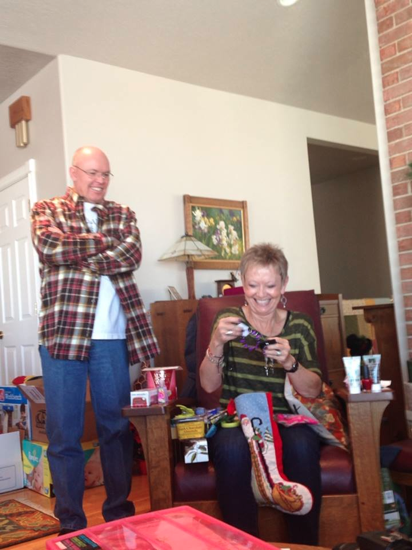 my mom had made a breakfast casserole with potatoes, eggs, peppers, and onions. i whipped up some sourdough french toast so the breakfast had a sweet and a savory component. that's the way to go!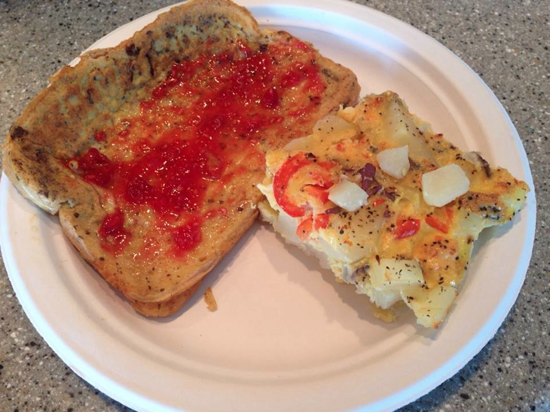 we had a great time making memories with the fam!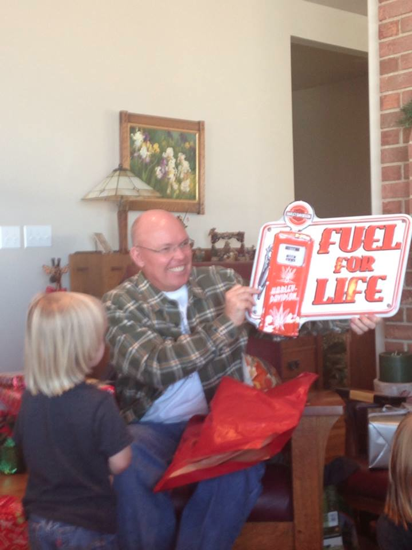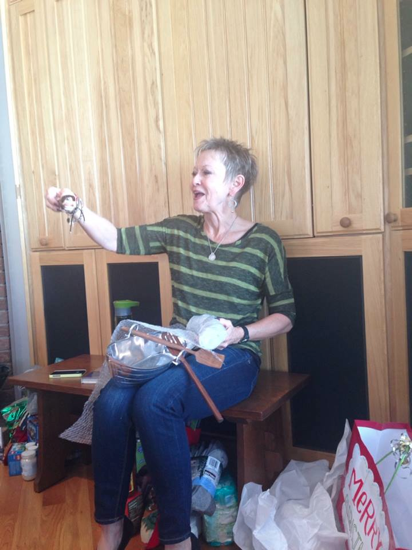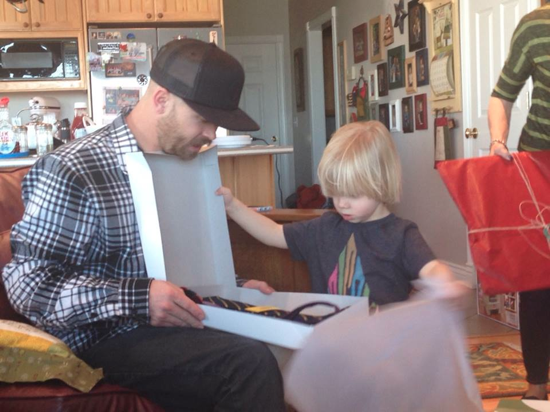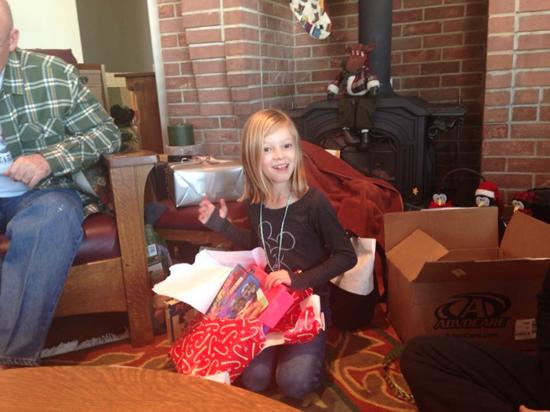 we headed home and decided to be lazy for a little while. we eventually got up and went to visit marshall's grandpa and his wife, but quickly came back home to be lazy again. marshall made pizza for dinner and we watched some netflix.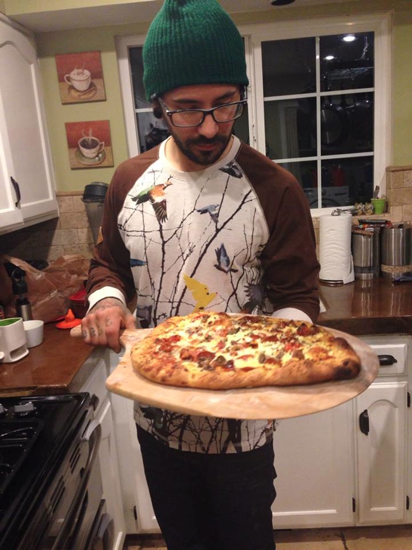 i hope those of you who celebrated had a lovely christmas!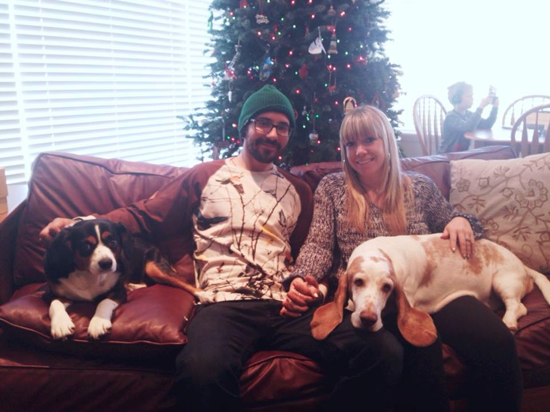 xo. janetha g.
p.s. if you are thinking about joining the january jumpstart, you will want to order your challenge bundle ASAP to get it in time for the january 6 start date!!