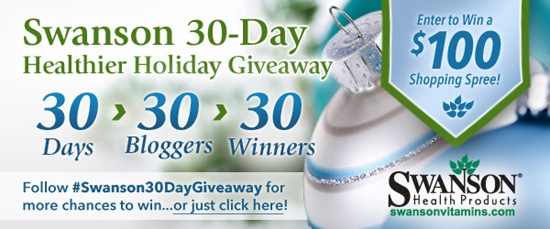 hello! 'tis the season for giving, and my friends at swanson health products & vitamins are generously giving away THIRTY $100 gift cards! that's right.. $3000 worth of giveaways. each day, a different blogger has been giving away a $100 shopping spree, and today is the day i get to offer it to you! <!­­ start visitio iframe code ­­>
if you aren't familiar with swanson's site, you are seriously missing out. they have everything under the sun! there are so many health products and vitamins that i use and love available on swanson's. the website contains SO many products that i would be here all day if i listed everything i like, but i did want to highlight a few favorites! of course i have to start out with quest bars. my two favorite flavors (well, the ONLY flavors i eat) are the chocolate chip cookie dough and the white chocolate raspberry. LOVE and LOVE.
hemp seeds are a big favorite in our house. they are great thrown into yogurt or blended into a protein shake. it's a different way to get EFAs into my diet and i really like them!
i was excited to see the they are carrying nature's hollow items. nature's hollow is a company i have enjoyed products from for a long time. they have awesome sugar free goodies including syrup and jams. the raspberry jam is my jam!
i don't know if i have talked about it before, but i love alpha lipoic acid. i started taking it back when i did jamie eason's live fit trainer and never looked back. it helps promote a healthy metabolism and regulates blood sugar.
those are just a handful of things you can find from swanson's. they also have a huge buy one get one free section. i love a deal! swanson's was a sponsor for blend retreat this past may and really stepped it up by donating a full jar of coconut oil to every swag bag! they are so generous and very community-oriented. now's your chance to win $100 from them! enter below. good luck!
i hope you are all staying safe and warm! happy friday tomorrow :) xo. janetha g.