ohhh, hey! happy thanksgiving eve! i am so SO SO flipping pumped for a four day weekend. you have no idea. or maybe you do.
it's been a little crazy around these parts and the blog has, once again, fallen to the bottom of the batting order. i had plenty of other stuff driving me batty this week, though. i am sure part (most) of it has to do with the fact that i started taking clomid last friday.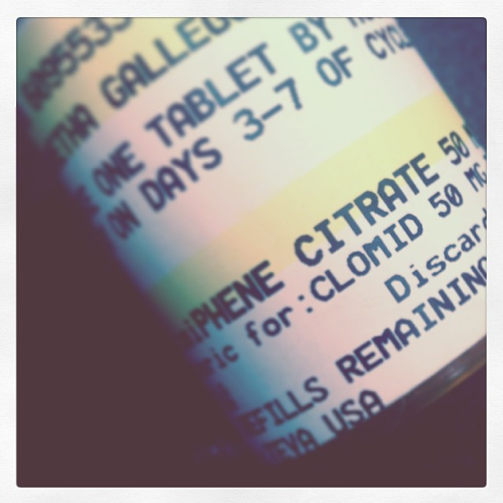 i initially wasn't going to talk about any of my fertility stuff, but quite a few people have asked me to touch on the topic, so i guess i'll give the people what they want! i was going to keep quiet about it partially because this isn't the ovulation tribune, but also because every case is different and talking in depth about health issues can sometimes make people think what works for me will work for them (which is what happened with my GI issues awhile back.) but as long as you know whatever i say is what's working (or not working) for me and i am under the care of professionals, then i think i can talk a little bit about it. soo.. right now following the doctors orders and we have come to a point where i've been prescribed clomid. clomid is used for a variety of reasons when struggling to conceive. in my case, i ovulate suuuuper late–like around day 25-27 in my cycle–so they are thinkin' clomid will move that up and this baby making thing can happen.
anyway, the clomid is making me FREAKING CRAZY. side effects include irritability, mood swings, hot flashes, and the feeling that you are two breaths away from an anxiety attack 24/7. at least that's what's going on with me.. maybe not the case for everyone. i hope it works because it's really a pain in the butt to deal with. i am sure those around me will agree, ha!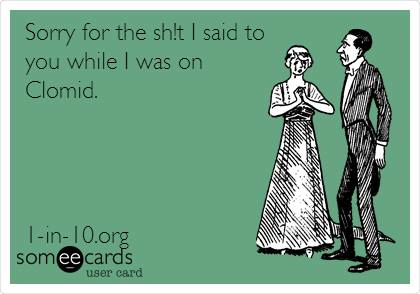 okay, only a couple paragraphs in and i've already discussed my cycle. sorry about that! i will try to keep hush hush on the baby biz and stick to meals & moves the majority of the time. i just know that others are going through the same sort of thing i am, although all our stories are different, so it's sometimes nice to relate.
let's change the subject by showing you a cute photo of marshall and the pups. penny fell asleep on his hand. awww.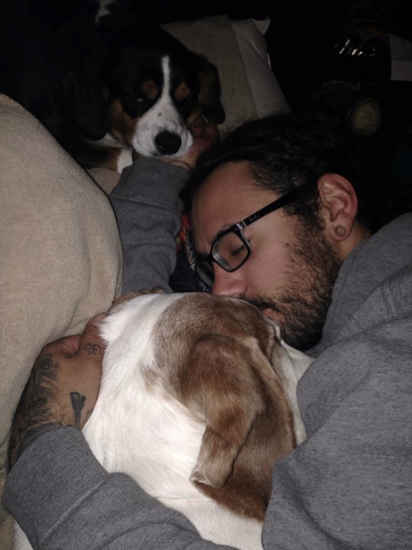 that was last night.. but tonight isn't much different! we are having a mellow night in. actually it's 10:36 PM and we just finished dinner. yeahhh.. it was a late one tonight! i was caramelizing onions at 9:47 PM.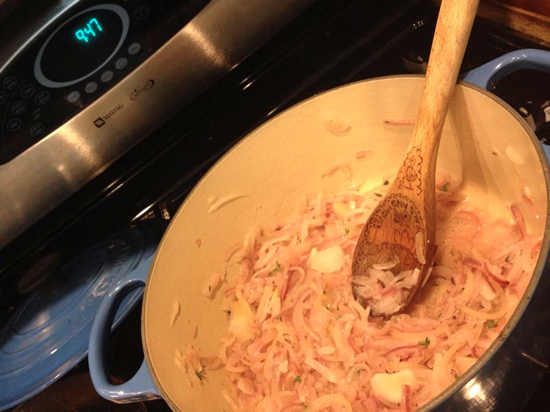 side note: i love this cute wooden spoon that my friend eden had custom made way back in the day. isn't it cute?! owl and all.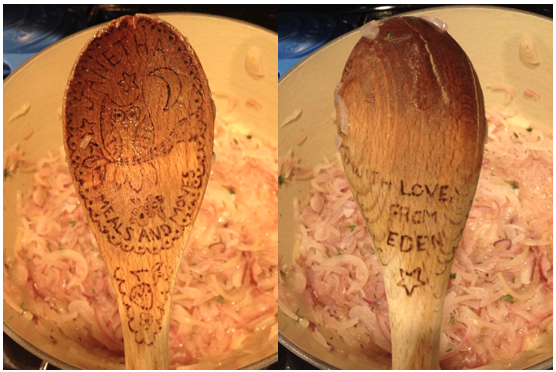 other side note: to caramelize your onions super quick, use heather's method.
i made this chicken & onion dish that i make about once every 2 months.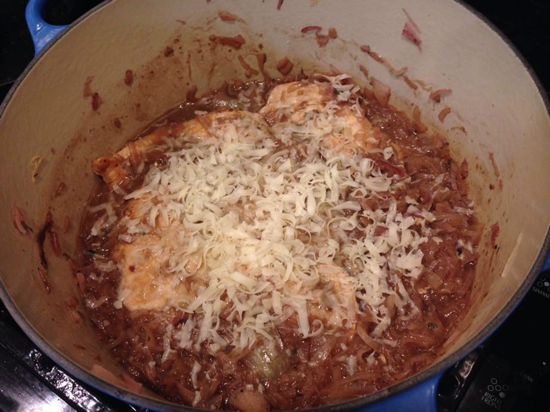 it's not too pretty to look at (go to the recipe link to see fancy pics)..but it tastes AMAZING! we always serve it over different things.. quinoa, bread, pasta.. this time it was rice! so good.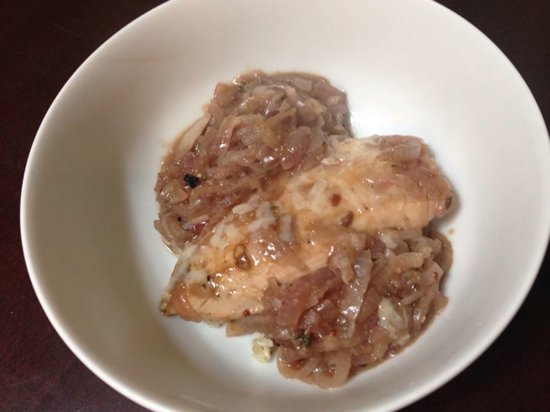 there was a casualty in the making of this dinner. i freaking grated my fingers off while grating the gruyere. ouch. good thing i had hello kitty bandages to the rescue!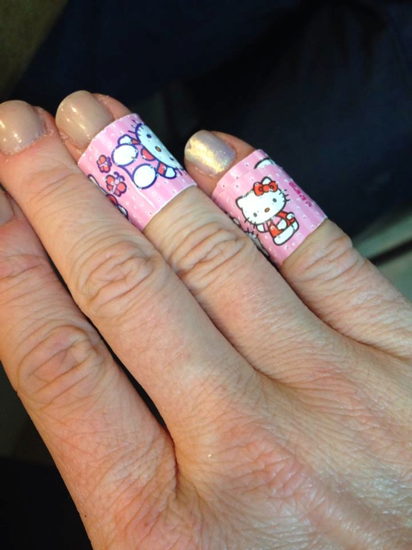 rewind to before dinner–i hit the gym for a late night quickie. i didn't get to the gym until just after 8 because marshall and i went to see our friends and their new baby! brittany and dave had a sweet little boy the other day and he's the cutest thing ever. congrats to them!
anyway, my workout.. it was quick and good and i made it up on the fly. i loved it a lot so i thought i would share.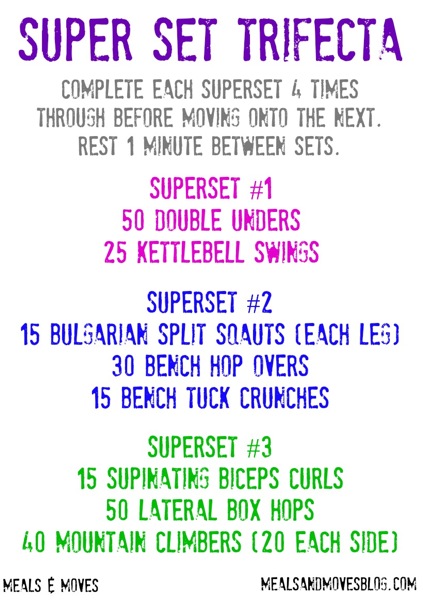 if you aren't familiar with all the moves, here are the links:
this took around 30 minutes, told you it was a quick one. i wanted to get my heart rate up and work up a sweat, but i also was short on time. this definitely did the trick. FYI, i used a 30# kettlebell and used 15# dumbbells for the squats and curls.
oh! guess who won the doggy daycare football pool again?!
yay! that's the fourth time this season. can you see how excited they are about it???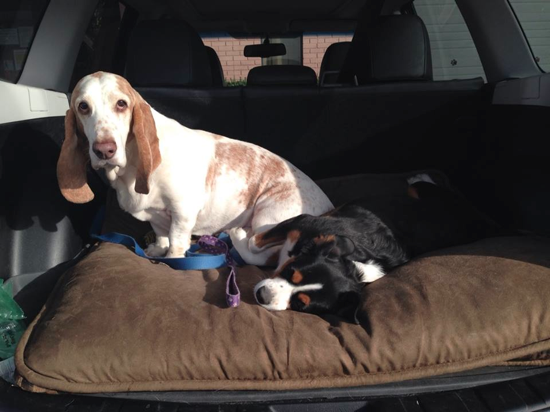 randy can barely contain his excitement. i'm pretty pumped, though! we have won 25% of the time, so that's rad. we didn't win once last year haha. when we win, penny and randy get free baths.. yay!
ok..i am gonna go find this album on iTunes now.. i heard a song on the radio and i shazammed it immediately because my ears liked it…
anybody listen to cage the elephant? i am hoping the rest of the album is as good as this song i heard!
mmmmkay, happy thanksgiving! go pack go and eat lots of delicious food! thanks for reading my random wednesday rambles. love you all.
xo. janetha g.