hello! happy thursday! it's like my friday.. but not really.. you see, today was my last day at work for the week, but i will be working a booth at the what a woman wants expo all day friday and saturday! so it's going to be a busy next couple of days. i am sure i will be happy come sunday. if you are a utah local and would like to come to the show (for free!) let me know your email and i will send you as many tickets as you need! if you are at the show, i will be at booth #719.. come say hi!
i have had a pretty crazy week. i've been getting ready for the expo and work has also been a nightmare for some reason. we have had a lot of extra work and a dash of drama that has added stress. coincidentally, on the most stressful day (tuesday) i randomly received some beautiful flowers!
there was no card, so i didn't know who they came from… but i later found out marshall had sent them. i hadn't even told him about my rough day, so either he's psychic or just a total babe. or both. love that guy.
my mom brought me a cute block as a souvenir from cali. i LOVE the quote and i need to remember it during stressful weeks like this one!
on the upside, we did get to check out an early showing of the new hunger games last night.
i loved it! i hadn't read the second book, so i didn't know what to expect. (and i didn't have any expectations to be let down on—total plus.) if you are in the market for a good movie, check it out. i also saw thor the other weekend and loved it, too, so there's another recommendation for you.
speaking of recommendations… i have been meaning to write this three things thursday post for quite some time. there are appointments we schedule all the time for our health—the dentist, the OBGYN, the physician.. all these doctors make sure we are in good health. but i have three appointments to schedule that i want to recommend to you. they are appointments for your health that you may be overlooking!
1. body composition analysis.
i have had my body fat checked multiple times in the past. there is a bodpod up at the U of U and it's $25 to get checked. i think body fat is the best indicator of being at a healthy weight. the scale (your overall weight) means NOTHING. so many people get hung up on how much they weigh, but they aren't taking into account how much of that weight is fat and how much is everything else—muscle, bones, organs, water, blood, etc.
i weigh over 10 lbs more now than when i finished body for life, yet i am the same size in clothing. the difference? i have more muscle. and, since muscle is more dense than fat, i am still the same size. (no, muscle doesn't weigh more than fat.. a pound is a pound.. it is just more dense.)
anyway, if you get your body fat analysis done, it will tell you if you are in a healthy range or in a risky range—both too low of body fat and too high of body fat.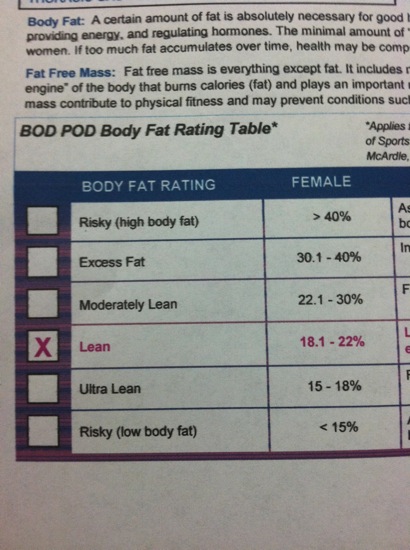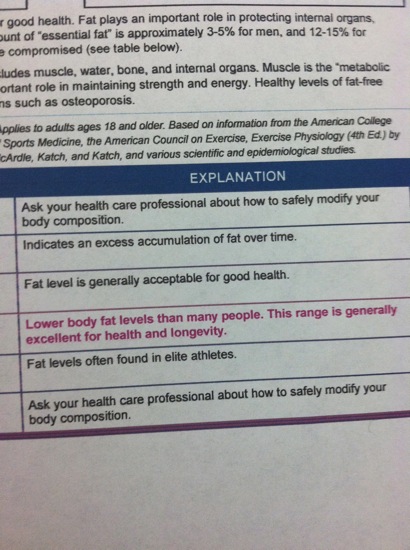 if you possess too much or little body fat, that can lead to several health complications. see if there is a place that offers body composition analysis in your area—it's the best way to gauge you weight. throw that pesky scale away if it's keeping you up at night!
2. dermatologist.
i have talked about my skin in the past. i have a lot of moles and have had almost 20 removed in my lifetime. the most recent removal was a couple years ago, but i just discovered that one mole on my hand that i had removed is back! eep.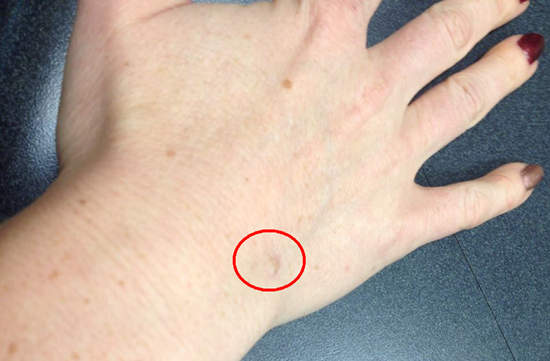 i am going to schedule another appointment with my dermatologist. i am bad, because i should go annually, but i skipped a year. since this one has come back, i am going to make a point of it to get a full body scan annually just to make sure there is nothing to worry about.
most people i know have never been to a dermatologist. lots of people go only if they have something already wrong.. but it's definitely important to go for preventative measures. with the thousands of deaths from melanoma every year, it's better to be safe than sorry!
3. therapist.
guys, mental health is important! i went to a therapist as a teenager for a bit, but of course i had a bad attitude about it and thought it was forced and i was there against my will, so i didn't get much out of it. however, as an adult, i have seen two different therapists for marital issues. it has been nothing but a positive experience.
when my husband and i ran into some conflict in our marriage, we found someone to see. it really opened our eyes and made us look at our (then problematic) marriage in a whole new light. when we were throwing our hands in the air saying we were done, she gave us the tools we needed to turn things around. additionally, we learned things about ourselves that we definitely would not have recognized had a therapist not pointed them out. there was a lot of self realization within the walls of that therapy room and my mental health improved a great deal.
later down the road, we had some other issues to address. nothing like the first time, where we were convinced divorce was the answer, but just some stuff that we knew we couldn't handle on our own. so we found a new therapist (the other one had decreased her clients) and we actually clicked with him VERY well. we went into the sessions with an open mind, ready and willing to get help to figure out our problems.
just like with physical health problems, mental and emotional problems sometimes need the help of a professional in order to fix them. when i was a teenager, i thought i was above therapy.. but as an adult, i realize the value in seeking help to deal with whatever crap you may be dealing with in your head. and i'm not talking just for marriage—but for everything! yes, we were seeing one for our marriage, but it was also beneficial for lots of other issues we had no idea how to deal with. i am a much happier, mentally healthier person because of it.
if you are dealing with some crap in your head, get some help! even a session or two can work wonders.
those are my three recommendations to you (and to myself!) i definitely have some other health-related appointments in the near future.. but "three" goes well with "thursday" and i don't have thirteen to list… so.. yeah. sucker for alliteration right here!
i won't have time to check in until sunday… so have a WONDERFUL weekend!
Qs~
1. have you had any of these three appointments recently?
2. are there any health-related appointments you have coming up?
xo. janetha g.